The words "free food" often catch college students' attention, but a new University of Virginia non-credit class comes with a hands-on assignment: undergraduate (and some graduate) students cook their own dinners before enjoying the free meals.
The cooking classes are made from a recipe for collaboration, said Melanie Brede, a dietitian and nutrition educator in Student Health who supervises 12 postgraduate dietitians during their 10-month internship at the UVA Health System. As an educational project, the interns create one-time cooking classes for undergraduate and graduate students, from beginning to end.
The students – up to 15 in each session – prepare the food alongside a chef and three of the interns. While similar skills and information are covered in each class, each features a different menu. (Students can sign up on a first-come, first-served basis through the Office of Student Affairs' Connections website for the fourth and last class of the academic year, set to take place on April 13. On the menu: roasted fish with lemon dill potatoes and spring veggies.)
"Research shows that people who prepare food for themselves tend to eat better, and so our primary goal is to support students' health by helping them improve their cooking abilities," Brede said.
To whet the appetite, UVA Today checked out what was cooking in the kitchen last month.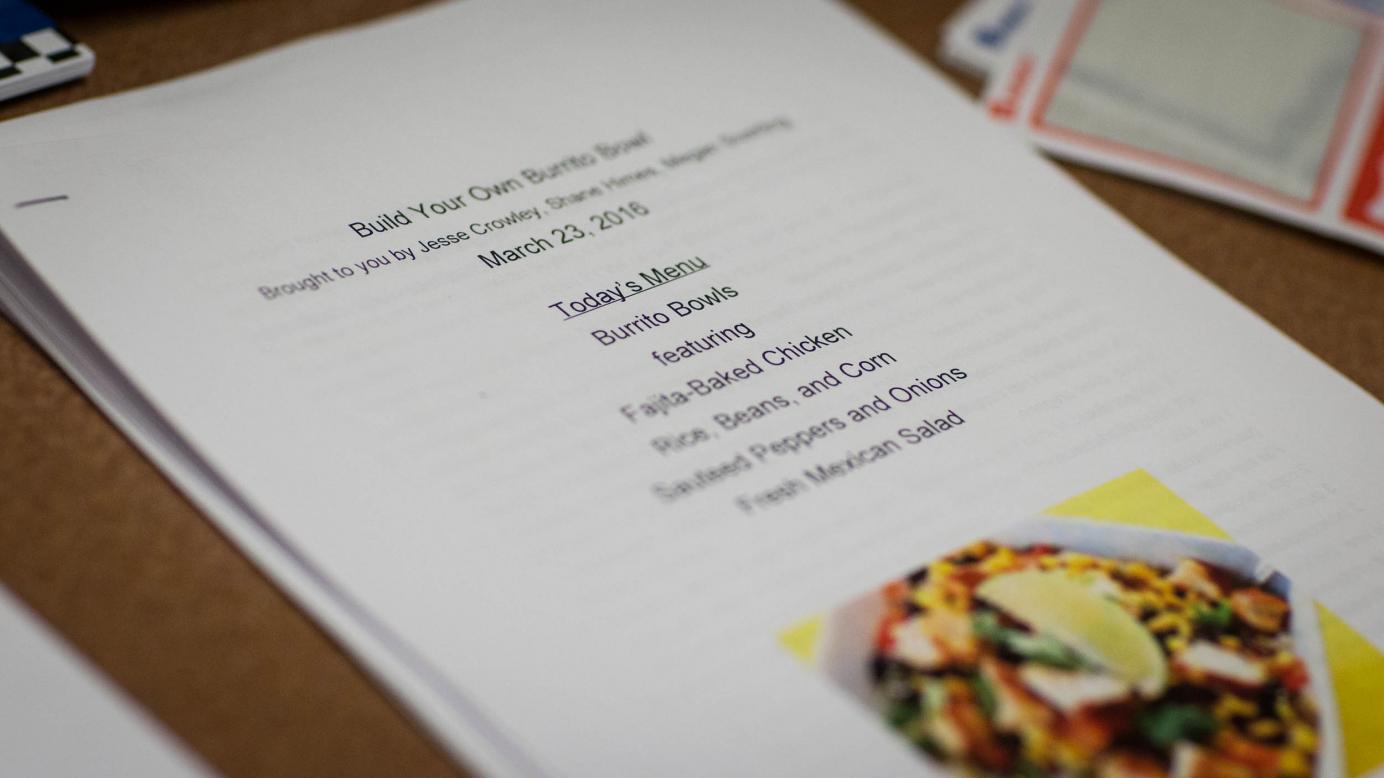 The "Build Your Own Burrito Bowl" is a great recipe for college students, dietetic intern Jessica Crowley said. It combines chicken, cilantro-lime brown rice, beans and corn, sautéed onions and peppers and fresh Mexican salad – with all of the ingredients tossed together at the end. "My fellow interns and I can attest to subsisting on this during college, and I still do today. It's quick and easy and lends itself to meal preparation for the week," she said.
(Photos by Sanjay Suchak, University Communications)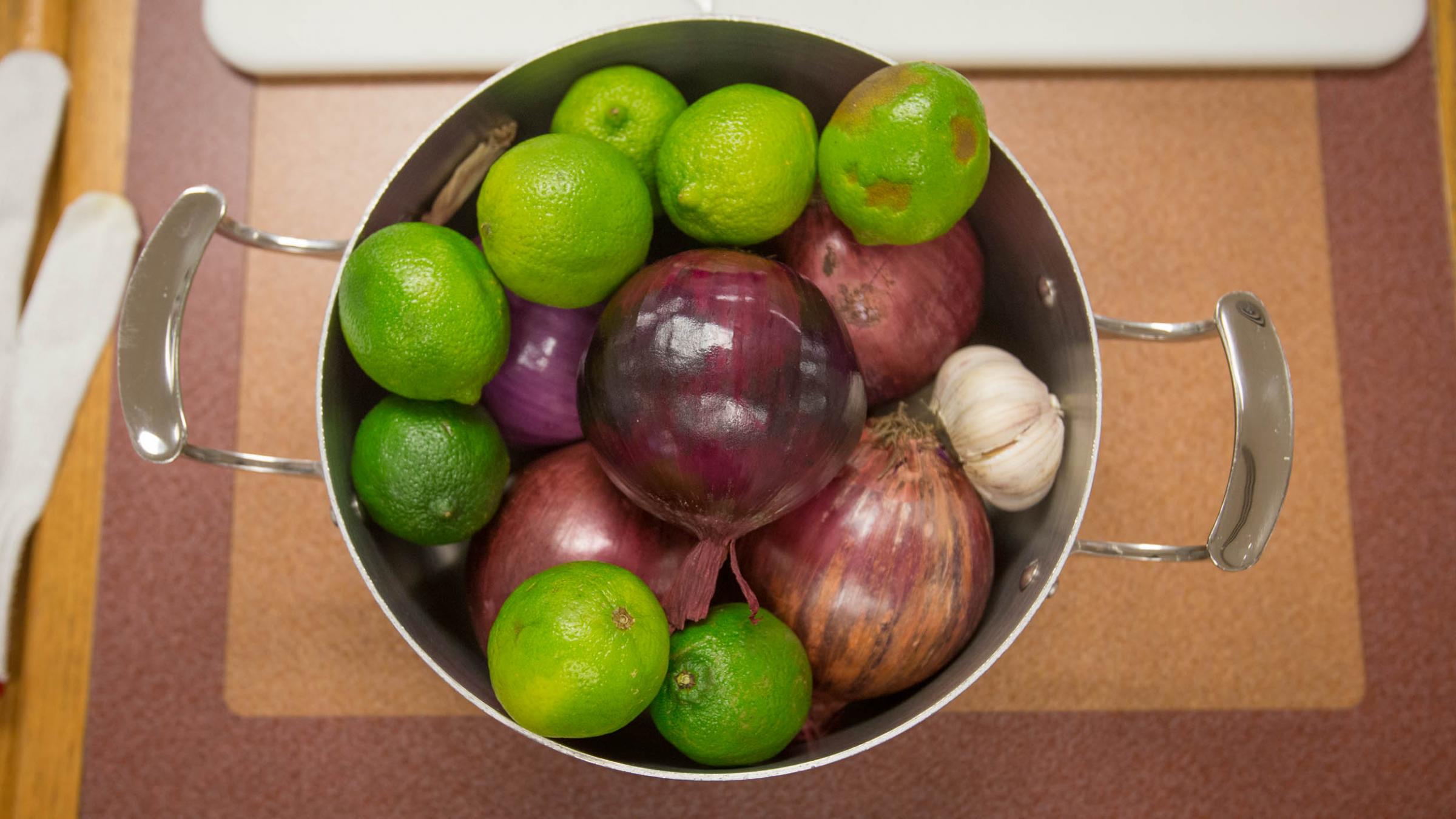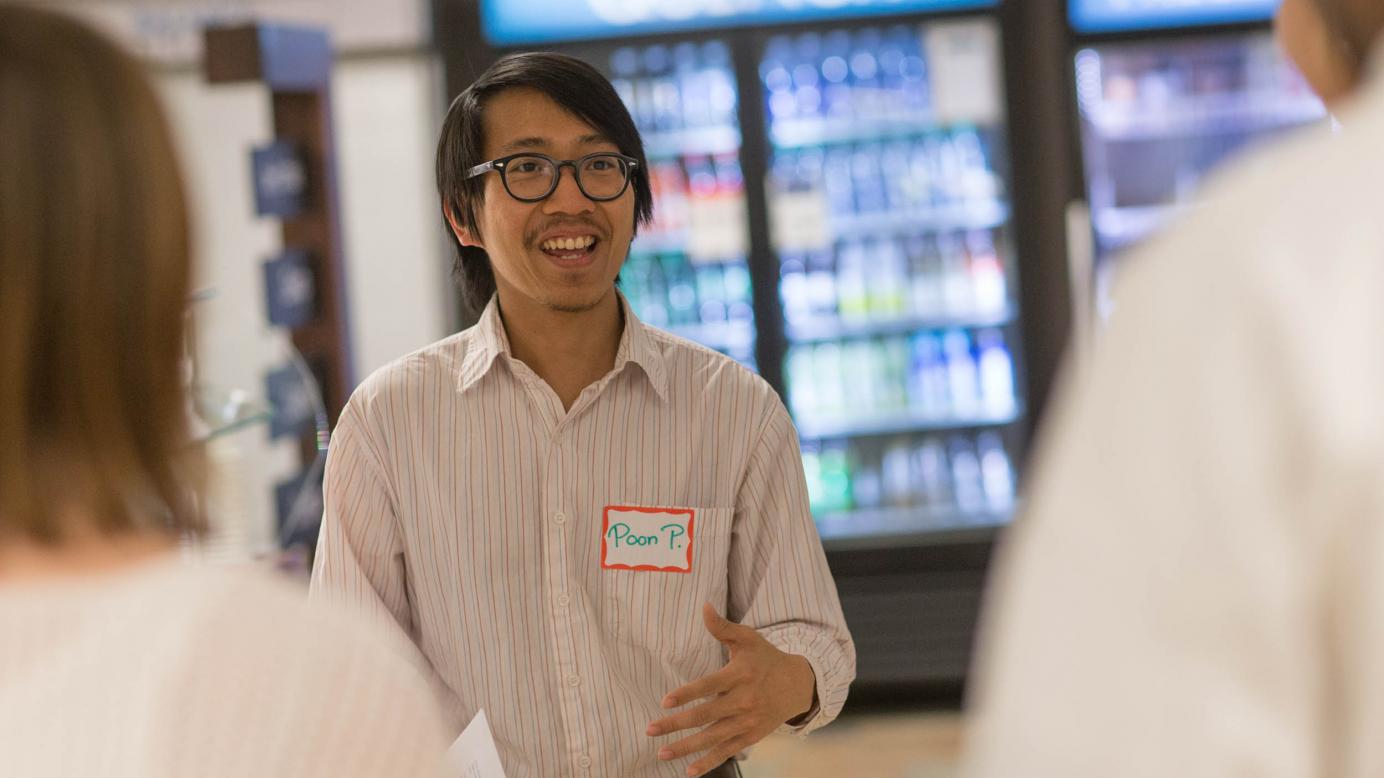 Graduate astronomy student Poon Panichpibool, originally from Thailand, who earned his B.S. here in 2014, said he learned more about nutrition and kitchen safety in this class, which he attended because he loves Mexican food. "I like to cook a lot since I am living off Grounds, so being able to cook my meals is highly critical."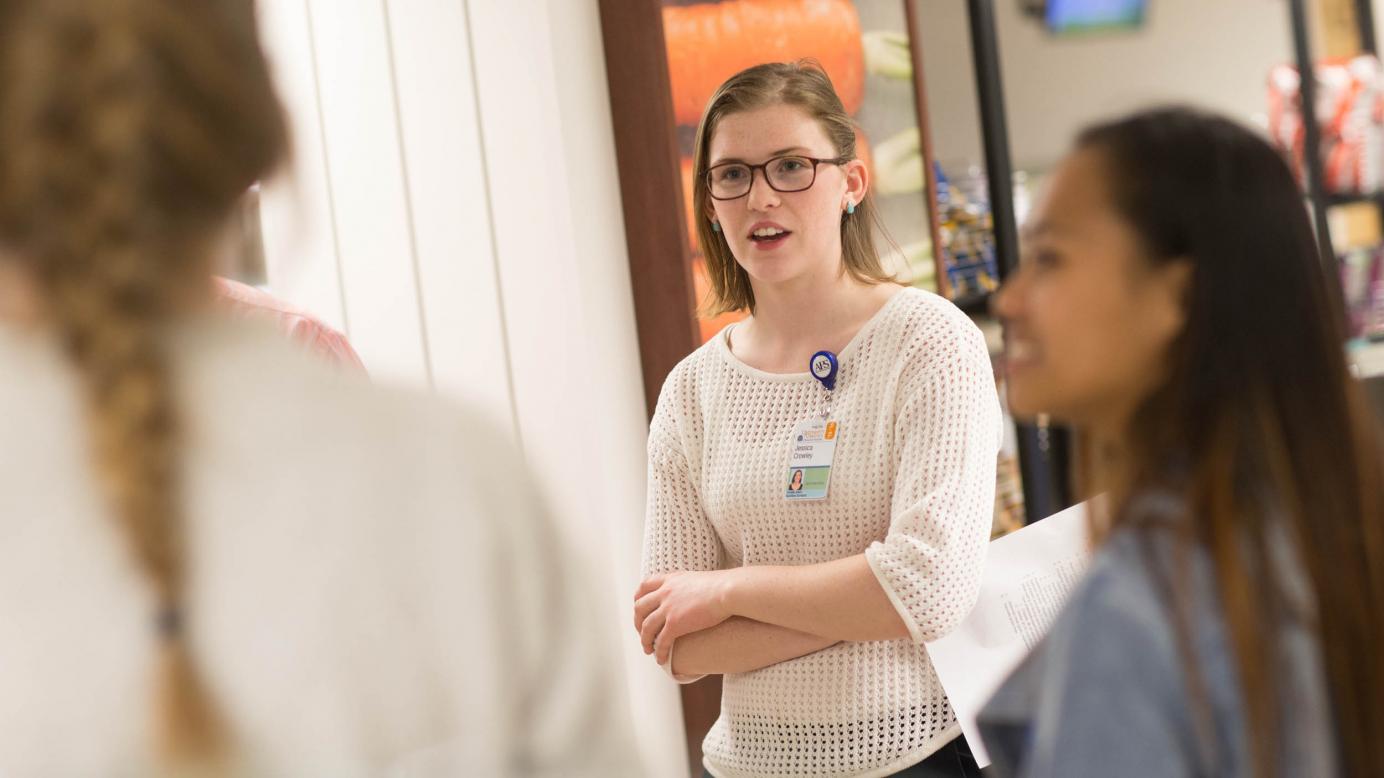 "This is a great way to get involved in the UVA community," Crowley (pictured) said. "Providing nutrition education in the setting of a cooking class … forced us to deliver concise messages focused on the ingredients. This method of delivery is effective because participants are able to connect these messages with the food sitting right in front of them."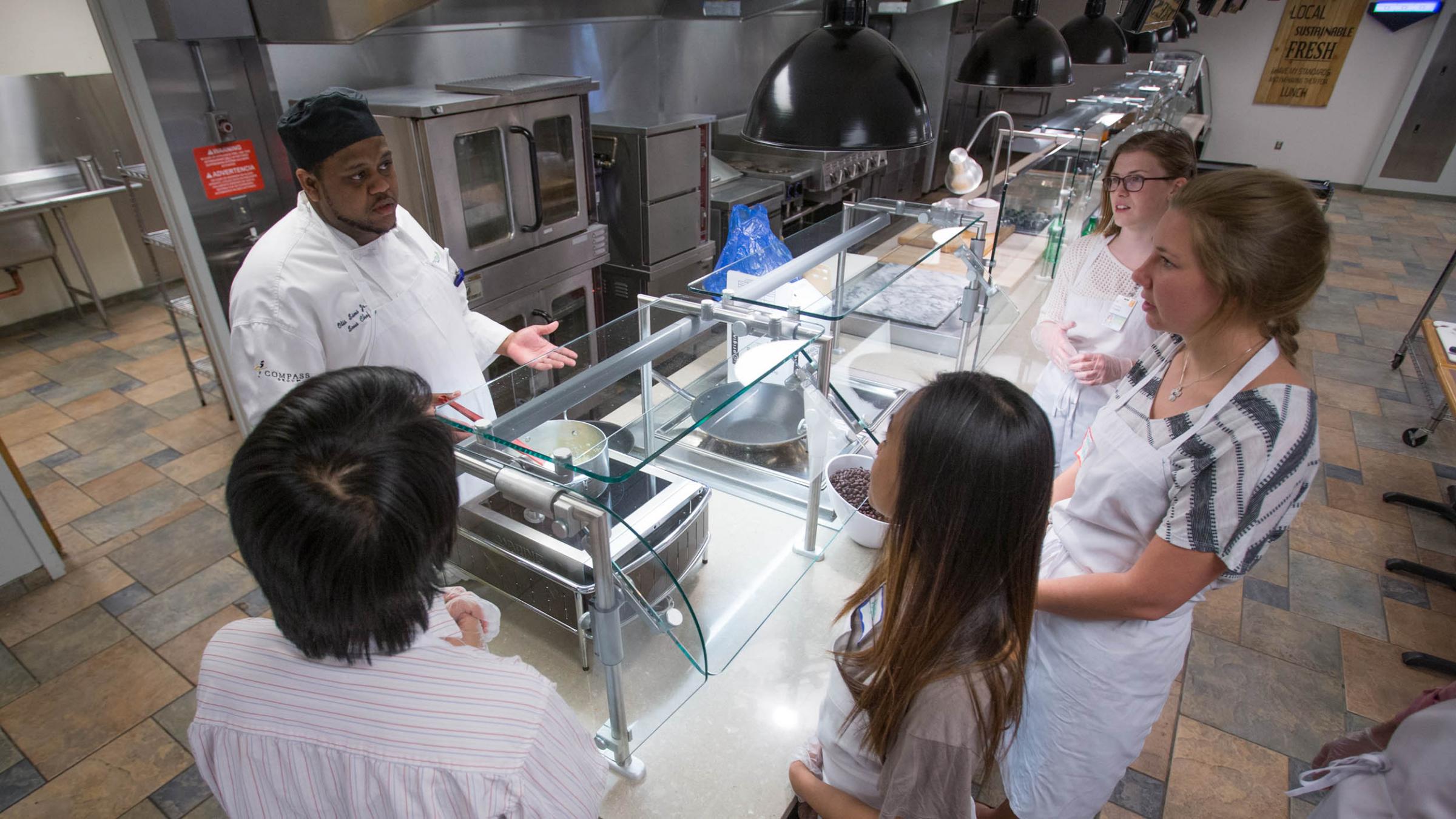 Chef Otis Sims Jr., who works for the Health System's Nutrition Services, gives an overview to the students, discussing details such as the smoke point of oil, before demonstrating how to quickly and safely chop and stir-fry vegetables.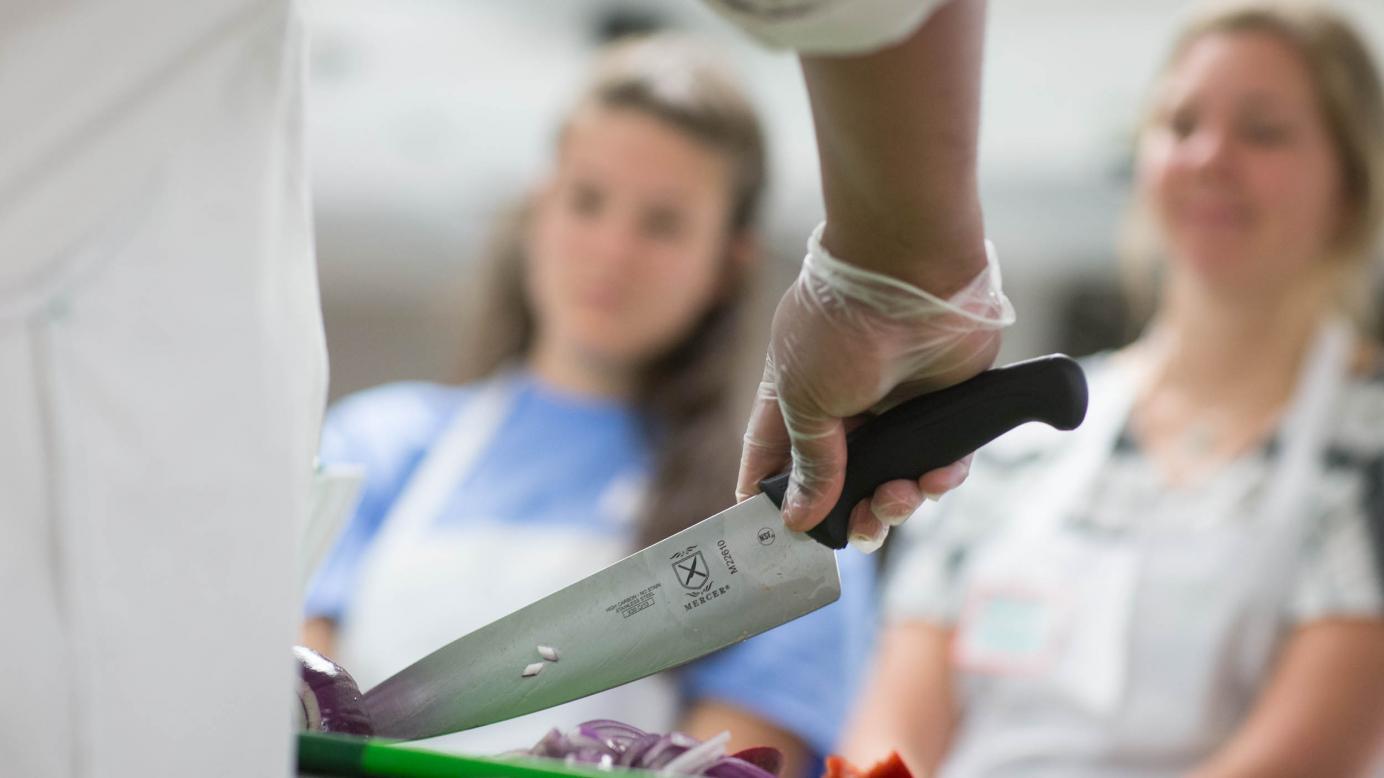 Students watch Sims demonstrate knife skills for chopping varieties of vegetables and meat. When students register for the class, they complete a questionnaire about their cooking abilities; novices and experienced cooks are welcome.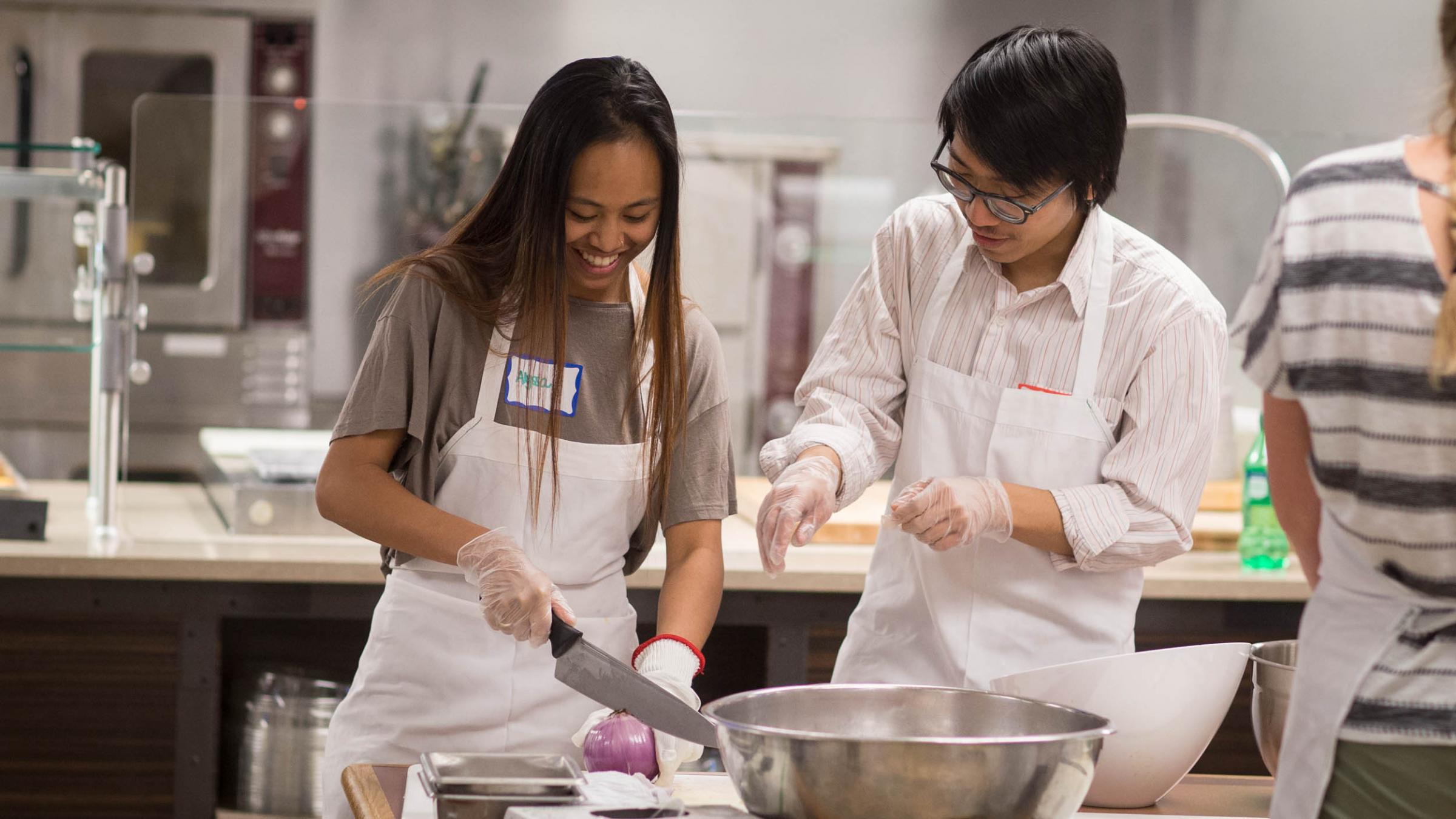 Students Alyssa Dizon and Panichpibool practice knife skills they learned from Sims. In addition to learning the best ways to cut vegetables and meats during the class, they also learned to distinguish key aspects of food safety, including how to handle raw food, how much cooking time foods require and at what temperatures, and how long to store foods.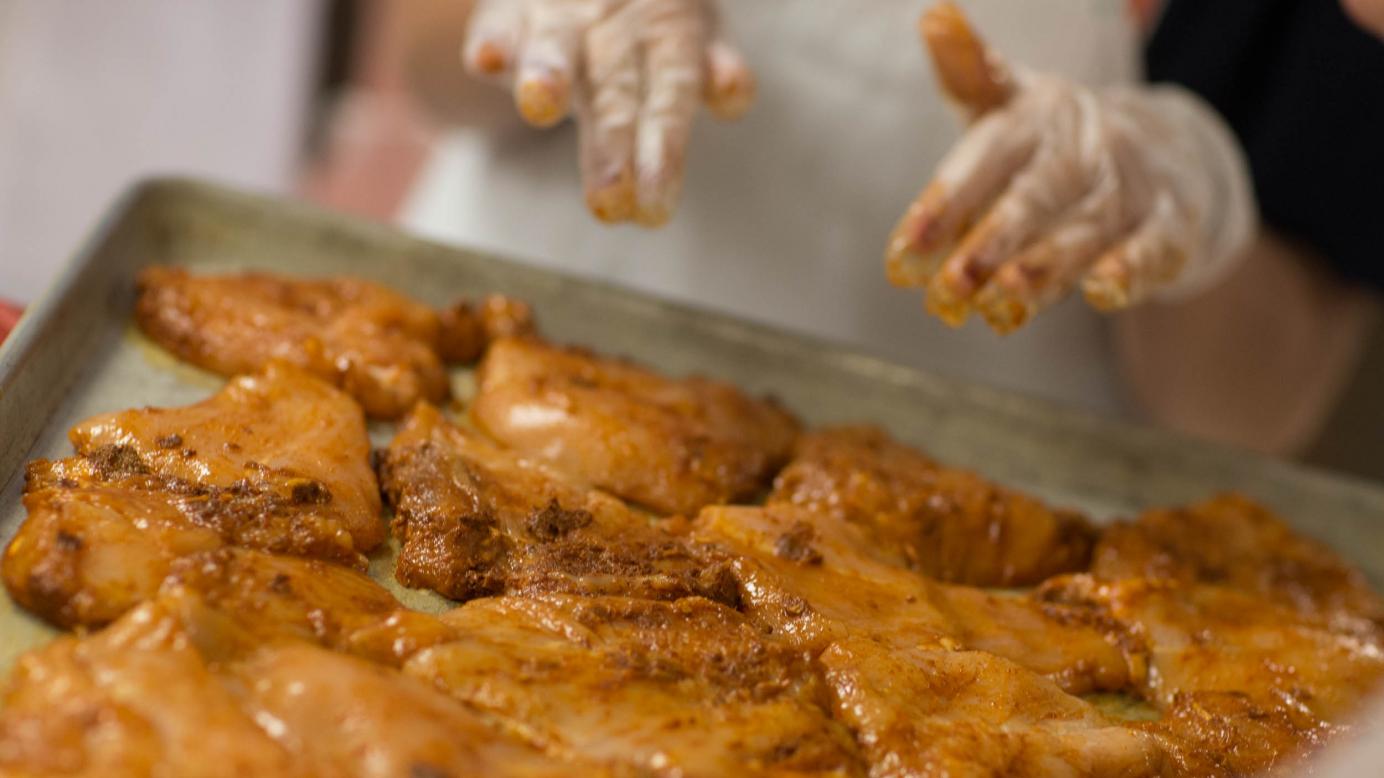 Students prepare boneless chicken breasts with a fajita-style spice rub before it goes into the oven. The class also covered how to use appropriate techniques and ingredients to bring out the best flavors.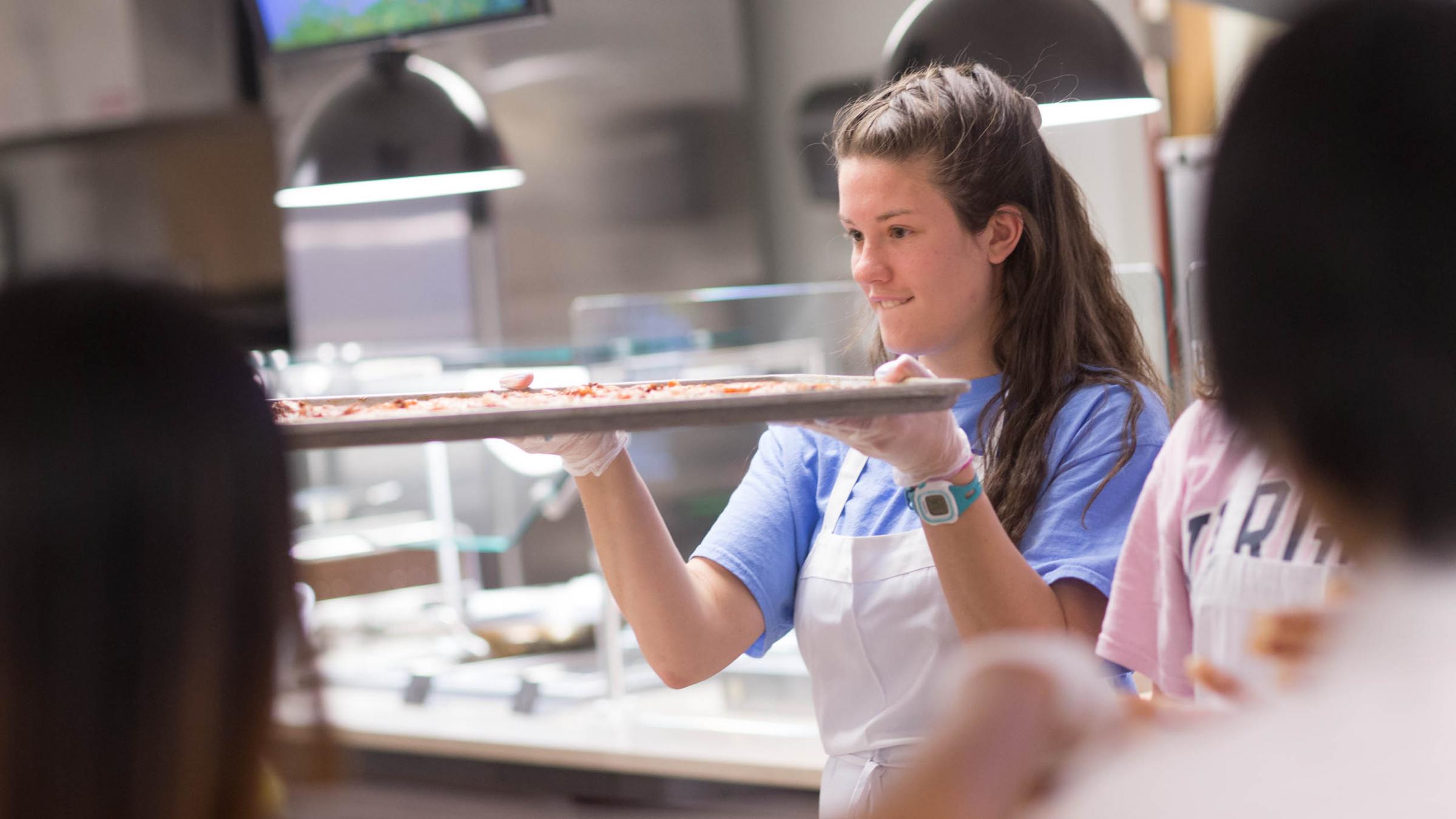 First-year School of Nursing student Haleigh Wilkins carries a tray of spiced chicken to the oven. The Mechanicsville native said, "I wanted to take this class because I absolutely love cooking and baking, but don't do it often because I live in a dorm."
She loved the homemade taco seasoning and learned the most efficient way to cut peppers and onions. "The food was delicious, the people were all excited to learn and they gave us leftovers (which I had for lunch the next day)," she said.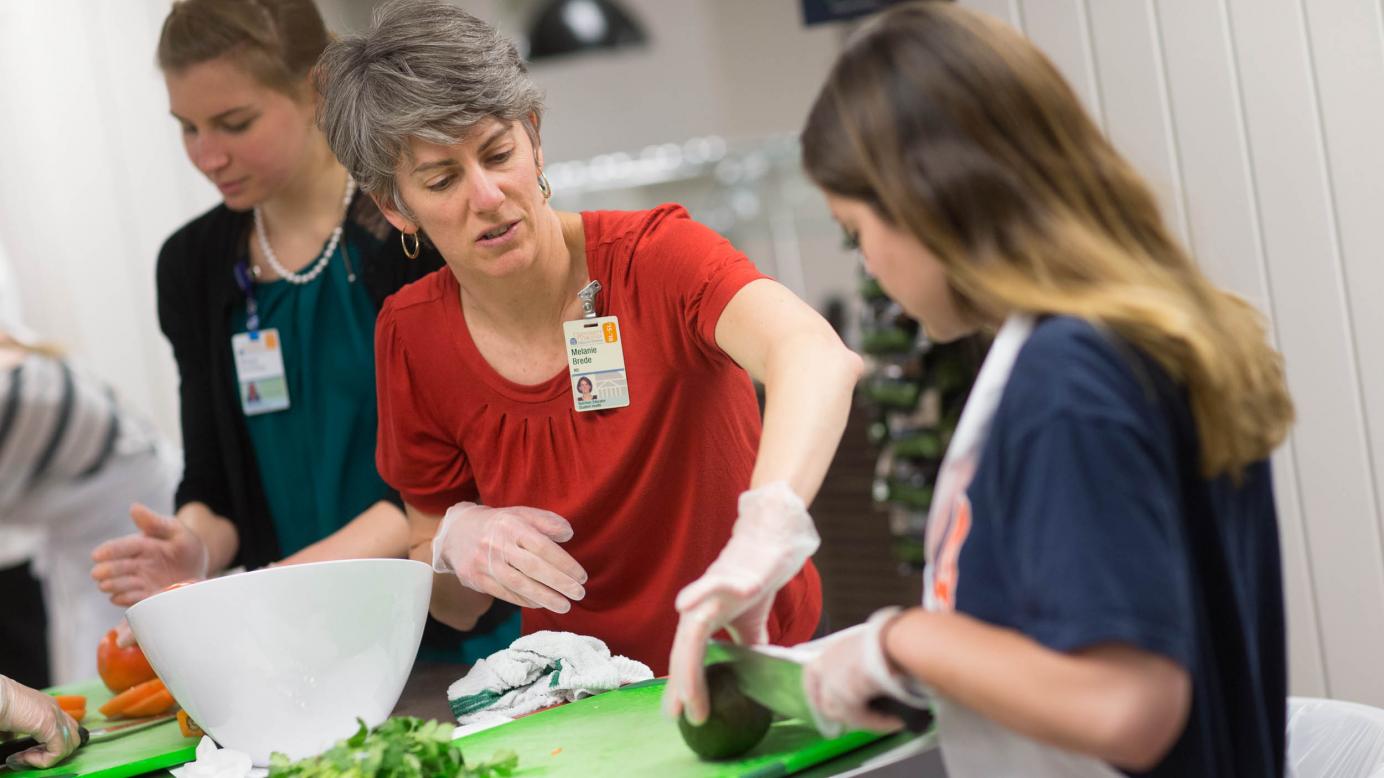 Melanie Brede, a dietitian and nutrition educator in Student Health who oversees the dietitians-in-training, gives first-year student Margaret Jewett some pointers on how to easily slice an avocado. The students learn to identify features of a balanced meal and balanced diet, plus the nutritional benefits of various foods.
"It is so rewarding to see students' knife skills improve over the course of a class and hear students who are at first intimidated by cooking talk excitedly and confidently about making these dishes at home for themselves," Brede said.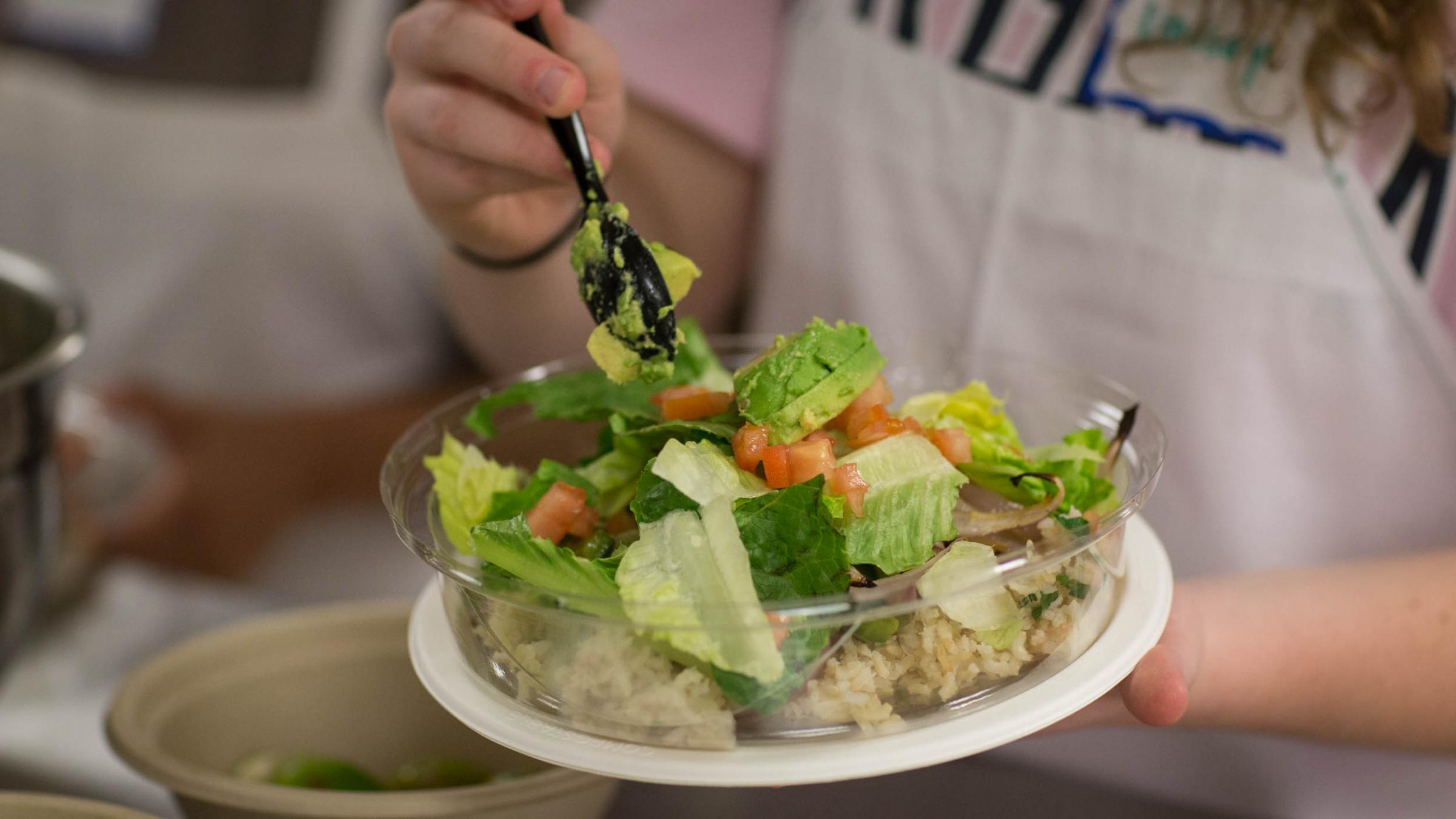 With the ingredients chopped and cooked and ready, student Lindsay Klein prepares her burrito bowl by mixing the brown rice, beans and corn, baked chicken, sautéed onions and peppers and salad with tomatoes and avocados.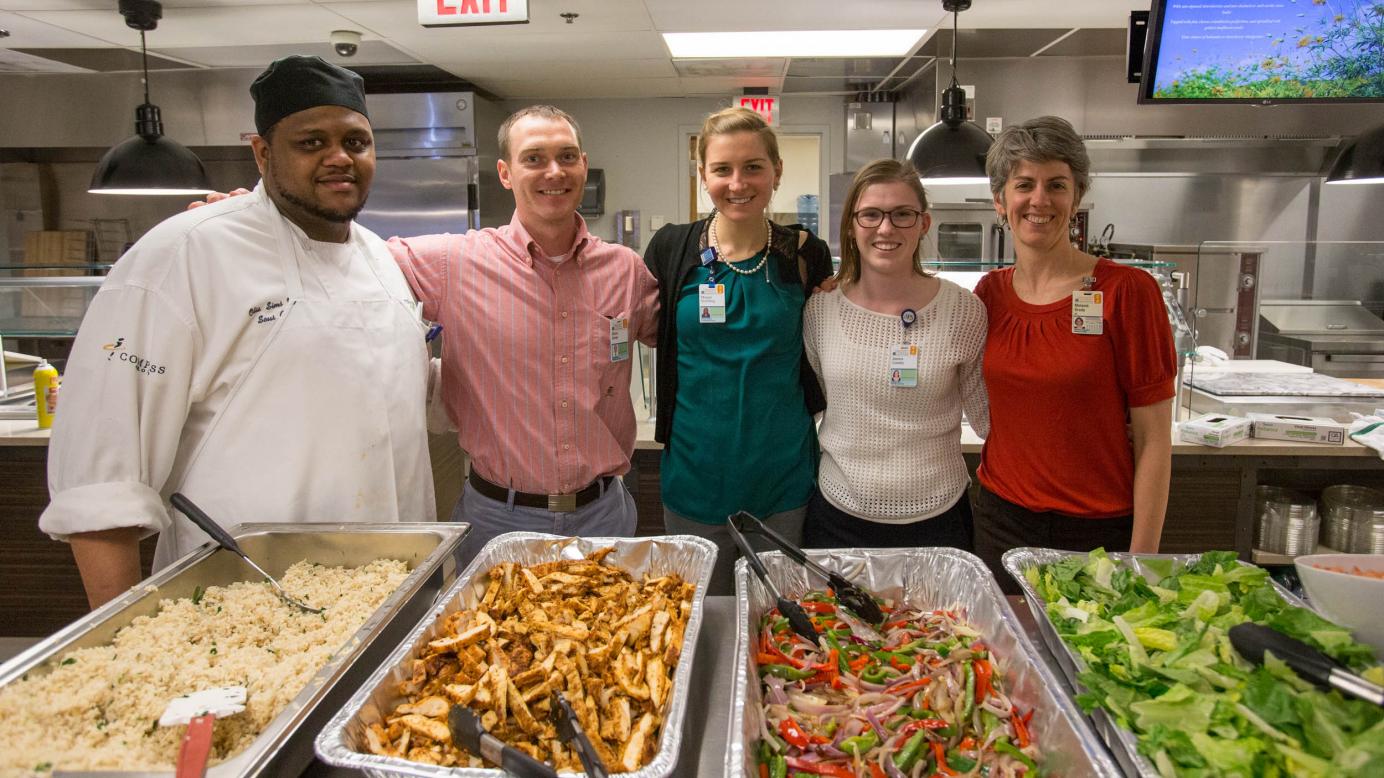 The group that taught the class, from left: Sims; interns Shane Himes, Megan Silverling and Crowley; and Brede.
"It is a true demonstration of teamwork," Brede said of the program, which is almost through its second year. "In addition to the interns and chef leading the class, there is tremendous support behind the scenes. The UVA Health System Nutrition Services makes the West Café available for us to use, covers food costs and supports staff time involved in ordering, cleanup, etc."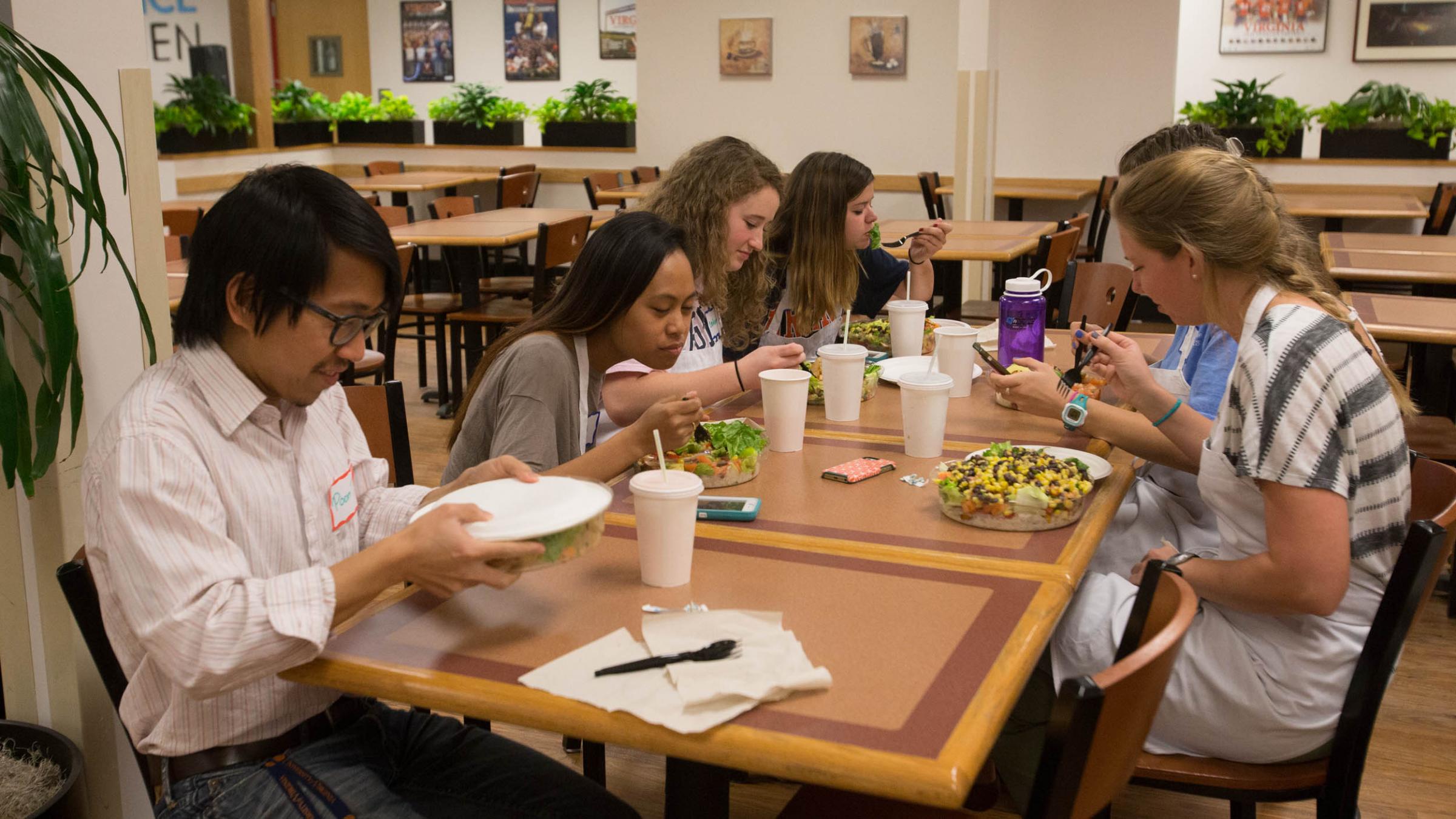 Students enjoy the fruits – well, in this case, the burrito bowl – of their labor.
Media Contact
University News Associate Office of University Communications
anneb@virginia.edu (434) 924-6861
Article Information
April 06, 2016
https://news.virginia.edu/content/uva-students-practice-delicious-subject