University of Virginia volunteers were visible throughout the community yesterday, working on a wide array of projects as part of the United Way's annual Laurence E. Richardson Day of Caring.
Approximately 1,200 UVA employees were painting, digging, assisting with bingo games, performing trail maintenance and otherwise assisting with about 75 separate projects, as they have been doing since 1992, the first year of the community-wide Day of Caring.
"This is my 12th year here," said Jody Lahendro, a supervisory historic preservation architect with Facilities Management who was working at Camp Holiday Trails, which serves children with special health needs. "The camp does an incredibly worthwhile thing on a shoestring, and God bless the University for letting us do this."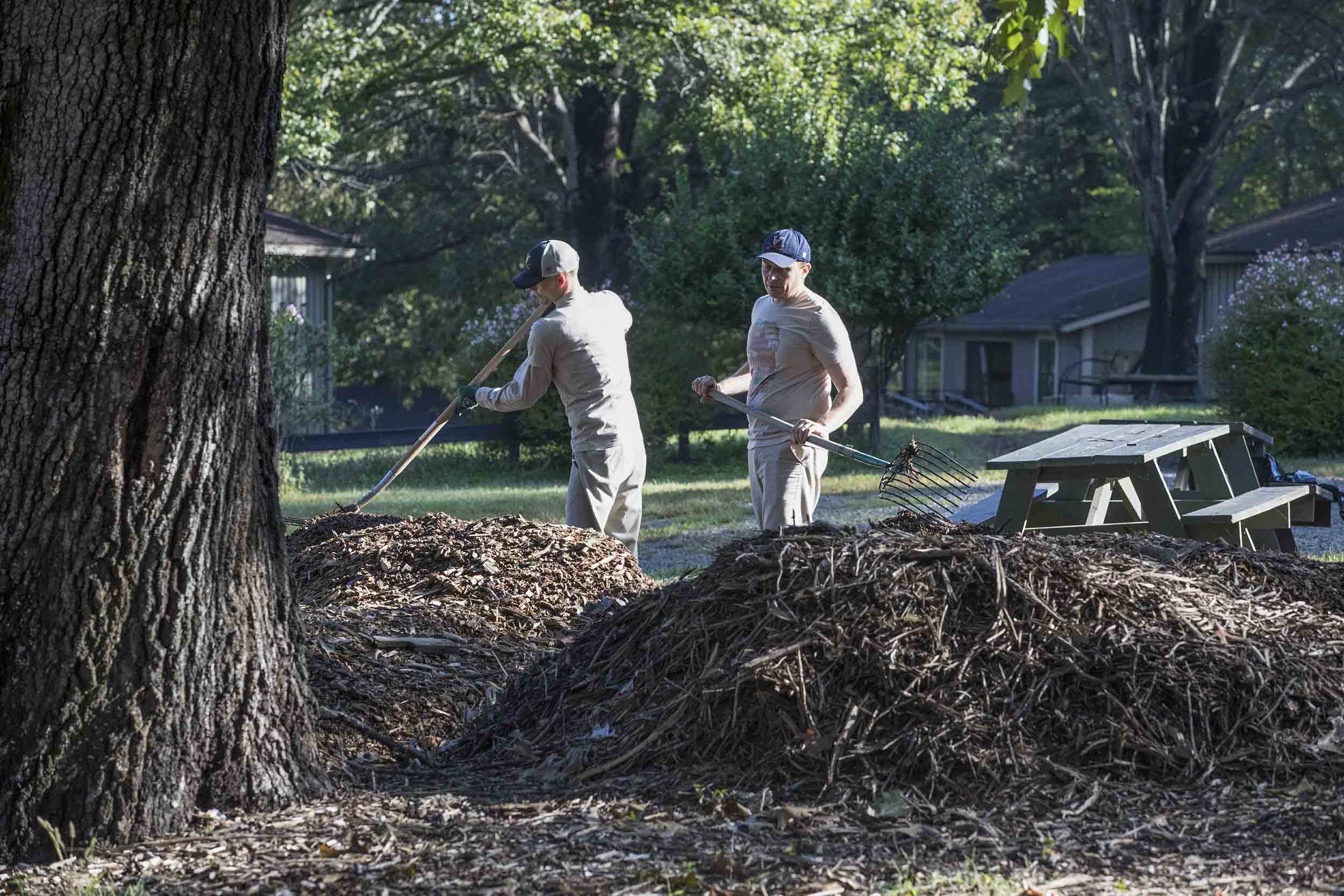 The camp has had a difficult year, according to its executive director, Tina LaRoche, who said it had been hit by flooding, trees falling across roads and trails, and electrical outages, caused by the area's numerous summer storms.
"The work that they get done in the course of a day affects our operation for the whole year," she said. "One of the things I will be doing tomorrow is starting on the list of projects for next year."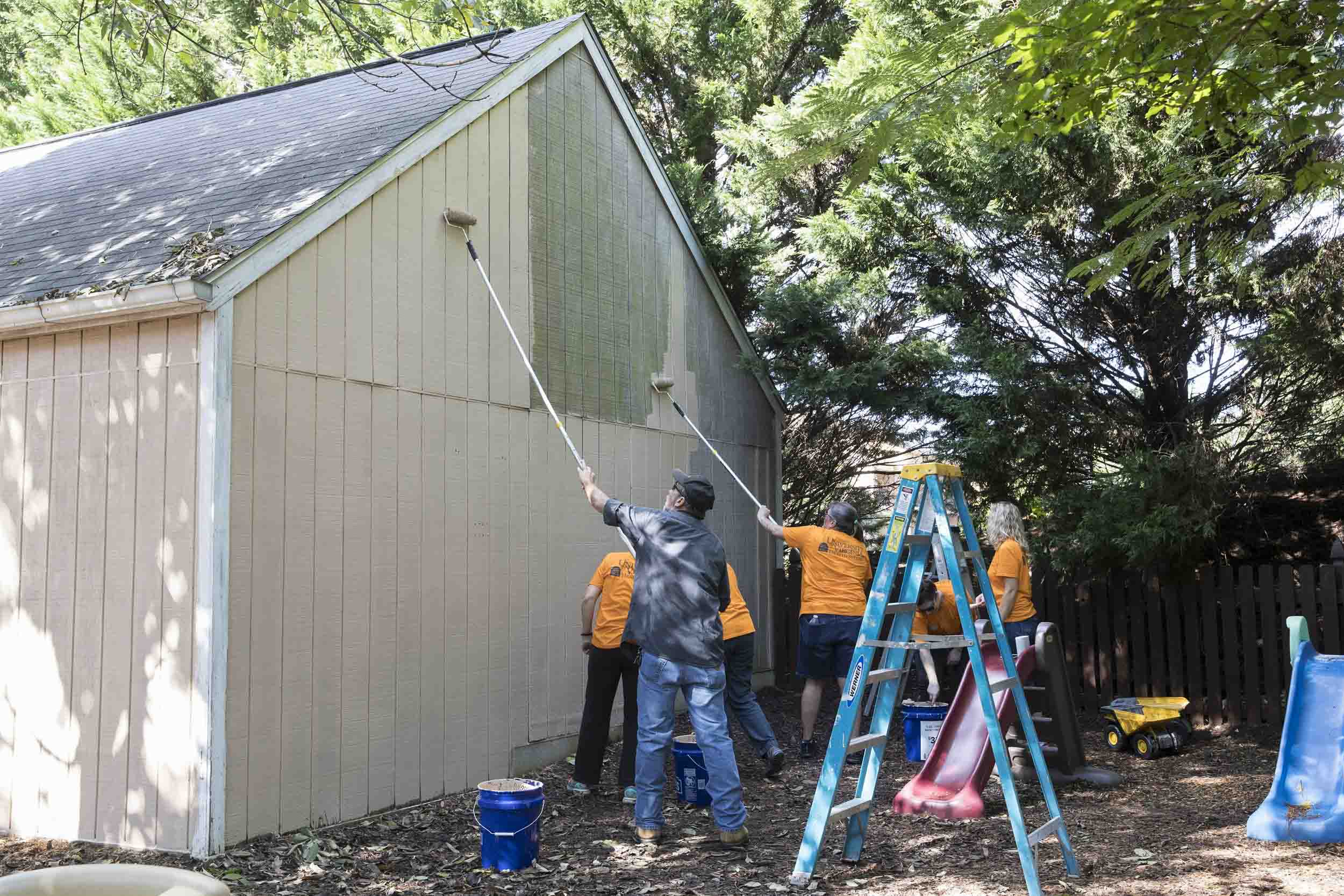 Facilities Management has worked with Camp Holiday trails for years, said Lahendro, who coordinates with LaRoche and her staff months ahead of time, putting together a spreadsheet of jobs so the work can be done as efficiently as possible.
"It is amazing how much we can get done in one day," Lahendro said.
Lahendro himself was working with a crew using a vacuum truck to clear clogged culverts. Others were repairing roofs, clearing gutters, cleaning buildings and repairing a greenhouse.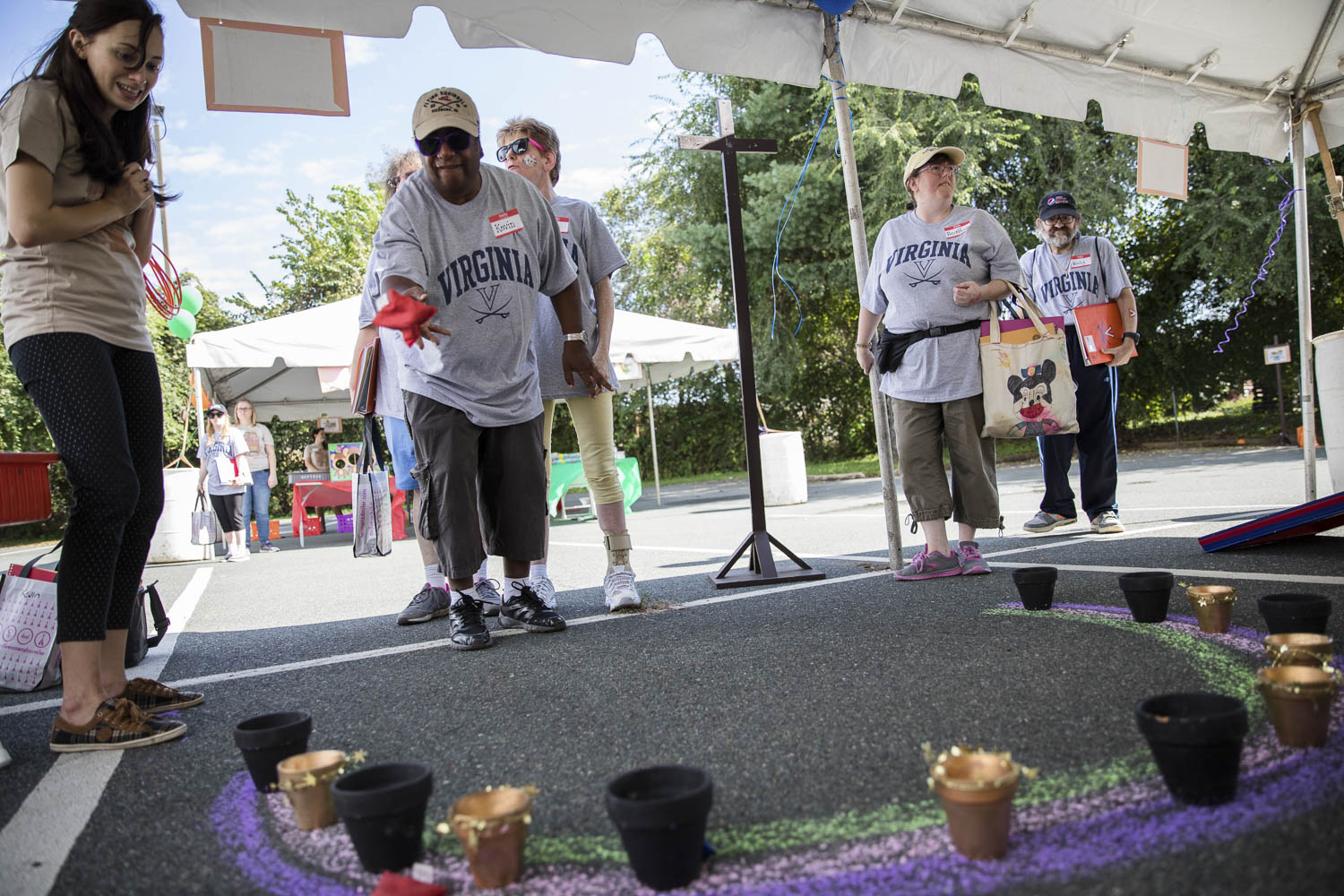 Katherine Meyer, a senior project manager at Facilities Planning and Construction, has been involved with the camp for many years.
"I love coming back here every year and seeing the changes," she said.
Across town, Darden Towe Park was also hit hard by flooding waters of the Rivanna River and UVA volunteers were picking up debris that had washed downstream, including a long piece of concrete reinforcing rod and old tires.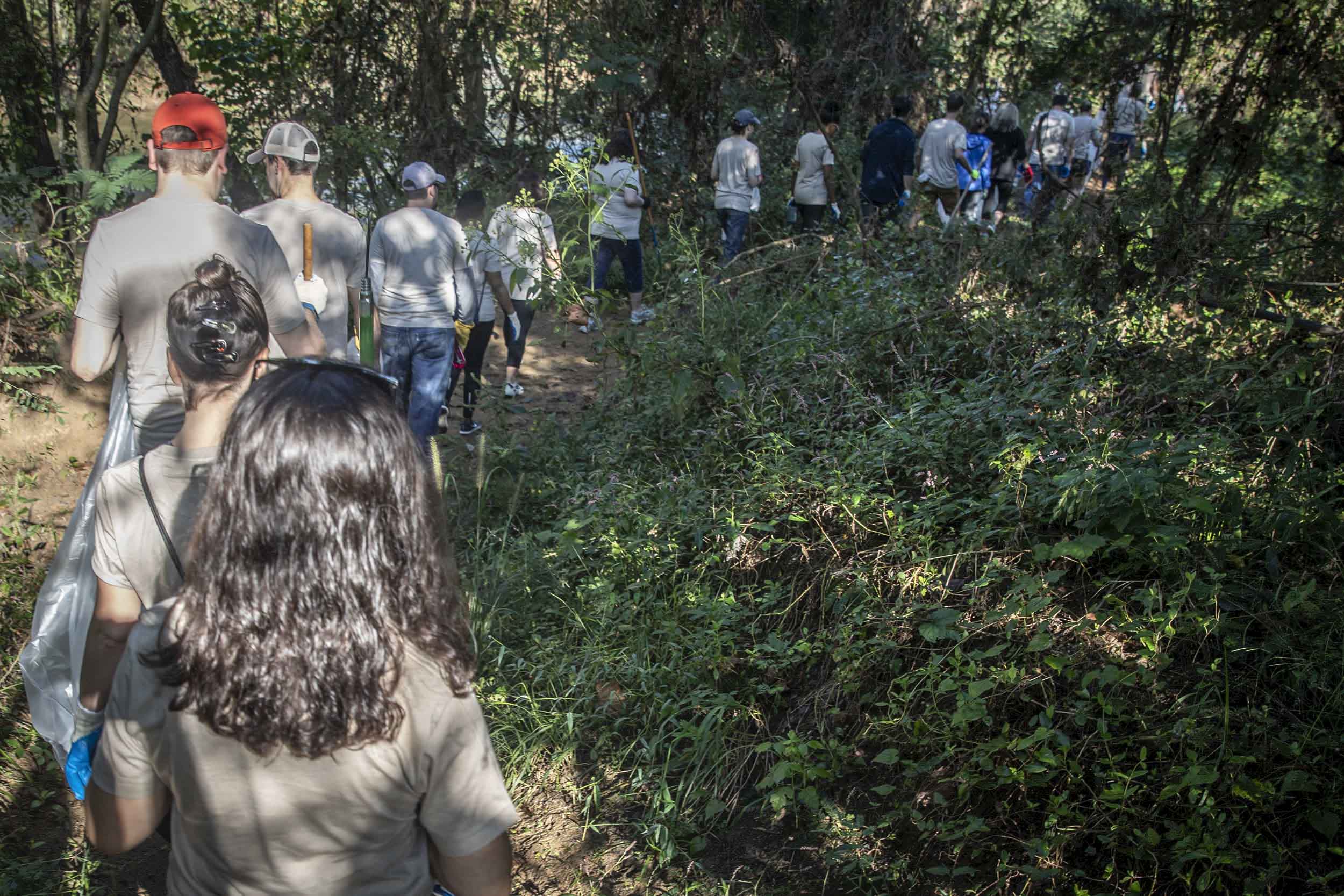 "I think serving in the community is important," said UVA President Jim Ryan, who volunteered at the Darden Towe site. "This gives me a chance to work with the people in the president's office, and it is a beautiful day."
The volunteers from the Office of the President and the Internal Audit Department hiked along the beach area on the banks of the Rivanna, an area of soft sand filled with deer and raccoon tracks, where uprooted tree trunks had washed in the torrent. The volunteers filled trash bags with bottles and cans and other debris and hauled them back to a staging area near a boat dock.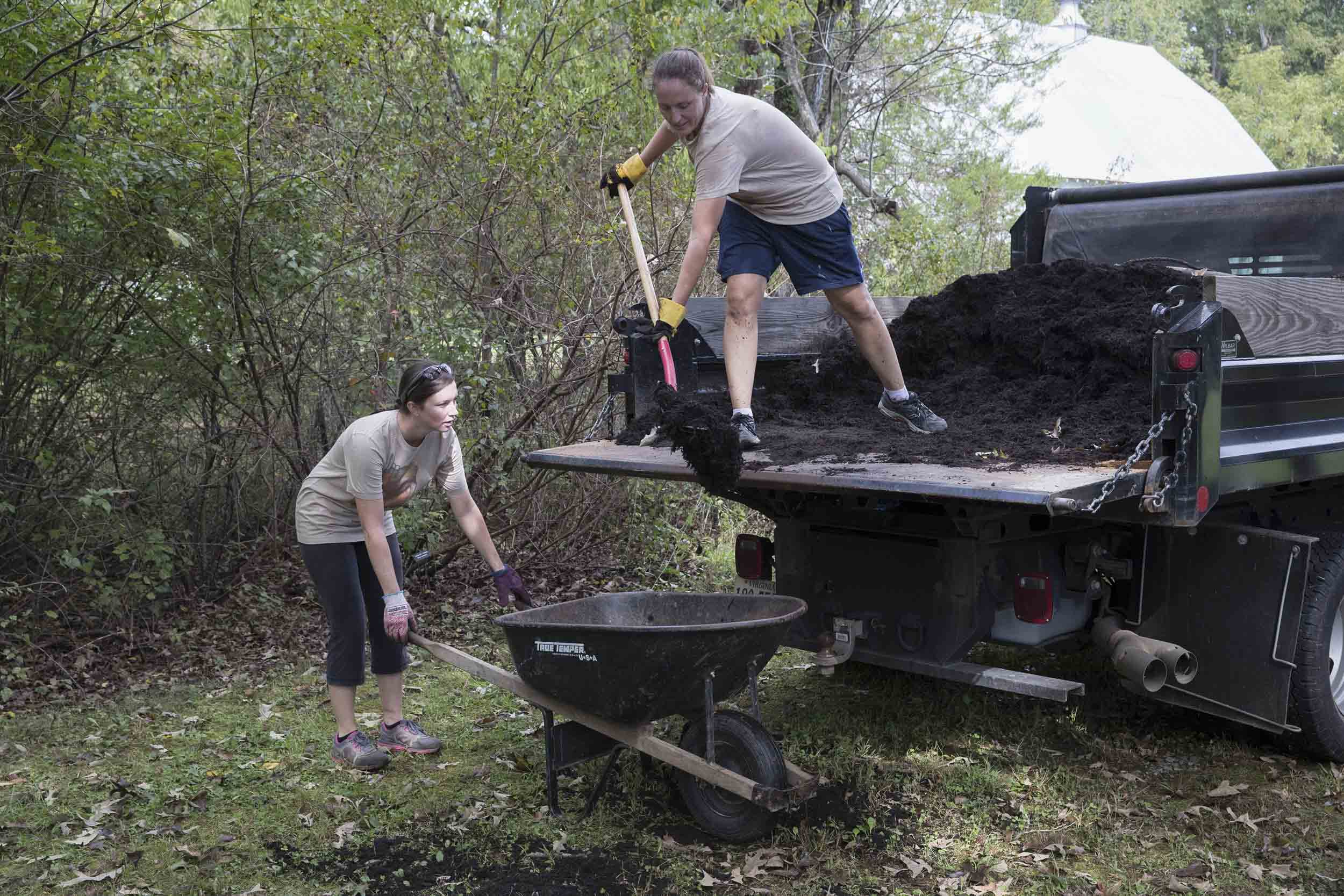 Dan Mahon, Albemarle County's outdoor recreation supervisor, said the volunteers were a great value in clearing the flood damage ahead of this weekend's River Arts & Culture Festival. He said it is good for people from the University to familiarize themselves with Darden Towe Park.
"I want to create a stronger relationship between the county parks and the students who ebb and flow through the community," Mahon said.
One community member who is familiar with the park is David Moltz, who works in Madison Hall and was clearing trash along the beach.
"I love this trail," he said of a pathway through the park. "I jog on it. This gives me an opportunity to help a space that I use."
This is Moltz's first year as a Day of Caring volunteer. "My colleagues in the past have done it, and they seemed to have a good time doing it," he said.
It was the third Day of Caring for Kathy Kimball, who works in UVA's internal audit department.
"I think it is good to give back to the community," Kimball said. "And I am glad UVA gives us an opportunity to pick up trash along the river."
Article Information
September 26, 2018
/content/uva-volunteers-pour-forth-give-back-during-annual-day-caring