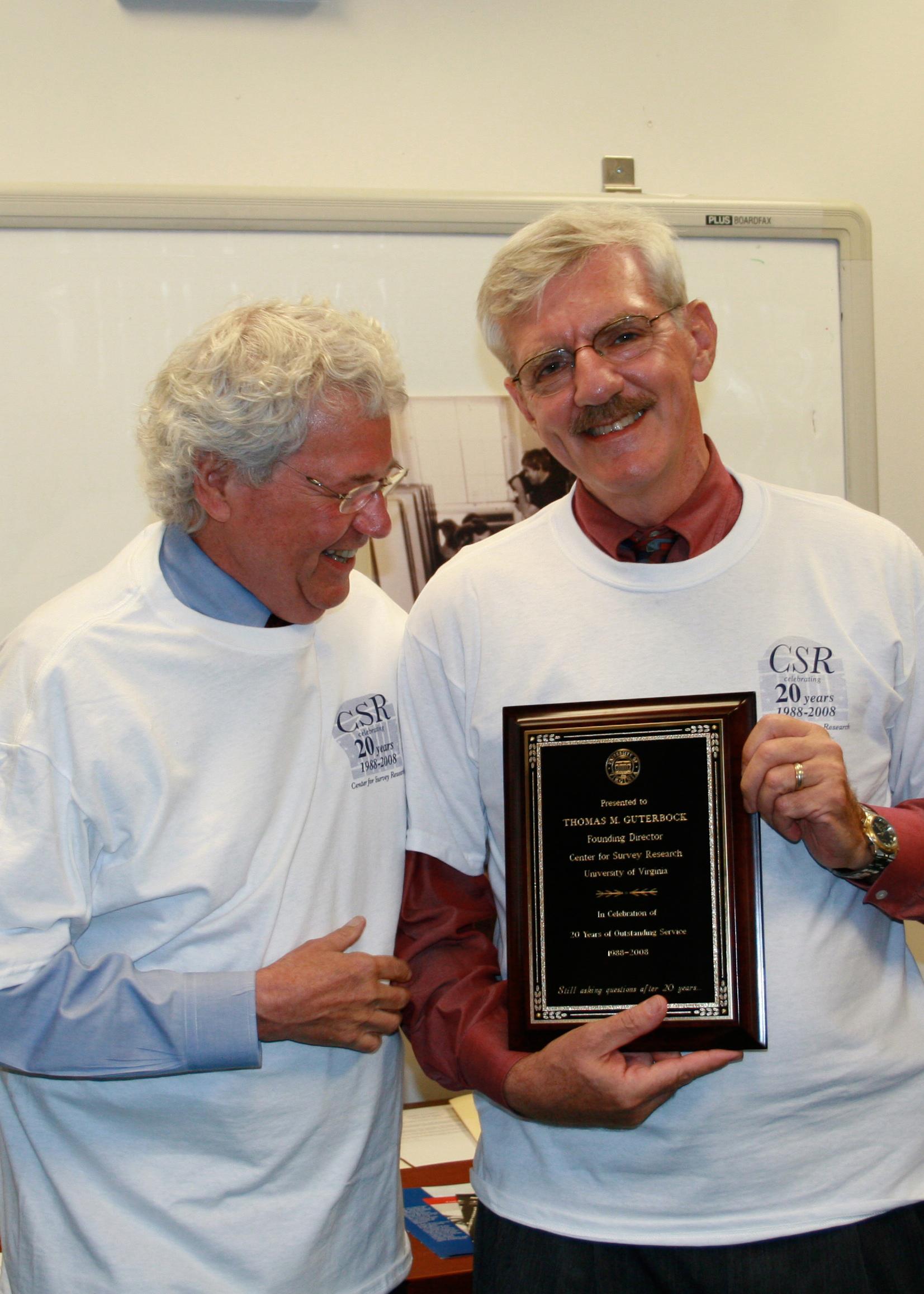 September 22, 2008 — Citizen satisfaction with local services. Emergency preparedness in the region of our nation's capital.. A study of how people like to receive information about health issues. These and many more topics — more than 300 in all — illustrate the scope of projects covered by the University of Virginia's Center for Survey Research, celebrating its 20th anniversary this month.
To mark the occasion, the center threw a birthday party for itself Sept. 10 at the Weldon Cooper Center for Public Service. Director John Thomas expressed appreciation for the work of the survey center, one of the 13 units that make up the Cooper Center, and noted how its efforts have advanced the University's public service mission.
"University-based public service provides the translation and application of intellectual resources and research tools of the academy to the lives of Virginia citizens," he said "This university's founder, Thomas Jefferson, made it abundantly clear that education and the application of knowledge are essential to a democracy.
"Serious survey research, as opposed to general opinion polling, provides quantifiable information, documents reality, reveals insights and offers citizens a qualitative avenue of participation in our democracy. U.Va.'s CSR is among the very best in the nation at achieving Mr. Jefferson's vision," Thomas said.
The Center for Survey Research began its operations Sept. 7, 1988, working on a shoestring budget out of a cramped space on the fifth floor of New Cabell Hall, with Thomas Guterbock serving as the founding director and political scientist Steven Finkel (now at University of Pittsburgh) serving as assistant director for the first four years.
"We started with one-half of a faculty line, one grad student and no offices," Guterbock recalled. The late Hugh P. Kelly, then dean of Arts & Sciences, matched the initial $30,000 academic computing equipment award with furniture and space for an interviewing laboratory, Guterbock said.
The center's first commissioned survey was staffed by community volunteers, who gathered census-type data from the region by telephone for the Thomas Jefferson Planning District Commission. It soon became clear that the endeavor had potential for funded research, Guterbock said
"Over the years, we've benefited from having talented staff members who know how to work well in a team environment," he said. "What I love about this job is that every project is different. We're always working with new people and always learning new things."
The center's projects have covered a wide variety of topics, everything from the ethics of surgeons to U.Va. faculty views of the Honor System to the price of lubricating oil in paper mills. During the 1990s, the center also supported occasional "class poll" projects in which students in sociology or government classes asked Virginia residents for their views on political contests and social issues.
A large number of projects have been in the general areas of health promotion and health services delivery, said Guterbock, who has a joint appointment in the Sociology Department and in the Medical School's Department of Public Health Sciences.
In 2000, the Center for Survey Research moved its administrative home out of Arts & Sciences to become part of the Cooper Center, and since 2003 has been housed at 2400 Old Ivy Road. It now offers a 22-station, computer-assisted telephone interview lab and a staff that includes 12 salaried professionals and scores of part-time interviewers, coders and project assistants.
The center conducts surveys by mail and telephone, in person and via the Internet. It has completed more than 300 funded survey projects to date, working with researchers from every school of the University, Guterbock said. The center also serves local governments and state agencies in Virginia, as well as non-profits and other universities. 
The center is just completing a citizen satisfaction survey for Albemarle County that features its newest methodological innovation: a telephone survey that includes calls to cellular phones. In recent years, the number of people without landlines has increased, leading to concerns that old-fashioned telephone surveys might be missing a significant demographic. The same method was used successfully in the 2008 annual citizen survey for Prince William County, the 16th consecutive year that the center has conducted the study.
"The new sampling method greatly improves the representativeness of those surveyed," Guterbock said. "This may be the most inclusive sampling methodology ever devised for sampling the general public at a reasonable cost."
Click here for more information about the Center for Survey Research.
— By Rebecca Arrington