Graduate student Michaela Meyer of Southbury, Connecticut became the first female competitor in the University of Virginia track and field program's history to win an individual NCAA title when she took first place Saturday in the 800 meters in Eugene, Oregon, at Hayward Field.
"I am just so grateful for this opportunity and I'm happy to be representing Virginia," Meyer said about her accomplishment. "It is an amazing feeling. I am beyond grateful."
Meyer used a strong finishing kick to take the lead coming off the final turn and pulled away for the win with a personal best time of 2:00.28 that broke her own UVA school record. That ranks as the ninth-best performance in the 800 meters in collegiate history. Clemson's Laurie Barton, who beat Meyer for the 800-meter title at the ACC Championships, placed second in 2:00.65.
"I started the same way all of my races do and I knew that I wanted to stay in the top pack and if I were able to stay up there the first lap I knew I would have a chance to contend for the title," Meyer said. "With about 150 (meters) to go, I knew it was now or never, so I just went for it and I gave it my all. I was just running my own race. I didn't know the schools that were around me or the people that were around me. I knew I wanted to run my race and to kick with 100 to go and see what happened."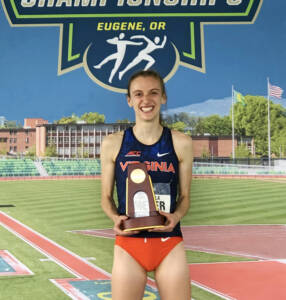 Meyer with her hard-earned trophy. (Contributed photo)
"She was out in lane eight so I told her to stay out in lane eight and don't cut in right away because there was a crowded field with 10 people (in nine lanes)," said Vin Lananna, UVA's director of track and field and cross country. "Everybody was going to be vying for the same spot. I wanted her to sit in second place and for her to stay on the outside for as long as she had to in order to get up to second place. And then I just told her to wait and be patient and when she felt like the time was right, to make the move and roll that last 50. That's what she did."
The meet was a homecoming of sorts for Lananna. He directed the program at Oregon for seven seasons (2005-12). During his tenure, Oregon won six NCAA titles and 13 conference titles. He also coached several Olympians as well as numerous NCAA and Pac-12 event champions. He noted his first NCAA Champion at Oregon was also in the women's 800-meter race.
"I am so excited for her," Lananna said, "She is off the charts. Even at my experienced years, I still get really fired up and excited when kids do the stuff they might not have thought they could do. That's how I define success. She is so humble and really appreciates everything, every day. I'm glad for her.
Immediately after Meyer's race, UVA graduate student Andrenette Knight of Morant Bay, Jamaica, finished third in the 400-meter hurdles to take the bronze medal in that competition. She ran a time of 55.81. It was Knight's fourth time competing in the event at the NCAA Championships and was the first time she had reached the event finals.
"Angie is fantastic competitor," Lananna said. "She did a great job from the prelims to here. That was a great 400-hurdles field and to finish third is terrific."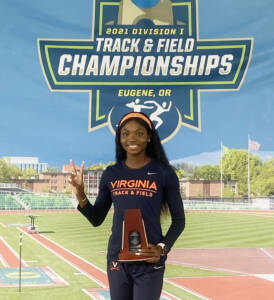 Graduate student Andrenette Knight took home the bronze medal in the 400-meter hurdles. (Contributed photo)
Both Meyer and Knight earned first-team All-America honors for their performances.
Thanks to their finishes, UVA picked up 16 total points and tied for 16th place in the final team standings. That is the best finish by a Cavalier squad since 1983.
During the four-day meet, the Cavaliers saw five other competitors earn first-team All-America honors thank to top-eight finishes, and five more garnered second-team All-America accolades.
The men's team was led by the third- and fifth-place finishes of freshmen Claudio Romero and Jacob Lemmon, respectively, in the discus throw. Romero's top throw of 61.36 meters (201' 4") came on his fifth attempt. Lemmon, who was ranked No. 15 in the nation in the discus prior to the postseason competition, threw for 57.78 meters (189' 7") on his first attempt in the circle and that held up to get him fifth place.
In the 3,000-meter steeplechase, sophomore Derek Johnson used a school-record performance to place seventh, with a time of 8:32.95. That was almost four seconds better than his previous best time. It was the best showing by a Cavalier in the event since Jan Foster was sixth in 2007.
In the triple jump, Owayne Owens was 15th. His top mark was 15.77 meters (51' 9").  It was the first outdoor championship for all four of the Cavalier men.
Jada Seaman picked up a pair of second-team All-American honors. She was ninth in the long jump (6.36 meters / 20' 10.5") and part of UVA's 4×100-meter relay team that placed 16th with a time of 44.21. That squad also included Anna Jefferson, Kayla Bonnick and Halley Hazzard. They were the first 4×100 team to represent Virginia at the NCAA Championship meet.
"I am very pleased with our week," Lananna said. "We had some good performances. As I said the other night, the improvement we saw in Derek this year was off the charts. He was a 9:14 steeplechaser; now he's run 8:32 and is knocking on the door of qualifying for the Olympic trials. It's unbelievable. It's great and we're just getting started."
Article Information
June 13, 2021
/content/uvas-michaela-meyer-wins-800-meter-race-ncaa-championships