The University of Virginia Licensing & Ventures Group has named two winners, an individual and a team, of the 2016 Edlich-Henderson Innovators of the Year, given to University faculty members whose research discoveries are making a major impact on society.
John A. Hossack, a professor of biomedical engineering, has focused his research on the use of ultrasound and microbubbles in imaging and drug delivery. His innovative discoveries played a role in three successful startup companies headquartered in Charlottesville.
N. Scott Barker and Robert M. Weikle II, professors of electrical and computer engineering, and Arthur W. Lichtenberger, research professor of electrical and computer engineering, respectively, have spent years working on materials, devices, circuits and systems for the measurement and detection of terahertz radiation, or THz. Terahertz radiation refers to frequencies on the electromagnetic spectrum that are invisible to the naked eye and that fall in between microwave and infrared wavelengths. Until recently, the means to detect the tiny wavelengths of THz did not exist.
Barker, Weikle and Lichtenberger's work has practical applications in fields like radio astronomy and compact radar surveillance.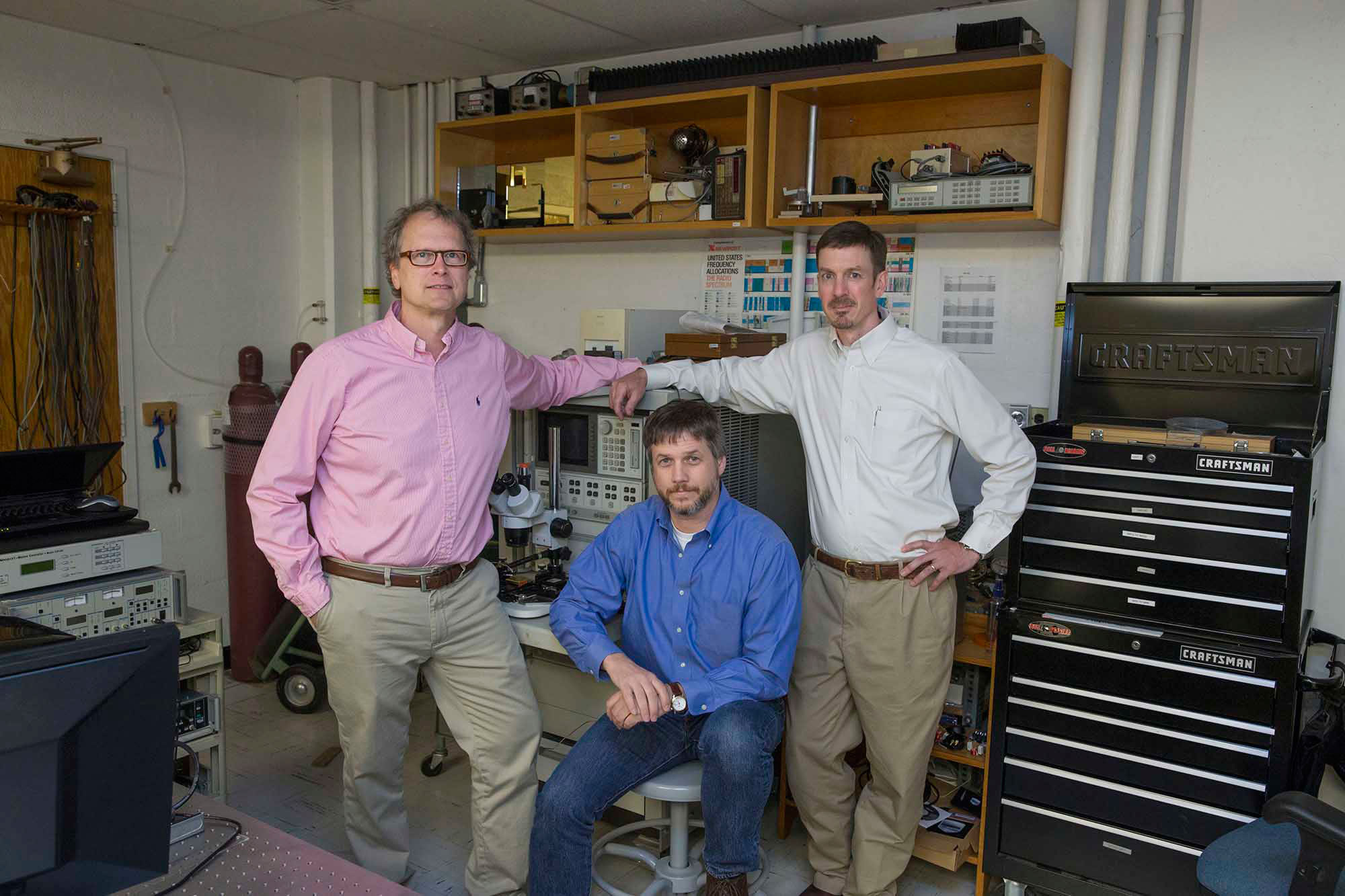 Dominion Microprobes group winners: This year's Innovators of the Year group winners from left to right, professors Robert M. Weikle II, N. Scott Barker and Arthur W. Lichtenberger. (Photo by Dan Addison)

UVA has a 40-year history of international leadership in THz technology, including a long-standing collaboration with the National Radio Astronomy and the National Ground Intelligence Center, both headquartered in Charlottesville. Barker, Weikle and Lichtenberger developed a unique THz wafer probe to measure the electromagnetic characteristics of electronic devices and circuits. Their small probe eliminates much of the cost and error associated with traditional methods of THz measurement and allows users to measure higher frequencies.
"The innovations of this year's award recipients are a clear reflection of the quality and variety of UVA's faculty research," said Michael P. Straightiff, executive director of the Licensing & Ventures Group. "John, Scott, Art and Bobby exemplify the spirit of entrepreneurship, and there is no better way to show the world the extraordinary work done at UVA than to recognize the outstanding and impactful work of these faculty pioneers."
Hossack uses ultrasound technology – similar to a highly scaled-down version of sonar – for cardiac imaging, bone-surface imaging and molecular imaging. He frequently uses microbubbles – tiny gas-filled bubbles in the range of 1 to 4 microns in diameter – in combination with focused ultrasound to allow for localized drug delivery.
"Ultrasound is particularly good for imaging the heart, because it's capable of fast acquisition, and it's inexpensive, portable and easy to operate," Hossack said. "One of the key observations we obtain from ultrasound is the changing geometry of organs or vessels, so that we obtain measures of organ function, and in the case of the heart, of how well the heart is operating as a pump for the blood circulatory system."
There is a critical need for such capabilities in cardiac imaging because heart disease kills 610,000 people in the United States every year – one in every four deaths, according to the Center for Disease Control and Prevention. The CDC also reports that on average in the United States, one person dies of a stroke every four minutes.
With the use of medical imaging to detect progressive stages of disease, Hossack is interested in examining how microbubbles could help strategically identify damaged tissues and deliver drugs.
"The bubbles are gas-filled and are highly responsive to incoming ultrasound," he said. Microbubbles vibrate in the presence of ultrasound and can cause a transient weakening of the membrane of target cells. The difficult part of drug delivery is to facilitate entry of the drug through the normally impermeable cell membrane. The ideal solution is for the bubbles to briefly weaken the cell membrane just enough to enable the drug to pass through and thereafter allow the cell to fully recover.
"An important attribute of this method is that it's site-specific," Hossack said. "We can paint a surface with the focus of an ultrasound beam so that we can be very selective as to where the drug is delivered, and that allows us to achieve a higher site-specific concentration of a drug that would otherwise be systemically toxic."
In 16 years at UVA, Hossack has been involved in 38 invention disclosures that resulted in 10 issued patents in the U.S. and 16 issued patents internationally. His inventions have contributed to the launch of three startup companies: PocketSonics, Rivanna Medical and SoundPipe.
In 2005, PocketSonics was created to develop a handheld ultrasound device. In 2013, the company was acquired by Analogic Corporation, which in early 2016 announced its first sale of the Sonic Window for use in patients undergoing kidney dialysis.
Former doctoral students F. William Mauldin and Kevin Owen launched Rivanna Medical in 2010 with the goal of commercializing another handheld ultrasound device. In late 2015, Rivanna announced its first sale of Accuro, developed to aid the accurate administration of spinal and epidural anesthesia.
SoundPipe, a company developing an ultrasound-based catheter system for the treatment of peripheral artery disease, launched in 2013 and received government funding to pursue additional research and development.
Hossack said innovation heavily relies on collaboration between peers, students, technicians, mentors and investors.  
Barker, Lichtenberger and Weikle began working with a major multinational company through a DARPA grant a few years ago to develop the first terahertz transistor, an international watershed milestone in high-frequency electronics. The transistor is the most important device in electronics and has made modern consumer electronic devices (such as the cell phone) possible. Unfortunately, the speed at which transistors can function is limited. The development of terahertz transistors (which operate about 1,000 times faster than those found in ordinary cell phones) opens the potential for a new high-speed applications in radar and communications. 
"The company contacted us to develop the high-frequency infrastructure to be able to measure the transistor's THz performance," Weikle said. "This was the genesis for our research and development of THz wafer probes. The only technique that was available was to separate out a device and mount it in a custom test fixture. In other words, engineers would have to basically cut out a device and glue it into a metal holder to test it. The problem with this, other than the associated time and expense, is that the metal holder interferes with the measurements you are trying to do."
This approach was problematic because it was very time-consuming and, importantly, would not allow for accurate measurements of the targeted device.
"We are operating at such high frequency, 100 to beyond 1,000 gigahertz, that every little detail and misalignment has a significant effect in terms of measurement," Barker said. "This is 100 to 1,000 times faster than the radio frequency electronics in your cell phones.
The three researchers found a way to speed up traditional measurement methods and make them applicable across multiple devices.
"Previously, wafer probes were hand-assembled from discrete components in a time-consuming and less precise manner," Lichtenberger said. "In contrast, we are using innovative integrated circuit technology to fabricate a wafer of high-resolution probe chips that are then, in turn, used to test THz devices fabricated with integrated circuit technology. Our fabrication of a probe wafer yields thousands of ultra-thin, silicon probe chips of various designs for different frequency bands that integrate all electrical components to provide diagnostic measurements for a multitude of devices."
The first prototype model was built in 2010 and it wasn't long until the researchers realized that their innovation was unique.
"We filed a provisional patent through [the Licensing and Venture Group] and when it came time to file an actual patent, the three of us recognized that the companies interested in licensing the technology were not going to be able to take the technology we had developed and apply it nearly as well as we would," Barker said. "At that point, we decided to go for it."
The researchers launched Dominion MicroProbes Inc. in 2011. In 2014, Cascade Microtech, the worldwide leader in design and development of wafer probing and systems, approached the researchers and offered to become the sole marketer and sale representative for their products and for Dominion to become its first MeasureOne partner – an exclusive new level of collaboration and partnership.
The partnership has helped the researchers balance their academic duties with the company's management. Two years ago, the company hired its first full-time employee, former Ph.D. graduate student Matthew Bauwens, to manage the day-to-day operations, improve probe performance and help create new products. In 2015, Dominion MicroProbes also joined forces with Lake Shore Cryotronics to develop a line of high-frequency wafer probes for use at cryogenic temperatures.
"We really needed to focus on what we are good at, and that is the technology side of it," Weikle said. "You have to be a little brave to do it, but if you believe in the idea, be brave and go for it."
The Edlich-Henderson Innovator of the Year Award is named for the late UVA Professor Emeritus Dr. Richard F. Edlich and Christopher J. ("Goose") Henderson, a veteran of privately owned financial services businesses.
The 2016 winners will be honored April 13 at the UVA Licensing & Ventures Group's annual innovation award gala at The Paramount Theater. This year's event is part of the Tom Tom Founders Festival. The innovators will take the stage for a public lecture at 6 p.m. The event is free and open to public.  
Article Information
April 8, 2016
/content/uvas-top-innovators-are-revolutionizing-medical-and-communication-technologies