Thomas Jefferson accomplished much in his life – author of the Declaration of Independence, third president of the United States, founder of the University of Virginia. Even our country's love and cultivation of wine can be attributed to him.
Following independence from British colonial government, Jefferson spurned port from Britain and Madeira from Spain, preferring French wines. Though he was successful at nearly everything he undertook, try as he might, Jefferson was never able to grow grapes or make wine in Virginia – surely a disappointment, as he considered "good wine a necessity of life."
Two stewards of his beloved University, however, have created a more rewarding experience. University Landscape Architect Mary Hughes and David Vermillion, an associate technical analyst in Information Technology Services, have successfully cultivated grapes and made wine for seven and five years, respectively. But the husband-and-wife team is quick to defend Jefferson's failings in this endeavor. "He didn't have the tools or technology" necessary to grow grapes in Virginia, they said nearly in unison. Monticello's website agrees. "The successful cultivation of … the classic European wine species was virtually impossible until modern methods were developed to control black rot and such destructive pests as phylloxera, an aphid-like root louse. Many native grapes were grown more effectively … yet the poor quality of the resultant wine hindered the development of an established industry."
Jefferson, considered America's first distinguished viticulturist despite his inability to grow grapes, would be pleased to know that grape and wine production has finally taken root and is flourishing in Virginia.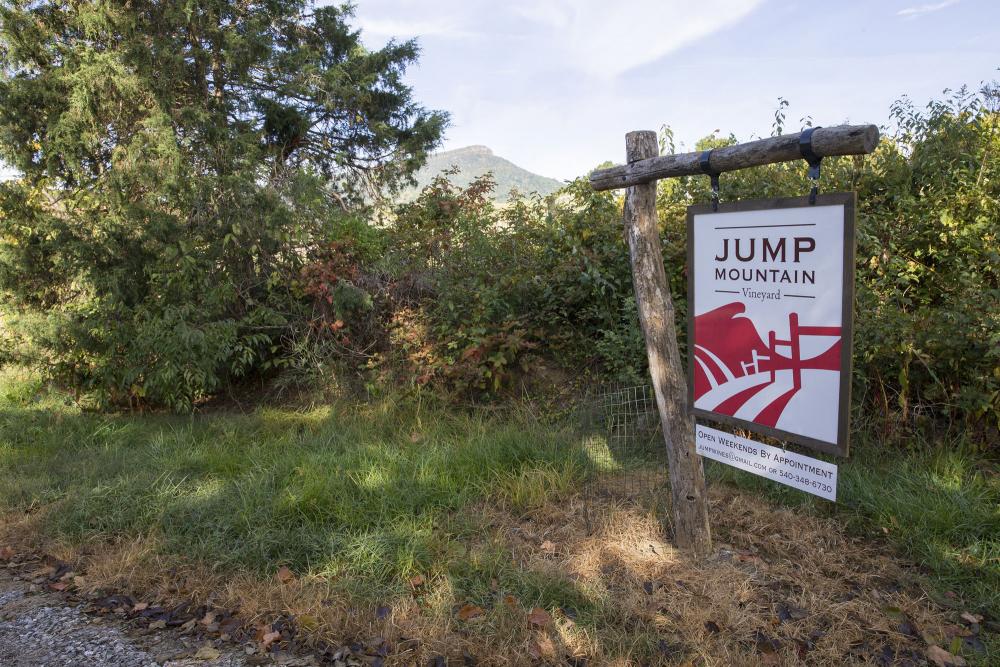 Jump Mountain Vineyard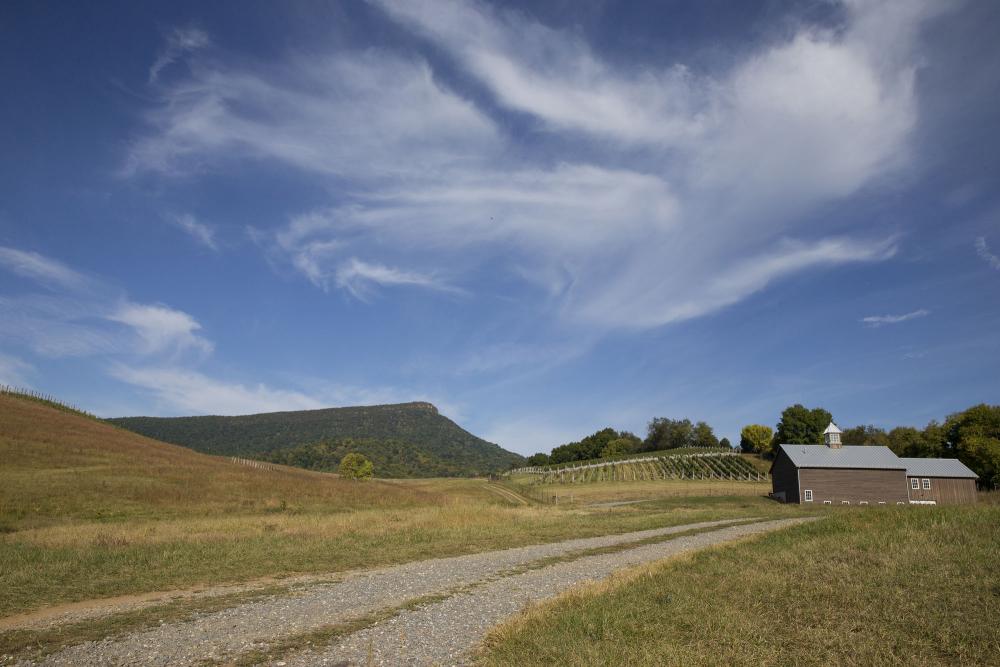 Bank–barn style winery building with the vines and Jump Mountain in the background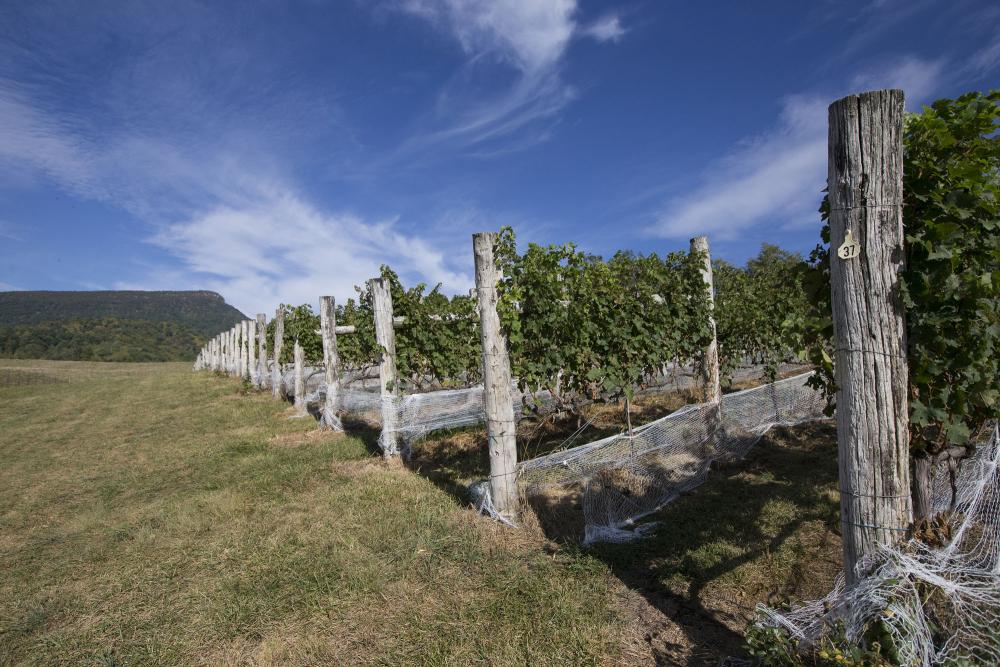 Rows of vines with Jump Mountain in the background
In 1985, the Thomas Jefferson Foundation restored Jefferson's 1807 plan for the northeast vineyard at Monticello. The southwest vineyard was replanted in 1993. Gabriele Rausse, one of the founders of the modern Virginia grape industry, oversees the production of wine and the care of the restored vineyards. He also leads workshops and teaches courses on the subject.
Around 2009, U.Va.'s School of Continuing and Professional Studies offered a course on Jefferson and wine, which Rausse led. He asked Hughes, who teaches landscape architecture and historic preservation courses in U.Va.'s School of Architecture, if she would teach the session on starting a vineyard.  
Hughes said teaching the wine class whetted her and Vermillion's desire to delve further into enology (the study of wine and winemaking) and viticulture (the cultivation of grapes).
Fittingly, "Over a glass of wine one night, we confessed to each other our long-held, secretly repressed dream to own a vineyard," Hughes said.
The two enrolled in a then-new enology and viticulture program offered by Piedmont Virginia Community College and Workforce Services, the only one of its kind then and now in Virginia. "That was around 2004," Hughes recalled.
After they completed the program, they started looking for land for their vineyard, a multi-year project that took them all over Virginia and beyond. They talked to other up-and-coming vineyard owners and winemakers, some of whom are U.Va. alums.
Virginia Wine ­by the Numbers
Fall is grape harvest time in Virginia. Here, the burgeoning wine industry is now home to more than 250 wineries and ranks fifth in the nation for wine grape production, compared to six Virginia wineries and 286 acres devoted to wine grape production in 1979, according to information produced in part by U.Va.'s Weldon Cooper Center for Public Service for the Virginia Department of Agriculture and Consumer Services.
A 2012 economic impact study showed that Virginia wineries and vineyards support 4,800 jobs that provide $156 million in wages; and Virginia's wine industry contributes nearly $747 million annually to Virginia's economy.
Some 1.6 million people visited Virginia wineries in 2010. Two years ago, Wine Enthusiast magazine named Virginia one of the 10 best wine travel destinations in the world.
They even tinkered with the notion of buying an established vineyard in France, where the slumping wine industry has created something of a buyers' market.
"Visiting vineyards is a great way to tour a country," Vermillion said. "We learned a lot, and were tempted – Mary's even fluent in French – but our family and jobs are here."
So a vineyard in the south of France wasn't to be for the U.Va. couple.
In 2006, they bought a remote property in Rockbridge Baths, Virginia, just north of Lexington, that was formerly a veal operation. Soon they were spending every weekend there, tearing down the cattle barn, re-grading the land, removing weeds. Over time, Jump Mountain Vineyard took shape. Finally it was time to plant.  
"Traditional wisdom has been that European grape varieties (Vitis vinifera) are too tender for the [Shenandoah] Valley," Hughes said. "But we thought in the right micro-climate, the European varietals we prefer, such as cabernet sauvignon, could tolerate the conditions."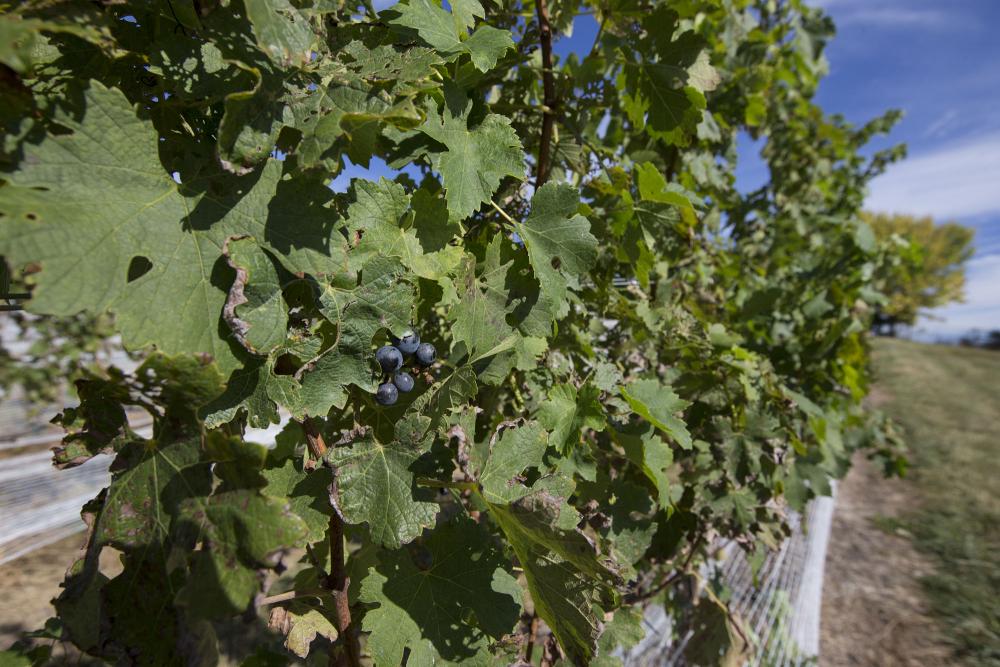 Grapes on the vine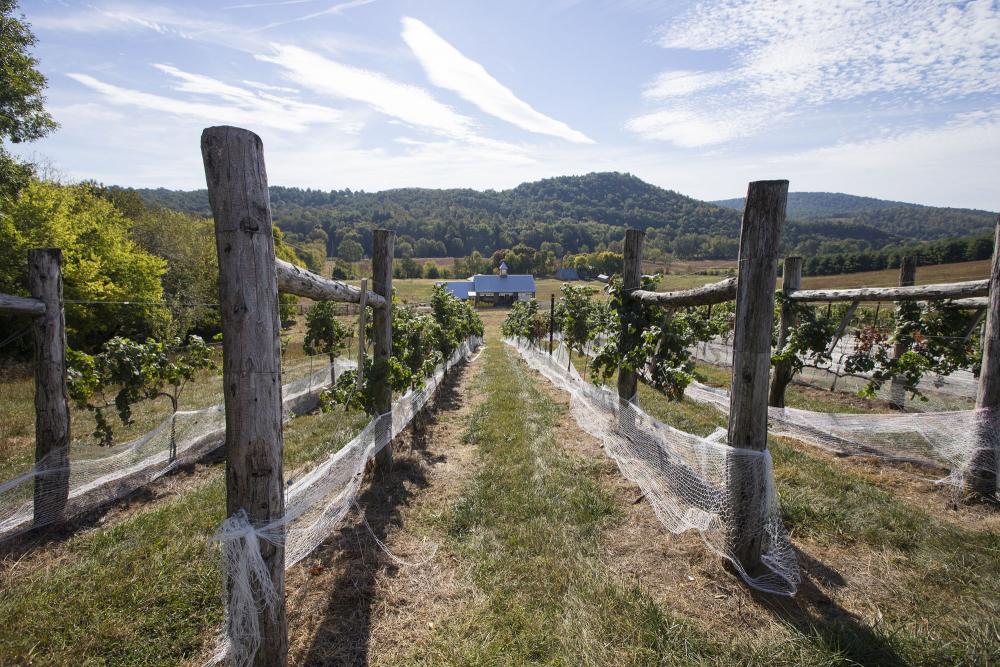 Rows of vines with building in the background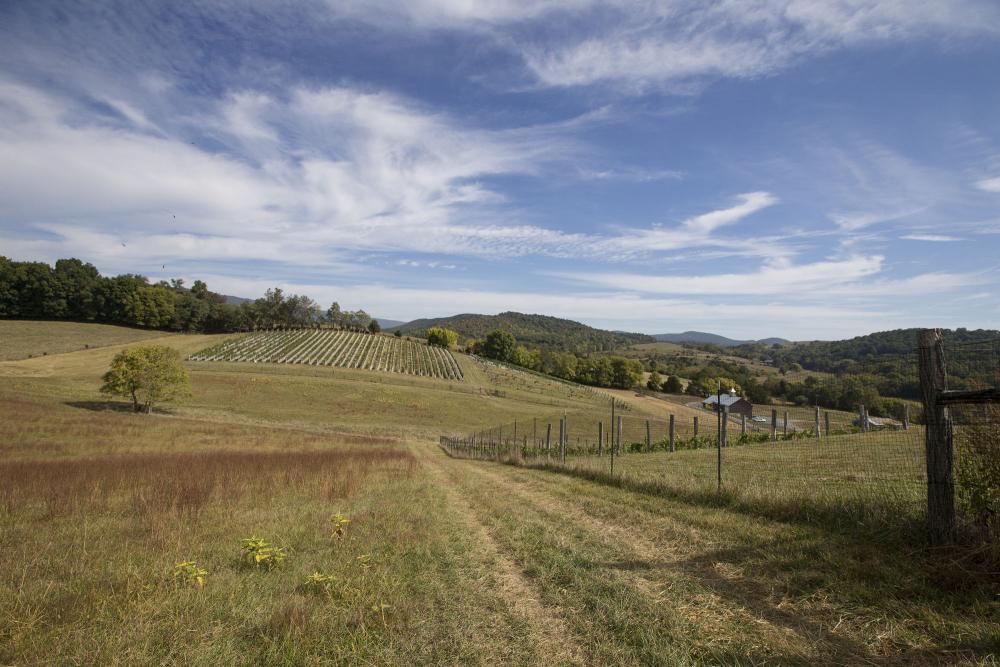 Wide landscape view of the vineyard
'Nimble-fingered Friends'
Jefferson may not have articulated that his Academical Village be a place to cultivate community among all its inhabitants – students, faculty and staff – but that's been an offshoot.
In 2008, Hughes and Vermillion planted their three-acre vineyard with help from about 50 of their U.Va. friends and family. Rausse had told them, "Pick your hottest hill and plant cab sauv. You will always sell it," Hughes recalled.
So that's what they did one spring day seven years ago – they planted 2,000 cabernet sauvignon vines.
Among the friends were Jim and Cathy Popp, Brian Hogg, Andrew Greene, Connie Warnock, Ida Lee Wootten, Kate Meyer, Sandy German, Beth Meyer, George Payne, Joey Toombs, Jody Lahendro, Julia Monteith, Rob Cordero, Susan McKinnon and the aptly named Peter Vines.
"Being part of a new venture and playing a very small part in helping our friends realize their dream gave us great satisfaction," said Wootten, now retired from her post as U.Va.'s director of community relations. "Planting the young vines was like an old-fashioned barn-raising: working together to help friends prosper and succeed."
It takes three years to produce grapes once the vines are planted, and five for them to "hit their stride," Vermillion said.
Cabernet sauvignon requires a "super long growing season for the grapes to fully ripen before harvest," he said. "We have always been able to fully ripen the crop," which he attributes to the vineyard's "distinctive terroir," special characteristics that the geography, geology and climate of a place, interacting with plant genetics, express in agricultural products such as wine.
Like the grapes, their ambitions grew.
"We were only going to grow grapes initially," Vermillion said. "But after a year, we decided to open a winery," Hughes said, and both laughed.
When word reached Hughes' former colleague, Samuel "Pete" Anderson, who'd retired as Architect of the University several years earlier, he informed her and Vermillion that they'd need an architect to design their winery, and he was volunteering his services.
"We had lots of fun visiting other wineries – Pollack, King Family, Rockbridge, Barren Ridge, Blenheim," Vermillion said. "We based most of our plan on the one in Lovingston."
"Ours is a bank-barn design modeled on the local vernacular," Hughes explained. "The top floor is for processing grapes. Tanks are on the lower floor. The cellar is earth-sheltered, meaning it's built into the hill, where oak barrels are aged and bottles are stored."
The couple is pleased with the end result – a beautiful, barn-style winery set in the shadow of Jump Mountain, a local landmark and the operation's namesake – and they're touched that their friend designed it for them. The winery was finished in January 2012, though there are plans to add a tasting room one day.
Jump Mountain produced its first wine in 2011 using another winery, Ankida Ridge in Amherst, to process the grapes and store the wine.
This year's harvest took place Sept. 27 and 28. Lending hands were U.Va. friends Warnock, assistant University architect; Hogg, senior preservation planner; and Kate Meyer, senior project manager in Facilities Management. Meyer also brought her husband, Will, and daughter, Anna.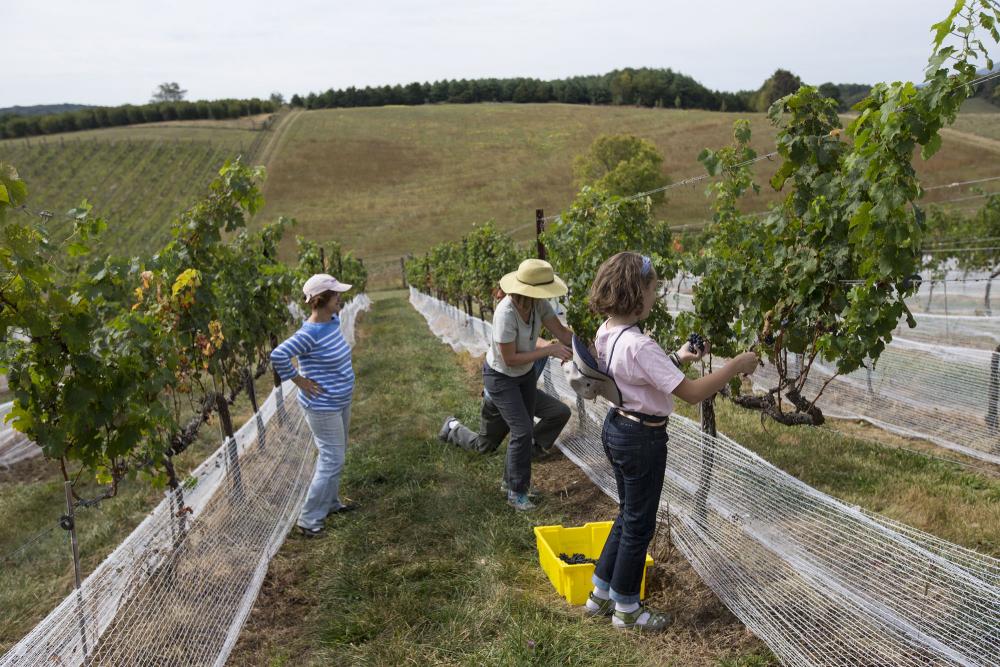 Harvesting grapes, Mary Huges Left, Right Kate Meyer and her daughter Anna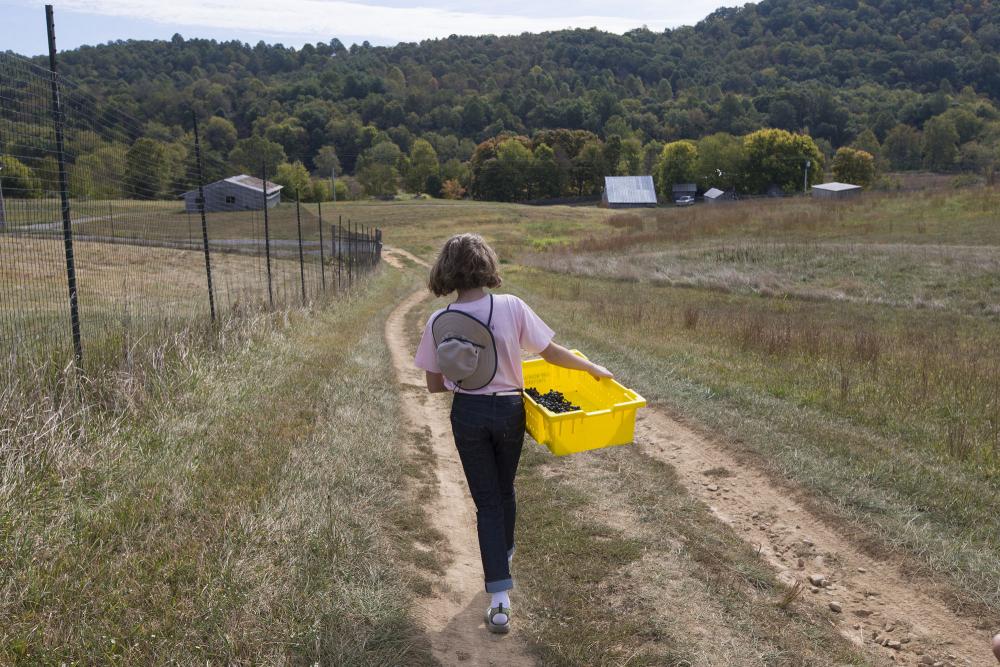 Anna carrying grapes to be processed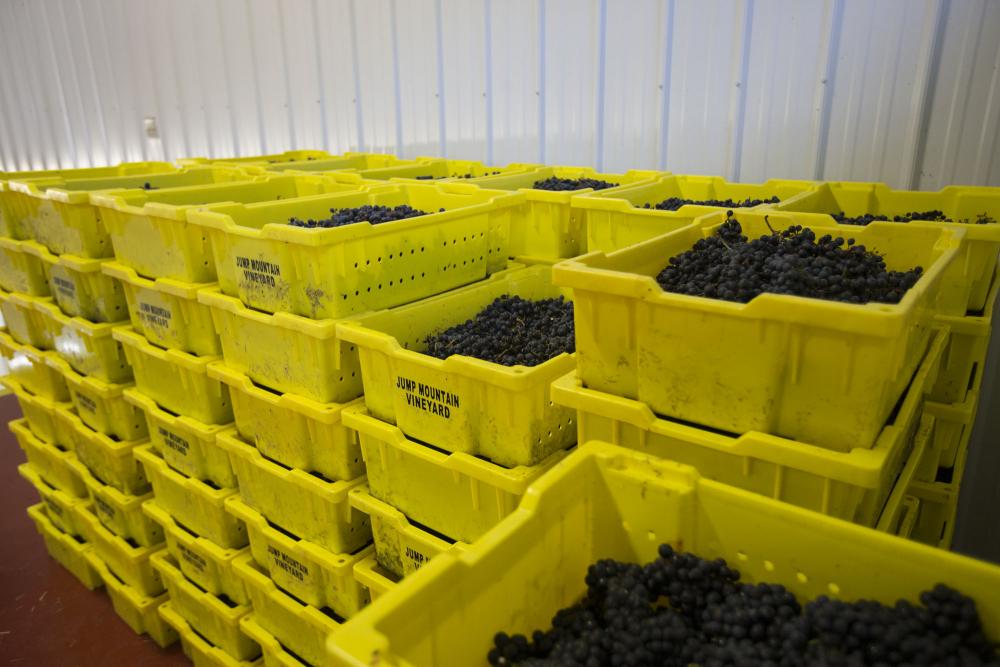 Freshly harvested grapes
Saturday involved picking the grapes. Sunday's task was processing the harvest, Hughes said. "The grapes are dropped into the hopper of the de-stemming machine, which pulls the berries off the stem. Then our nimble-fingered friends were manually sorting through the grapes to pull out any remaining stems, leaves, insects or imperfect berries. The remaining berries were gravity-fed into a steel tank on the floor below. When the de-stemming and sorting process was over, which took all day, I added yeast to the berries to start the alcoholic fermentation process that turns the sugar in the berries into alcohol and juice into wine.
"In order to extract the maximum color, tannins and flavors from the red grapes into the wine, this fermentation process takes place with the whole berries intact and you have to punch down to mix the berries back into the juice twice a day. That is what we are doing now," she said. "The alcoholic fermentation will likely be finished by mid-October, and then we will press the wine off the berries and into barrels. There they will go through a secondary fermentation and start the aging process."
Warnock said of the experience, "If you have friends with a farm-vineyard, you will never see them socially, unless you pitch in with the work. … I leave the chemistry and the magic of wine-crafting to Mary and David. Except for the vine-tending, which takes a little skill, it's pretty basic labor. I am now an experienced taster, however, and could probably identify each vintage in a blind taste test. … But I mostly just enjoy the sun and clouds, the birds and bugs, the mountains and the trees, and tending the vines. Sometimes we chat, but often we work in companionable silence. It is quiet, simple, almost meditative work.
"Unlike U.Va. building projects, which can take years to plan, it is gratifying to see your progress row by row and hour by hour. At the end of a long day, there is nothing better than sitting with friends and watching the sun set on the work you have done together. I'm happy that, with a little help, Mary and David are fulfilling their dream of making wonderful, handcrafted wines at Jump Mountain."
Meyer echoed Warnock's reasons for pitching in. "I'm surprised that Mary and David are not beating away the volunteers. … I go and am rewarded strictly by the pleasures of being in the Virginia countryside in spring and fall, the reward of handling warm earth and sticky sweet grapes, and the conversations with colleagues slipping into meaningful friendships developing over seasons.
"I don't feel any connection to the Jeffersonian ideal of a country of yeoman farmers. In fact, if anything, it is a retreat from the scholarly pursuits of the Academical Village, or the day-to-day work of U.Va. But I am a real cheerleader for the value of working at U.Va., going well beyond my paycheck. My neighbors work at U.Va. The music and art exhibits that I go to tend to be at U.Va. I use the gym, eat out and attend sporting events at U.Va. Helping out at Mary and David's vineyard is another manifestation of U.Va. – not direct – but the people that it draws, their endeavors, their creative, analytical and global perspectives enrich our community and me."
Hughes and Vermillion said they are always in awe of their friends' willingness to help. "We've been very fortunate to have the support of friends and family," they said.
That support spills over into their winemaking and grape-growing family, too.
"What's remarkable about the Virginia wine industry is how helpful and cooperative everyone is. It's not cutthroat as one might expect. We all feel we're part of growing something that's in its infancy in Virginia. We're still learning to help the next generation of winemakers and grape growers; it's not proprietary at all. They open their hearts and share their knowledge," Hughes said.
Why U.Va.?
One day, operating Jump Mountain Vineyard could consume Vermillion and Hughes' full-time attention. But for now, it's their avocation. Why do they choose to work at U.Va.?
For a landscape architect like Hughes, it doesn't get any better than working at the only university in the U.S. designated a UNESCO World Heritage site.
Hughes earned a graduate degree from U.Va.'s Architecture School in 1987 and thought she had landed her dream job when she went to work at the National Park Service. And it was – until an intern told her about a new landscape architect job at U.Va. She placed a call to the Architect of the University, Anderson, whom she didn't know at the time. The two hit it off, and she was hired in 1995.
Vermillion has worked in information technology since 1999. Taking a job at U.Va. was a homecoming after a circuitous life that included time in Southwest Virginia and Alaska. He grew up in Charlottesville, earned a degree in math from Virginia Tech and served in the Coast Guard, where his training as a diesel mechanic comes in very handy at the vineyard, Hughes said. "He can diagnose and fix tractors and equipment on the fly."
Vermillion was unwittingly lured back to Charlottesville by a firm in Roanoke filling IT positions for a "nearby college town," he recalled. Coming home didn't turn out to be a bad thing. The best part, of course, is that he met Hughes, but he also likes working with his IT colleagues, and enjoys technology and problem-solving. These interests carry over into his work at Jump Mountain.
Vermillion keeps notes on the vineyard in a spreadsheet that tracks temperatures, rainfall and the like. Every year is different, so every year the optimal time to harvest – "at peak sugar, when every creature around starts to descend on the grapes because we can all smell the sugar, bears, raccoons, turkeys, birds" – is different, he said. Around harvest time, their wine consultant, Mathieu Finot, the winemaker at King Family Vineyard, reviews Vermillion's notes online and they determine a course of action.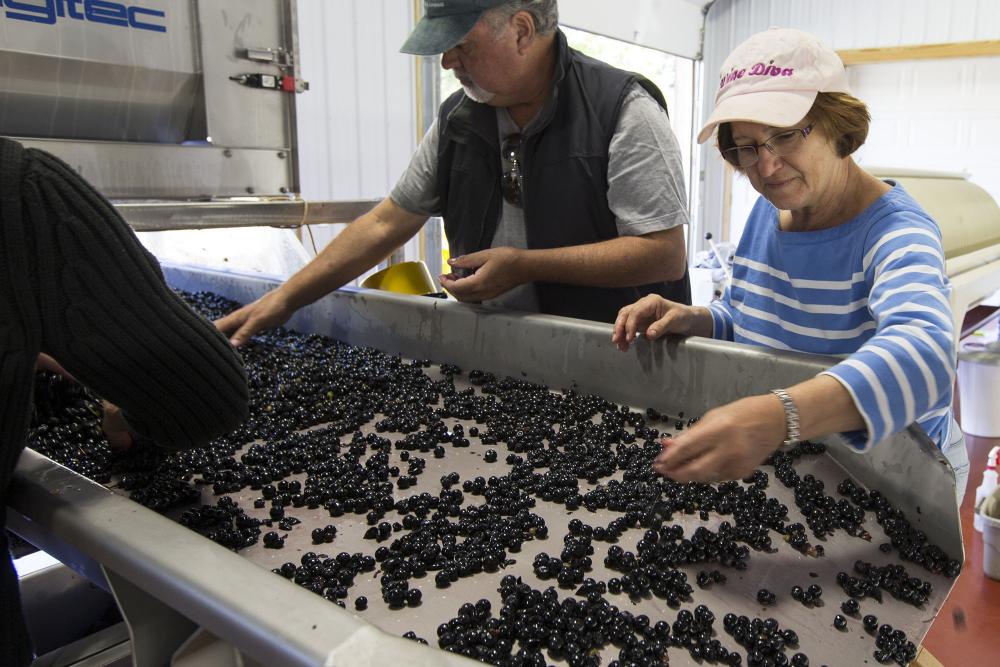 Co–owner Mary Hughes making sure all stems are removed before they fall into the steel tank below.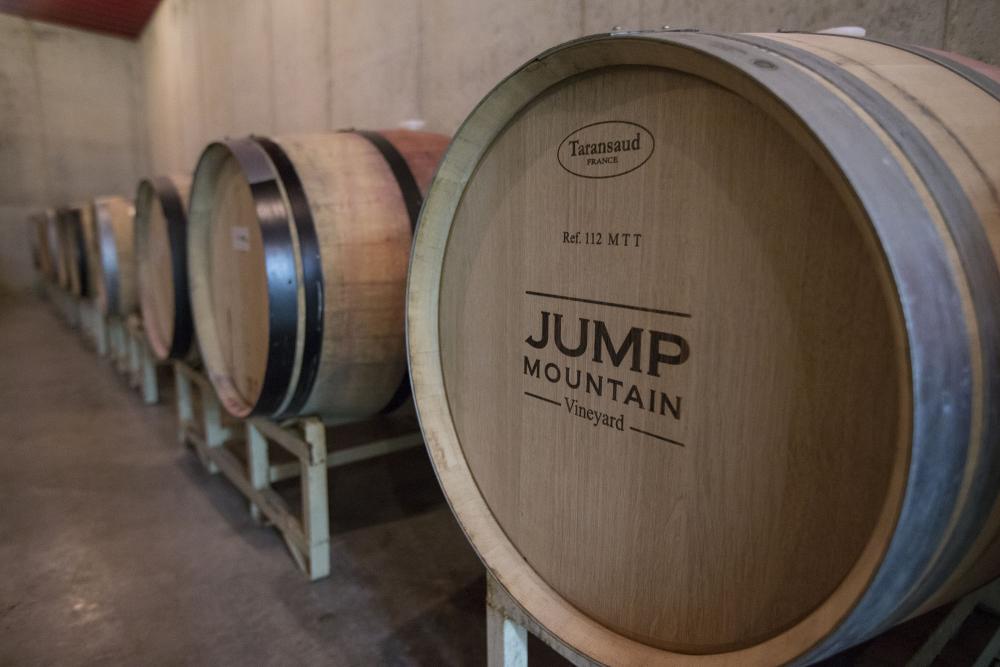 Barrels in the cellar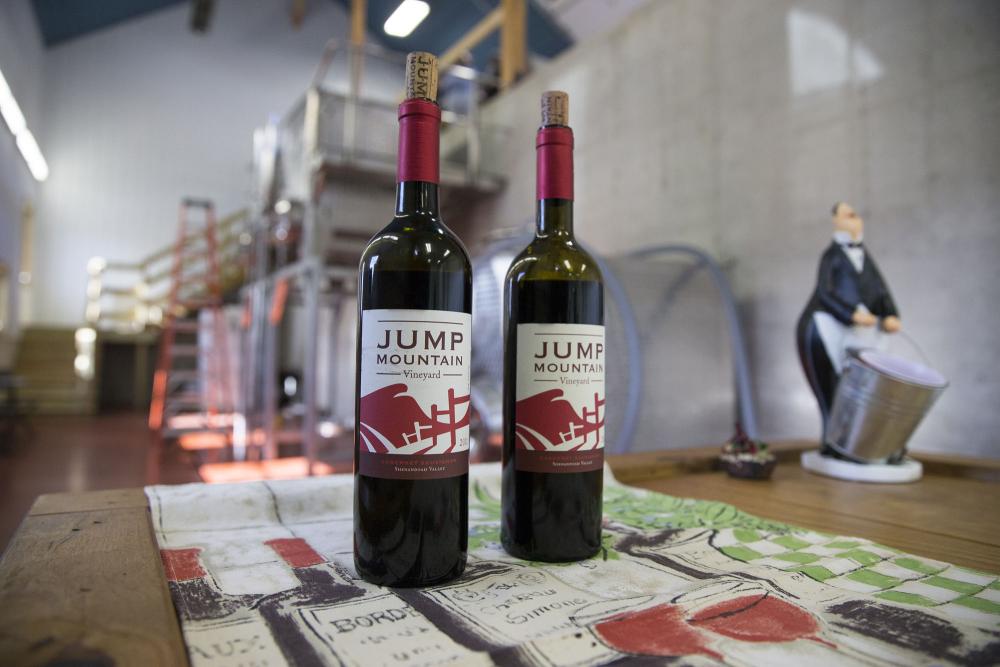 Bottles from Jump Mountain Vineyard
Labor of Love
"It's the hardest thing I've ever done – grape growing and winemaking," Vermillion said.
"The struggle is necessary to produce good grapes," Hughes said. "It's the art" of it, Vermillion agreed.
How is this year's crop?
"We were very pleased with the quality of the berries we harvested this year," Hughes said. "Due to the dry weather, they had a high sugar content and very concentrated flavor. The juice is a very deep red and tastes wonderful so far!"
The two plan to expand their operation to five or six acres this year. They just planted another hill with white Gruner Veltliner grapes from Austria. Other varieties they've planted include Tannat, a Basque grape from the Pyrenees, Lagrein from the Dolomites – "We have dolomitic soil on our site," Hughes noted – and Refosco, "another northern Italian grape from the region of David's grandfather," Hughes said.
But it's not the planting, harvest or winemaking that give Hughes and Vermillion their biggest thrill as vintners. It's the pour. Sharing the fruits of their labor with others gives them joy, and if the wine is well-received, Hughes said, "We're on cloud nine."
Article Information
October 22, 2014
/content/vine-wine-uva-couple-pour-heart-soul-mind-body-craft