With a father hailing from a family of actors, Caky Winsett was exposed to the theater at a very young age. Yet she never had any interest in becoming an actor herself. The Memphis native had stage fright and, in her words, "no acting or singing ability."
However, as Winsett grew older, she realized that she had a love for all of the other elements of  theater.
That love then turned into a full-on passion at the University of Virginia.
The 2020 alumna, who majored in media studies and English and minored in drama, can't say enough about the things she learned from a wide range of people in the UVA Department of Drama, including associate professor Doug Grissom, lecturer Cady Garey and assistant business manager Judy McPeak.
"These three really made the drama department feel like home, and pushed me to pursue playwriting in a way that I hadn't thought possible," Winsett said.
In Grissom's advanced playwriting class, Winsett – inspired by the stage fright she had as a kid – wrote a short play entitled "Watch Me," which she then expanded to full-length after taking a media studies course, "Privacy and Surveillance," under professor Siva Vaidhyanathan.
"Once I took [the class] with Professor Vaidhyanathan, my imagination really took off," Winsett said. "I started thinking about the potential parallels between the real world and the world I was creating, and was able to add a lot of contextualization."
On Aug. 30, "Watch Me," developed with the Kervigo Ensemble Theatre, debuts for a one-night showing at the Ripley-Grier Studios in Manhattan.
Vaidhyanathan, who has taught "Privacy and Surveillance" for more than 20 years – although he won't do so again until next fall – said he couldn't be more excited. He said Winsett was one of the most motivated and interesting students he's ever had in the course.
"I could tell the subject consumed her and sparked her imagination," Vaidhyanathan said. "Having a course I taught inspire this level of creativity is the greatest honor I have ever received as a teacher. I'm so grateful that the subject made a difference and will continue to resonate through Ms. Winsett's work." 
If you can't make it to the theater on Aug. 30, "Watch Me" will be available via livestream through Sept. 3.
UVA Today caught up with Winsett to learn more.
Q. What specific things did you learn from Professor Vaidhyanathan's class, and how was he able to help you in weaving together your storyline?
A. The class taught me a lot about how surveillance functions in my daily life, and about the laws and regulations that both allow for surveillance and protect our privacy. One thing in particular that really enlightened me to the similarities between our world and the world of my play was an assignment called the "surveillance diary," in which I had to take account of the ways and number of times their actions were tracked and recorded by other parties (commercial, government or personal) over the course of one week. If you really take the time to notice all the ways you're being watched, it can be kind of scary. But, like in my play, we are practically desensitized to this surveillance because it's so prevalent and constant.
Another concept that we covered in class and that I talked with Professor Vaidhyanathan about in his office hours is the panopticon. This is "a disciplinary concept brought to life in the form of a central observation tower placed within a circle of prison cells" (thank you, Google). Essentially, what the concept relays is that if you have a central location where a guard may or may not be, and the prisoners can't tell whether the guard is there or not, they will always behave because they will always believe they are being observed.
The world I've created is a more high-tech panopticon, but there are also examples of the panopticon in our society that we discussed heavily. So it was super helpful to delve into that concept and its principles.
Q. Can you tell UVA readers what the play is about and where the inspiration for it came from?
A. The play is about three teenagers – Tony, Max and Claire – who live in a government facility with no adults, where they are constantly being watched and listened to. Their very scheduled and controlled lives are upended when, for the first time ever, a new person enters the facility. Eli seems to be about their age, but has no idea who he is or how he got there. The four have to work together to try and figure out why Eli is there, and why their perfectly planned world is suddenly glitching.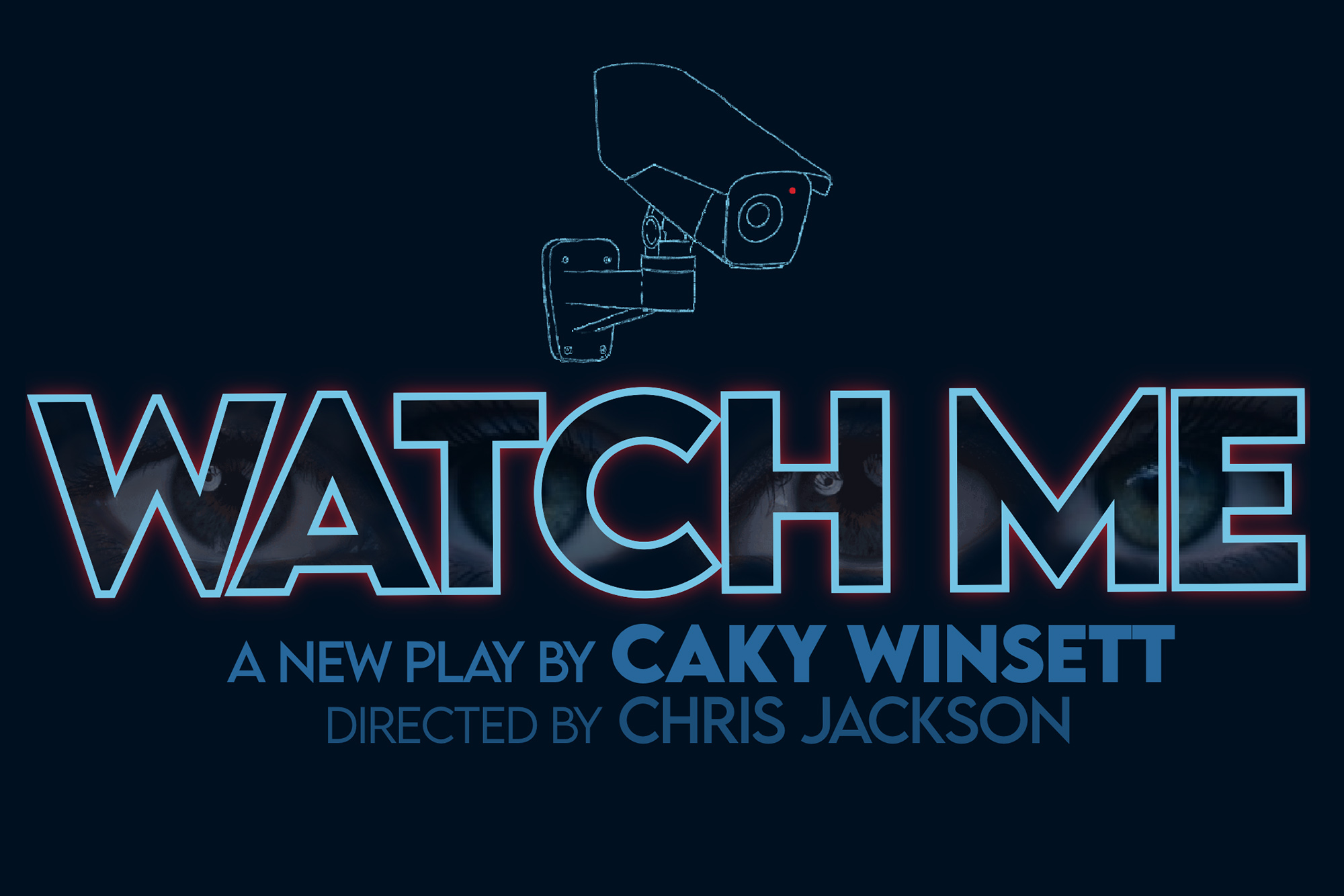 "Watch Me," a play about three teenagers living in a government facility, debuts Monday. (Contributed photo)
The original inspiration for the play came from a place of personal anxiety. As I mentioned, I have horrible stage fright that I was having to face regularly because I kept being placed in situations where I had to stand up in front of people and talk. I examined my own fears about being watched and listened to, both when I know it's happening and when I don't, and it planted a seed for this idea.  
Q. I know I'm always a little bit startled when I'm talking about something with my wife or kids and then, like an hour later, that same thing we were talking about – whether it be a toy or a type of food or piece of clothing – shows up as an ad on my social media. Is that the sort of thing you're trying to get at with your play – that it's like a slippery slope?
A. That is definitely a concept that I explore. However, what I think is important to note is that while my play is an extreme version of surveillance, it is not as far away from reality as we'd like to think. The thing I really want people to consider is not, "Am I being watched?," but more, "What am I doing with the knowledge that I'm being watched?" Will your actions change? How? At what point does surveillance interfere with your ability to be your true self, and how do you prevent it from getting there?
Q. How were you able to get this produced so quickly? Any tips for aspiring playwrights who may be reading this now?
A. To me, this doesn't feel quick at all. I started writing this in the spring of 2019, and have been working with Kervigo to develop it for a full year now. But, I do feel very lucky to have the opportunity for audiences to view my work so young.
My best advice would be to get your work out there. I use Google and different play-submission websites to find open calls and competitions that I can submit my work to, and it only takes one "yes" to have a production. It absolutely does not matter how old you are, how many plays you've written before this, etc. If you have a play that you want people to see, get it out there. And if no one is willing to put it on for you, grab some friends and do it yourself.
The internet is a wonderful tool because you can post a YouTube video of a performance that you bribed three friends into doing in your backyard and you never know who will see it. That's another piece of advice I have: If you want to write plays, make friends who act, who stage-manage, who direct, who do tech, etc. I've turned many hangouts into staged readings, and it has helped me immensely to see the show as I'm working on it.
Q. Is there a chance for the play to continue beyond this one-night showing, and what are your long-term career goals?
A. I'm hoping that this play has a long life after this showing. I would love to continue to work on it, and have it put on across the country. Part of the reason I'm really excited for the livestream is that it gives people outside of the New York area the opportunity to engage, which is a rarity for live theater.
As for long-term career goals, I would love to keep writing plays and getting them in front of an audience. I also have an interest in working on the other side of things, in a literary department of a theater, where I can read new works and help other young playwrights make their own dreams come true.
Article Information
August 27, 2021
/content/watch-me-how-alumnas-new-play-sprouted-popular-media-studies-class