As Wednesday dawned, the University of Virginia's political scholars, like Americans across the country, retrained their eyes – some still bleary from a long Election Night – on the electoral results still trickling in.
UVA is fortunate to have many resources in the study of democracy, from the Democracy Initiative, launched to answer big questions about democracy around the world, to the Miller Center of Public Affairs, one of nation's top centers for presidential history and scholarship, to the Center for Politics, the Frank Batten School of Leadership and Public Policy and the School of Law, where scholars can answer any number of questions generated by this close race between President Donald Trump and former Vice President Joe Biden.
Even as results kept slowly arriving, these scholars were hard at work providing analysis, including quick, timely posts on a page tracking the 2020 Election and its aftermath, and live events, such as a Wednesday afternoon webinar at the Miller Center delving into the data we have so far.
(A full list of post-election analysis and programming at UVA is available here.)
As Wednesday's webinar began, votes were still being counted in key swing states, but Biden was building a lead in the Electoral College. The panelists discussed those results as they came in, and what they might tell us about the state of the country.
William Antholis, director and CEO of UVA's Miller Center, led the panel, which included Mary Kate Cary, a Miller Center practitioner senior fellow and a former speechwriter for President George H.W. Bush; Jennifer Lawless, Commonwealth Professor of Politics at UVA and a faculty senior fellow at the Miller Center; and Saikrishna Prakash, James Monroe Distinguished Professor of Law.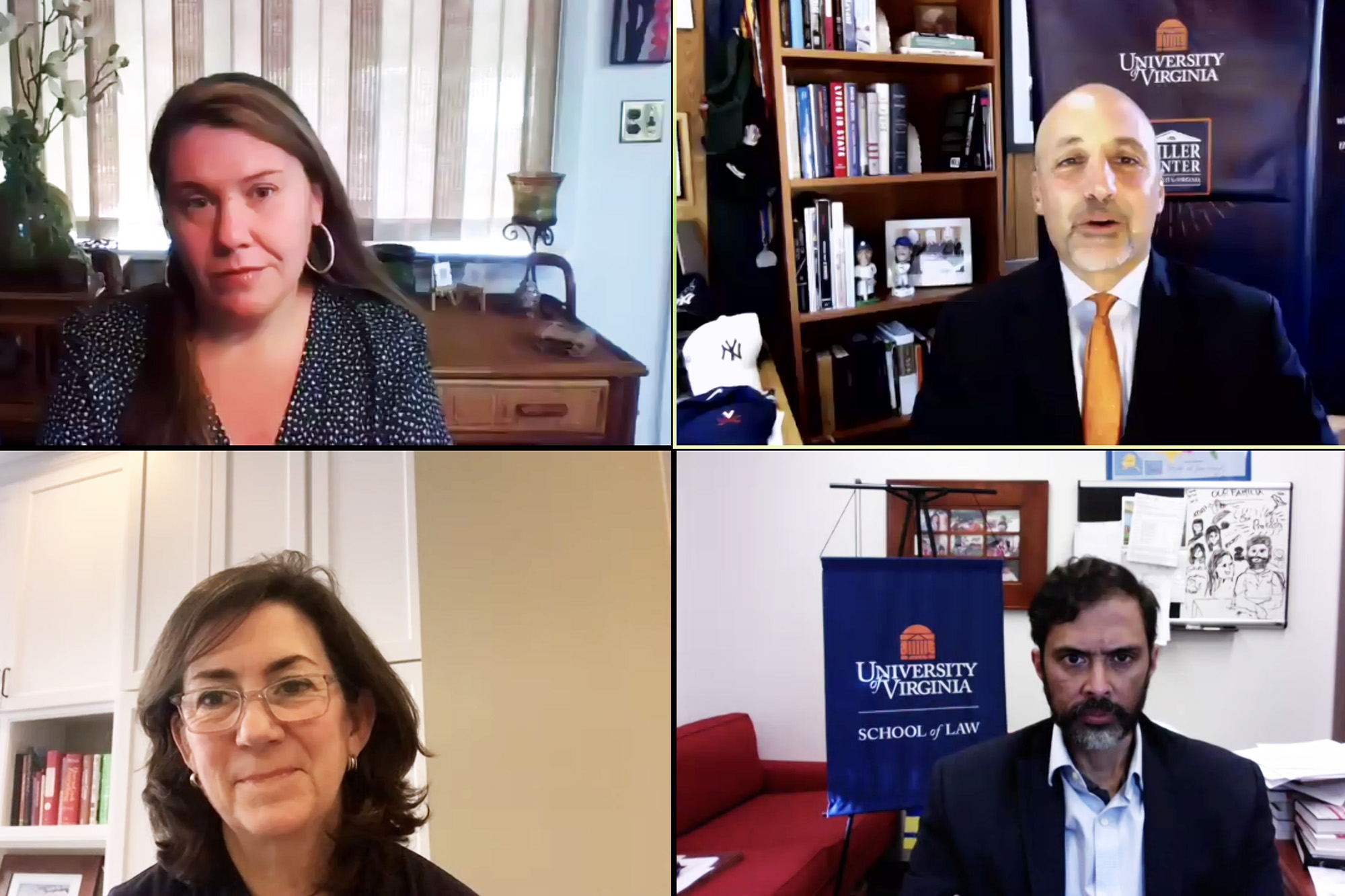 To begin with, Antholis stressed the importance of patience.
"We have actually been through this before in our country and is usually ends well, but that is going require the public to be patient and let our convoluted, complicated system work itself out," he said.
The Miller Center, he noted, will continue to host daily webinars analyzing the election and its aftermath on Thursday and Friday.
Lawless, Cary and Prakash agreed that, as of Wednesday, a narrow Biden win seemed likely if the former vice president could hold onto his leads in Arizona and Nevada. However, they said, the race to 270 votes in the Electoral College was, and is, extremely close.
"We have an incredibly close presidential election, that was closer than many of the polls anticipated," Lawless said, noting that Republicans also appeared likely to retain control of the U.S. Senate, something not many pre-election polls predicted.
"Today, I do not think either side is ready to start cheerleading the outcome," she said. "On no side was the margin as wide as they hoped."
Cary said the discrepancy in polling could be a big problem for pollsters going forward.
"There will be a lot of people who will look at these polls with a lot of skepticism in the next few elections," she said.
She noted several positives for Republicans outside of the presidential election, including likely retaining control of the Senate and picking up seats in the House of Representatives.
Prakash compared Tuesday's election to the 2000 presidential election, when George W. Bush defeated Al Gore after a 5-4 Supreme Court decision ended vote recounts in Florida. In this case, Prakash said, roles could be reversed, with the Republican side requesting recounts for Trump, as the Democratic side did for Gore.
"The question for Trump will be, does he really have a path to victory through recounts?" Prakash said. "There is no point in taking a recount to the Supreme Court if the ballots in question won't make a difference in the outcome of the election."
The U.S. Constitution, Prakash noted, gives control of election administration to state legislatures. Possible legal challenges could hinge on "if there was either a violation of the provision that grants authority in elections to state legislatures versus state courts or, as in Bush v. Gore, a claim of inequality of treatment" – in that case that "hanging chads" were counted differently in different localities.
"I could see the same sort of challenge, if one locality is doing one thing and another locality is doing another, but again, any campaign that does that has to think about if it is going to make a difference in the overall count," Prakash said.
All three panelists commented on the deep partisan divide visible in the election.
"When you have a really important crisis on the horizon [such as the pandemic] and one side is talking about it in a way that is completely different from the other side, it is hard to figure out what people know," Lawless said.
"We have such a fragmented media universe now. … It is easier than ever to be a political junkie, but also easier to select the information you get and not be exposed to opposing viewpoints."
That is where, leaders at the Miller Center and around UVA hope, scholars can provide some clarity and bipartisan commentary. Cary and Lawless, for example, co-taught a course on the election, bringing perspectives from both sides of the aisle.
The webinar wrapped up at about 4:30 p.m., but the analysis, Antholis said, will continue. Already, outlets were projecting results in more states, and even after results are finalized, scholars will be eager to study any upcoming transitions, and continue to explore the trends behind Tuesday's vote.   
"Once we know the election winner, we will transition to examining the transition," Antholis said.
Wednesday's full webinar is available on the Miller Center's YouTube channel.
Media Contact
Article Information
November 4, 2020
/content/what-just-happened-uva-scholars-delve-election-results