A year ago, the University of Virginia Career Center was finding and creating ways to connect students with a shrinking base of employers who pulled back on hiring, cut down on recruiting visits and hunkered down to get through an economy shocked by the pandemic. It wasn't pretty for many college graduates hunting for jobs or internships.
And this year? Things are quite different. Employers are back in the game, hungry and hiring.
UVA Today caught up with David Lapinski, the UVA Career Center's director of employer relations and experiential education, to assess how this year's recruiting season is different from – but in some ways similar to – last year's.
Q. The labor market seems to favor employees and job-hunters at the moment, with plenty of opportunity. Does that hold true for soon-to-be college graduates, or does it just depend on the circumstance?
A. The market really favors job-hunters and many students are receiving multiple offers. But it really depends on the skillset of the student. Students with technical skills in data analytics, machine learning, software development, UX/UI [the experience and the graphical layout of digital products] and health care are in high demand. If students are willing to train in high-need areas, the job opportunities are endless.
Q. Can you give any anecdotes or trends you've seen this cycle that caught your eye?
A. Students aren't engaging in the recruiting process at the volume we've seen in the past. Much of this is the impact of COVID on life as we know it. In the past, our top employers in consulting, finance and technology would be inundated with applications from students, whereas this year many students are holding off on applying for post-graduate jobs, and we've heard anecdotally that some students are looking for gap-year experiences or opportunities that allow more freedom. Employers are anxious because they have a lot of positions to fill.
Q. Are any sectors particularly hot this year?
A. It's really the same high-need areas as in the past: data, software and health care. We have seen an increase in biotech/bioscience recruiting, with some of the biotech giants looking to fill large numbers of hires.
Generally speaking, opportunities are plentiful across the board for graduates of just about all kinds of degrees from UVA. Employers are eager to hire and students who can communicate clearly, collaborate with others, and who are comfortable in environments that change frequently are always in demand.
Q. What else is unusual about this recruiting and hiring season, especially as it compares to the previous one?
A. Recruiting is normally in-person and on-Grounds, with students engaging directly with the employers. More companies (if not most) have elected to move all of their recruiting to virtual environments.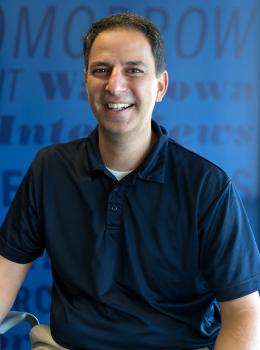 Q. What is not unusual? In other words, what are the things that stay the same for prospective employees about to graduate that are universal year-to-year?
A. Preparedness for students is the same. They still need their résumés updated, accurate and in order. They still need to be ready to make a good, professional impression. The interviewing process is completely different because students have to adapt to doing them virtually. Part of our mission in the UVA Career Center is to help students navigate this – the fundamentals and the new challenges.
The art of telling your personal story is incredibly important. Either through the interview or through your online profile, both are essential. Employers are relying much more on student online profiles, using the Handshake platform, which is a good opportunity for a student to present a comprehensive picture of their skills, accomplishments, interests and personal attributes. We also emphasize that students should be aware of what they're projecting about themselves through their activity on sites such as LinkedIn or through other social media activity. Employers are more attuned to this than ever before.
Q. Are UVA's new graduates seeing much more flexibility in work arrangements, especially related to things like remote work opportunities?
A. Some industries are flexible, such as consulting and technology, but others, such as biotech, health care and finance, are not. It depends on the role and its engagement with customers and clients. 
Q. Is virtual recruiting now the primary, accepted way that many or most employers are accessing pools of college candidates?
A. It's common, but not necessarily accepted. Recruiters recognize that virtual recruiting has expanded access to more students. Instead of only recruiting at 10 core schools, an employer can recruit at 300 just as easily and it opens up doors to see applicants from more schools and more diverse backgrounds.
The downside is the relationship is transactional, and the lack of personal touch impacts the relationship with the recruit.
Q. What challenges and opportunities does this present to our students?
A. UVA students are fortunate to attend one of the top schools on the lists for firms like McKinsey, for example, but now students everywhere are in the pool against those from many more schools. This has greatly dispersed the job opportunities and UVA students may not have the exclusive day of interviews on-Grounds like they had before the pandemic influenced the process. 
Q. Eighteen months or so ago, the UVA Career Center was helping arrange virtual internships and offering other ways to help students show prospective employers that they were continuing to stay engaged and grow their skills and experience even during the pandemic.  How has that evolved and what's the same or different now?
A. This model has become the norm. We're still creating these virtual opportunities, and creating more virtual, project-based opportunities for students to showcase their skills. Employers have become even more receptive to this new, virtual way to engage students and see them in action.  
Q. Any final advice for students working the job circuit right now and in the months ahead?
A. Companies are anxiously trying to hire. Don't be shy. Attend events. They may be virtual and they may not feel the same as before, but these companies want to hire and they have plenty of jobs and internships.
Networking is still important. While the pandemic has temporarily reduced the number of alums returning to Grounds, it's just as important or even more important to foster relationships with alums so you can learn about their career paths and solicit advice for navigating the job-search process.  
Article Information
November 23, 2021
/content/whos-hiring-opportunity-abounds-uva-students-even-recruiting-changes