Editor's note: This story was orginally published Sept. 10, 2015.
This fall marks the first full year of the Blue Ridge Scholarship program at the University of Virginia. Established through an initial challenge grant of $4 million from alumnus and Board of Visitors member John Griffin, the scholarship quickly met its goal of another $4 million in matched donations.
Today, that investment has helped make the promise of a world-class education a reality for more than 180 students who might otherwise face financial barriers.
"The talent of Blue Ridge Scholars continues to impress everyone associated with this program," Griffin said. "This program was created to remove barriers for students who we know will add to the University community, and it's gratifying to see those students on Grounds, making a difference."
UVA's Office of Admission selects recipients of the Blue Ridge Scholarship based on merit and demonstrated financial need.
"A committee goes through admitted students and looks at their academic performance, leadership and their need," Associate Dean of Admission Valerie Gregory said.
The first class of Blue Ridge Scholars is already showing the results of that exceptional promise, while their first-year counterparts are eager to begin making an impact at UVA and beyond. UVA Today caught up with several scholars from both classes to find out all that they are bringing to Grounds.
KIARA ROGERS - Midlothian
First-year student in the College of Arts and Sciences
Kiara Rogers is passionate about empowering female students to reach higher. While in high school, she founded and organized Chesterfield County's first W.E. A.R.E. (Women who Educate, Assist, Relate and Engage) Conference.
"The goal of the conference was to promote growth for young girls in high school and a few in middle school," Rogers said. "We hosted guests and activities designed to provide the skills and tools these young women need for success."
Rogers has worked to ensure that the conference will continue annually, and she plans to return to it this year to speak about her own college experience.
Although she still has some time to decide, Rogers hopes to take a pre-law track while she's at UVA. She believes going on to law school will help her give greater voice to other women and the causes she believes in. For her, earning the Blue Ridge Scholarship means a clearer path to that goal.
"The program really helped me fulfill my dream of coming here and now I can focus on what I really want to do with my life."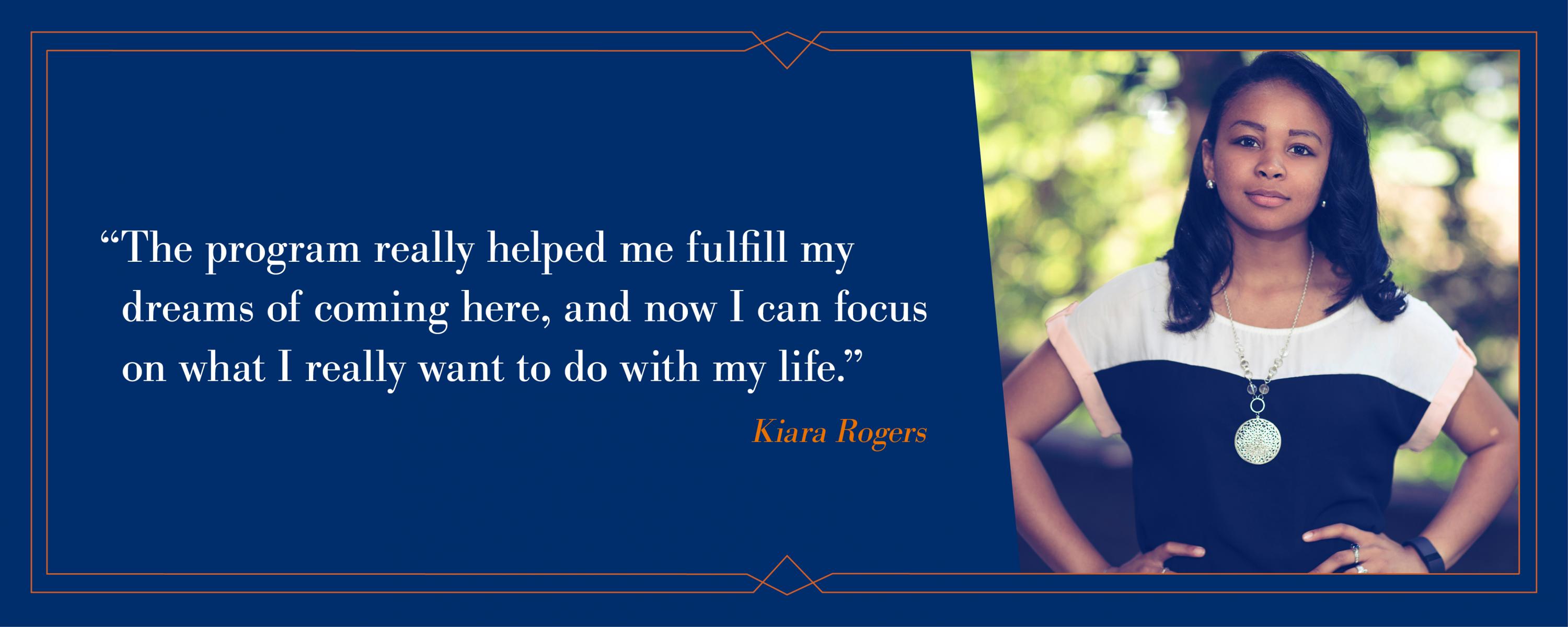 TAMIA WALKER-ATWATER - Caroline County
Second-year student in the School of Nursing
Tamia Walker-Atwater's first encounter with the University occurred when she and her family brought her little sister to the UVA Medical Center.
"My little sister has Rett syndrome and at first everyone thought it was autism," Walker-Atwater said. "It wasn't until we came to the Medical Center here that she was correctly diagnosed with Rett syndrome."
Walker-Atwater was moved by the devotion the UVA care-givers showed toward her sister's case and the high level of care and respect the little girl continued to receive on repeat visits to the UVA Child Development and Rehabilitation Center.
"That's what made me really want to come to UVA," she said. "Seeing the care my sister received here and taking care of her at home really made me want to get into nursing."
After graduation, Walker-Atwater hopes to use her nursing degree to bring greater awareness of developmental disorders into the medical field and promote better understanding of intellectual disabilities.
Being selected as a Blue Ridge Scholar helped her see a clearer path to that future.
"I knew that college wasn't just an option. I wanted it, and it was something that needed to be done, but how to pay for it was kind of up in the air," Walker-Atwater said. "The Blue Ridge Scholarship is part of this wonderful package that came with UVA and I'm eternally grateful for it because it makes my life that much easier. I can focus on school and not worry about how I'm going to pay for it."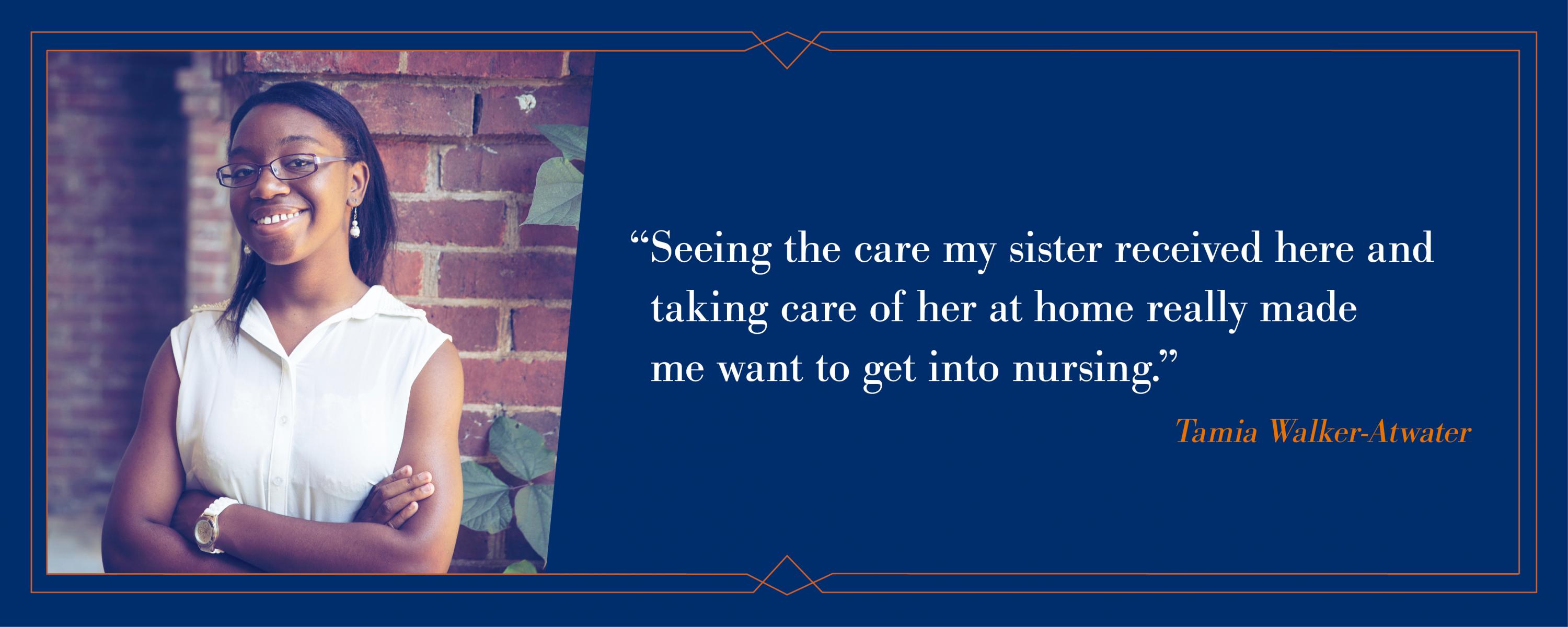 JOSE CHAVEZ CARBALLO - Houston
Second-year student in the College of Arts & Sciences
When Jose Chavez Carballo first came to UVA, he thought he wanted to get into biomedical engineering, but he soon found that his passion lay elsewhere.
"I've always worked as a mentor or just worked with students, even when I was in high school," he said. "As my first year progressed, I found myself really enjoying the time I spent with my students."
Carballo is a member of the Men's Leadership Project at UVA's Maxine Platzer Lynn Women's Center, a program that pairs undergraduate men as "big brothers" to local seventh-grade boys. The program fosters leadership in its volunteers and encourages its younger members to engage in respectful, healthy roles in their communities.
In addition to his work on Grounds, Carballo also spent his first summer after college teaching algebra to eighth-graders in his hometown. He enjoyed helping students catch up and prepare for the school year.
Carballo's mentorship and hands-on teaching experience helped him realize that he wants to stay in the world of education. He plans to apply to the Curry School of Education this year and is interested in joining Teach for America after graduation.
"I'm really interested in educational reform and that's a big reason why I want to teach," he said. "I want to give back to the educational community because I've been able to gain so much from it."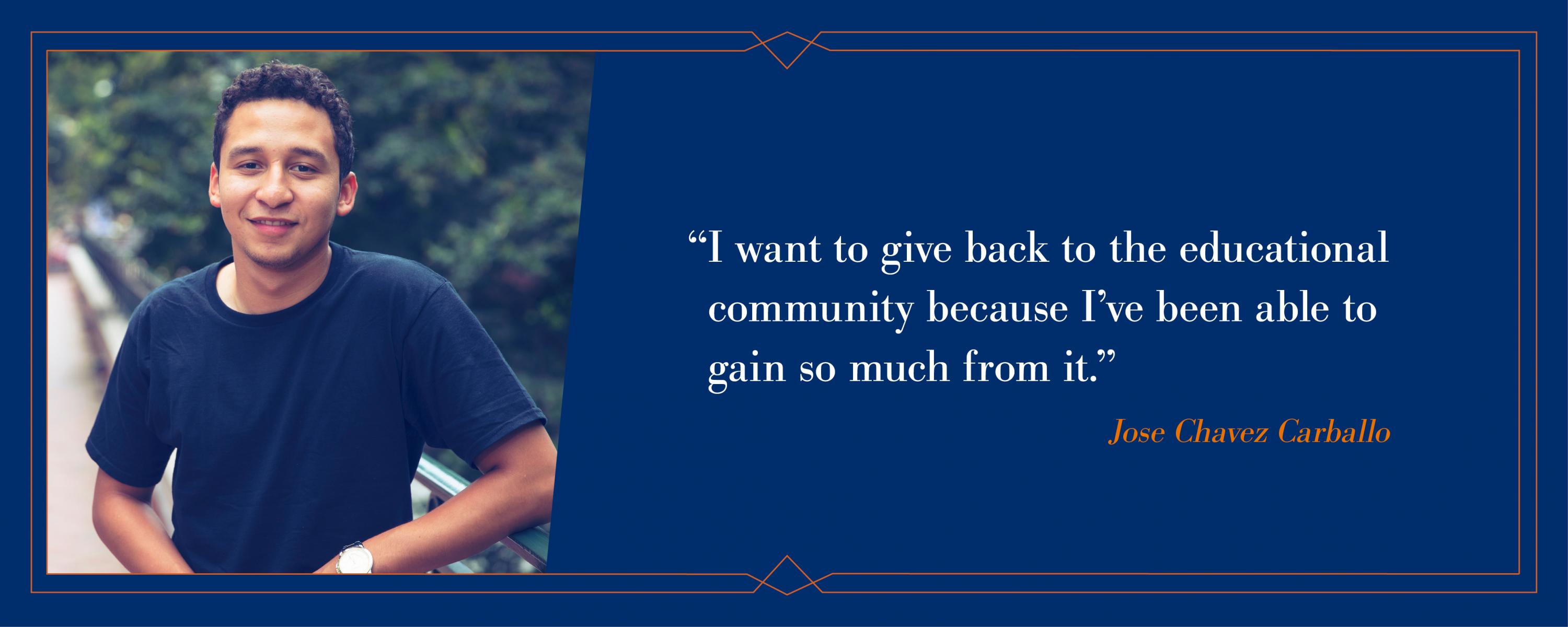 MUSTAFA MAHMOUD - Chantilly
First-year in the Engineering School
Mustafa Mahmoud is the last of his four siblings to head to college, and as the youngest, he's wanted to come to UVA for a very long time.
"My Dad and my brother both went here and I really love this school," Mahmoud said.
His father and brother are both graduates of the College of Arts & Sciences, and while Mahmoud is following their footsteps to UVA, he hopes to forge his own path in the School of Engineering and Applied Science.
"I want to get into Engineers Without Borders," he said. "I like the idea of working with other students on real-world projects related to our field."
Mahmoud is especially interested in projects that involve alternative fuel sources, and he plans to pursue a degree in chemical engineering. After completing his undergraduate degree, he'd like to go on to earn his master's and eventually a Ph.D. in the subject.
Mahmoud is also keenly focused on a few more immediate prospects – those of UVA's athletics teams.
"I'm excited to start going to all the sports games this year. I'm a really big basketball fan and I think this is going to be a good year for us," he said.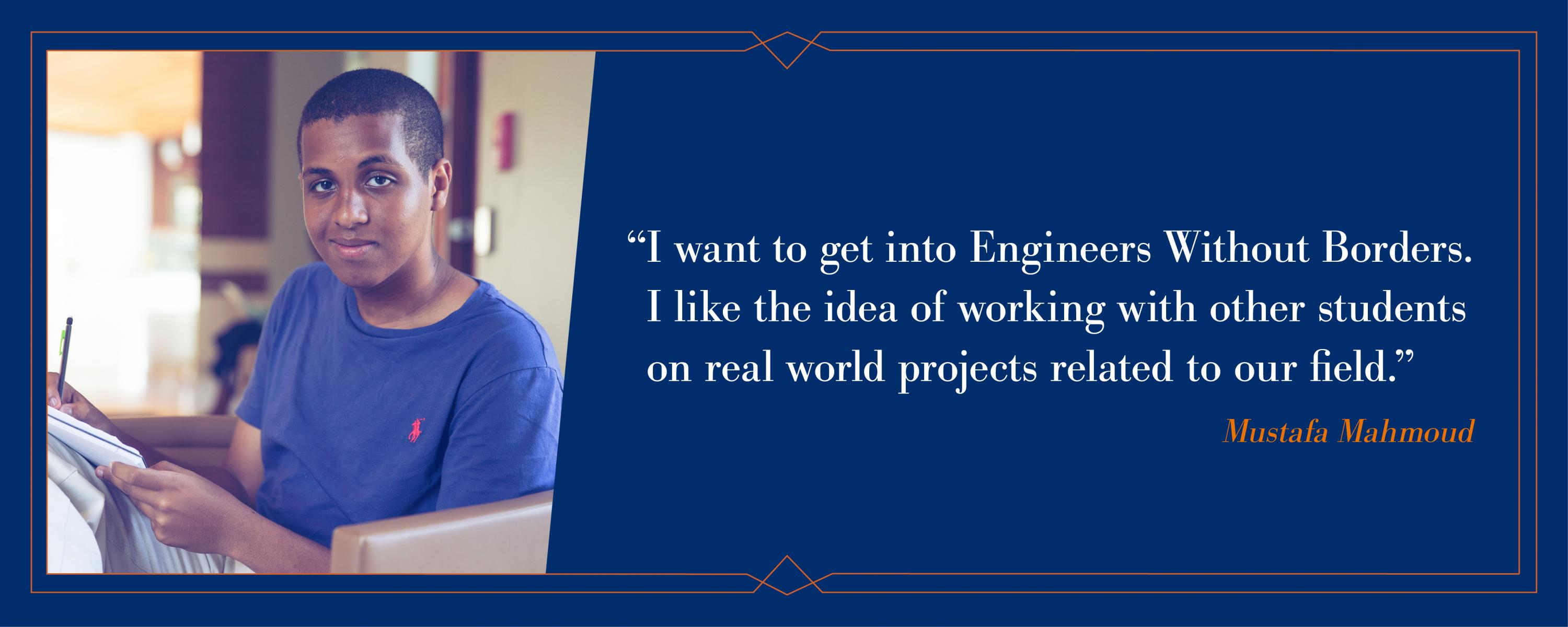 STEPHEN ROSS - Orlando, Florida
First-year student in the College of Arts & Sciences
Stephen Ross liked UVA when he researched it online, but he wasn't sure it was the right fit for him until he was admitted and visited in person.
"I realized I wanted to go here when I was standing in between Old Cabell Hall and Rouss Hall and could see the mountains in the background. We don't have mountains in Orlando," he said. "It was a beautiful day, and I just felt like this is the place where I belong."
When Ross was offered a scholarship named after those very same mountains, he was certain of his choice. Once he arrived on Grounds, he quickly found his place among fellow Wahoos.
He smiled as he exclaimed, "I just got accepted to the Hullabahoos!"
The Hullabahoos are a popular all-male a cappella group on Grounds, and Ross is one of only three new members to be accepted this semester. 
"Music has always been a big part of my life and I'm excited to pair that with my business and economics studies," he said. "I'd like to use my experience here to eventually become an entertainment lawyer."
With that goal in mind, Ross has his sights set on the McIntire School of Commerce or a degree in economics before heading on to law school.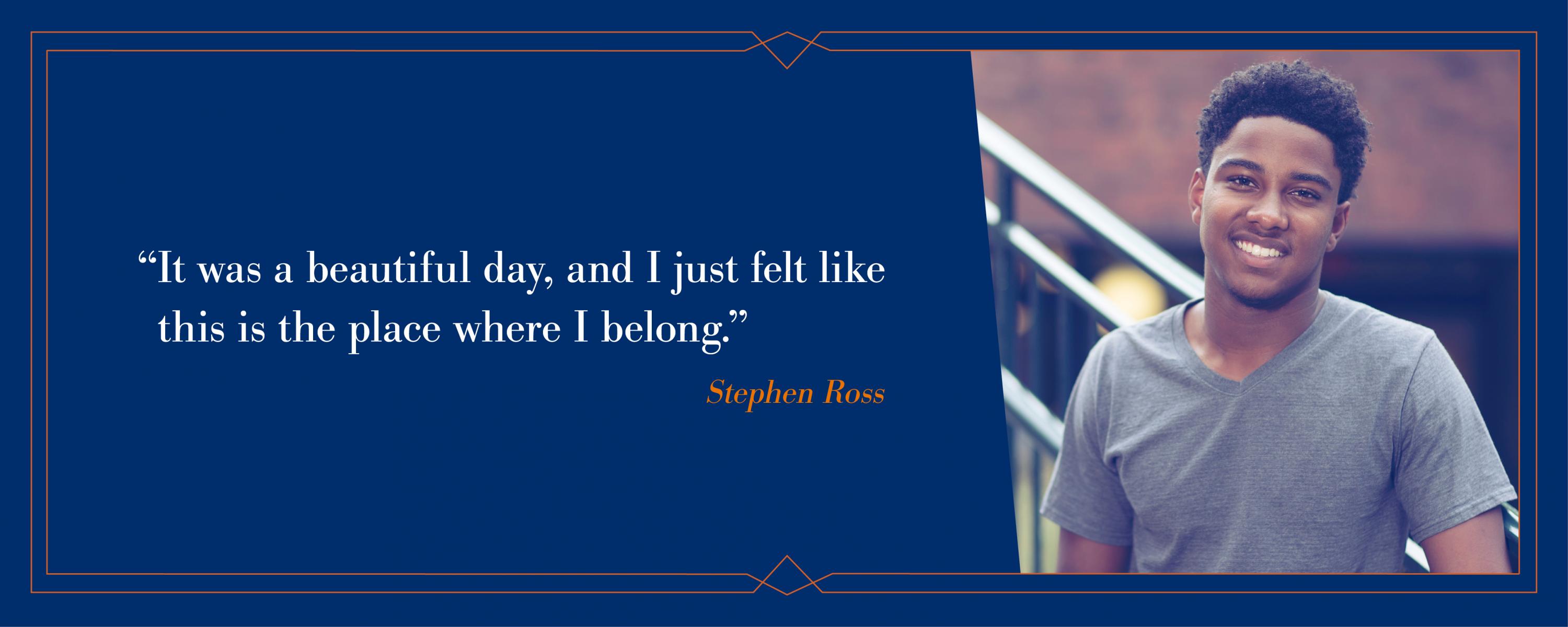 JAHMILA RILEY - Brooklyn, New York
First-year student in the College of Arts and Sciences
Jahmila Riley also came to UVA with musical aspirations. She grew up playing the piano, guitar and – occasionally – the drums.
"I like all types of music really," she said. "It's hard to pick just one."
Riley sings, too, and is interested in joining Black Voices, a student choir that specializes in music of African-American culture, including anthems, spirituals and contemporary gospel music.
Although she is still unsure what her major will be, Riley is certain that she'll include some classes in the University's McIntire Department of Music along with her extracurricular activities.
"I'm excited about all the options there are to get involved in music here," she said. "After school, I want to start my own record label one day."
She wants to join the arts scene in Los Angeles after graduation and would like to be ready to make her mark there. In the meantime, she plans to prepare for the demands of running her own company by taking on leadership roles at UVA.
"I worked with our local NAACP chapter while I was in high school, but I didn't realize there was one at UVA until I got here," she said. "I'd like to get involved with them and also work with the Black Student Alliance."