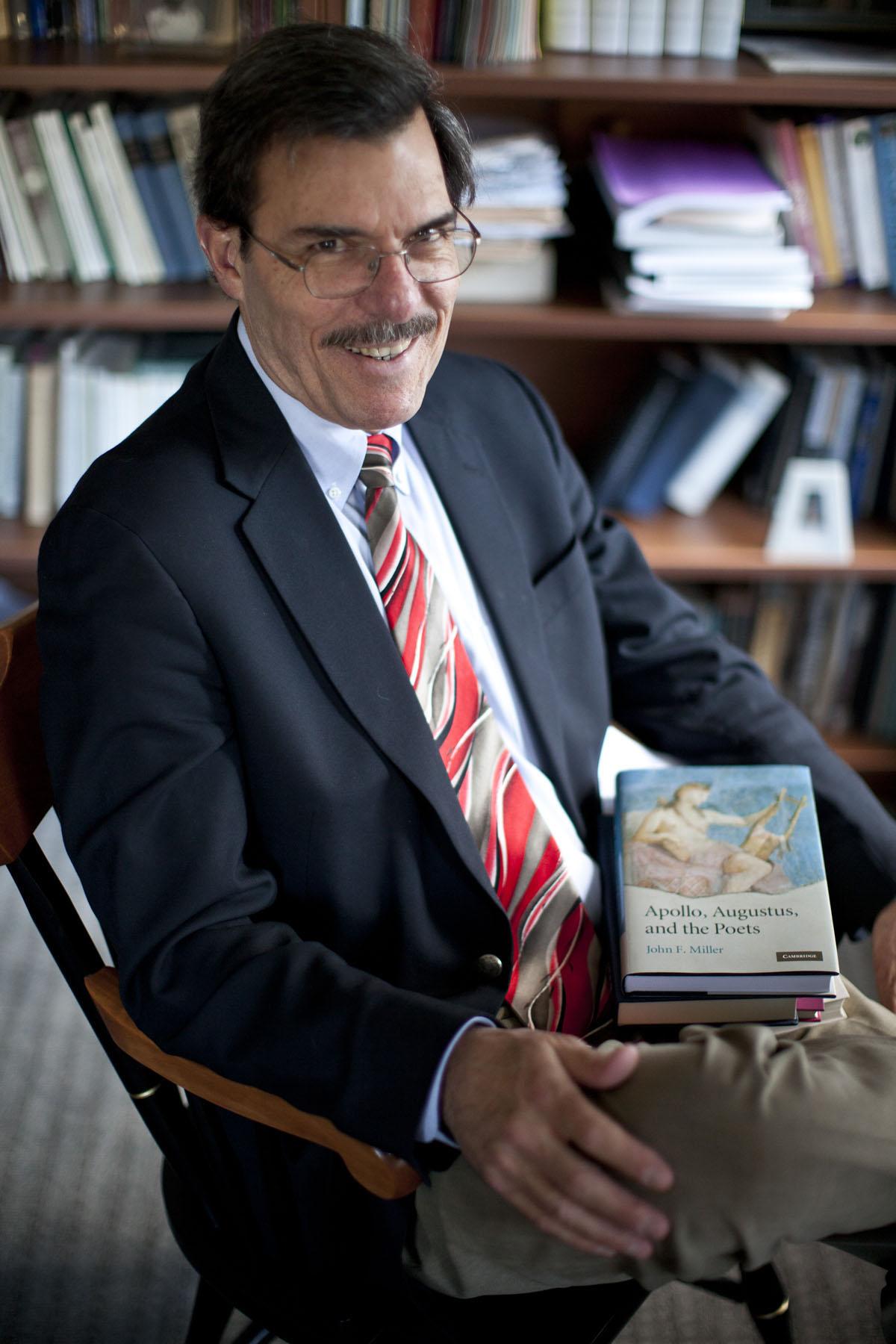 Listen to the UVA Today Radio Show report on this story by Rebecca Arrington:

January 4, 2010 — John F. Miller, a professor of classics at the University of Virginia and chair of the department in the College of Arts & Sciences, has won the pre-eminent prize in the field of classics, the 2010 Charles J. Goodwin Award of Merit, for his book "Apollo, Augustus, and the Poets."
The American Philological Association, the chief professional organization for classicists, will present Miller with the award, which recognizes an "outstanding contribution to classical scholarship within the preceding three years," on Jan. 8 during its 142nd annual meeting in San Antonio, Texas.
Miller said his book – which took a decade to research and write, required a number of trips to Rome and Greece, and an extensive amount of reading due to the "sheer volume of secondary literature that's been written about these poets and this ruler" – is significant for several reasons.
It addresses a "very important but insufficiently understood moment in the history of ancient Roman culture," he said. "Apollo was a central deity in Greece, but became a major god in Roman religion only thanks to the first emperor of Rome, Augustus, who claimed him as a patron divinity. This development has been known in general terms for a long time, but many bits and pieces of evidence were never fit together.
 "In particular, I tried to show how the poets of the age variously responded to the new political dimension of Apollo and how in dialogue with one another they participated in creating this imperial symbol. Another contribution is to argue that the emperor-to-be from a very early date looked to Apollo because of the god's association with the idea of a new age."
Second, and more personally, "my research has become more and more interested in religion and literature," Miller said. For a project like this one, "that meant broadening my own expertise. I had to study not just the high poets like Virgil and Ovid, but anonymous poems preserved on scraps of papyrus. I had to learn about Roman architecture, coins, art, popular literature and politics to get the fuller picture of the phenomenon," he said.
Published in October 2009, the book discusses the presentation of Apollo and Augustus by all five major Augustan poets (Virgil, Horace, Propertius, Tibullus, Ovid) as well as minor poets, and carefully situates the literature about Augustan Apollo within the broader culture.
According to the book's publisher, Cambridge University Press, the book is "the only comprehensive treatment of the reflections by Augustan poets on Apollo as an imperial icon."
Miller said he is not only grateful to the association for honoring his work, he's also grateful to his colleagues at U.Va.
"In tackling a project like this one, it was a great benefit to be at U.Va. and have distinguished colleagues, in both the Department of Classics and  the University's wider classical community, who are experts in the various sub-fields of classical studies that I addressed in this book," he said.
T. Peter Wiseman, a classical scholar and professor emeritus of the University of Exeter who chairs the Goodwin Award committee, commended Miller for illuminating the "Augustan world we thought we knew so well ... with fresh insights in every chapter."
Miller joined the U.Va. faculty in 1984. He has chaired the classics department for 12 years and teaches both undergraduate- and graduate-level courses, including seminars as well as a large lecture course on Greek mythology.
Having studied Greek and Latin since high school, Miller also majored in German in college and took his first graduate degree in comparative literature. Feeling the need to narrow his focus, he returned to classics full-time by asking himself, "What's the most fun?"
Most recently, Miller finds himself returning to the reception of classical literature in the European tradition alongside his interests in Augustan poetry. Current projects he has in the works include:
• How Janus, the god of beginnings, is interpreted and transformed in literature from the early Roman Empire to the Renaissance era, especially in the context of the calendar. "Christian Latin calendar poems are relatively unknown," he said. "I'm trying to resurrect this genre and relate it to classical literature."
• Ovid's poetic interpretation of the Roman religious festivals of the month of May.
• An edited volume of 33 essays that traces Ovid's influence on literature, art, popular culture and music from antiquity to modern times. "This has never been done before," Miller said of the project. "We're attempting to grasp hold of as much of the vast tradition as we can."
He and collaborator Carole Newlands of the University of Colorado have commissioned essays from scholars worldwide. The volume is due out in 2012.
Media Contact
Assistant Director of Media Relations Office of University Communications
rpa@virginia.edu (434) 924-7189