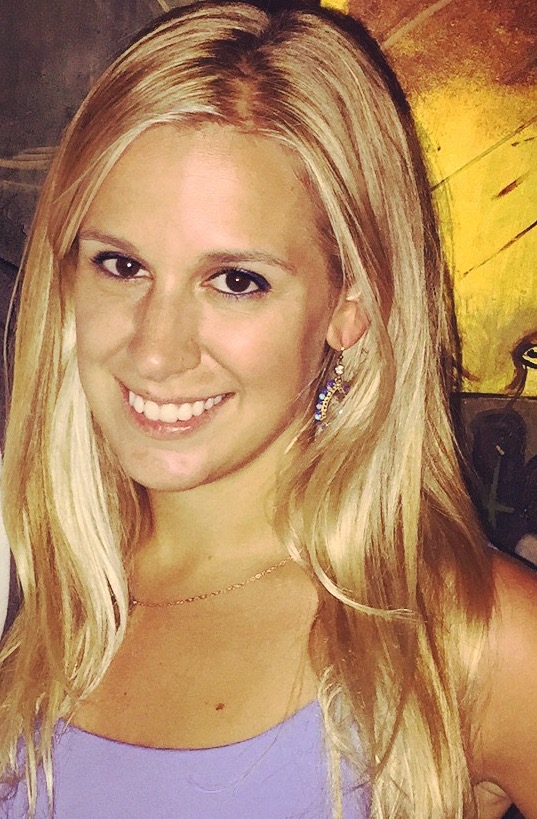 Less than six years after she walked the Lawn, University of Virginia mechanical engineering graduate Kristine Cheesman is a vice president at one of the biggest banks in the world. 
She attributes her wildly successful finance career to her ability to "think like an engineer."
"Engineers solve problems by looking at all of the variables first and then consolidating into a cohesive solution," Cheesman said. "That skill is particularly relevant in business – it's what I do every day at HSBC."
Cheesman describes her journey of self-discovery as starting with an interest in car design and progressing to a career in finance. Her transition from engineering to business stemmed in part from her experience in the engineering business minor, as well as several internships she had while a student at U.Va. "The minor taught me business principles," she said. "My internships with companies like the energy consulting firm 2RW, Fannie Mae and Trane allowed me to apply those principles. I discovered that finance was incredibly exciting."
Her role in student governance was also a factor. "My role as an executive member of Student Council, and ultimately president, helped me foster some of the soft skills for business, like networking, communication skills, presentation skills and creativity. This allowed me to jump quickly into my career and have a 'seat at the table' – meaning, people wanted to listen to what I had to say, because I gained the confidence and presence to talk one-on-one to an important person, or talk in front of hundreds of people."
Landing in a finance career put a lot of her skills to work, while proving to be personally fulfilling. "It was an exhilarating feeling to find out what I really like to do," she said. "It's not about the finance – it's about the strategy. What I love is to think about complex problems and find solutions. That's why I became an engineer."
Cheesman, a young, blonde triathlete who loves animals, spends the week running around New York City and stays involved with U.Va. as a board member at the U.Va. Club of NYC.
"I love when a conversation turns very technical and I see people shocked at my level of knowledge," Cheesman said. "I'm always hearing, 'hold on a second – you're a mechanical and aerospace engineer?' That's a huge sense of pride to me. My engineering degree has been a tremendous asset in my life."
She stressed that an engineering degree translates remarkably well to many professions and encouraged students who may be struggling with difficult coursework to take heart and think bigger.
"I was certainly someone who struggled – I was not getting straight A's," Cheesman said. "It's not about understanding every formula and equation perfectly. What's important is learning to solve problems and be creative."
Robert Ribando, an associate professor emeritus of mechanical and aerospace engineering, said that Cheesman realized early on that it wasn't the course content that was important, but rather the modern problem-solving methodologies picked up along the way. He recalled that Cheesman was one of only a few engineers to sign up for an advanced course in the McIntire School of Commerce. It required a competitive term project wherein students developed a program that would automatically manage a hedge fund.
"Kristine stunned everyone by winning the competition, beating all the Commerce School students," Ribando said. "I'm not surprised that Kristine has done so well in an industry so far removed from hard-core engineering. I never expected her to be designing heat exchangers or gear trains."
Cheesman's passion for engineering extends to her personal goals as an athlete. It's triathlon season, so her days start with running, cycling or swimming – at 5 a.m.
"It's a nerdy sport that requires a lot of dedication," she said. "This morning I found myself poring over the aerodynamics of the bike seat. I can never escape my engineer brain. I keep thinking that if I don't have the exactly right angle on my bike, I'll be less efficient."
Cheesman has found that taking the path less traveled presents both challenges and opportunities. Overall, she feels blessed to be right where she wants to be in her career.
"I took a different path when I went into engineering and then finance – you don't find many females in either of those spheres," she said. "It's difficult sometimes, but also inspiring to break into the boys' club and participate in an industry that's traditionally male-dominated."
Women in business often discuss a "glass ceiling," a strong, yet subtle barrier that prevents women from climbing the corporate ladder. But Kristine has never felt that way.
"I decided a long time ago to surround myself with people who believe in what I can do," she said. "I did that in my education and I do it now in my career. In high school, I was in the robotics club, which was extremely nerdy and involved virtually no other females. It's important to be true to your own interests and take risks.
"That's my message to women: you can only be your best if you take risks."
She stressed that women should never feel limited based on traditional expectations.
"There's value in going after whatever you want to do in your life," Cheesman said. "Don't ever say 'I can't do this because I'm a woman.' That's crazy in this day and age. If you're good at math or chemistry, pursue it. It takes work to be great, but you can overcome challenges and become very successful."
Media Contact
Director of Communications, School of Engineering and Applied Science
jpp4j@virginia.edu (434) 924-1381
Article Information
July 10, 2015
https://news.virginia.edu/content/young-alumna-credits-engineering-education-sparkling-finance-career