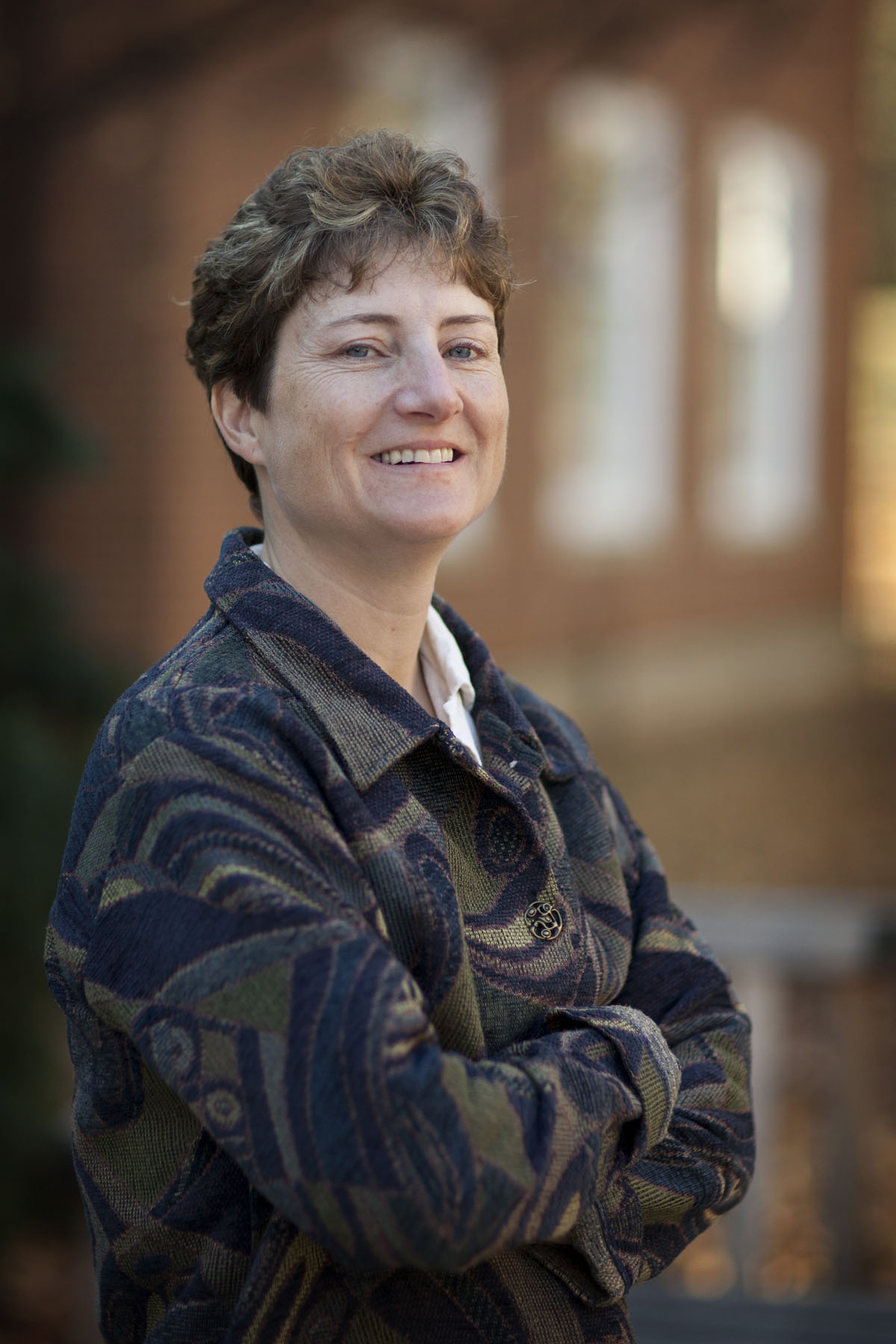 December 6, 2010 —
Youth-Nex
, the new University of Virginia research center to promote effective youth development, has awarded five grants to U.Va. faculty to study topics that range from reducing childhood obesity in Charlottesville, to teaching Russian literature to jailed youth, to surveying attitudes about adolescent sexual behavior.
The awards, totaling $145,000, are the first in what will be an annual request for proposals sponsored by the Curry School of Education-based research center.
"We were looking to support work that promotes research understanding of youth health and reducing developmental risk," center director Patrick Tolan said, "but most also will provide practical help, including interventions within the Charlottesville and surrounding communities."
Affiliation with a community organization was one of the priorities for selection, he said, but another important aspect of the grants is that they be collaborative and interdisciplinary.
"This is one of the hallmarks of the center," Tolan said, "to be a scholarly nexus – both a core and a connector – on Grounds. We scientists can forget kids have lots of facets to their lives. The center is meant to bring that into focus."
The seed funding brings together several University areas, including the
Department of Systems Engineering
in the
School of Engineering and Applied Science
; the
School of Medicine
; the departments of
Slavic Languages and Literatures
and of
Psychology
in the
College and Graduate School of Arts & Sciences
; and the
Curry School
.
A rundown of the projects that were funded:
• One study couples human-centered systems design expertise with the U.Va. Health System to improve the health of obese children.
Stephanie Guerlain, associate professor of systems and information engineering, plans to launch a website with a social networking component to replace paper logs at the Children's Fitness Center, a program at U.Va.'s
Kluge Children's Rehabilitation Center
.
The Children's Fitness Center matches children with medical, fitness and nutrition counselors who collect data about the children via a paper log that the children keep – a less-than-ideal arrangement, Guerlain said. "Often kids aren't compliant, they don't do it or they forget to bring them."
With the new "CFC GetFit Program," 10- to 18-year-olds will use a series of drop-down menus to record things like food intake, activity levels and mood. The participants will not only be able to communicate anonymously with one another, but they'll be able to communicate with their counselors and even text information to the site, Guerlain said.
Guerlain hopes the participants will be motivated by the new system and that retention will be improved. "If so, it will be useful for the Children's Fitness Center as standard protocol, and offered to other sites," she said.
• Award recipient Andrew Kaufman, lecturer and academic community engagement faculty fellow with the Department of Slavic Languages and Literatures, has created a course in which U.Va. undergraduate students teach masterpieces of Russian literature to incarcerated youth.
Building on 11 months of research at the Jefferson Trail Treatment Center for Children in Charlottesville and Beaumont Juvenile Correctional Center in Powhatan County, his newly funded "Books Behind Bars" program is unique in that it will look at the program's effects on the U.Va. students, rather than just the jailed youth, he said.
While Kaufman said the initial intent of the program was to offer a unique educational
opportunity to incarcerated youth, what he found was that the teaching model was having a profound impact on the students.
"When students teach within the stark physical reality of a juvenile correctional facility, discussions about freedom, social alienation, finding one's place in the world become more than academic debates," Kaufman said. "Students discover in an immediate way that these are real issues with significant consequences for peoples' lives."
"Students in the class are more intrinsically motivated, gain a deeper understanding of the literature and are more likely to choose courses and careers that have a community service component," he said.
The texts also provide opportunities for the jailed youth, Kaufman said. "They help incarcerated youth grapple with some of life's biggest questions. What makes for a 'successful' life? How can I be true to myself? What is my responsibility to others? Given that I will die, how should I live?"
• Researchers Diane Whaley from the Curry School, Mark DeBoer from the Medical School's Department of Pediatrics and Amy Boitnott from the School of Nursing will use tennis and nutritional training to improve health and prevent obesity at the Southwood Mobile Home Park in Albemarle County.
In six 3½-hour monthly sessions, children of the largely Latino community will get a Nerf tennis workout and nutritional instruction; while parents participate in a parental counseling session focused on teaching their children healthy choices. Afterward they all share in a healthy dinner.
The dinner is important for teaching healthy habits, Whaley said. During the meal, the researchers provide the recipes, discuss portions and share about healthy eating.
"Here we have an innovative application of a promising approach for a population that is particularly at risk for a sedate lifestyle and limited exercise and obesity," Tolan said.
Another important component is the way parents and children interact within the community, Whaley said.
"Families also influence each other," Whaley said. "So the more we can teach the children, the more they're likely to positively influence the parents, and the more the parents are likely to influence the children."
Although the program will collect data on only the 8- to 11-year-old children in the family, Whaley said the whole family is welcome.
The work is much more than just research, Whaley said. "It's a true community partnership and community engagement study," she said.
Her goal is for people in Southwood to benefit over the longer term. "Our hope is that they'll go out and behaviors will stay with them."
• Arthur Weltman from Curry's
Department of Human Services
(Kinesiology) and Eugene Barrett of the Medical School's Department of Medicine, Endocrinology and Metabolism are collaborating on a study to determine whether low fitness levels are associated with impaired vascular function in 12- to 18-year-olds with Type I diabetes.
"The risk of heart attack or stroke is eight to 20 times greater than in non-diabetics," with the lower rate representing risk for males and the higher rate representing risk for females, Weltman said.
The team will implement a 12-week exercise program, including healthy dietary recommendations, for children from local communities to determine if a regular fitness routine can mitigate the complications of the disease.
"With diabetes increasing in prevalence, management of the disease becomes important for a larger group of youth," Tolan said.  "This is an attempt to see how the physical activity of kids might be promoted to help kids with this serious disease."
• Dick Reppucci has spent more than 20 years studying teen competence in areas such as medical decision-making and competence to stand trial. The Youth-Nex grant will allow him to study competence to consent to sexual activity; specifically, what both teens and adults know about Virginia's statutory rape laws.
"By the time kids finish high school, 65 to 70 percent of girls have already had sexual intercourse, and somewhere between 80 to 90 percent of boys have," said Reppucci, a psychology professor in the College.
Reppucci has found that most U.Va undergraduates have little idea about statutory rape laws and many, he said, could have been prosecuted.    
"And these are the best and the brightest, so one wonders what others out there know and when should they be making decisions," he said.
The law becomes less clear if the individuals involved are under 18.
In Virginia, there is no law of sexual consent and any sexual conduct with a person under 18 is a crime in some form, according to the assistant Commonwealth's Attorney, Elizabeth Killeen. Sexual activity between minors 14 and under is even more complicated with varying rules and degrees of punishment.
But Reppucci says that most violations of the statutory code involve people between 18 and 24 years old – "Not the dirty old man you're thinking of," he said. So he feels it's important for young adults to know the law.
Reppucci is also concerned with the treatment of youth due to misperceptions or discrimination by Virginia legislators and judges who often treat teens and adolescents as adults.
"You're not competent to make a decision until you are 18 years old to have a tattoo," he said. "However, you are competent to get life without possibility of parole if you kill someone when you're 14."
Reppucci said that instead of being physically on target, society alters the law according to its values.
Reppucci will study three groups within the greater Albemarle-Charlottesville area: 18- to 24-year-olds, parents of teens and the teenagers themselves.
For study abstracts, follow the links below.
Supporting Food and Exercise Counseling for Overweight and Obese Children
Stephanie Guerlain  
Motivating Youth Through the Humanities: Pilot Study of Community-Based Model of Teaching Literature to University Students and High-Risk Youth
Andrew Kaufman
I
mproving Nutrition and Exercise Competence in Obese Schoolchildren via SALUD, a Community-Based Intervention at Southwood
Diane Whaley, Amy Boitnott, Mark DeBoer
Vascular Disease in Adolescent Type 1 Diabetic (DM1) Subjects-influence of Diet and Fitness
Arthur Weltman and Eugene Barrett  
Statutory Rape or 'Normal' Teen Love? Psychological Investigations of Adolescent Sexuality and the Law
N. Dickon Reppucci
— By Ellen Daniels

Media Contact
Assistant Director of Media Relations Office of University Communications
rpa@virginia.edu (434) 924-7189
Article Information
December 06, 2010
https://news.virginia.edu/content/youth-nex-grants-fund-projects-involving-childhood-obesity-russian-literature-teen-sex