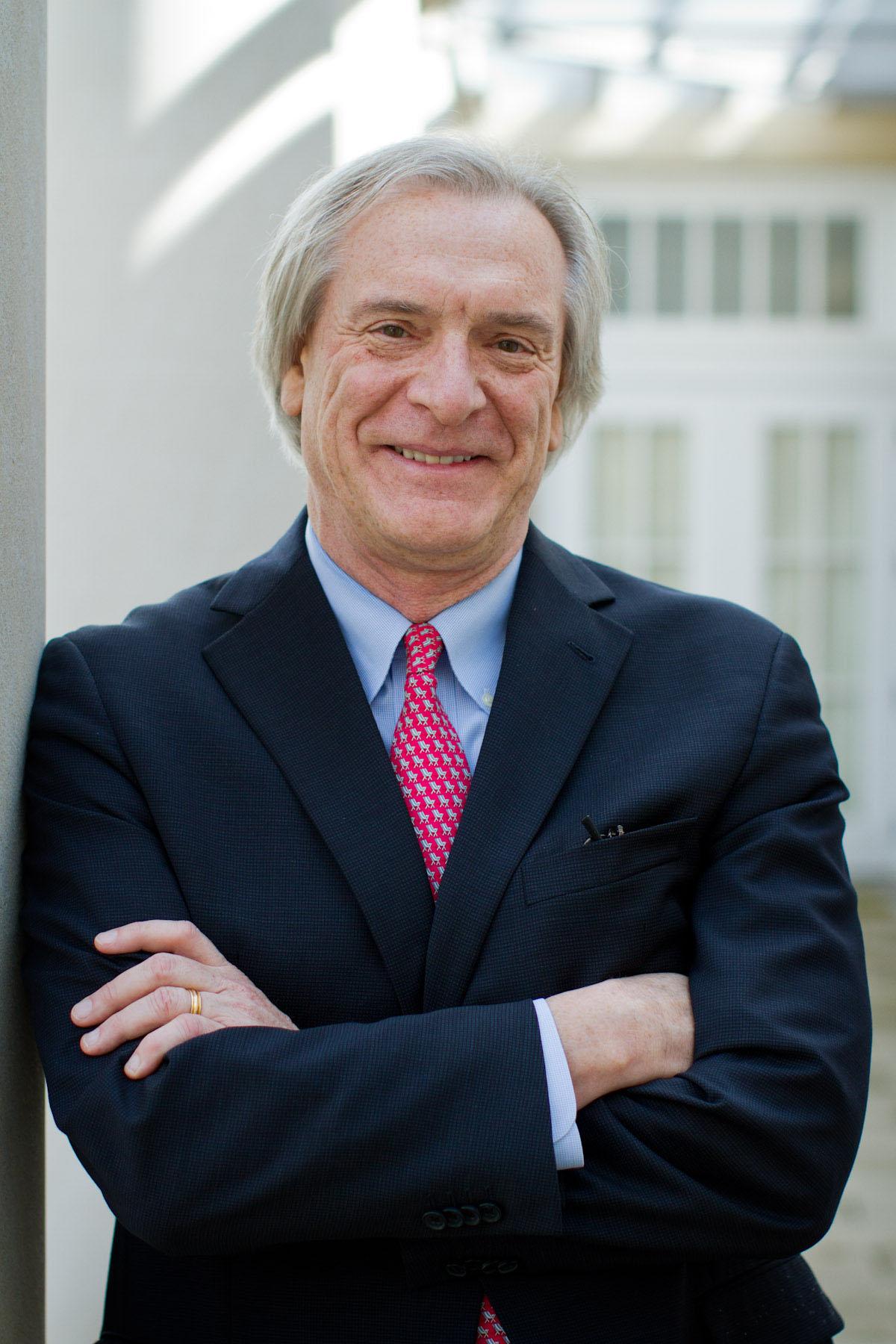 Recently appointed for his fourth five-year term as dean of the McIntire School of Commerce at the University of Virginia, Carl P. Zeithaml has navigated the rapidly changing landscape of business education.
He has had to cope with challenging financial times while presiding over major changes at the school. Those changes have included a turnover of three-quarters of the faculty, a stronger emphasis on scholarship as well as a continuing emphasis on compelling classroom teaching, growing global competition for faculty and students, the adoption of differential tuition to cover the higher cost of a business education, and McIntire's return to the Lawn in a renovated Rouss Hall and a new Robertson Hall.
John D. Simon, executive vice president and provost, said U.Va. is fortunate that Zeithaml is remaining for a fourth term. "Dean Zeithaml has provided outstanding leadership to the McIntire School," he said. "McIntire's outstanding faculty, students and staff have established it as a world-class institution, excelling in both teaching and research."
Zeithaml credits much of his success over the past 15 years – illustrated by higher national and international rankings – to the teamwork of McIntire's faculty, staff, students, alumni and corporate friends. In March, BusinessWeek ranked the McIntire School as the No. 2 undergraduate business program in the country, and the No. 1 MBA feeder school.
In this Q&A with UVA Today, he discusses the strengths behind McIntire's success and the challenges that loom ahead.
Q: What is it about McIntire that leads to high national rankings year after year?
A: Our national rankings are a result of a team effort that emphasizes excellence, community and innovation. We're fortunate to have a terrific faculty, outstanding students and supportive alumni, recruiters and friends who all contribute to great outcomes.
First, our faculty. We turned over about three-quarters of our faculty in the past decade or so, and our veteran faculty members have been remarkable in their support for the many changes that we implemented, as well as welcoming many new colleagues. Our new faculty are extraordinary. They have adopted the traditional McIntire culture of commitment to our students and to our programs, and they're also intellectual leaders in their disciplines. They bring a strong research orientation that translates directly into the high quality of our programs. Even as we face budget challenges, we've maintained a strong faculty, which is essential to our long-term success.
Second, our students. Our students are very focused on their goals. They are smart. They are competitive. They are ambitious in a good way. They have high integrity, and they're great young men and women. They represent us very well as students and alumni. We benefit from being part of a great University with great students.
Finally, our alumni and friends. The support that we receive from our alumni, our recruiters and our corporate sponsors is just extraordinary. Virtually every day, I run into an alum or a recruiter who is recruiting students, speaking to a class or working with a faculty member on research or on a case-writing project. This engagement is essential. Perhaps the one aspect of our school that differentiates it from most other universities is that everyone is engaged – whether it's faculty, students, alumni or recruiters.
Q: Has McIntire's culture changed during your time here? Has there been a change in the character of the faculty?
A: The core culture of the McIntire School remains the same. It is a commitment to students and to an outstanding educational experience.
At the same time, we have an increased commitment to scholarly activity and to research, which translates into a stronger national and international presence for the school. In turn, this commitment is important in attracting students, recruiting new faculty and many other activities that build the school's long-term reputation.
A scholarly commitment also translates directly into the classroom experience. Many faculty members are engaged in important research projects that may be written up as business cases, or influence the curriculum in other ways, ensuring that our students are current and have the skills they need to immediately add value for employers.
Q: How and why are alumni important to McIntire and what is McIntire doing to encourage them to stay connected?
A: Alumni participate in many, many ways in the McIntire School. The most important way is their day-in, day-out involvement with students and faculty. They are in our classrooms virtually every day. You also find them here in the evenings, participating on a variety of panel discussions or working with our career services staff to prepare students for a strong start on their careers.
Our alumni are extraordinary in volunteering their time and energy to connect us to their organizations, to recruit students and to add to the intellectual activity of the school. They contribute to the curriculum. They participate in research projects. Probably a half-dozen of our alumni are currently either teaching or co-teaching classes. They are direct participants in our academic endeavor.
They also provide a large portion of the financial and other resources that we need to be successful. The building that we're sitting in right now (Robertson Hall) is a direct result of the generosity of our alumni and corporate sponsors. In addition to extraordinary capital projects, many of our alumni also support us on an annual basis, providing us with the operating resources that we need to support our faculty and provide a first-class student experience.
Q: What are your greatest accomplishments as dean?
A: I might frame my answer differently. I'm very proud of the fact that the school has made tremendous progress over the past 10 or 15 years. Once again, all of our achievements and progress are the result of the extraordinary efforts of our faculty, our students, our staff, our alumni and our corporate friends.
The greatest achievement is that our programs continue to innovate and provide the value our students need to be prepared for the demanding jobs of the future.
Our students will work in a dynamic, complex and unstructured world, and we need to create experiences that prepare them to deal with these challenges. They need to be prepared from a technical standpoint, and they also need to develop many less tangible, yet important values and perspectives. I suppose that I am most proud of their consistent preparation for this world and the overall excellence of our programs.
Increasingly, we are also recognized globally. We made tremendous efforts to globalize all of our programs, providing our students and faculty with a myriad of international opportunities. These initiatives are paying tremendous benefits for the school and for the University. The University of Virginia has become a magnet for some of the best students in the world, and I believe the McIntire School plays an important role in helping to build the University's global reputation for quality.
Closer to home, we're thrilled that the McIntire School is back on the Lawn. The Lawn, as we all know, is the heart and soul of the University, physically, emotionally and psychologically. It was important to return to the Lawn four years ago and offer our programs in Rouss and Robertson halls, confirming our central position within the University.
Q: Could you discuss differential tuition?
A: To respond to the reality of declining budgets, we have been forced to explore an option known as differential tuition. Last year the Board of Visitors approved a proposal from the school such that our current third-year students are paying an extra $3,000, and next year, both third- and fourth-year students will pay a tuition differential of $4,000, which was approved by the board on April 13. The differential is intended to cover costs in two areas.
First, value-added student services. We make exceptional investments in areas such as career services, student services, international opportunities and technology. Students, their families and our recruiters demand excellence and quality in these areas. Unfortunately, these activities and necessary investments are not covered by the allocations that we receive either from the University or from the commonwealth.
Second, the support of outstanding faculty and staff. We have a world-class faculty and a professional staff that delivers tremendous value to our students. But, we are falling behind our competitors in supporting our faculty and staff, not just in terms of their compensation, but also with respect to their overall support. If we want to maintain the quality of our faculty and staff, we absolutely must address this issue and reverse the current trend. Our alumni have been extraordinary in supporting our efforts to enhance compensation for our faculty and staff and provide them with resources to innovate in the classroom and conduct research. But a portion of these costs simply should be covered by tuition.
I'm a parent and I pay tuition myself. I know that it's a challenge for many students and their families. But if we intend to maintain a world-class school, if we want to offer world-class programs, then we are required to invest in those programs, and we must invest in the faculty and the staff delivering them. Differential tuition has to be a part of the equation.
Q: How do you incorporate a sense of the importance of public service in business school students?
A: One of the important values of students at the University of Virginia, and one of the values that we reinforce in the McIntire School, is that our graduates should not simply be the next generation of great business leaders, but they should be the next generation of leaders in society. Our alumni and our faculty would agree that, beyond teaching business skills and financial skills, we teach organizational skills and many other important life skills.
Many of our students are involved in organizations that emphasize social enterprise. They participate in Madison House programs, and they sometimes seem surprised that the skills they learn in the classroom translate into helping those organizations become more effective.
Going forward, one of our challenges is to find more explicit ways to build public service into our curriculum and make sure that our students understand the responsibility they bear to give back. This semester, one approach is running a competition that offers monetary prizes that the winning students may allocate to local charities.
Q: What's the most important advice you've ever received? What's the most important advice you give your students?
A: The most important advice I ever received was from my mother. Very simply, she taught me to never give up. She despised quitters, and she emphasized that if you really believe in and commit to something, you should stay with it and see it through until the end. I suppose that I listened, because I stayed here for 15 years, and I guess I'm going to stay for at least another five.
The most important advice that I try to communicate to my students is something similar. If you commit to something, you want to put everything that you have into it and see it through to the end. My wife teases me that my motto is, 'If it's worth doing, do it to an extreme.' And I probably do that. But, I think that's the only way you can achieve big goals in the world.
Q: What advice do you give to students to keep a balance between their work life and personal life?
A: I'm not a good person to ask that question [laughs].
Q: So you don't have a balance in your life?
A: One of the greatest challenges for everyone today is balancing work and personal life. It's a challenge that I certainly face, and it's a challenge that most of our alumni face.
I have two very important aspects to my life: my family and my job. When I am not working, I am usually with my family. I have a wife who supports so much of what we do at the school, from student cookouts to dealing with issues at home while I travel. Luckily, we both love international travel and spending time with our kids and grandchildren.
With five children, I've coached probably every youth sport from ice hockey to baseball and softball to soccer and basketball. I've attended more school plays and concerts than a New York critic. I'm lucky that four of my children attended the University of Virginia, so I was able to share and enjoy both their formative years and their university years. It helps that we live in Charlottesville and they all want to come back. But, it's a day-to-day challenge to balance my time so that I achieve my goals professionally and still maintain a healthy personal life.
– Interview by Charlotte Crystal