Pamela Cipriano, dean of the University of Virginia School of Nursing and Sadie Heath Cabaniss Professor of Nursing, was elected Wednesday to lead the International Council of Nurses at the group's Council of National Nursing Association Representatives.
A two-term president of the American Nurses Association from 2014 to 2018 and the ICN's first vice president since 2017, Cipriano has been a champion of the nursing profession across her more than 40-year career.
"Pam Cipriano is a passionate advocate for the profession of nursing," UVA President Jim Ryan said, "and I have no doubt that she will be an outstanding leader of the International Council of Nurses. This is a fitting honor for Pam, who is a nationally recognized leader and has made innumerable contributions to the field throughout her career."
The ICN is a federation of more than 130 national nurses' associations that represent millions of nurses working worldwide. Operated and led by an international cohort of nurses, the council works to ensure quality care for all and advocate for sound health policies globally. Cipriano succeeds Annette Kennedy and will be the ICN's 29th president when she begins her four-year term on Nov. 4.
"We must be the voice that broadcasts the impact of nurses penetrating the barriers of universal health coverage," Cipriano said, "reducing the burden of non-communicable diseases, promoting healthy behaviors and mitigating the detrimental impacts of climate change."
Acknowledging the worldwide crisis that the global pandemic has created, Cipriano added that "our immediate future requires that we first address the impact of international workforce and economic disruptions, ensuring the stability of ICN and assisting our members to do the same."
Cipriano is known nationally and internationally as a fierce advocate for quality, growing nursing's influence on health care policy and leading efforts to advance the role and visibility of nurses. She served as a public-sector adviser in the U.S. delegation to the 69th World Health Assembly in 2016, has been a leader in the National Academy of Medicine's Action Collaborative on Clinician Well-Being and Resilience, and was instrumental in advancing strategies to reduce regulatory burden and revamp electronic documentation to relieve clinicians of unnecessary work. Across her career, she's focused on improving the safety and efficiency of care by ensuring a healthy, safe and supportive work environment and encouraging individual healthy behaviors to promote well-being.
"Throughout her career, Pam Cipriano has been such a strong advocate for growing nursing's influence on health care policy and leading efforts to advance the role and visibility of nurses," said Dr. K. Craig Kent, the chief executive officer of UVA Health and UVA's executive vice president for health affairs. "I know she will bring that same focus, passion and leadership to the International Council of Nurses as president."
Recently, Cipriano worked on mitigating the effects of the COVID-19 pandemic on the mental health of all clinicians by addressing the psychological safety and support for caregivers as well as reducing the stigma of seeking mental health care as primary prevention for burnout syndrome and depression. She serves on the board of the Dr. Lorna Breen Heroes' Foundation.
An adviser to Times Up Health Care, which aims to eliminate sexual harassment and gender inequality in health care, Cipriano was ranked No. 2 on Healthcare Global's list of the Top 10 women in health care for 2021, and has been repeatedly ranked among the "100 Most Influential People in (U.S.) Healthcare" by Modern Healthcare magazine. Cipriano also served for eight years as the inaugural editor of American Nurse Today, the official journal of the American Nurses Association.
Engineering and Society Has a New Olsson Professor of Applied Ethics
Rosalyn W. Berne has been named the Anne Shirley Carter Olsson Professor of Applied Ethics at the School of Engineering and Applied Science.
Berne is a professor of science, technology and society in the Department of Engineering and Society, where she has been a faculty member since 1999. She is also the director and principal investigator of the Online Ethics Center for Engineering and Science, a National Science Foundation-funded digital library of ethics-related resources for engineering educators and practitioners that is housed at UVA Engineering.
Berne said that when she learned of her nomination to the endowed professorship, which was made official by a vote of the UVA Board of Visitors at its fall meeting, she felt a mix of emotions – among them, surprise and joy.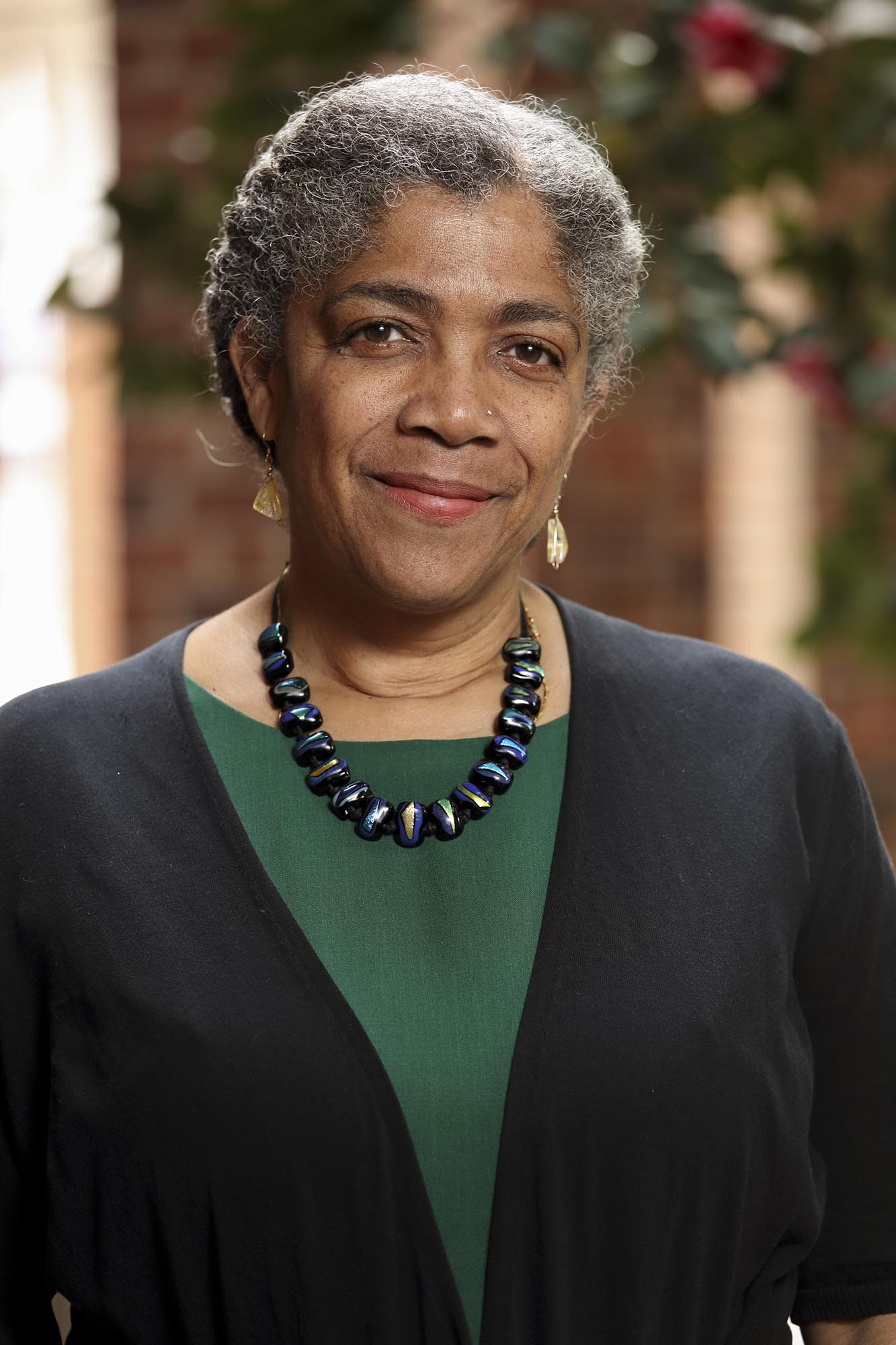 Technology ethicist Rosalyn W. Berne has been named the Anne Shirley Carter Olsson Professor of Applied Ethics. (Photo by Tom Cogill)
"I also felt humility," said Berne, who was recommended for the role by Deborah G. Johnson, the Anne Shirley Carter Olsson Professor Emeritus, "stepping into the shoes worn first by Deborah Johnson and wanting to live up to the hopes and expectations of Anne Shirley Carter Olsson. One way I can do so is by bringing the Online Ethics Center into prominence as the nation's primary source of resources for teaching and researching STEM ethics, and by making significant contributions to further development of engineering ethics education."
The Online Ethics Center was previously administered by the National Academy of Engineering under its Center for Engineering Ethics and Society, which Berne directed from 2018 to 2020 while on leave from UVA. Berne oversaw the transition of the Online Ethics Center to UVA Engineering in 2020.
During Berne's two decades of scholarship at UVA, she has earned a prestigious National Science Foundation CAREER Award and has produced two scholarly books, a science fiction novel (she uses science fiction to teach ethics) and two nonfiction works. She also has published numerous conference papers and articles. As a scholar, Berne explores the intersecting realms of emerging technologies, science, fiction and myth, as well as the links between the human and nonhuman worlds. Her research and writing span considerations of ethics in engineering practice, biotechnology and nanotechnology.
As an expert in ethics in engineering education, Berne has developed several new courses for the science, technology and society program, including "Ethics, Gender and Reproductive Technologies" and "Race Matters in Engineering and Technology."
Johnson, who came out of retirement to lead the Department of Engineering and Society as interim chair, said Berne is a creative and courageous intellectual leader in engineering ethics and is perfectly suited for the role.
"The chairholder has a twofold mission," she said. "The first is to have an impact on ethics training and curriculum locally – in other words, at UVA – and, second, to have an impact on engineering practice both through engineering education and by bringing attention to the ethical dimensions of engineering nationally and internationally. This is precisely what Professor Berne has done and continues to do."
WTJU Nets Four Awards From State Broadcasters Group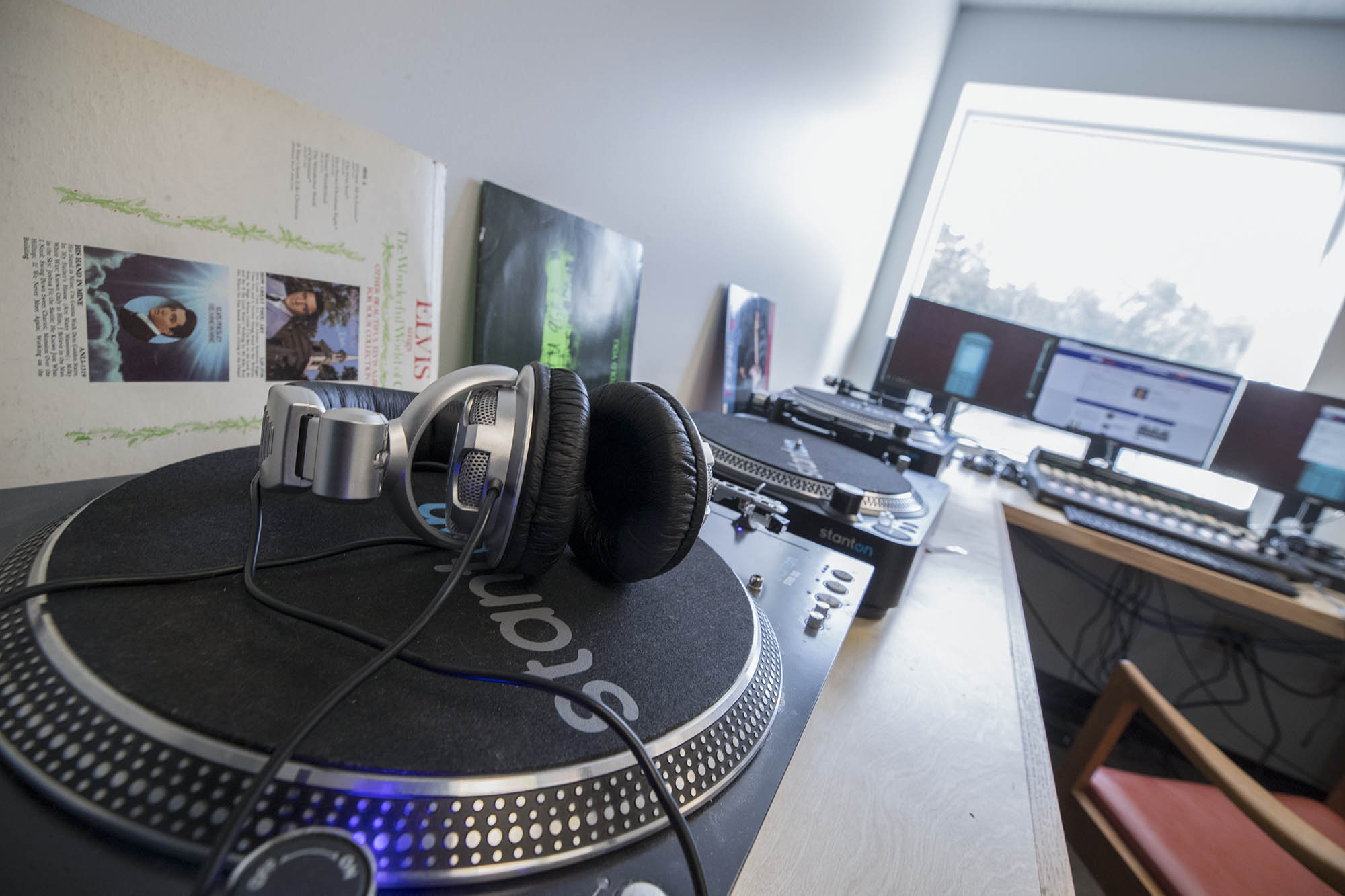 WTJU recently won four awards from the Virginia Association of Broadcasters, including two first-place honors. (Photo by Dan Addison, University Communications)
WTJU, the University's community radio station, won four programming awards this year from the Virginia Association of Broadcasters, including two first-place trophies.
Competing in the non-commercial radio division, WTJU won:
First place, Best Community Event, for "Unsilent Night." In December, WTJU organized an outdoor, walking, holiday-season soundscape through the streets of Charlottesville, drawing scores of people together for a new sort of holiday tradition. (The event will return Dec. 2 at 7 p.m.)
First place, Best Human Interest Series, "Black Fiddlers of Monticello," a series of feature stories about David McCormick's downtown walking tour focusing on the remarkable musical careers of the Hemings family and the other black fiddlers of Monticello. It was produced by Mary Garner McGehee.
Second place, Best Station Promo, "Make Me a Rock Deal," produced by Don Harrison and edited by Lewis Reining.
Second place, Award for Creative Excellence, "Quarantine Haikus." In partnership with The Bridge Progressive Arts Initiative, WTJU produced and aired crowd-sourced haikus about social distancing in the early months of the pandemic.
UVA Health Earns National Quality Awards for Heart Failure, Heart Attack Care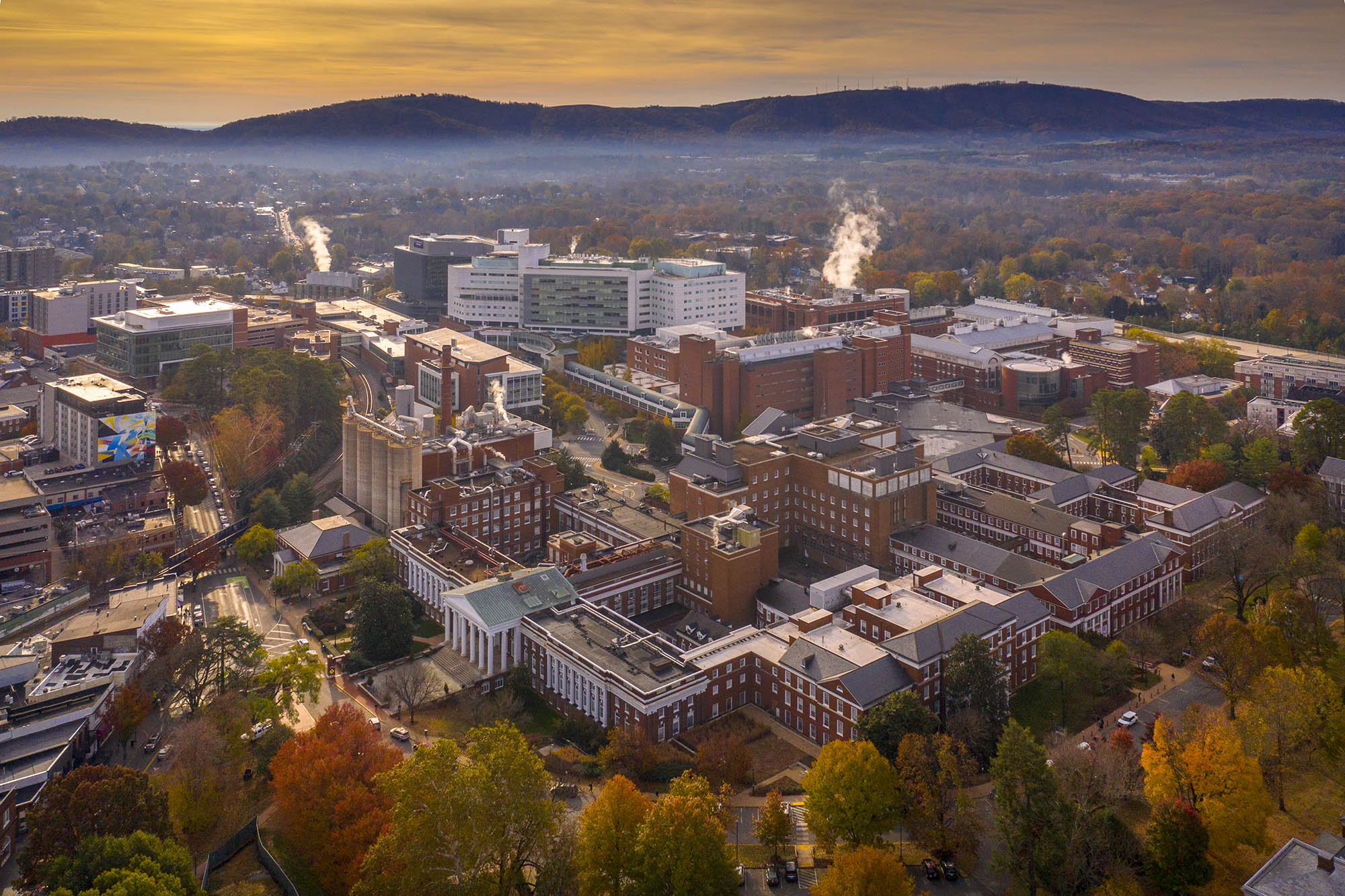 UVA Health earned national recognition for its care of heart patients. (Photo by Sanjay Suchak, University Communications)
For meeting the American Heart Association's evidence-based quality standards, the UVA Health Heart and Vascular Center has earned four national awards for its care of patients with heart failure and heart attacks.
UVA Health's effort was recognized with the Gold Plus Level Get With The Guidelines-Heart Failure with Target: Heart Failure and Target: Type 2 Diabetes Honor Roll award for its care of heart failure patients, along with the Mission: Lifeline NSTEMI Bronze Award for its care of heart attack patients.
The UVA Health Heart and Vascular Center team includes cardiologists, heart surgeons, nurse practitioners, nurses, therapists, exercise physiologists, pharmacists and dietitians.
"This collection of national awards showcases that patients with an array of heart care needs will receive timely, highly specialized and excellent care from our Heart and Vascular Center team," Dr. K. Craig Kent, UVA Health's chief executive officer, said.
UVA Health's heart failure team met several research-based standards, including:
Prescribing appropriate medications to help patients manage their heart failure.
Prescribing blood thinners to reduce the risk of stroke for patients with heart failure and heart-rhythm disorders such as atrial fibrillation or atrial flutter.
Providing flu and pneumonia vaccinations.
Scheduling a follow-up visit within seven days.
Providing treatments to help prevent clots inside blood vessels.
To earn the Type 2 Diabetes award, UVA Health also had to meet quality measures for diabetes care over a 12-month period.
UVA's heart attack response team met national standards for heart attack care, including:
Quickly opening blocked arteries.
Ensuring all recommended medications are prescribed when patients leave the hospital.
Referring patients to an outpatient heart rehabilitation program.
Testing patients' heart function before they are released from the hospital.
Counseling patients on quitting smoking.
UVA Health's follow-up care includes a visit one week after patients leave the hospital at the UVA Heart Attack Recovery Clinic, where a multidisciplinary team helps patients chart a plan for their recovery.
UVA Wins the 2021 IDEA Innovation Award for its Chiller Plant Technology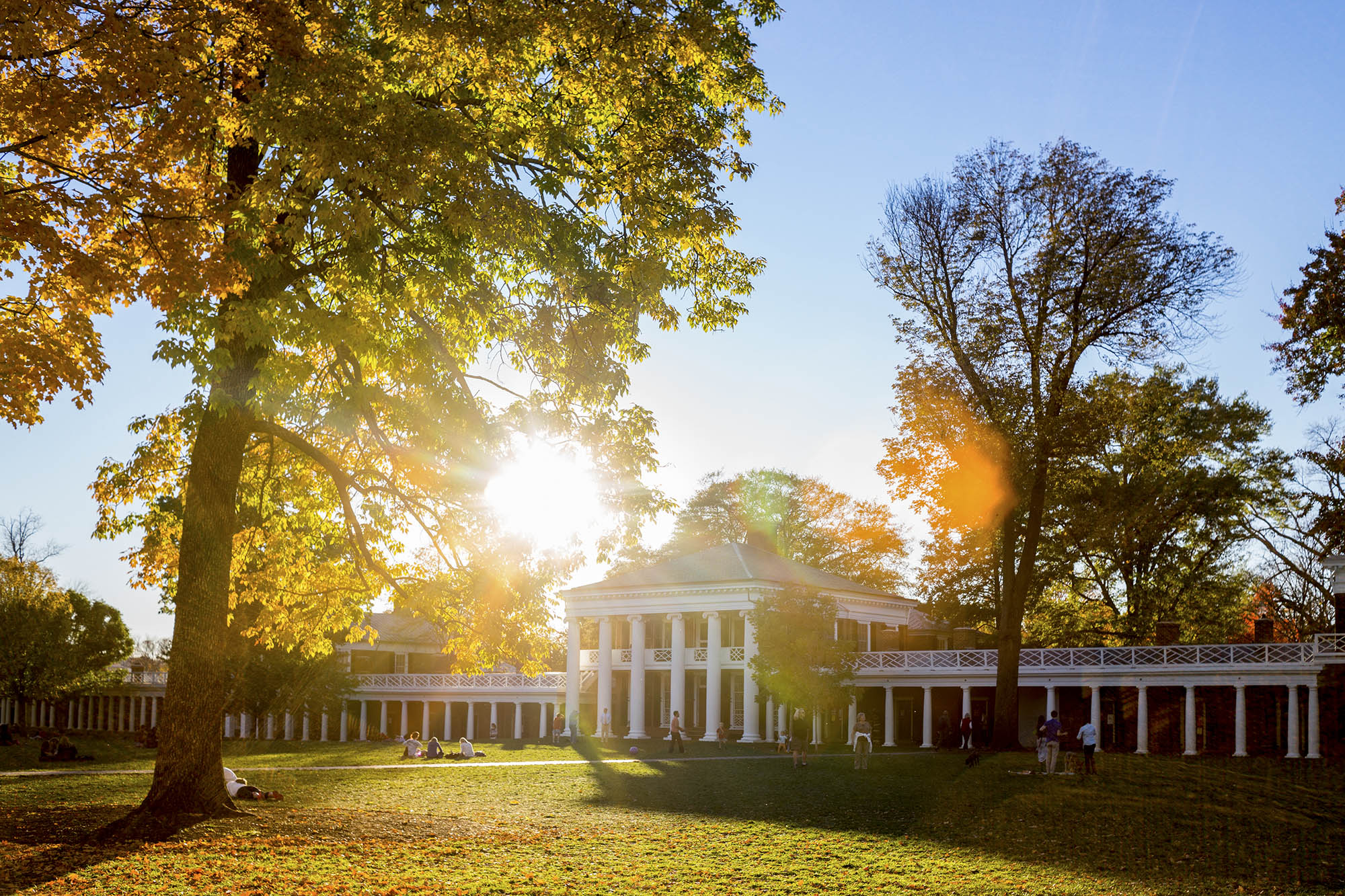 UVA's Facilities Management earned a national award for improving the efficiency of its chiller plants. (Photo by Sanjay Suchak, University Communications)
At its annual conference in Austin, Texas, the International District Energy Association presented the University of Virginia with the 2021 IDEA Innovation Award for its submission, "Automated Chiller Tube Cleaning Improves Chilled Water Plant Efficiency."
In 2014, UVA was presented a little-known technology from Innovas Technologies designed to automate tube cleaning and tube fouling prevention in their chiller condensers, and was interested in testing the overall impact to chilled water plant operations. Seven years later, UVA's decision to innovate has led to widespread technology adoption at UVA. The University now operates 20 water-cooled chillers with automated tube cleaning systems, delivering approximately 20,000 tons of cooling.
"While the initial vision and strategy that led to this point was conceived by just a few, it took a true team effort to stay the course," said Justin Callihan, associate director for energy and utilities at UVA. "Without adoption by operations and maintenance personnel, efforts like these can, and often do, fall short of their intended target.
"Not only did the team members adopt the new technology initially, they supported the additional installations in a multitude of ways and have even made some enhancements to systems. In an industry where success often means no one knows you exist unless something bad happens, it can be difficult to find innovative solutions that are worth the risk. This was a perfect example of a low-risk and elegant solution to a well-known issue."
The award was presented in person Sept. 28 at the IDEA Networking and Recognition Lunch to Paul Zmick, UVA's director of energy and utilities. Innovas Technologies was also a key partner to UVA.
Governor Northam Announces Administration Appointments
Virginia Gov. Ralph Northam recently announced the appointments of four University of Virginia faculty members to his administration.
Law professor Andrew "Andy" Block, a former director of Virginia Department of Juvenile Justice, was named to the Commission to Examine Racial and Economic Inequity in Virginia Law.
Two School of Medicine faculty members – Peter Kasson, associate professor; and Stephen S. Rich, Harrison Professor of Public Health Sciences and director of UVA's Center for Public Health Genomics – were named to the Rare Disease Council.
Arlyn Burgess, chief of staff in the School of Data Science, was named to the Virginia Data Advisory Commission.
Article Information
October 11, 2021
/content/accolades-dean-elected-lead-worldwide-nursing-association