One of the University of Virginia's highest-profile alumni entrepreneurs returned to Grounds Wednesday to share stories of venture creation, funding new startups and balancing life as a busy dad.
Speaking to a packed house at the Darden School of Business as part of The New York Times-sponsored "Get With The Times" event, Reddit co-founder and Initialized Capital managing partner Alexis Ohanian expressed delight at the large, enthusiastic audience.
"This is exciting. Y'all came out for this!" Ohanian said. "You must have really had nothing else to do tonight."
A large crowd turned out to welcome Ohanian back to UVA. (Photo by Leigh Vogel, New York Times)
Students and University community members filled Darden's Abbott Auditorium and an overflow room, while the Q&A with Times reporter Sapna Maheshwari was also livestreamed around the world. (See a full video of the talk here.)
Asked to recount his time at UVA, Ohanian, who graduated in 2005 with degrees from both the McIntire School of Commerce and the College of Arts & Sciences, said he was a diligent student, potentially to a fault. He spent a lot of time in Alderman Library – where he famously registered the domain name for Reddit – and worried "way too much" about grades, he said.
In hindsight, he should have given himself the license to care less about his grade-point average and experiment more with taking different courses. He also joked that he would have erased his "awkward chin beard."
A Career 'Aha' at Waffle House
Ohanian, who said he had designs on a pre-med education "for a week," until a first-year chemistry course disabused him of the notion, described his entrepreneurial epiphany as coming while taking the LSATs. He walked out midway through the test and went to a Waffle House.
"It changed my life because I realized if I like waffles more than the law, I probably shouldn't be a lawyer," Ohanian said.
Instead, Ohanian committed himself to entrepreneurship. Noting the privilege he had to attend UVA without taking on any student loan debt, Ohanian said the stakes for failure in a startup felt relatively low.
"I could see myself going into a meeting with my future employer and having my future boss ask me, 'What did you do the last two years?'" Ohanian said. "And I could say, 'I started a company, I failed miserably, but I learned these things,' and I would hope that she would say, 'Alright, that's cool. That's great. That's a good use of your time.'"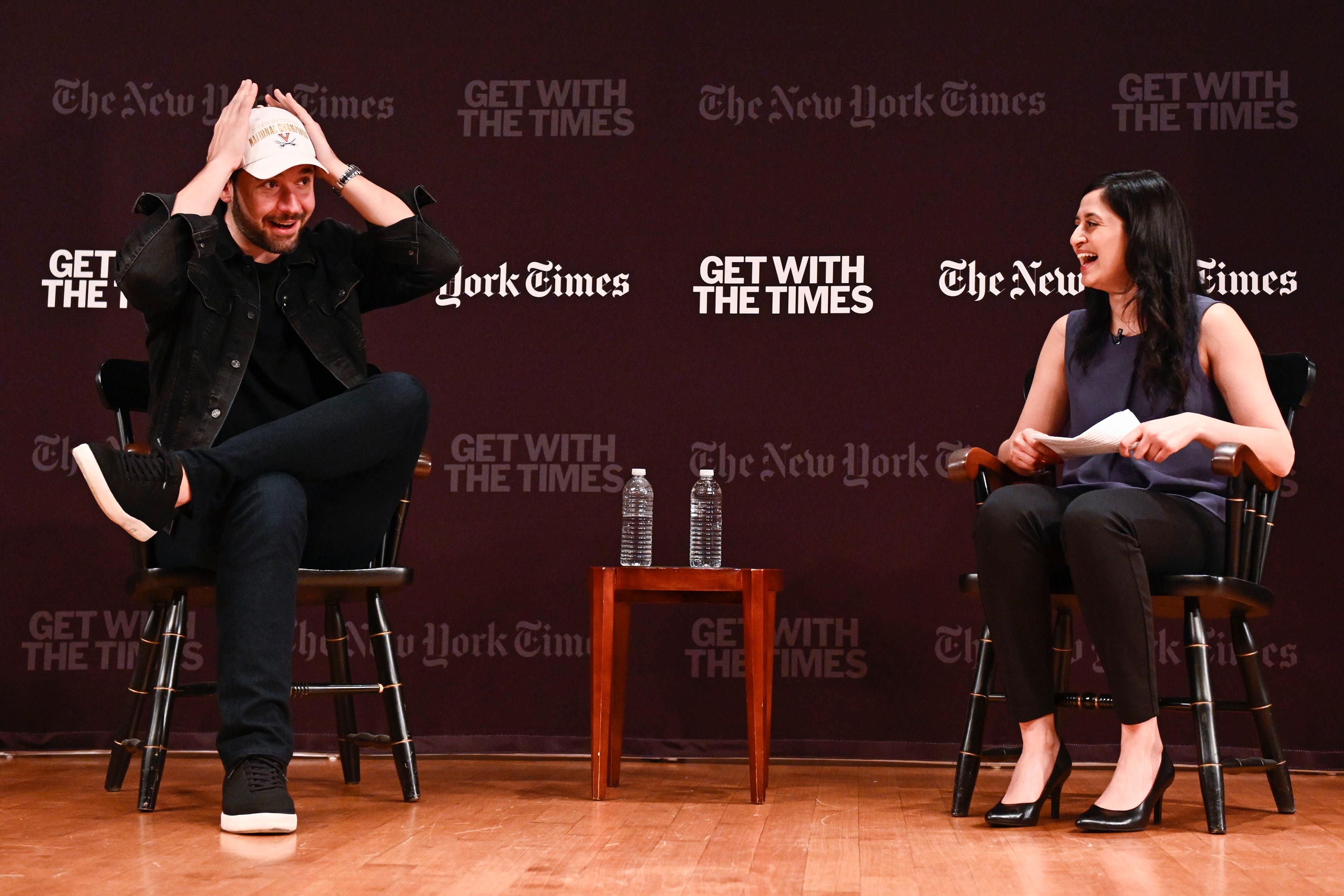 Ohanian, a basketball fan, donned his national championship hat, which he has worn proudly since celebrating the Hoos in Minneapolis. (Photo by Leigh Vogel, New York Times)
After a short-lived attempt at a mobile food-ordering business, Ohanian and his co-founder, UVA alumnus Steve Huffman, launched Reddit, the hugely popular collection of commenting forums known as "the front page of the internet."
Reddit and Huffman sold Reddit to Conde Nast roughly a year after its founding. After helping to execute a turnaround of the company in recent years, Ohanian stepped away from Reddit's daily activities in 2018, but remains on its board.
Today, Ohanian focuses his professional responsibilities with Initialized Capital, a San Francisco-based, early-stage venture capital firm with $500 million under management. Ohanian said the firm strives to offer the earliest possible funding rounds for startups. Notable investments have included Instacart, Coinbase and Patreon, among roughly 200 others.
"The really big ideas are the ones, especially at that stage when they are still so nascent, that seem to really push up on the boundaries of what feels normal," Ohanian said. "Everything is a remix. There are very few things that are truly original, but it's the original application and allocation of resources that makes the novel idea."
Ohanian's Advice for Entrepreneurs and Innovators
In addition to a great idea, Ohanian said "the most important quality" for young entrepreneurs is the ability to deal with adversity. Many founders are brilliant, but when confronted with failure – a regular occurrence in the startup world – they crumple.
A successful founder knows, or quickly learns, resiliency in the face of adversity, he said.
While Ohanian encourages everyone to learn to code, he said the lessons from his liberal arts background – specifically the ability to synthesize disparate sources of information and communicate an idea effectively – remain the bedrock of his professional responsibilities.
"As much as I advocate for learning to code … that does not mean excluding a lot of the things in the humanities that make us well-rounded," Ohanian said. "If your goal in some way, shape or form is to change the world, however you see that happening, being able to communicate effectively has to be some part of that and being able to understand complex ideas and do the things that a humanities education can do for you is core to that."
On a Mission for Dads and Work Quality of Life
Ohanian also detailed his efforts to inject a dose of humanity, humility and self-care into a startup culture that often seems to glorify the "hustle" above all else.
The finance industry may have laid a historical template for dogged hours and forgoing personal time, but the tech industry "weaponized" it, he said.
"There's a huge mental component to being successful … so why are we not talking more about mental health? Why are we not talking more about therapy?" he said. "It is changing, but there is a toxic culture of self-sacrifice and then posting about it on Instagram, and it's absurd."
Hard work is a critical component of success, he said, but the best thinkers and creators rely on rest as much as work.
Ohanian said one way he tries to model balanced behavior is advocating for paid parental leave and by prioritizing time with his family. When his wife, tennis superstar Serena Williams, gave birth to their daughter, Ohanian said he took 16 weeks off and encourages others to do at least the same. It's critical for the health of a child and a family, he said.
While executives who are mothers are routinely asked about balancing work and family, men are asked the same question far less often, Ohanian said.
"I'm really starting to get asked this question more and more, and please, ask me all day long," he said. "Why shouldn't a business dad be asked these questions?"
Article Information
April 18, 2019
/content/alexis-ohanian-investing-startups-and-trying-be-better-business-dad