Carla Williams has been named the University of Virginia's director of athletics, President Teresa A. Sullivan announced Sunday. Williams has been an athletics administrator at the University of Georgia for the past 13 years, most recently serving as the deputy director of athletics since 2015.
She succeeds Craig Littlepage, who has served as the Cavaliers' athletics director for the past 16 years.
"The University of Virginia is excited to welcome Carla Williams to lead our athletics department," Sullivan said. "Her experience as a successful student-athlete, coach and senior administrator at the highest levels of Division I athletics is impressive. Equally impressive is her commitment to education and the academic pursuits of student-athletes. Carla will also be a dynamic contributor to the University and Charlottesville communities.
"President-elect Jim Ryan and I agreed that we needed to work together on the search for UVA's new athletics director. I appreciate Jim's assistance and input during the search as we position the athletics department to build on the success it achieved under the leadership of Craig Littlepage."
"I think Carla is spectacular," Ryan said. "She is exceedingly well-prepared for this role, but more than that, she is fiercely committed to excellence in both athletics and academics and has a track record of success in both arenas. I cannot wait to work with Carla, a kindred spirit who sees leadership as a chance to serve those around her and to create the conditions for their success."
During Williams' tenure as an administrator at Georgia, its athletics teams won 16 NCAA team championships and 37 Southeastern Conference titles.
"I am extremely grateful for this opportunity to lead one of the nation's elite athletics programs," Williams said. "Academic achievement, athletic excellence, operating with integrity, a commitment to maximum effort at all times and a strong sense of teamwork and unity are the core principles that will guide our athletics department under my leadership.
"My career progression is the result of a commitment to education. Athletics provided the opportunity for me to attend the University of Georgia as a first-generation college student and my advanced degrees enabled me to further my growth and develop my career as an athletics administrator. I look forward to serving our student-athletes, coaches, and staff on a daily basis and I am excited to get started."
Williams becomes the first female African-American athletics director at a Power Five conference institution and is the fifth active female athletics director at that level.
In her role as deputy director of athletics at Georgia, Williams was responsible for the day-to-day operations of the department and its $127 million budget. She served as administrator for the Bulldogs' football and Lady Bulldogs' women's basketball programs and also had supervisory responsibility for academic support services, business operations, compliance, event management, external operations, facilities and new construction, human resources, sports facilitators (21 sports and 15 head coaches), sports medicine, strength and conditioning, student services and ticketing. Since 2011, she has helped to oversee $162 million in facility additions, upgrades and improvements for the UGA athletics program.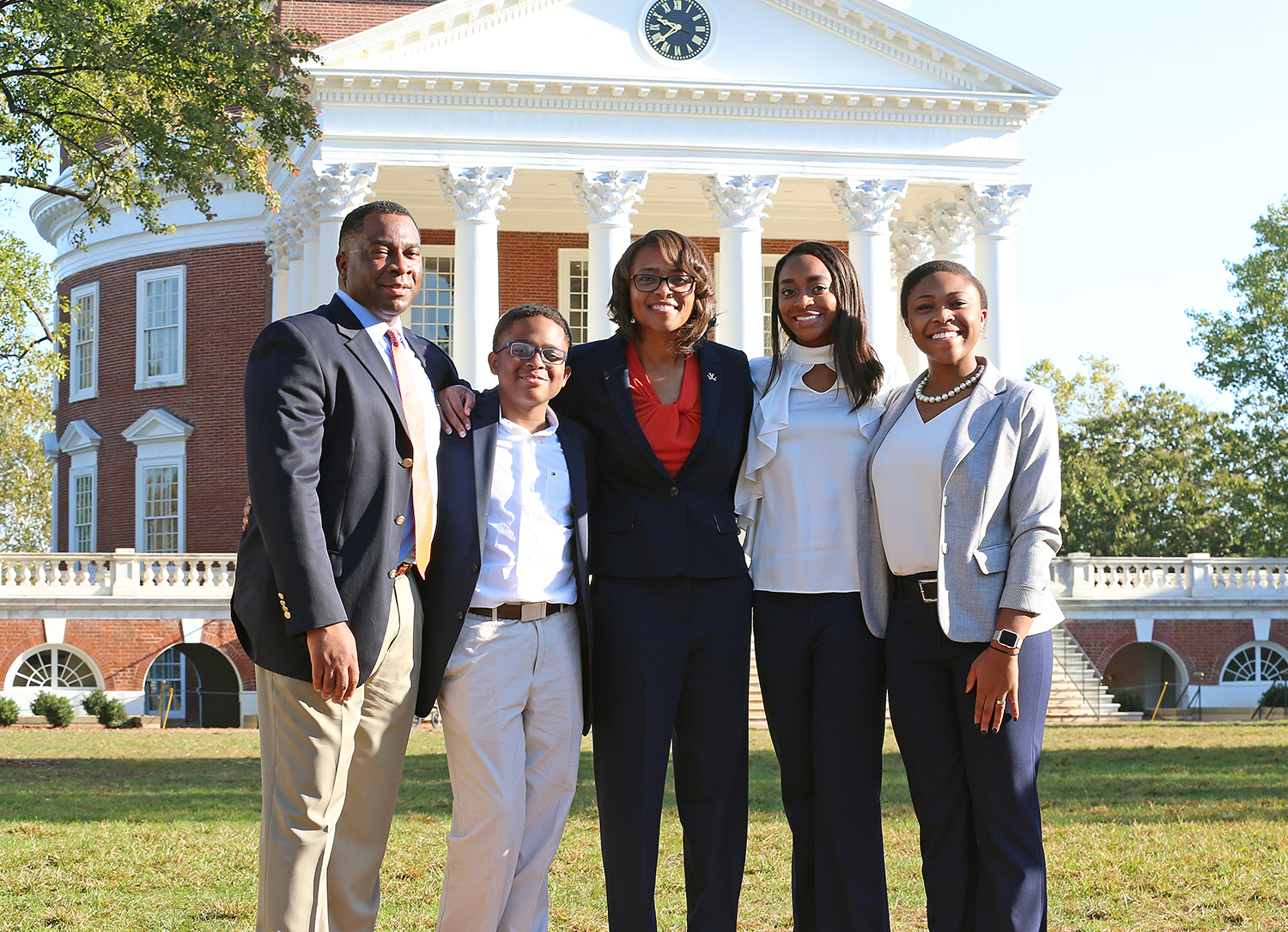 Carla Williams and her husband, Brian, an associate professor of public administration and policy in UGA's School of Public & International Affairs, have three children: daughters Carmen and Camryn, and a son, Joshua. (Photo by Matt Riley, UVA Athletics)
She serves as the Georgia Athletic Association's liaison to the president's office, provost's office, general counsel, equal opportunity office and student affairs. She also serves as the athletics department's deputy Title IX officer.
"I have had the pleasure of working for many years with Carla Williams as president, provost and faculty athletics representative," said University of Georgia President Jere Morehead. "She is an outstanding athletic administrator and importantly a wonderful role model for our student-athletes. I know she will be a superb athletic director for the University of Virginia. I am proud of her accomplishments as one of our exceptional graduates."
Williams has the unique background of competing, coaching and administering at the highest levels of intercollegiate athletics. She was an All-SEC guard on the basketball court, then helped recruit and coach some of the greatest teams in Georgia's history before moving on to become one of the highest-ranking female administrators in Division I athletics.
"I am excited to partner with Carla Williams in building an exceptional football program and developing our student-athletes to their fullest potential," head football coach Bronco Mendenhall said.
"This is an exciting time in UVA athletics and I look forward to working with Carla Williams," head men's basketball coach Tony Bennett said. "Her vast experiences as a student-athlete, coach and administrator at top Power Five schools are impressive. The people I respect in the coaching profession who have worked under Carla could not have given her a better endorsement."
Williams began her administrative career at Georgia in 2004. She served as associate athletic director (2004-2008), senior associate athletic director (2008-2011) and executive associate athletic director (2011-2015) before being promoted to her present position.
Prior to joining the Bulldogs' staff, Williams was an assistant director of athletics at Vanderbilt (2000-2003) and an associate director of athletics (2003-2004). She oversaw 11 men's and women's sports as well as the Commodores' CHAMPS/Life Skills program. From 1997-1998, Williams was coordinator for student-athlete development and life skills at Florida State. While completing her Ph.D. in sport administration, Williams was also a graduate assistant for athletic academic support from 1998-2000.
Over the course of her career in intercollegiate athletics, Williams has administrative experience with each varsity sport sponsored by Virginia with the exceptions of field hockey, rowing, squash and wrestling.
Williams has been instrumental in Georgia's programming to enhance the lives of its student-athletes and prepare them for a life beyond athletics, including its comprehensive "The Georgia Way" program. She has also helped build ties for Bulldog alumni, including the creation of UGA's NFL alumni development program. Her involvement at Georgia included serving as a member of the student-athlete conduct committee and student wellness committee. She was involved in general campus affairs, which included serving on the University's Terry College of Business board of directors and being active in numerous campus personnel search committees.
NCAA and national organization committee membership are a big part of Williams' resume. She served on the executive committee (2010-2014) for the National Association of Collegiate Directors of Athletics. She was a member of the Southeastern Conference's executive committee (2009-2011), participated on the NCAA women's basketball issues committee (2010-2014) and was an executive board member of the National Association of Collegiate Women Athletic Administrators (2007-2009).
A native of LaGrange, Ga., Williams was a three-year starter for the Lady Bulldogs from 1987-89. She finished her career with 1,115 points, 425 assists and 285 steals. Those tallies ranked No. 10, No. 2 and No. 3 among Georgia's career leaders at the completion of her career.
Williams received her bachelor's degree in sociology and master's in public administration from Georgia in 1989 and 1991, respectively. Following her undergraduate graduation, she played professionally in Spain in 1989.
Williams was then an assistant coach on hall of fame coach Andy Landers' staff from 1991-96, including teams which reached the 1995 and 1996 Final Fours, finished as NCAA runner-up in 1996 and won the 1991 and 1996 SEC Championships. Following the 1995-96 season, Williams moved into administration and served as UGA's assistant director of compliance from 1996 to 1997 before continuing her ascent up the administrative ranks at Florida State, Vanderbilt and Georgia.
An active member in her community, local schools and church, Williams is on the board of directors for the Athens Area Community Foundation and LLL Community Group. She has served as a committee member for Oconee County School System projects and been involved in the Athens Clarke County Mentor Program.
In May 2015, Williams was recognized by the Girl Scouts of Historic Georgia as the Athens Woman of Distinction. That same year she was named one of the top-10 senior woman administrators in the NCAA by the website CollegeAD.org.
Williams, 49, has agreed to a five-year contract with Virginia with a base annual salary of $550,000, plus incentives.
Williams and her husband, Brian, an associate professor of public administration and policy in UGA's School of Public & International Affairs, have three children: daughters Carmen and Camryn, and a son, Joshua.
Article Information
October 22, 2017
/content/carla-williams-named-virginia-director-athletics