"We were just blown away," Zuluaga said. "The whole experience was almost, like, enchanting in a way – just walking around the Lawn and everywhere on Grounds. And the academic side of UVA really attracted me. It was one of the most prestigious schools I got into.
"With a financial aid package from Access UVA, everything just fell into place, and that's how I found myself in Charlottesville."
The folks at UVA's Batten School of Leadership and Public Policy are certainly glad about that. The fourth-year student, who will graduate next month, has left quite a mark.
Patti Edson, Batten's former director of undergraduate admission, calls Zuluaga the "Harry Potter of Batten."
"The reason I call him that is because he's undeterred and he's brave in the way he goes about things," she said. "I've never run into a student quite like him. It's rare to run into a student of his age who is as serious as he is about getting things done. He has almost what I would call a 'grown-up' vision of how to get it done."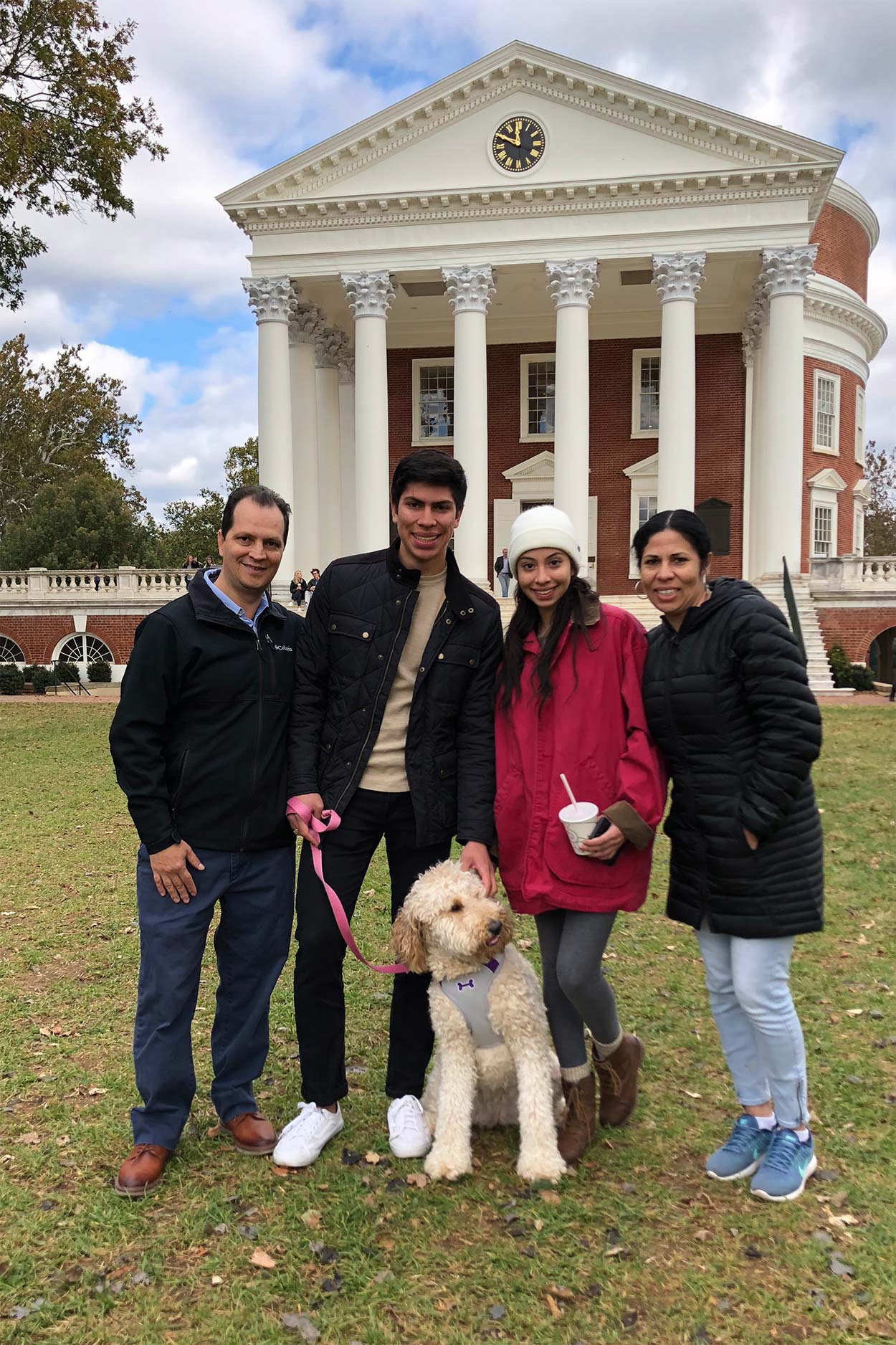 Zuluaga with his parents, sister and dog, Belle. (Contributed photo)
Zuluaga's parents, Carlos and Adriana, are natives of Colombia who never attended college.
Carlos didn't finish high school, but would eventually get his GED. He worked as a pharmacy associate and delivery man in his hometown of Medellin before, with a relative's help, he immigrated to the United States in 1989. Adriana joined him three years later.
Brian was born in New Jersey, then lived in Florida before moving to Pennsylvania when he was in the third grade for his dad's job as a lab technician at Johnson & Johnson.
Zuluaga, whose anthropology senior seminar project documents his father's immigration to the U.S., said his parents have always been his inspiration.
"My dad was working side-by-side with guys who had college degrees," he said. "It shows how much grit and resilience he had to gain the skills and the knowledge he needed."
Zuluaga's mother, who insisted that he learn both Spanish and English, also worked in at Johnson & Johnson before becoming a stay-at-home mom.
"I'm super grateful for that, because if she wasn't there when I was at home, I don't think I would have a lot of the ingrained values that I have," he said.
"My parents have definitely been central to why I put so much effort in at college. I've never been one to, say, pull up Facebook on my phone during a class. I've always understood the value of the education I'm receiving. I see coming to UVA and getting this education as a privilege."
Coming of age in a predominantly white town, Zuluaga said that he sometimes struggled to find people he could relate to. At UVA, he found them quickly.
In his first-year dorm, he met several Hispanic students who have become his best friends, along with others he has met through the Latinx Student Alliance and other programs, or just hanging out at the Multicultural Student Center.
"That's honestly where I found my family," Zuluaga said. "I could see my experience through other students. We've just understood each other on a different level. I had great friends during my high school experience, but didn't have the same connection relating to identity, which is just crucial.
"I think that's been one of most powerful things through my time at UVA."
"Once you find your community, I think everything goes upward from there. You have that support system and a wealth of mentors who really can be your advocates in a way that can help carry you through your UVA experience."

- Brian Zuluaga
Zuluaga, who is double-majoring in public policy and leadership (at Batten) and anthropology (in the College of Arts & Sciences), said this time away from UVA due to the COVID-19 quarantine has made him more grateful for the friendships he's made.
"I've had experiences and created memories that will last a lifetime," he said. "I'm so grateful to have been at the University of Virginia. Even though my time was cut short, it really was a privilege."
One of the things Zuluaga said he will never forget was the men's basketball team's amazing run to an NCAA championship last April.
A part-time DJ, Zuluaga had a gig for a sorority function on the same night as UVA's regional final victory over Purdue University. Sorority members started getting mad at Zuluaga because he was huddled with buddies in the house watching the end of the game after the event was supposed to have started.