Many people's NFL dreams start on a field, in a backyard, in front of a TV or while attending a memorable game.
Alex Stern's started at a retirement home in his hometown of Virginia Beach.
Stern volunteered at an assisted-living facility when he was in high school, and had just put away some bingo cards when his manager mentioned a consulting firm that had been contracted to model re-hospitalization rates of residents.
The firm's model predicted who was most likely to re-enter the hospital based on residents' medical profiles and what predictors were the strongest indicators of rehospitalization.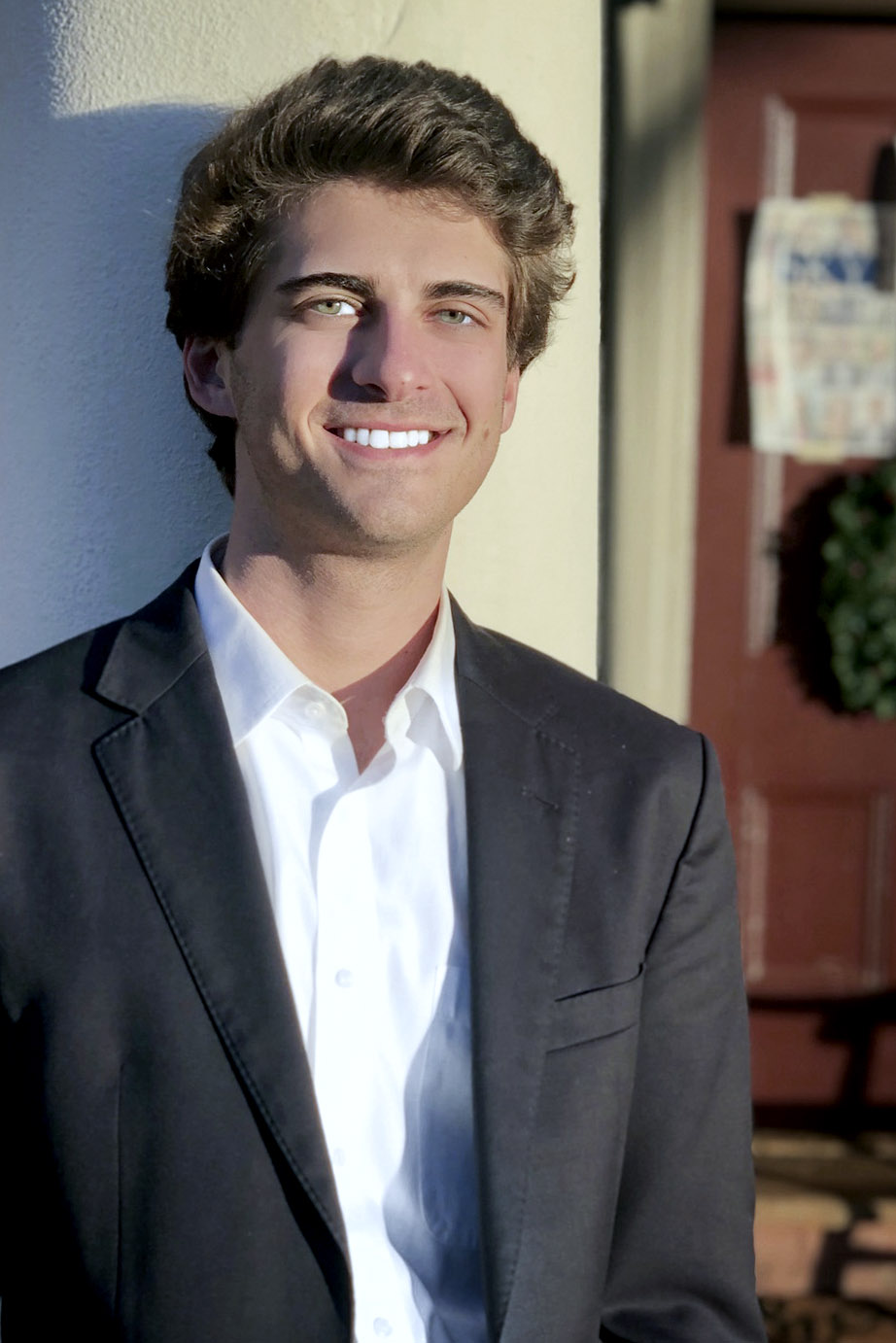 Stern's duties for the UVA football team include scouting and identifying undervalued talent in the NCAA transfer portal. (Contributed photo)
After a year of using the model, the home's rehospitalization rates went down significantly.
"I was astonished at the ability of math to fundamentally change people's lives, and fascinated by the predictive ability of statistical models," Stern said.
So much so that Stern reached out to another firm, and wound up working for them in New York City as part of his high school capstone project.
When Stern arrived at the University of Virginia, he further immersed himself in the analytics field. In May, he graduated a year early with degrees in quantitative statistics and computer science.
Now Stern is pursuing his master's degree from UVA's School of Data Science while working as an analytics intern for the UVA football team.
Matt Edwards, who serves on head coach Bronco Mendenhall's staff as the director of analytics, said Stern and fellow intern Joseph Wysocki have been huge assets.
"Alex has a very bright mind that helps him think logically and look for innovative ways to utilize data," Edwards said. "He has all the tools."
That much was obvious when Stern, at Edwards' suggestion, competed in the Big Data Bowl, a National Football League-sponsored analytics competition for students that was held just before February's draft combine.
From a data set, Stern wrote an algorithm that calculated exactly how much space each individual offensive lineman was creating for the running back on each play. The algorithm standardized their grades, taking specific situations into account.
"For example, just because your left tackle creates a bunch of space in front of the running back, that doesn't necessarily mean anything," Stern explained. "Maybe it was a run to the outer left, the defenders were spread out (not anticipating a run from the offense), and they were facing the worst rushing defense in the NFL. You'd expect him to create space in that situation.
"What my algorithm did was ask how much more or less space did your left tackle create in that situation than my left tackle when he faces a similar situation?"
Stern then gathered salary data and compared where guards, tackles and centers ranked in his grading system to how they were paid at their position. He found that the average offensive lineman is either over- or underpaid by about $2 million per year.
"In a time where we have an increasingly expensive market for skill players (quarterbacks, running backs, wide receivers), analytically optimizing the rest of your roster is crucial," Stern said. "This algorithm can help you find better offensive linemen for less, allowing you to spend more at other positions."
Stern was named one of the Big Data Bowl's six finalists, and the NFL flew him to the combine in Indianapolis so that he could present his work to more than 200 staffers from 31 NFL teams, media members and consulting firms such as Pro Football Focus.
"It was a phenomenal opportunity to get my foot in the door with people from all corners of the football community," Stern said. "I've been an enormous football fan my entire life, so having the NFL pay for me to skip school for a week and go to the combine was like a dream come true.
"What I learned from talking to teams and members of the media was how I can best articulate what I'm doing and why it's important to a non-statistical audience that doesn't have an hour to be walked through every step I took in this process. That was a challenge, but it really helped me synthesize what I believed was most important about my work."
In preparing for the competition, Stern said two courses he took as an undergraduate, "Mathematical Statistics" and "Algorithms," helped immensely.
After Stern completes his master's degree, he hopes to put his skills to use right away.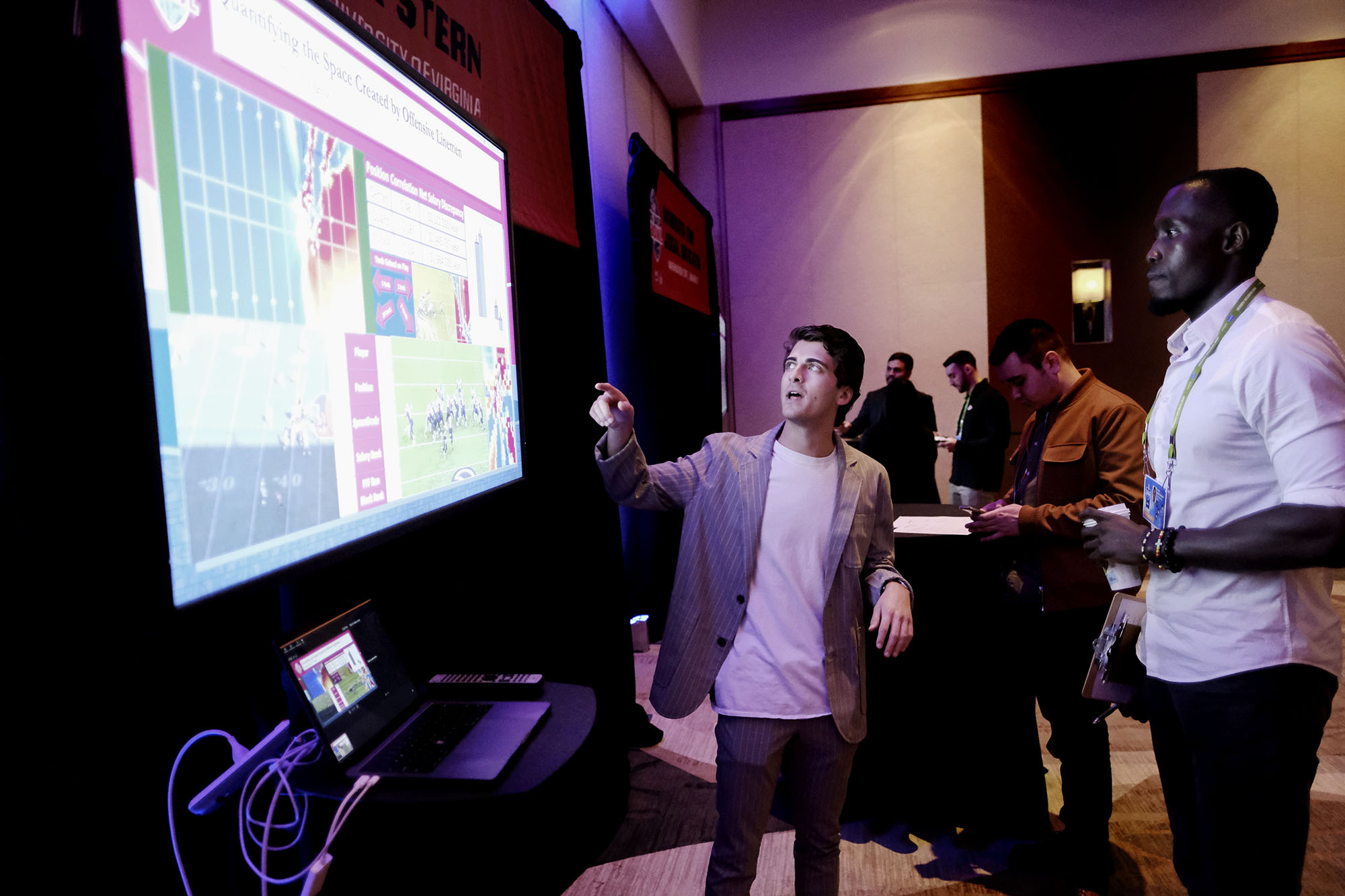 Stern's algorithm calculated exactly how much space each individual offensive lineman was creating for the running back on each play. (Contributed photo)
"I was in talks with NFL teams and media outlets about jobs straight out of school last May," he said, "but decided that furthering my education would allow me to do more advanced work and position me better for long-term success."
Stern's duties for the UVA football team include scouting and identifying undervalued talent in the NCAA transfer portal.
This is the first year that the football team has had official analytics internships, though over the last few years, Edwards has worked with students from the systems engineering department, the College's Department of Statistics and now the School of Data Science.
"I have had great experiences with all three," Edwards said. "The students here at UVA, no matter what program they come from, are bright, hard-working, and have been a great help each time I've had the opportunity to work with them.
"I am really excited about what the future looks like based on the success we've had so far."
Article Information
October 13, 2020
/content/data-science-students-algorithm-has-nfls-full-attention