An avid mountain biker and squash player who is always looking for new challenges – physical or mental – University of Virginia play-by-play announcer Dave Koehn just couldn't pass on the opportunity to take his skills to the NBA.
On Tuesday, Koehn, who has been calling UVA games since 2008, announced his decision to leave for a job as the radio voice of the world champion Milwaukee Bucks.
"It is really hard leaving UVA. It is such an amazing place," Koehn said. "The good thing about living in places like this is you get to live there. The bad thing is if and when you do leave, it's that much harder – not just because of the place, but the people.
"But not many people can say they're going to trade out a national champ for a world champ, and I'm beyond lucky to be able to say that."
In addition to joining the reigning NBA champions, Koehn said he was drawn by the "forward-thinking" approach of the Bucks organization, which has included the hiring of the first female lead television announcer in NBA history (Lisa Byington); the first American Sign Language interpreter for postgame press conferences; sizable community outreach during the pandemic; and not being afraid to take a stance on social justice issues.
"That resonates with me," said Koehn, who became heavily involved in the community during his time in Charlottesville. "I'm leaving a place I was really proud to have worked and did things the right way, and I think I'm going to another place that I'll be proud to work for – and that means something to me."
Koehn's father is a Wisconsin native who currently lives about an hour from Milwaukee. He also has several other family members who live in the state.
Koehn said he consulted with UVA men's basketball coach Tony Bennett, another Wisconsin native, prior to accepting his new position.
"I wanted to get his perspective because he has been, in a lot of ways, a mentor to me," Koehn said. "Both [Bennett] and [head football coach Bronco Mendenhall] were so encouraging and so gracious. I just can't say enough about those two guys – I really do mean it."
During his final appearance as a UVA broadcaster for Mendenhall's "Coach's Corner" show on Tuesday night, Mendenhall presented Koehn with a signed helmet.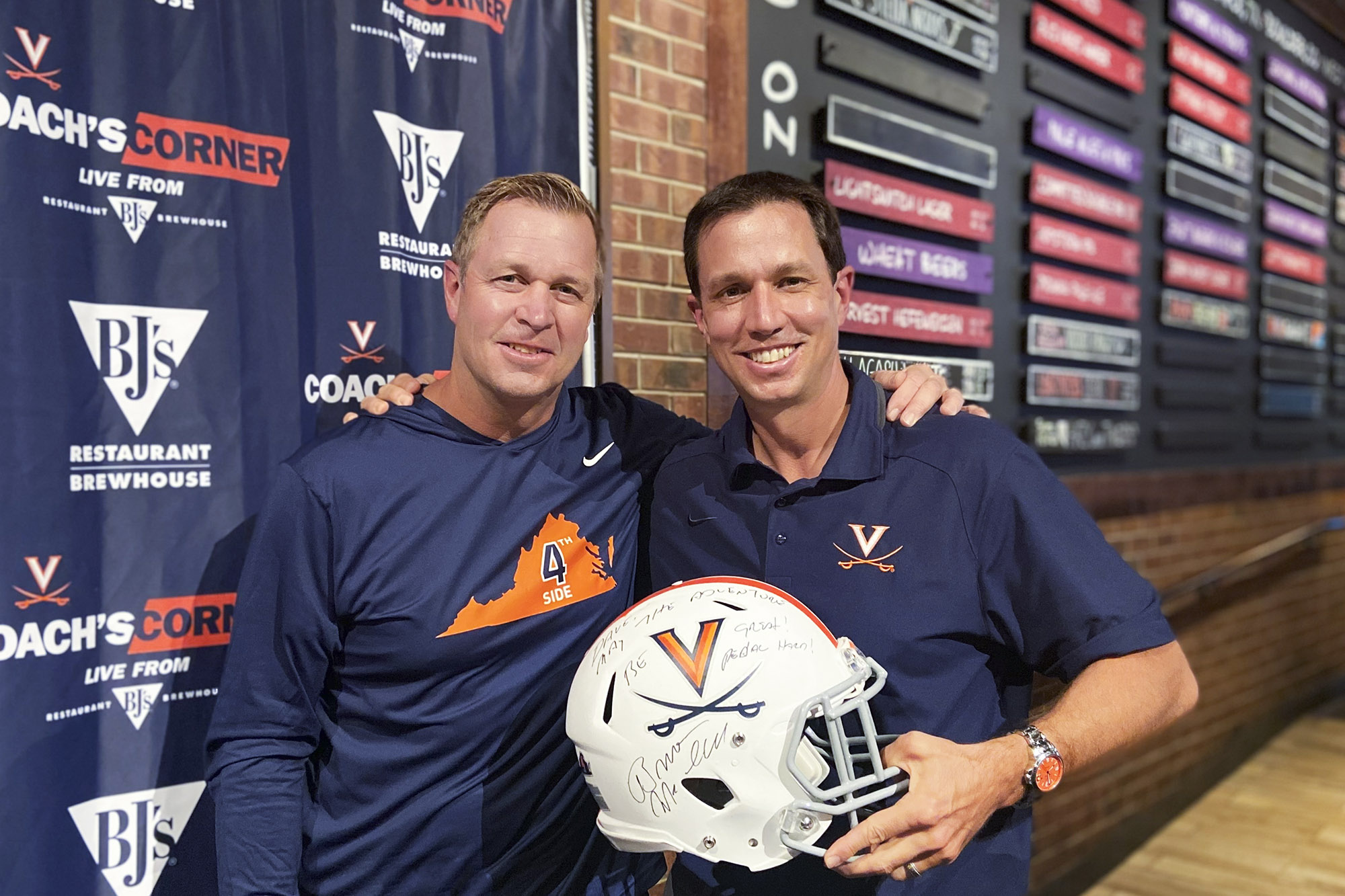 While Koehn said picking his most memorable moments from his 13 years behind the mic isn't as easy as one would think, UVA Today wasn't about to let him off the hook.
Here are Koehn's top five:
Football Game Against USC
UVA fans have probably tried to erase this 2008 game from their memories. The Hoos lost decisively to a No. 3-ranked University of Southern California team that was led by future NFL quarterback Mark Sanchez.
However, the game will always hold a special place in Koehn's heart because it was the first UVA game he ever called.
"It was a packed house," Koehn said. "The result wasn't what we wanted, but it was magical to me anyway. It was an opportunity where I felt like I was in the big-time. That was a dream realized.
"I think it was the biggest crowd [64,947 fans] in the history of that stadium for my first game."
ACC Basketball Championship
"The 2014 ACC Tournament title game [at the Greensboro Coliseum] against Duke was amazing – just watching Greensboro come to life," Koehn said. "And right before it – clinching the ACC regular-season title against Syracuse. I'll never forget the expression on Tony's face. My parents were in [John Paul Jones Arena], his parents were in the building – it was just amazing. That was when like [the rebirth of UVA basketball] happened. It was magical."
The ACC title was UVA's first since 1976.
Baseball Team's Walk-Off
Staring at elimination from the NCAA Tournament's Super Regional in 2011, future Los Angeles Dodger Chris Taylor's single in the bottom of the ninth inning capped a rally and propelled the Hoos into the College World Series.
"There were two outs and two strikes, bases empty – it doesn't get any more harrowing than that," said Koehn, with a laugh. "I've always gravitated toward sports because it's the human spirit on display – and that was almost just implausible that they came back to win in the way that they did. Davenport [Field] was just going crazy."
Beating Tech
In 2019, the UVA football team defeated Virginia Tech, 39-30, in front of a crowd of 52,619 at Scott Stadium to win the Atlantic Coast Conference's Coastal Division and snap a 15-year losing streak to their archrival.
"I had called 12 of them, and to finally break through, the way they broke through, on the home field … to get to call that … that was as good as it gets," Koehn said. "And you get to go to the Orange Bowl after that. That was absolutely amazing."
NCAA Basketball Championship
This one, Koehn concedes, is pretty easy.
A year after an infamous loss to University Maryland-Baltimore County, UVA made an incredible run through the NCAA Tournament, beating Texas Tech University to win the national title.
"That is, by far, the No. 1 memory I'll have from here. It will probably be the greatest moment of my sports career, I would suspect," Koehn said.
"For someone in my position, to have the opportunity to tell one of the greatest sports stories in the history of sports, on the heels of losing in the first round to a 16 [seed], and doing it the way they did … that's what it's all about. That's what you dream of."
Article Information
October 6, 2021
/content/how-do-departing-play-play-mans-most-memorable-hoos-games-compare-yours