Wong, from Purcellville, is a fourth-year student studying environmental science and biology. She has an interest in the ecological part of the program. Wong continued Eisenfelder's original research by examining various plant species that were regrowing on the reservation.  
"A big part of our project is identifying traditional Native American medicine plants that we're seeing coming back due to the positive effects of bison grazing," Wong said. "These are plants that either haven't been seen in generations or have become rare in recent generations because of external Western forces like pharmaceutical companies harvesting them."
The young Native American students were excited to learn more about these plants and their properties. 
"All of them are interested in protecting their environment, and native plants are a big thing to the community. Now, these kids have an even better understanding of how bison are integral to maintaining the health of the prairie," Wong said. 
In recent years, the partnership has reached beyond the ecological component to include comprehensive lesson plans on fundamental academic skills. 
"Ultimately, the goal of the program is for students to learn about environmental science through a native lens," Kruse said. "Maelee Hearington, another UVA student, and I wrote the curriculum to focus on science, social activism and social justice. We also provide additional resources like workbooks, markers, easels and notebooks."
The program offers a hands-on experience for a small group of students.  
"In general, we work closely with about 10 to 15 students for two weeks," she said. "We sit outside all day, and the course material is project-based on a scientific theme or focus, like water quality or the scientific method." 
As the pandemic raged in the summer of 2020, Kruse and Wong knew they would be unable to teach the camp in person. 
"When COVID hit and we couldn't go to South Dakota, we made our side of the program virtual," Kruse said. "The students were still able to get together on the Lake Traverse Reservation. They actually ended up camping on our community partner Dusty's property, and we converted the program into one week."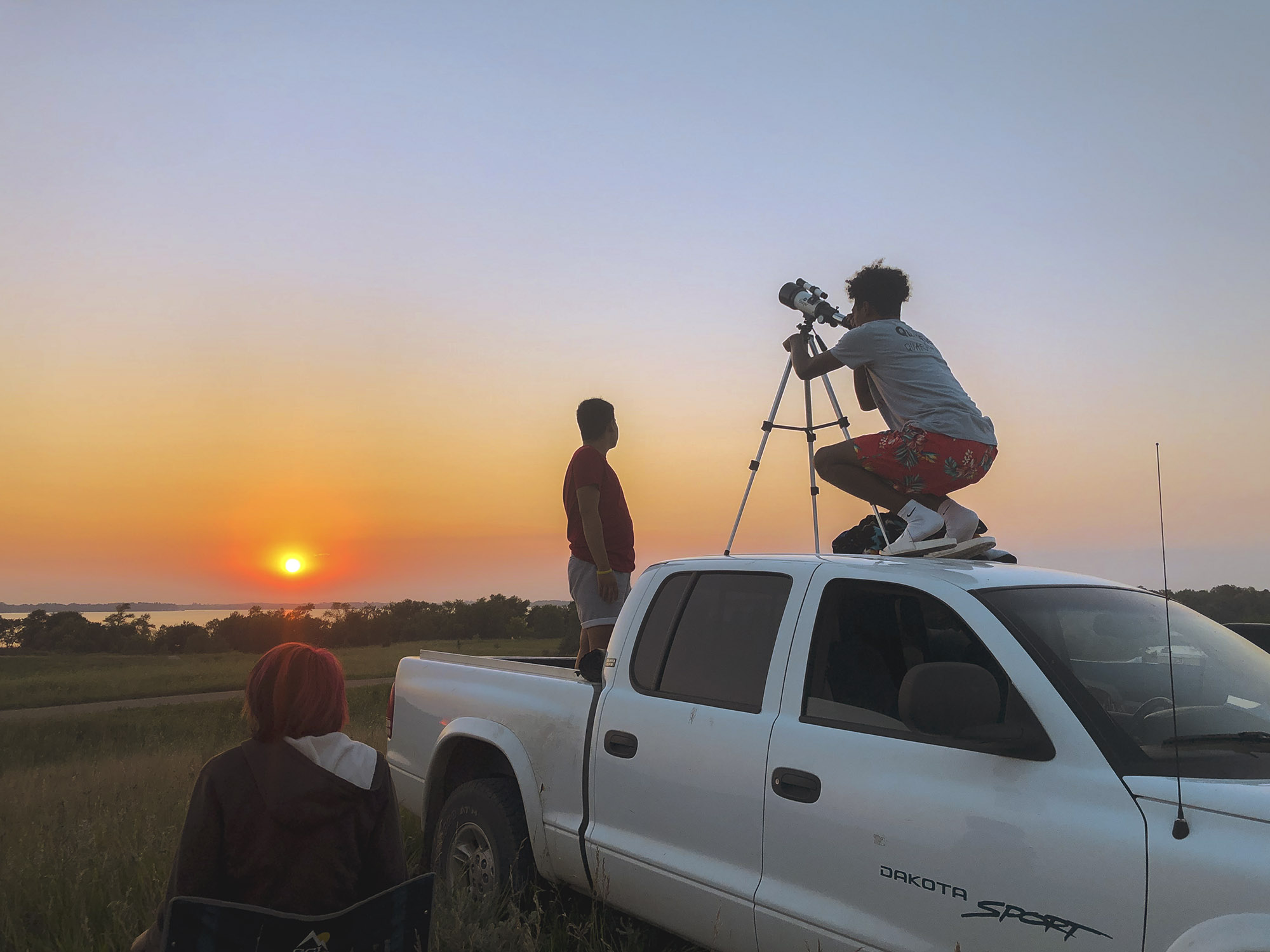 Students on the Lake Traverse Reservation in South Dakota use a telescope to look at the stars after hearing guest Zoom presentation about astronomy from UVA Professor Ed Murphy. (Photo by Dustina Gill)
The modifications led to some unforeseen benefits. 
"We ended up implementing some guest speakers, because we thought, 'Let's embrace the power of Zoom.' In one session, we had a law professor speak about water laws and how the Environmental Protection Agency laws apply on native reservations," Kruse said.
The Native American students also had the ability to camp with one another, which created a closer bond among the group. 
"Normally in the evenings, in the years prior, the students would go home, but now they are camping together and use that time to engage in various cultural topics and discussions," she said. 
At the height of the pandemic, members of the reservation used plants regrown from bison grazing to keep their population healthy.
"Dusty, our community partner, used plants found on the prairie to treat fever and the coughs from COVID-19, and she said it was actually really successful because the reservation was hit very badly by the pandemic," Wong said.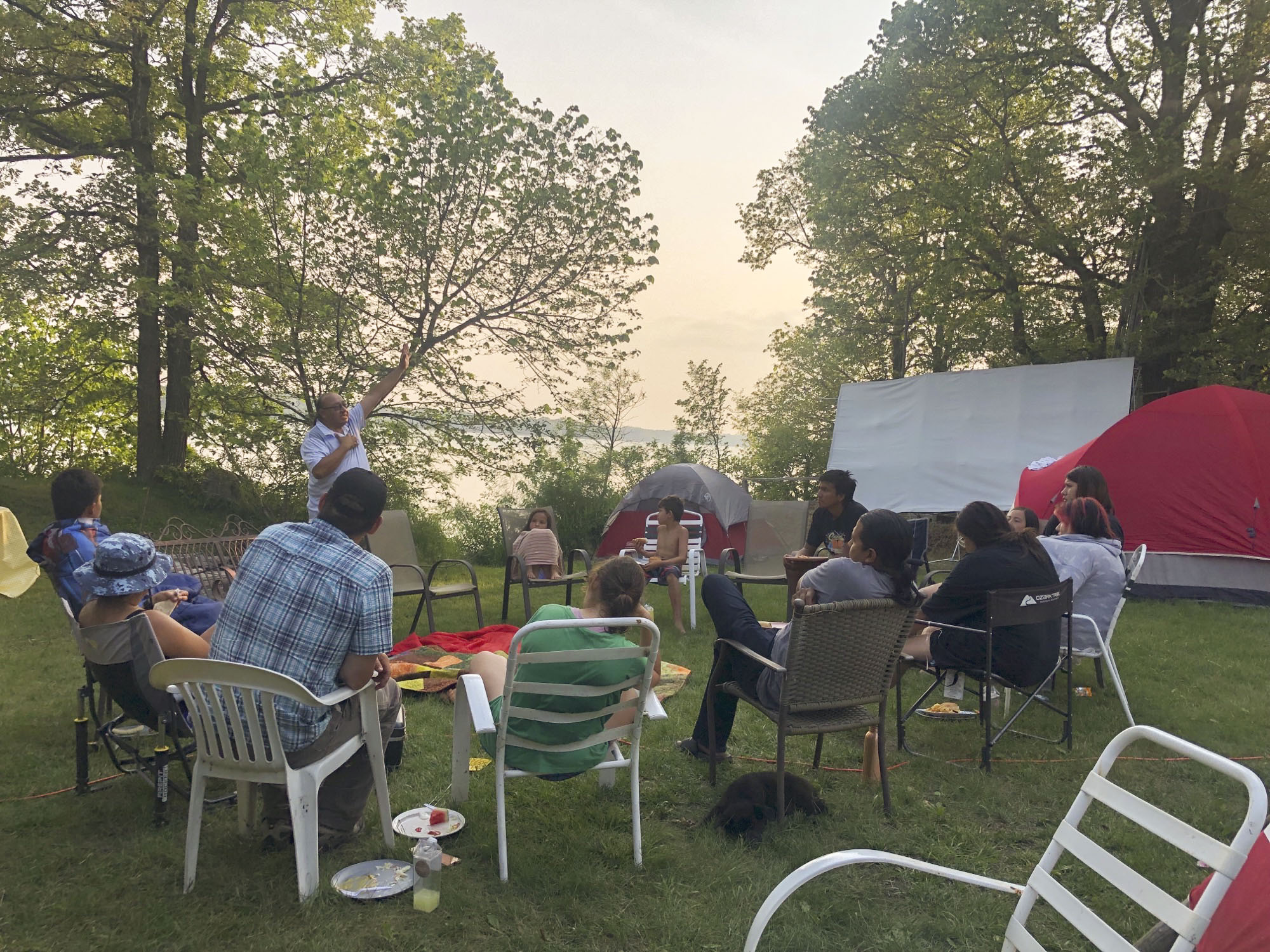 Lake Traverse Reservation students and teachers listen to community leaders at evening cultural discussions. (Photo by Dustina Gill)
In August, Wong had the opportunity to work with the students in person after being virtual last summer.
"It was amazing to go back to Sisseton after a year on Zoom. It was lovely to see the kids who had started this project with us growing up and building on the interests they developed during the program," she said. "I feel really close to the people and students we work with, and finally getting to reunite with them was the perfect way for me to close out my time on the project.  I hope to see some of them come to UVA."
In past years, the Native American students have visited UVA, a part of the program Kruse and Wong hope to reinstate. 
"We usually do a trip to UVA, where they see Grounds, and several of the kids have told me that they want to either come to UVA or a university like it," Wong said. "This is our first year of kids that are of graduating age, and I definitely have seen an increase in the number of them who are actually applying or thinking of applying to college." 
Kruse and Wong said they hope the effects of the program stretch into these student's adult lives. 
"We want to teach and inspire students to take ownership of their intellectual curiosity," Wong said. "We want students to believe that there is a place for Native American youth to learn and engage in science education and then be able to go back to the tribe. This could manifest in several ways, whether that's teaching it or engaging in research or even working with the EPA."