While growing up as the son of a steel worker in a blue-collar, football-loving town in western Pennsylvania, Ron Manilla didn't know much about tennis.
So when a monsignor at the Catholic school he had just started attending as a ninth-grader tried to recruit him to a tennis team that was short on players, Manilla – who had played only football and basketball to that point – scoffed.
"I said, 'No way I'm playing that sport. That's a sissy sport,'" Manilla recalled. "He said, 'Why don't you show up at the tennis courts tomorrow and I'll show you who the sissy is.'
"So I went out there and he just pulverized me up and down – I thought I was going to die," Manilla said, laughing. "And that was it. I just realized it was a really fun sport, a really tough sport, and ever since that day I've been hitting tennis balls."
More than a half-century after first picking up a racket, Manilla is retiring. The longtime tennis director at the University of Virginia Foundation-owned Boar's Head Sports Club – a fixture in the Charlottesville tennis community, on the UVA tennis scene and in the Special Olympics world – has announced that March 12 will be his last official day as a full-time teaching professional.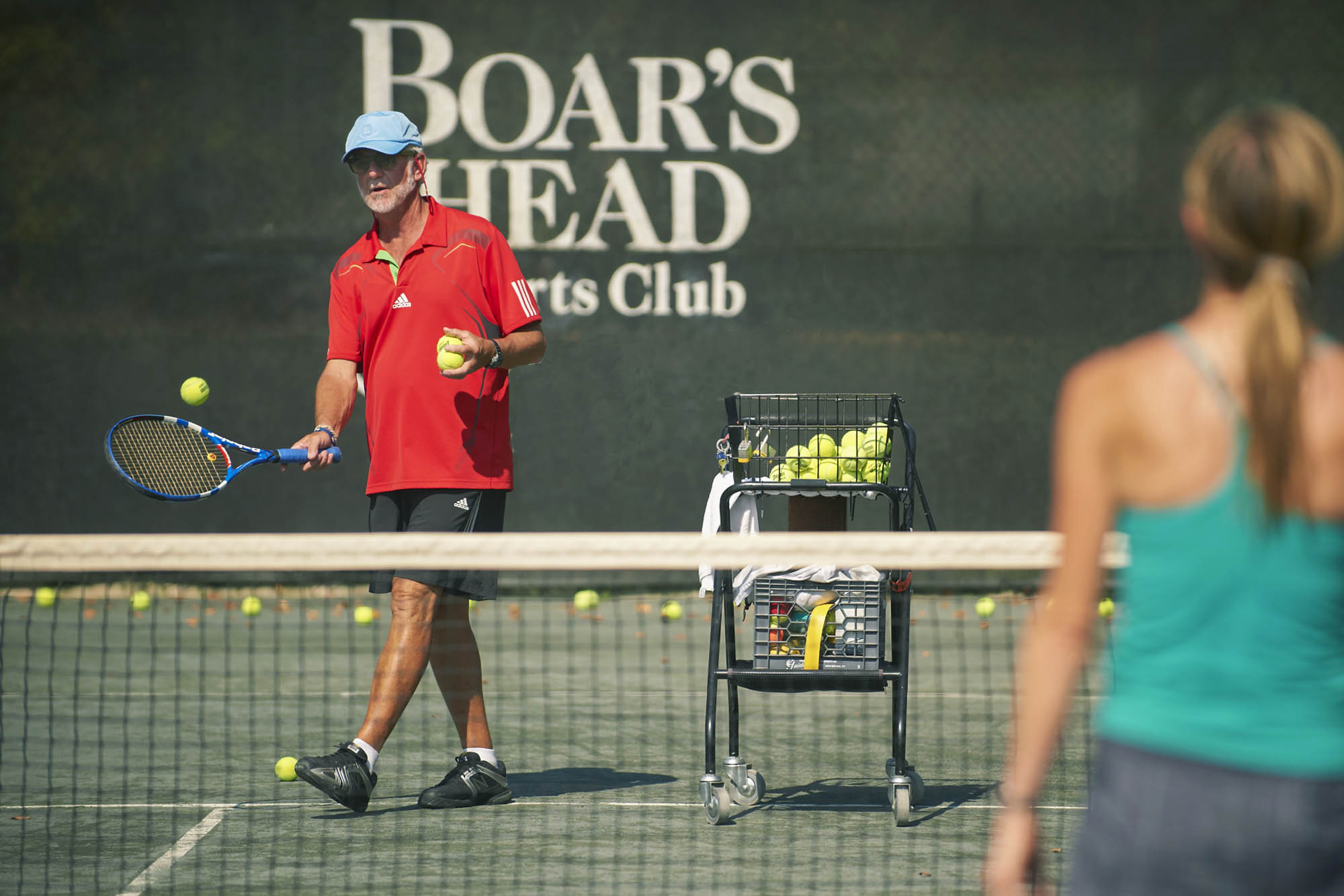 Manilla has, in some cases, taught tennis to three generations of Charlottesville families. (Contributed photo)
The man with the jovial disposition, the Santa Claus-like beard and the million-watt smile will be missed.
"He not only touched the lives of many because of the racket in your hand, but also with the delivery of life lessons along the way," Boar's Head General Manager Russ Cronberg said. "Without a doubt, Ron has directly shaped the importance of tennis in our community."
"When I think of the Boar's Head Sports Club and of the people who make that place so special, I think of Ron Manilla," UVA men's tennis head coach Andres Pedroso said. "He's someone who treats everyone with consideration, is so kind to everybody, a friend to everybody in the organization and all the members. He says hello to everybody, is very flexible with everybody and is just a very friendly person who has been a joy to be around.
"He's been a major asset for not only the Boar's Head, but also for UVA tennis and the Special Olympics."
Manilla, who has taught tennis to three generations of Charlottesville families, smiles when thinking back to his earliest days in the sport. He grew up in the small steel-mining town of Farrell before attending high school in Erie and then going on to play tennis at Gannon University (also in Erie), where he served as team captain.
The more Manilla played, the more his love for the game grew. His favorite players were Björn Borg and Evonne Goolagong.
After graduating with a degree in psychology in 1973, Manilla worked as a guidance counselor for troubled youth in Erie and served as Gannon's head coach.
"I knew how to play, but I didn't know much about coaching," Manilla said. "There weren't many books about it back then. I just had to start analyzing stroke technique and that kind of thing and just go from there."
Tired of Pennsylvania's cold weather, and with his older brother, Larry, living in Culpeper, Manilla moved to Charlottesville in 1976. He again worked with troubled youths through Charlottesville's Community Attention program and taught tennis part-time at the YMCA, as well as in the city and county parks and recreation departments. Manilla combined his passions for teaching tennis and helping kids via a program he helped institute for latch-key children.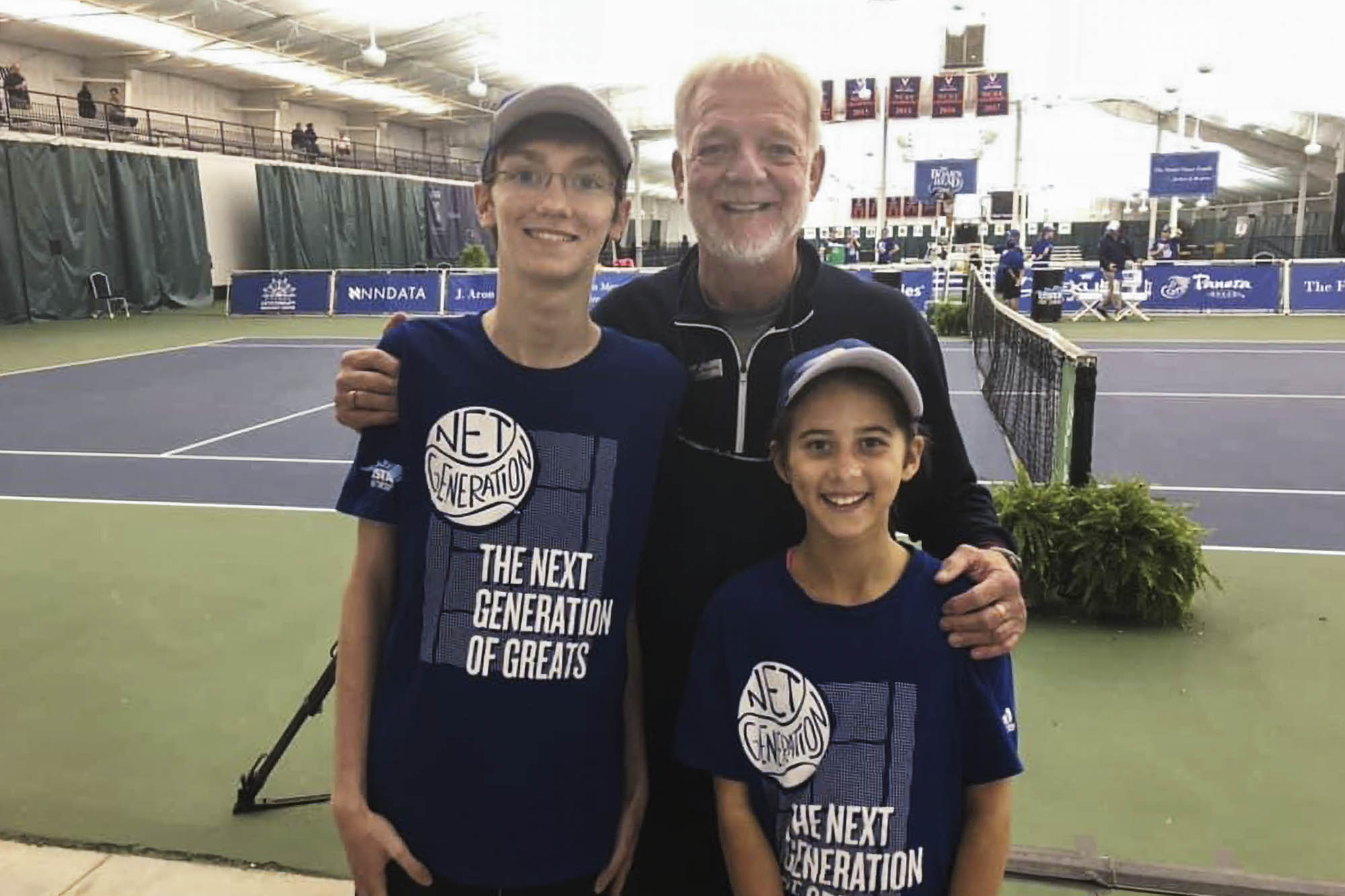 Manilla has helped introduce tennis to countless kids, many of whom have served as ball boys and ball girls at the club's professional tournaments over the years. (Contributed photo)
"I considered myself like a grass-roots pro. … I think that was the type of style that I used for the rest of my career," Manilla said. "It was about being community-oriented and teaching tennis to as many people as I possibly could."
Manilla started as the full-time YMCA tennis director in the late 1970s. Soon after, he started the Get Acquainted Tennis Club, an adult program that he ran for 33 years' worth of Saturday mornings at Charlottesville High School.
"We went after players who had played, but who had quit playing due to jobs and raising kids," Manilla said. "At times, we had over 200 people coming. … It was so cool to help get so many players back to the game."
"He was a darn good coach. You could see the quality of his tennis expertise in the way he worked with [players]. He was able to impart to them the tennis guidance they really needed."

- Lloyd Raupp
father of Special Olympics tennis player Chris Raupp

 
Manilla took over as director of the Atlantic Coast Athletic Club on Four Seasons Drive in the mid-1980s before coming to the Boar's Head in 1995. "It gave me an opportunity to really expand my career – both as a tennis teacher and a tournament director," Manilla said. "I had a staff, a beautiful facility and was able to get into a whole new style of teaching."
Manilla has been instrumental in bringing a pair of professional tournaments to the Boar's Head that, starting in 2002, Charlottesville community members have flocked to.
Many fans still talk about the women's event held in 2003 that featured Russian superstar Anna Kournikova. Spectators started showing up at 7:30 a.m. for the 5 p.m. match. The place became so packed that some onlookers climbed trees to get a glimpse of the action. The match wound up being the last of Kournikova's career; she retired immediately after.
Over the years, several other high-profile players have come to play in the events – including former No. 1 players Jelena Janković and Samantha Stosur, recent Australian Open finalist Jennifer Brady, former UVA star Danielle Collins, teen sensation Coco Gauff, career grand slam doubles winner Leander Paes, all-time aces leader Ivo Karlovic and former top-10 player Jack Sock.
"All the players always say he is one of the best tournament directors," said former UVA star Treat Huey, who has enjoyed a successful doubles career on the pro tour since graduating in 2008. "He's always talking to everybody and asking them if he can do anything to help anybody."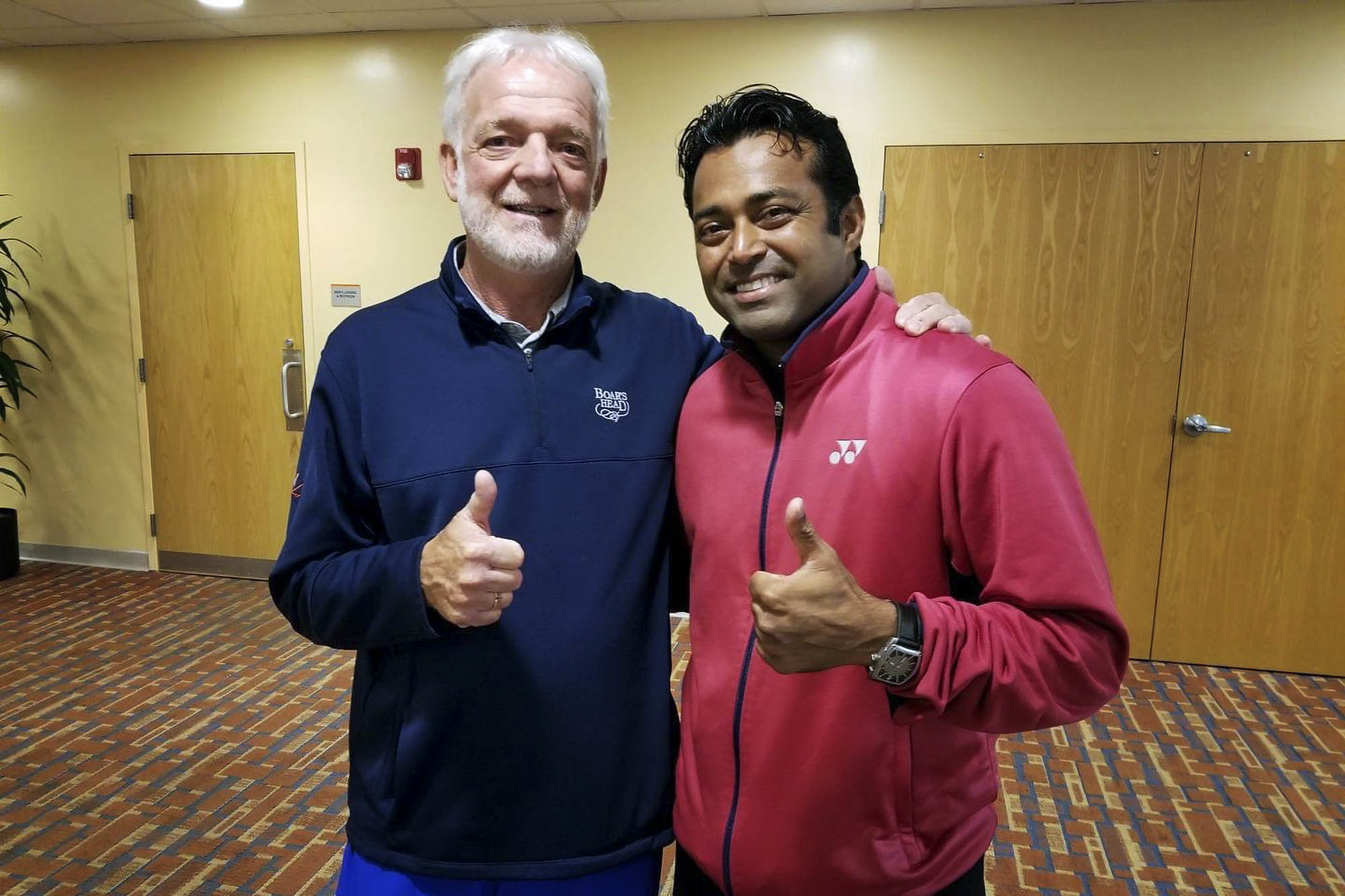 Pro players, such as Leander Paes, right, have made it a point of playing events put on by Manilla over the years. (Contributed photo)
"He does such a professional job with those tournaments," UVA women's tennis head coach Sara O'Leary said. "I think what's amazing is all the great players who come to play in them because he runs them so professionally and does such a great job. Players know these are great tournaments and are so well-run."
In 2008, Manilla started the "Xperience" Special Olympics tennis tournament at the Boar's Head.
"We could have no better champion for Special Olympics than Ron Manilla," David Thomason, vice president of advancement for Special Olympics Virginia, said. "Ron has opened so many doors for us in the Charlottesville community – and far beyond. He opened the doors of Boar's Head Sports Club for sure, but, as importantly, he opened the doors for connection with a community that, at his prompting and through his example, has enthusiastically and generously embraced Special Olympics Virginia's core values of respect, inclusion and unity, and allowed people of all abilities to succeed – on the court, in school, at work, and in the community.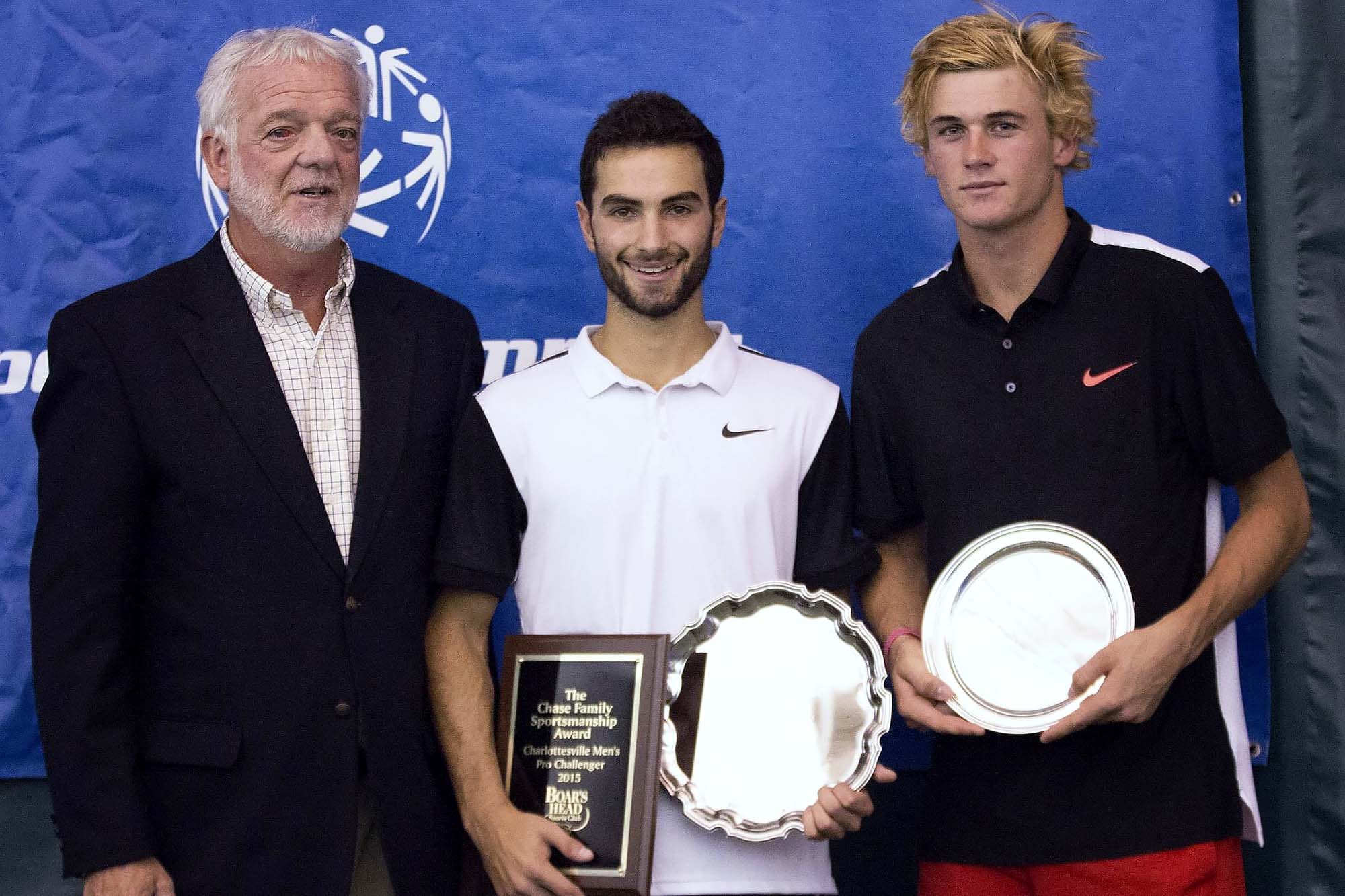 Manilla with Charlottesville Men's Pro Challenger finalists Noah Rubin and Tommy Paul in 2015. (Contributed photo)
"Ron's approach has exemplified what we want to achieve at SOVA – using sport as a catalyst for attitudinal and societal change."
In 2018, Manilla served as the Special Olympics coach for Virginia at the USA Games in Seattle. The next year, he was a national coach at the World Games in Abu Dhabi, Dubai.
Local resident Chris Raupp, a Special Olympian who has worked in food preparation for Aramark at UVA's Newcomb Hall dining room since 1992, played under Manilla on those teams, winning a gold medal in doubles at the World Games.
"He was a darn good coach," said Lloyd Raupp, Chris' father. "You could see the quality of his tennis expertise in the way he worked with [players]. He was able to impart to them the tennis guidance they really needed. He was able to work with them psychologically as well – calming them down mentally and physically. And he would yell, too. He wasn't wishy-washy about it. He was there to get [players] to play the best that they could."
At the singles event in Abu Dhabi, Chris Raupp finished fourth and didn't medal after coming down with an illness.
"We saw Ron consoling him afterward and telling him, 'Hey, you did good. You are the fourth-best player in the world. Don't you forget that,'" Sue Raupp, Chris' mother, said.
"He and Chris are best friends," she added. "He talks about how he loves Chris, and Chris loves him."
Manilla has four children of his own with his former wife, Diana Marchibroda. At one point, all four worked in tennis, and in 2008 the Mid-Atlantic United States Tennis Association named the Manillas the "Virginia Family of the Year."
At the time, Manilla's oldest son, Dominic, had just graduated from Old Dominion University and was starting his career as a coach; Danny, who also played at ODU, was teaching tennis in Leesburg; Anna, who played for Western Albemarle High School, was working as a USTA league coordinator; and Joey, after also starring at WAHS, was playing at Christopher Newport University. 
"That was the coolest thing that could ever happen to a dad whose life is tennis," said Manilla, breaking into a wide smile. "That was really cool. All four of my kids stayed in tennis. It was very humbling to me that they'd want to do it."
Treat Huey still gets a chuckle when he thinks back to the time UVA played a match against ODU. A normally staunch supporter of the Cavalier teams, Ron Manilla was cheering loudly for Dominic, a player on the Monarchs' team.
"He was a really big UVA fan, but he wasn't that day – for sure," said Huey, laughing. "And I thought that was really cool."
Manilla's talent as an instructor was recognized in 2013 when the Professional Tennis Registry named him an International Master Pro, a distinction tantamount to a lifetime achievement award.
Tim Rose, the chief executive officer of the UVA Foundation, which operates the Boar's Head Resort, said Manilla helped elevate the club's tennis reputation on the East Coast.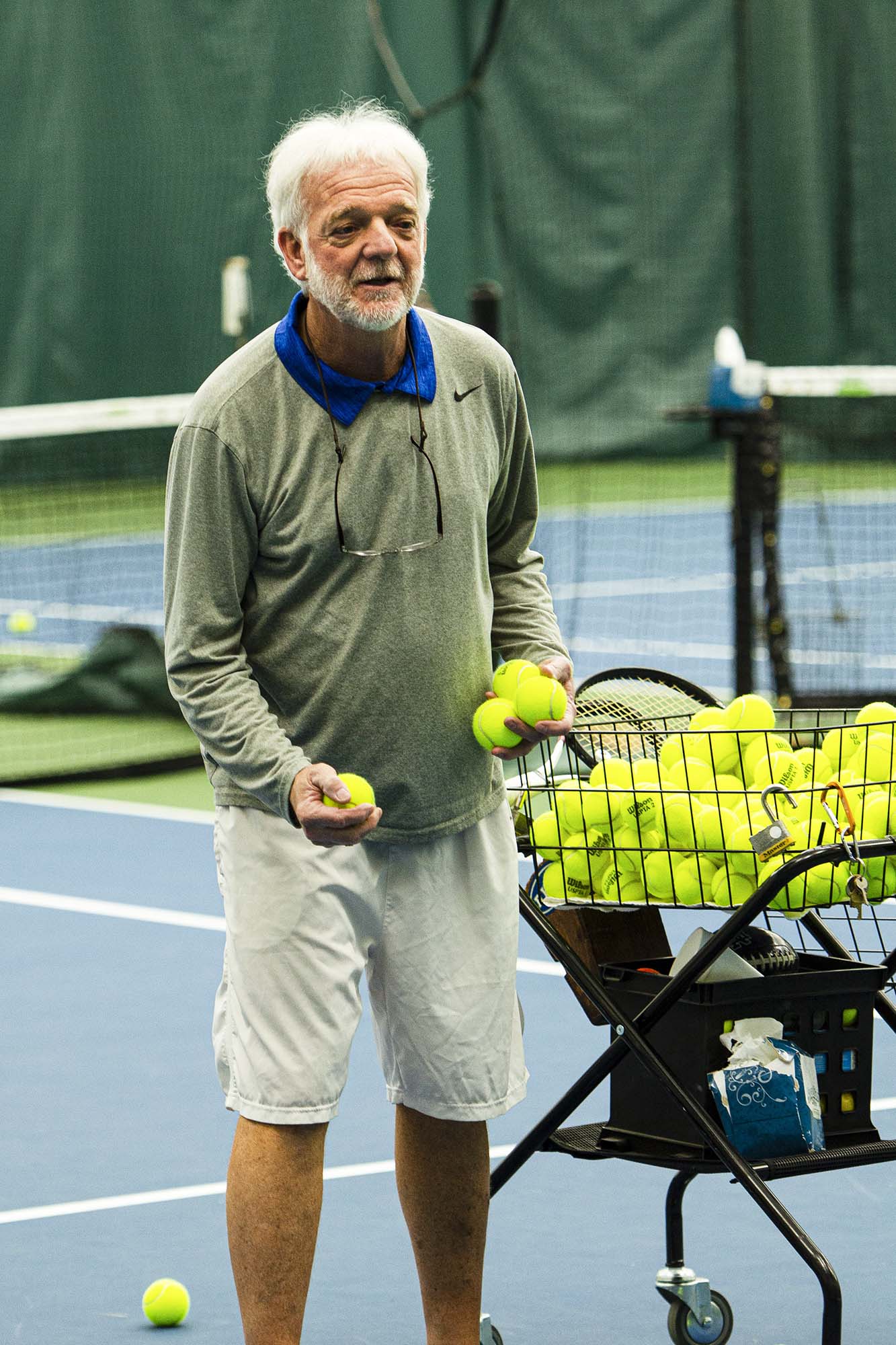 Manilla said he cherishes the friendships he's made during his 26 years at the Boar's Head. (Contributed photo)
Manilla also gave Rose his first-ever lesson. "I was jumping up to swat my serve, emulating what I had seen on TV," Rose recalled. "Ron suggested we start with just trying to get it over the net!"
Rose said Manilla has been a teacher, a colleague and a friend.
Members of the Boar's Head staff likely share a similar sentiment. Around the club, it's commonplace to see them immersed in deep conversation with Manilla.
Pedroso said Manilla always seems to be in a good mood.
"Every time you see him, he says hello – genuinely," Pedroso said. "And he stays relaxed. … Ron just kind of takes everything in stride. He just has a special presence about him where you want to be around him. He lightens the mood and makes being around him very pleasant. I think that's why he's been around for so long. People want to be around people like that."
During a recent workday, Manilla gave a lesson to a 3- and a 4-year-old, then followed it up with a session with a woman in her 90s.
Manilla still plans to give lessons when he can and will stay involved in hosting the club's professional tournaments, as well as the Xperience, but at age 70, he will no longer be on the court feeding balls to players for 27 to 30 hours a week.
"When you turn my age, you start to think about things that you should be doing," Manilla said. "I've done this for so long. Is it that I'm tired and just ready to quit? No, because I still have a passion for it. Do I really want to give that up? Well no, I really don't want to, but that's all I've ever done – feeding balls to people. And it's been wonderful. I've created great friendships.
"But you just get to this point where you [realize] you haven't done much of anything else. It was a hard decision to make, but I feel it was the right thing to do. I want to see my grandkids and get involved in their lives and be able to drive down to Norfolk and watch ODU [where Dominic is now head coach] play every single match. …
"I consider myself very lucky to have had all the experiences that I've had. … I just feel very grateful for everything."
Article Information
March 2, 2021
/content/lifelong-love-affair-coming-end-revered-tennis-teacher