Mac 'n' cheese – that favorite American comfort food – has been around from our country's beginnings. It actually came from France, however, and gained popularity after enslaved cook James Hemings, who learned French cooking when he went to Paris with Thomas Jefferson, brought back a recipe that made it especially delicious, elicited praise and was passed on.
Niya Bates, a University of Virginia alumna who has worked at Monticello for several years, appeared on the recent Netflix series, "High on the Hog: How African American Cuisine Transformed America," to tell that story in episode three.
Bates, a first-generation college student, graduated from UVA in 2012 with a B.A. in African American Studies and returned to earn a master's degree in architectural history in 2015. She's now "going all the way," as she said in an online interview, pursuing a Ph.D. in history at Princeton University.
She worked at Montpelier, former plantation of James and Dolley Madison, for a year and started at Jefferson's Monticello in 2016. Bates then directed Monticello's Getting Word African American Oral History Project on the enslaved laborers owned by Jefferson, and became the director of African American history at Monticello until August 2020. She still holds a part-time post as a senior fellow.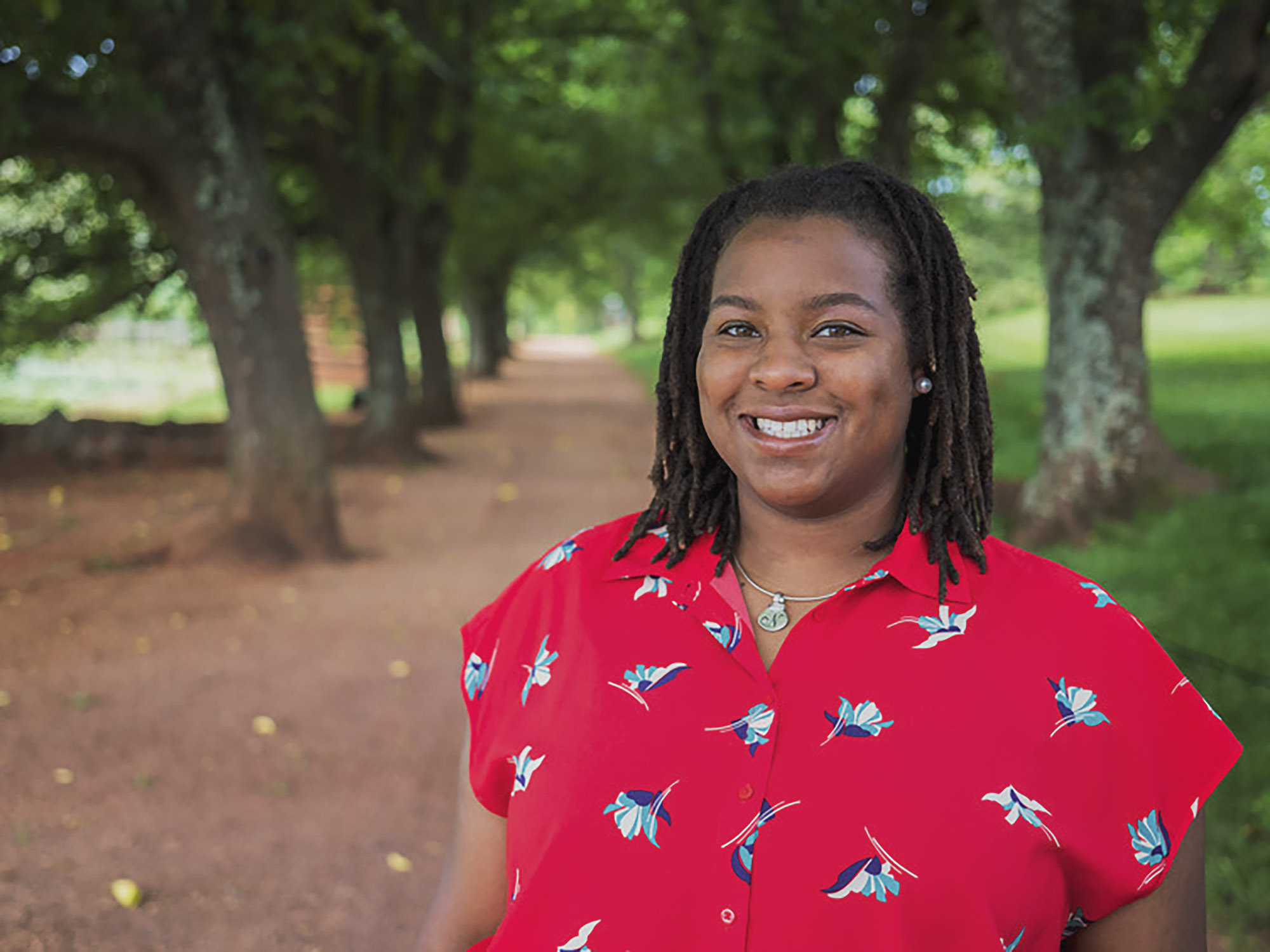 After getting her master's in architectural history at UVA, Niya Bates worked at Monticello full-time until last year and is now pursuing a Ph.D. (Photo courtesy of Thomas Jefferson Foundation)
Since "High on the Hog" came out, people she knows have been more interested in this history and her work, she said. "I try to talk a lot about history to the people around me, but this show really got their attention."
As a public historian, Bates is on a mission to share African American cultural history and its legacies more generally and widely.
She is building a list of TV appearances to share her expertise, in addition to "High on the Hog." Recently she was filmed for another documentary about Jefferson's Monticello that will air in the near future, though she cannot say too much about it right now. She also appeared on the first episode of "Oprah's Book Club" on Apple TV+ in November 2019, which focused on award-winning writer Ta-Nehisi Coates' novel, "The Water Dancer." Coates consulted Bates when visiting Monticello to do research for that book. And Bates participated in an episode of a BBC series, "Monty Don's American Gardens," that aired in February this year, showing Don a replica of the vegetable garden that enslaved workers cultivated at Monticello, as well as other gardens.
Bates' academic backgrounds in African American studies and architectural history have helped her see what's missing in our national stories. During graduate school at UVA, before working with descendant communities at Monticello and working in the preservation department at Montpelier, she interned in Monticello's Restoration and Facilities departments, and assisted in conducting research for restoring the landscape of slavery along Mulberry Row.
Bates is also putting her ideas to work as part of a UVA project, in partnership with the Vernacular Architecture Forum, that has received support from the Andrew W. Mellon Foundation. Led by architectural historian Louis Nelson (also UVA's vice provost for academic outreach), "Recovering Erased Histories" seeks to train a new generation of students in conducting the fieldwork necessary for documenting suppressed and erased architectural histories, while involving the relevant communities in the process. Bates is on the committee reviewing applications for the field schools to be funded this fall, which were postponed last year due to the pandemic.
Her field of "historic preservation is structurally problematic, in that it is focused on buildings and what you can see on the landscape, and this disadvantages communities of color," Bates said. She aims to encourage architecture practitioners to seek out cultural landscapes and other intangible aspects beyond buildings and structures. In addition to oral history, events such as family reunions have many stories to tell, she said.
"Don't just look at a building in a field, but see it as part of a larger community that has value," Bates said.
She and Nelson co-wrote an article, published April 26 on the Platform site – "a digital forum for conversations about buildings, spaces, and landscapes" – on "Race and Place in United States: Toward Repair," in which they discuss the fieldwork project.
Bates wrote of her intertwining personal journey and academic path. "Having spent my childhood sitting at the feet of community elders, I was wise in the ways Black people imagine place and space – the quiet pride of living in a house and attending a church built by Grandpa's hands, the sweet smell of blossoming fruit trees in spring that were planted when subsistence gardening was all our families had, and footsteps over a network of dirt roads and abandoned road traces that were ghosts of a bygone landscape of segregation and resistance," she wrote.
Bates can trace her ancestors in several counties surrounding Charlottesville – Orange, Louisa, Albemarle and Fluvanna – including John Hartwell Cocke's Bremo plantation and Edgehill, owned by Jefferson's daughter Martha Jefferson Randolph and grandson Thomas Randolph. One of Bates' great-great-great grandmothers on her paternal side, Araminta Fleming, was enslaved at Edgehill and Clover Fields in Albemarle, said Bates, who is a member of the Descendants of Enslaved Laborers group at UVA.
"As a Black woman, I possess an education and a set of epistemological approaches that cannot be learned in an academic program," she wrote. "However, my folk education was enhanced by a new set of skills and the language to articulate material histories."
Nelson called Bates, "very clearly one of America's most important emerging voices in preserving historic landscapes through an equity-justice lens."
From television to academia, Bates said she hopes her contributions inspire "more people who look like me see to see historic preservation as an avenue of building and rebuilding communities."
Article Information
September 3, 2021
/content/many-stories-tell-alumna-niya-bates-shares-african-american-history-and-culture