Find the latest information on the University's response to the coronavirus here.
As the Vietnam War raged a half-century ago, "May Days" rocked the University of Virginia Grounds with student activism, from the "Freedom Day" concerts to radical protests, one of which ended on the steps of the University president's house near midnight.
Like their peers at other colleges around the nation, UVA students were reacting to President Richard Nixon's expansion of the Vietnam War into Cambodia, announced April 30, 1970. Then, during the demonstration at Kent State University on May 4, the Ohio National Guard fired into a crowd of about 500, killing four students. A few days later, more than 700 campuses across the country saw student walkouts and demonstrations.
Events on Grounds unfolded in several different ways over the end of April – including the first Earth Day observance, held on April 22 – and into the first half of May.
UVA students protested at Alderman Library and on the Lawn, focused on anti-war sentiment, as well as making calls for more opportunities for black students and for women. Students planned to go on strike, but groups differed on what methods to use; some faculty members had signed an anti-war petition and cancelled their classes; visiting speakers like Jerry Rubin came to rallies and encouraged some views that were extreme for a place like UVA.
Now in 2020, with most of the University shut down due to the COVID-19 pandemic, UVA's Albert and Shirley Small Special Collections Library is sharing materials and photos online commemorating this time.
A few other places covering similar history include "Black Fire at UVA," a multimedia initiative created by history professor Claudrena Harold, coinciding with her popular course on the history of racial equality and African American experience at UVA; and Virginia magazine's coverage two years ago,when alumnus Joel Gardner published his UVA memoir, "From Rebel Yell to Revolution." Gardner graduated from the College of Arts & Sciences in 1970 and the School of Law four years later.
Also, UVA sociologist Tom Guterbock, who now directs UVA's Center for Survey Research and has been on the sociology faculty since 1976, recently revisited his graduate research about National Guard activities in the late 1960s and 1970 and has written a new academic paper reexamining the data from 50 years ago. It is being reviewed for publication and was accepted for presentation at the American Sociological Association's annual conference in August.
The Arthur J. Morris Law Library will present a special part of this history – recalling when law students formed a group of legal marshals during the May Days activities – in a digital format instead of a physical exhibit (see below).
Special Collections Library Commemorates 50th Anniversary on Social Media
The Small Special Collections Library hopes to open an exhibition about the May 1970 strike in its Main Gallery as scheduled in August, said Holly Robertson, exhibitions coordinator for the UVA Library. A group of curators, including seven undergraduate students, are working with an extensive photo collection from UVA photographer Dave Skinner with images that have never been digitized, along with a lot of other archival holdings from the time period.
"We've got so many photographs, posters, documents, audio and video recordings and accounts from interviews and newspapers that we're really able to break things down on a day-by-day and sometimes hour-by-hour basis," Robertson said. "We'll also be posting to Instagram and Facebook, but taking advantage of the strengths of those platforms – primarily images on Instagram and daily summaries on Facebook, while we attempt to 'live-tweet' the strike on Twitter.
"Given our situation, social media is really the best way we can mark this anniversary."
Here are a few samples of the library's tweets, with the Small Special Collections Library continuing coverage unfolding through May 13.
10:30 p.m., Monday, May 4, 1970: 1,500 students converge at the Rotunda to protest the Kent State slayings and the war. Welcome back as we continue to live-tweet the May Strike, marking the events on Grounds fifty years ago. #maystrikeincontext #1970UVA

— UVA Special Collections (@RareUVA) May 5, 2020
Listen to audio of the Kent State Memorial Service via the Black Fire at UVA project:https://t.co/XsjeijDtwK

— UVA Special Collections (@RareUVA) May 5, 2020
Among the activities on Grounds in 1970, student organizers and leaders formed theVirginia Strike Committee, with Student Council President James Roebuck delivering a letter of nine demands to President Edgar F. Shannon on the steps of Alderman Library on May 5. The strike committee communicated through a typed and mimeographed underground newspaper called the Sally Hemings, referring to the enslaved woman that UVA founder Thomas Jefferson kept at Monticello and with whom he had been rumored to have had children (an allegation that, years later, gained credence from genetic testing).
On the list of demands were reaffirming the right to protest, reviewing the presence of ROTC on the Grounds, and disapproving of research done for the Department of Defense. Students also called for UVA to set aside funding and set a goal for increasing the admission of African Americans, that the University admit women on an equal basis with men, and that the administration support University employees' right to unionize.
Roebuck, a graduate student, was the first black student to be elected Student Council president.
Fifty years ago today, Student Council President James Roebuck presented the nine demands to President Edgar Shannon at 5:30 p.m. on the front steps of Alderman Library. To mark the occasion, we asked current student leaders and activists to read those nine demands: pic.twitter.com/iv0ESvSMOB

— UVA Special Collections (@RareUVA) May 5, 2020
May 6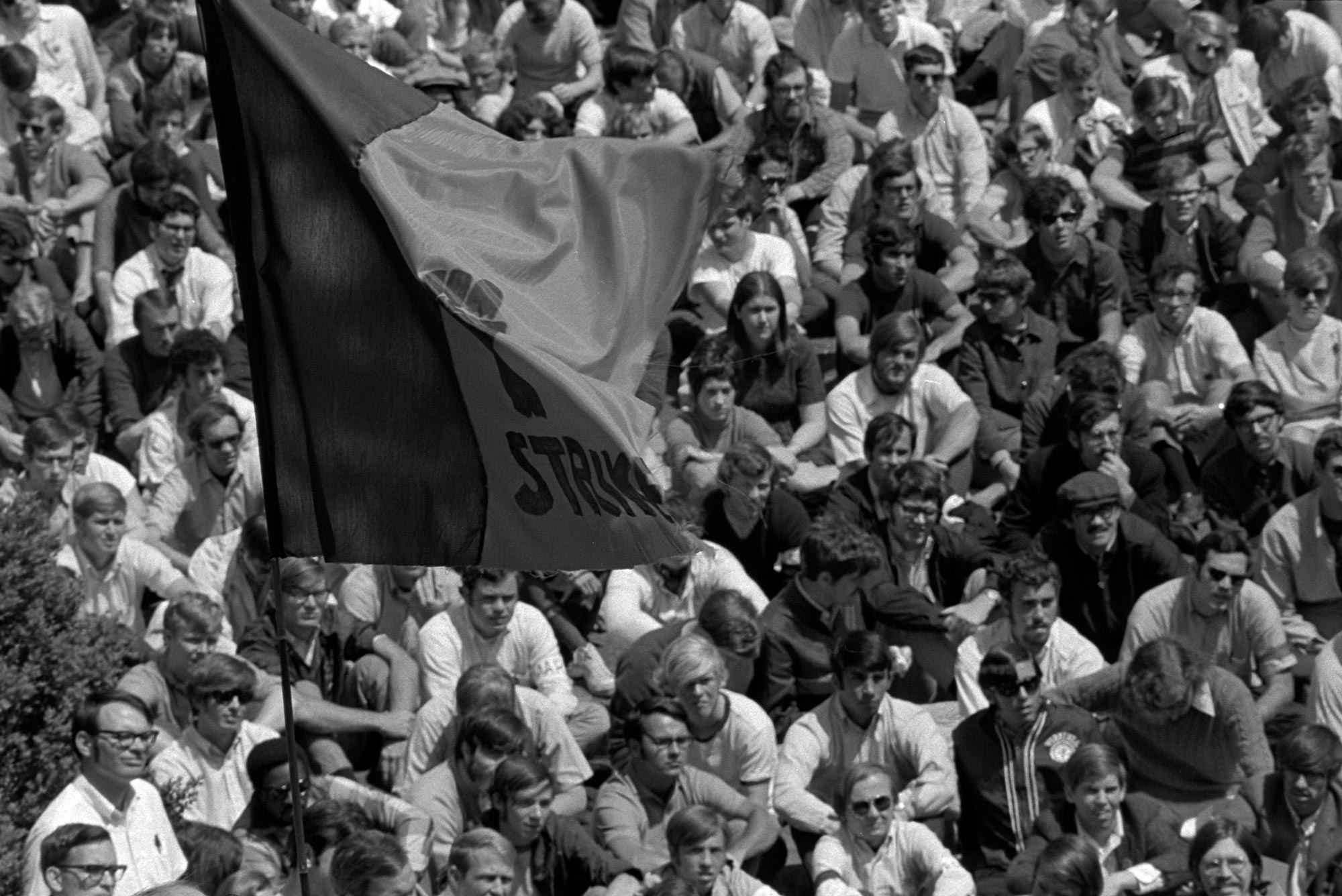 UVA students protested several times in early May – at Alderman Library and outside the Rotunda, focused on anti-war sentiment, as well as calls for more opportunities for black students and for women. (Photo by Dave Skinner, University Photographer)
The night of May 6, about 9,000 people packed University Hall to hear radical speakers Jerry Rubin and William Kunstler, who urged students to shut down the University. The crowd marched to Carr's Hill, where some student leaders and President Shannon calmed everyone down enough to prevent more extreme behavior. They moved on to Maury Hall, the Navy ROTC building; on the second of two nights that week that they occupied Maury Hall, they broke windows, spray-painted the walls and burned a mattress.
May 10
Shannon responded to the protestors when he addressed 4,000 students amassed on the Lawn on May 10 from the steps of the Rotunda.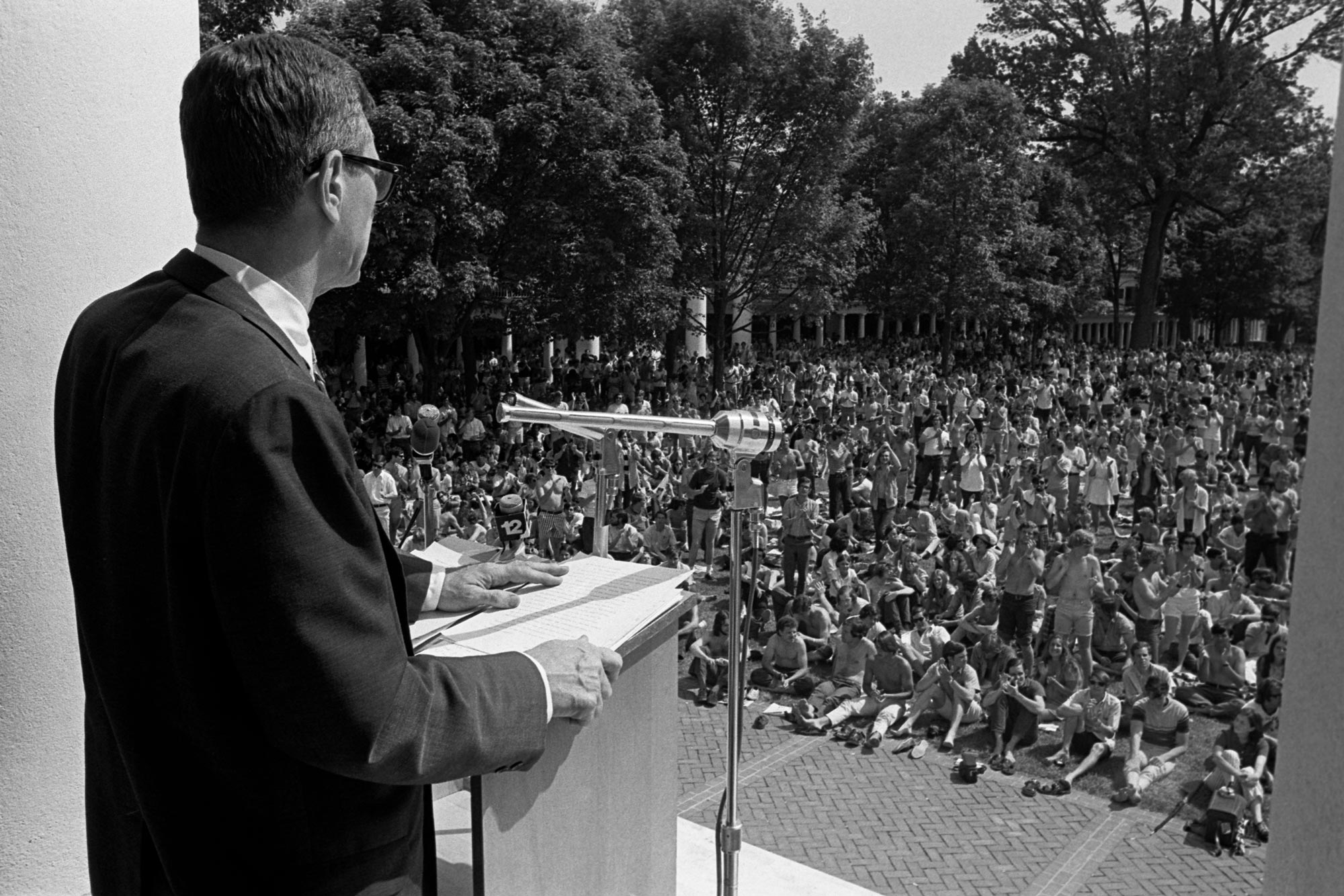 President Shannon reiterated his own anti-war stance while maintaining the defense of keeping the University open when he spoke from the Rotunda to students gathered on the Lawn. (Photo by Dave Skinner, University Photographer)
Shannon reiterated his own anti-war stance while maintaining the defense of keeping the University open. To bring the community together, he invited students and faculty to sign a letter critical of governmental actions, both domestically and in the conduct of the war, that he would send to Virginia's U.S. senators. The movement to have a full-scale strike lost steam, while some students continued to participate in bigger national protests.
Law Library to Present Legal Marshals' Experiences During Protests
An upcoming exhibit at the Arthur J. Morris Law Library was to have focused on the goal of the legal marshals, how they came together and what they did during the May strike, Randi Flaherty, special collections librarian at the Law Library, said in an email.
"We had planned to do a physical exhibit on the history of the law student marshal program during the May 1970 student strike for reunion 2020, but under the circumstances we have pivoted to an online exhibit, planned for launch at the end of May," Flaherty said.
Loosely organized, the "legal marshals" devoted their efforts to keeping the protests peaceful, and some of the law students also kept track of protestor rights violations and news of arrests. Some legal marshals themselves got arrested.
In the meantime, daily Instagram posts on the Law Special Collections Instagram site will highlight some of this history and show off a selection from the great collection of "May Days" photographs taken for the Virginia Law Weekly. Law library staff members are also using the Twitter account to recount events.
The project has involved taking oral history interviews with Law School alumni who served as legal marshals during "May Days" – seven so far, with more planned, plus an interview with a former law faculty member.
"We do still hope to do the physical exhibit for reunion 2021, if not before," Flaherty said. "This project has been such a meaningful one for us and a great way to preserve the history of law school student activism in the era of the Vietnam War."
Article Information
May 7, 2020
/content/may-days-student-activism-rocked-uvas-grounds-50-years-ago