Sally Hudson's childhood steered her toward a career in public service. She grew up with parents who were committed to serving their communities, her mother by teaching English to arriving refugees and her father as a socially active minister.
"I think that both of my parents inspired a commitment to public service in me with their work," she said. "My dad came of age at a time when the image of an American minister was Martin Luther King Jr., so ministers were social organizers. They brought people together to work on important causes."
She joined the University of Virginia's faculty this fall as an assistant professor with a joint appointment to the Frank Batten School of Leadership and Public Policy and the Curry School of Education, and plans to keep that tradition of active public service alive in her new position.
"I think one of the things that's really exciting about being an academic, particularly in the school of public policy, is it's a platform for doing so many things," she said. "Engagement is an explicit part of our job. There's an expectation that we work with the public policy community to help put research into practice."
Hudson's primary research focus is on public sector labor markets, particularly public education. She has a B.A. in economics from Stanford University and a Ph.D. in economics from the Massachusetts Institute of Technology and is interested in finding new ways to recruit and retain effective employees in education and other public services.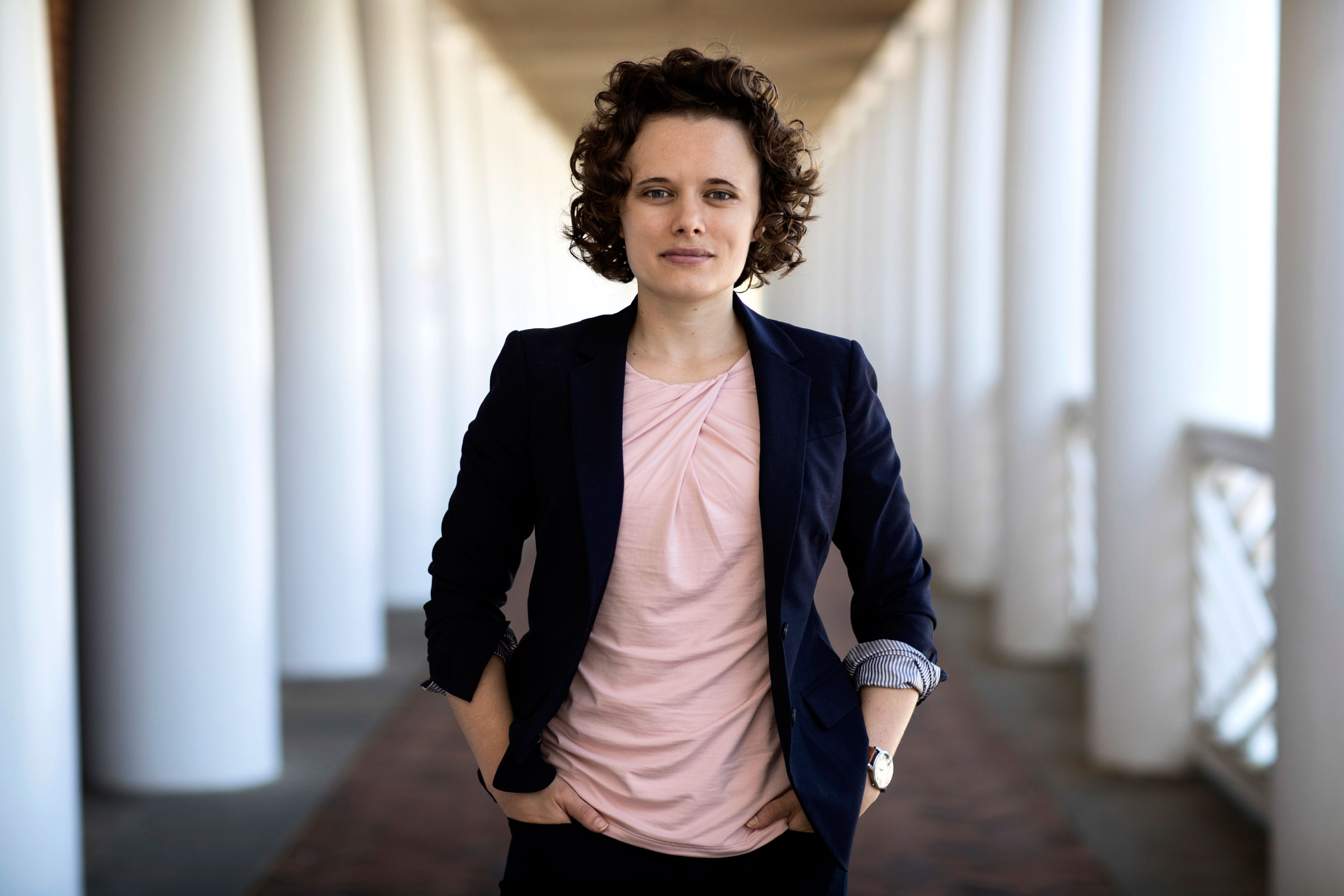 Sally Hudson is a new assistant professor of public policy, education and economics jointly appointed in the Frank Batten School of Leadership and Public Policy and the Curry School of Education. (Photos by Dan Addison, University Communications)
"Sometimes people think that economics is just the study of money, but it's not," she said. "It's the study of trade-offs. Economics is how we choose what we want when we can't have everything that we want."
That's something she does often as she researches effective labor policies, learning what areas need to be prioritized over others.
In addition to her research on public sector labor markets, Hudson partners with both public and private agencies to experiment with new workforce development programs. She's collaborated with businesses investing in job training and non-profits that fund college scholarships for low-income students.  
Hudson's latest work focuses on alternative strategies for training students outside of traditional colleges and universities. She is partnering with San Francisco Bay area-based information technology firms and the U.S. Navy to assess whether high-speed naval training programs, which rely on artificial intelligence-based tutors, can be adapted for civilians. If so, they could help unemployed workers pursue rapid re-training for new careers.
This kind of testing, called "impact evaluation," is the topic of the first course Hudson is teaching at UVA. She's working with Ph.D. students from the Curry School and master's students from the Batten School to show them how to properly produce and interpret evidence in public policy research.
Hudson wants students who are likely to become future civic leaders to learn how to "test-drive" policy ideas before releasing them in large-scale policy implementations. This semester, students are learning tools for evaluating prominent reforms in public education, like class size reductions, early childhood education and charter school expansions.
 "Sally took on this class on relatively short notice, and having spoken with some of her students, I know she's already doing a wonderful job," said Jim Wyckoff, a Curry School professor and director of the Center on Education Policy and Workforce Competitiveness. "As a member of the search committee that helped hire her, I couldn't be more pleased that the promise we saw for a very well-trained academic with strong interests in the policy process is being realized."
Hudson is only teaching graduate students during her first semester, but she's looking forward to working with undergraduates soon. She hopes to expand her course offerings to them and to help interested civic-minded student organizations use impact evaluation in their work.
Hudson knows that many of her future students, both graduate and undergraduate, will come to her armed with big ideas for improving the world around them. She wants to show them the importance of gathering evidence to support – or in some cases prove the need to rethink – those ideas.
"What we try to do is take students who are passionate about action and help them become equally passionate about evidence," she said. "Everybody wants to change the world, but to actually do that, we have to be willing to ask questions and take a hard look at the evidence we find."
Editor's note: This is another installment in an occasional series profiling members of a generational wave of new faculty members at the University of Virginia.
Article Information
October 4, 2016
/content/new-uva-economist-helps-students-put-their-world-changing-ideas-test