When University of Virginia neurosurgeon Dr. Hasan Syed co-founded the Global Brainsurgery Initiative, he was returning his attention to a problem he first noticed as a child, traveling from his home in Northern Virginia to visit relatives in Pakistan.
"My uncle was a physician, partly in Pakistan and partly in the U.K., and I got to hear a lot about patient care in the developing world and see how difficult it could be to have the right resources to treat patients," he said.
"In high school and college, I followed him around hospitals in Pakistan, and that has really stuck with me and served as motivation for the Global Brainsurgery Initiative and my involvement with it."
Syed co-founded the initiative last year with Dr. Walter Jean at George Washington University and Dr. Rocky Felbaum at Georgetown University. Already, they have visited hospitals and neurosurgeons in Vietnam in January and in Panama this summer.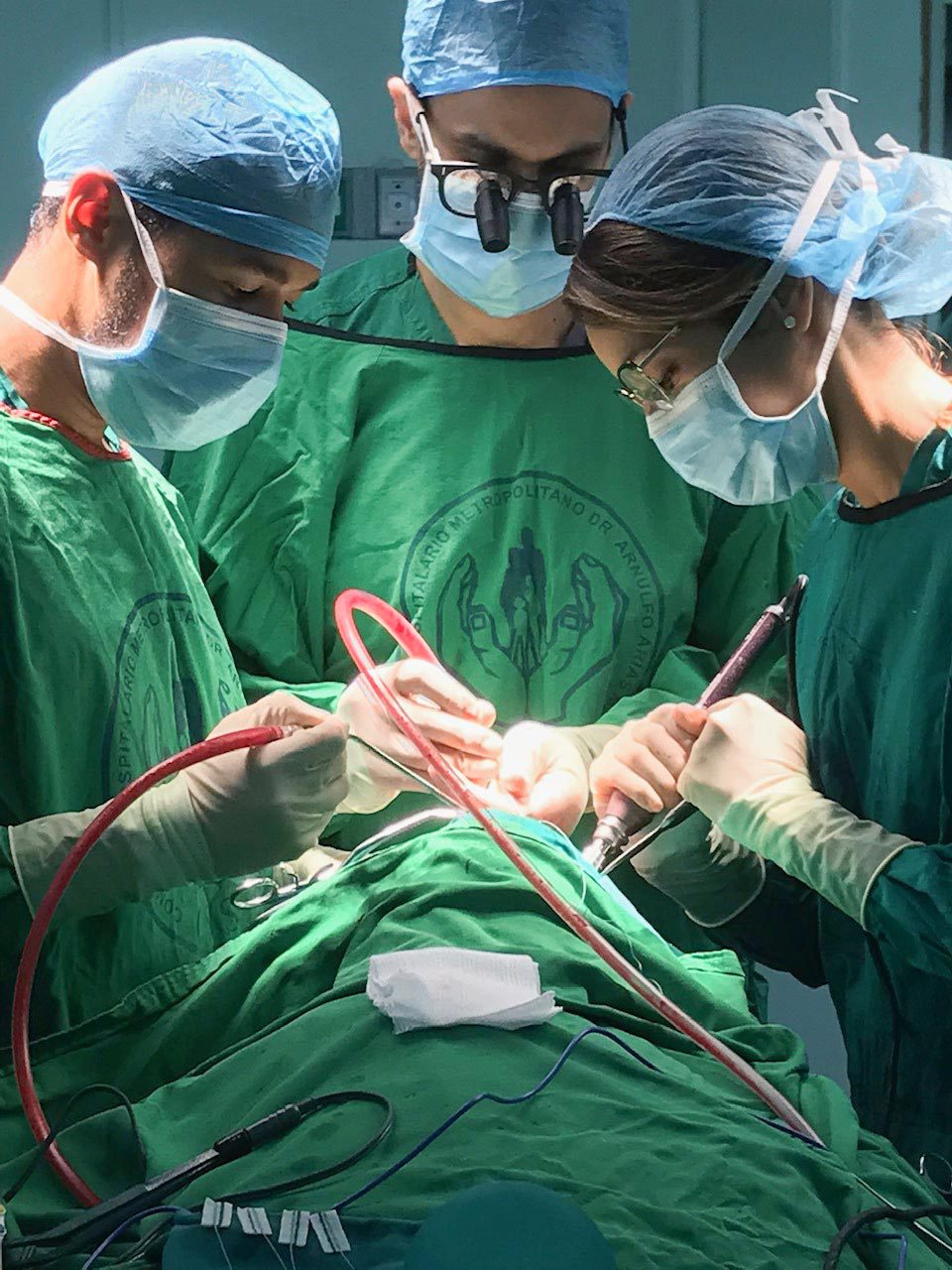 Put simply, Syed said the goal is "service through education."
He and his colleagues work with neurosurgeons in each country they visit, learn more about the resources they have and the challenges they face, train surgeons and residents in new procedures and provide technology from medical virtual reality company Surgical Theater that allows them to analyze MRI scans, practice surgeries or review complex cranial anatomy.
Together, they hope to address what Syed refers to as "the global burden of surgical disease." He points to a 2015 study with the Lancet Commission on Global Surgery and the World Health Organization showing that more than 5 billion people worldwide lack access to safe, affordable surgical care, equating to 143 million additional surgeries needed to help patients.
"This not only affects the patients who need medical care; it affects the economies of these countries, because of the economic burden on the health care system and the drain on the workforce," Syed said. "We want to raise awareness of this issue and help find long-term, sustainable solutions for countries around the world and the specific problems they face."
In Vietnam, for example, neurosurgeons at the Viet Duc Hospital in Hanoi contacted the Global Brainsurgery Initiative for help with complex cranial surgical diseases and consultations with cancer patients. Syed and his team performed seven surgeries when they visited in January, partnering with local neurosurgeons and watched by students and residents. In the afternoons, they held education sessions and shared virtual reality technology that will allow the learning to continue.
"We uploaded surgical scans into the VR system so that trainees could put on these goggles and see different MRI scans in virtual reality, practice surgeries or look at cranial anatomy," Syed said. "They do not have a cadaver lab like many U.S. medical students do, but technology can help bridge that gap, and that is one of our goals."
In Panama, they conducted 15 complex brain surgeries with local neurosurgeons, while bringing attention to stroke care.
"Panama has high rates of stroke, and there are neurosurgical procedures that can be used to reverse some of the effects if patients are rapidly triaged at a hospital," Syed said.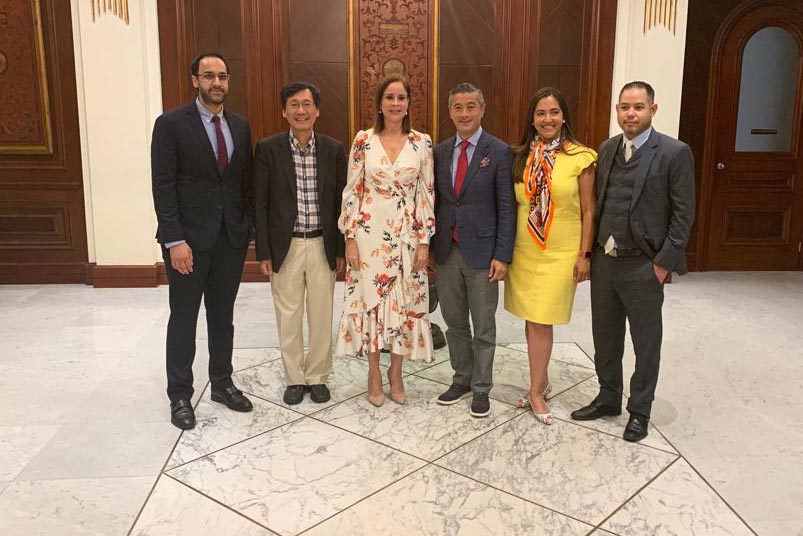 They also met with the country's first lady, Yazmín Colón de Cortizo, wife of recently elected President Laurentino Cortizo.
"She was very welcoming and supportive of future trips," Syed said. "It is exciting to have their support."
Even more important than the work itself are the relationships Syed and his colleagues are building around the world. He has learned the benefits of interdisciplinary relationships at UVA, where he frequently collaborates with colleagues and students not only in medicine, but in business, law, engineering and other fields.
"One great thing about UVA is that they really promote both the academic side of the practice and the service side, helping others," said Syed, who, for example, mentored engineering students developing a novel scoliosis treatment, MIST.
"Having law, business, medicine and engineering so close to each other really helps me to think outside the box and find new ways to help patients," Syed said.
Syed uses WhatsApp and virtual reality technology to stay in touch with the Vietnamese and Panamanian surgeons he has met. He is also partnering with them on academic papers and research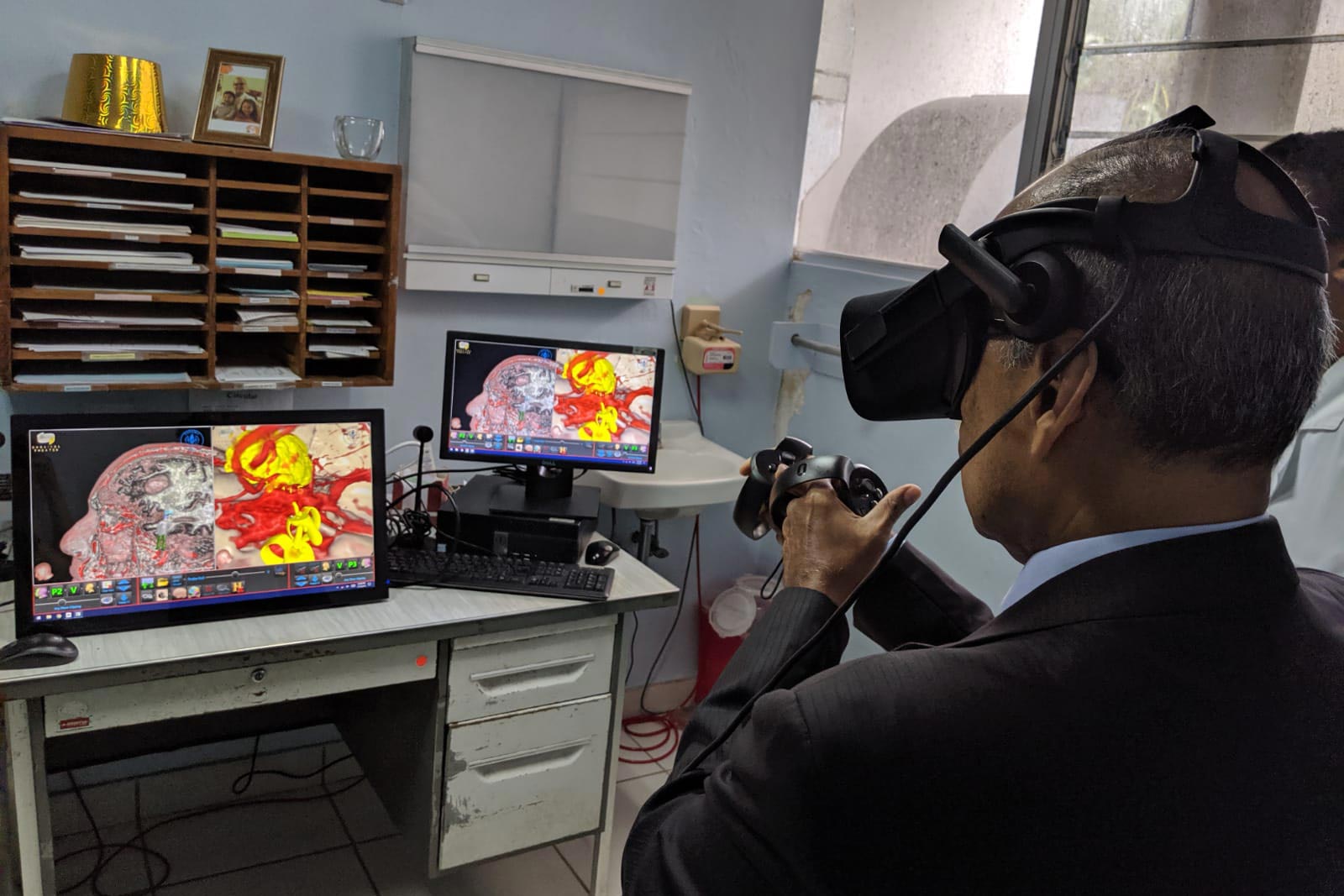 "We have ongoing research projects with these surgeons, producing manuscripts, research articles and operative videos together," he said. "There is not a lot of information in current literature about neurosurgery in developing countries, and we hope this can be a foundation to share our experiences."
The learning, Syed said, is a two-way street, as the American health care system, though rich in resources, is far from perfect. He brings out another study showing that a U.S. hospital system, where one of his colleagues worked, wasted $250,000 of material in one month of neurosurgery.
That's the same budget that the Viet Duc Hospital allots for a year's worth of surgeries.
"The amount they spend to do 3,000 surgeries in a year is equivalent to one month of waste at one hospital in the U.S.," he said. "Of course, some of the spending in the U.S. is needed, but it is worthwhile to think about how we can accomplish our goals without waste, and to keep those lessons in mind as we go along."
That is yet another reason he is eager to bring UVA residents along on his next trip to Vietnam in January.
"It is so important for residents to recognize how much they can learn from these surgeons and these countries, and see the value of cultural exchange," he said. "I am hopeful that we are building relationships that will last a lifetime."
Going forward, Syed hopes to keep building relationships, grow the Global Brainsurgery Initiative to include more countries, surgeons and supporters and use that network to advance neurosurgery around the world.
Media Contact
Article Information
August 13, 2019
/content/one-uva-neurosurgeons-quest-improve-brain-surgery-around-world