Settling in to watch the University of Virginia men's basketball team take on the University of Pittsburgh Saturday, alumnus Cory Paradis saw something that took his breath away.
Paradis, who graduated from UVA's School of Architecture in May, was born with cerebral palsy and has been in a wheelchair most of his life. Throughout his time on Grounds, he was a committed advocate for accessibility. Among other activities, he served on the University's Barrier-Free Access Committee, working with administrators, faculty members and students to push for permanent wheelchair ramps on the Lawn.
On Saturday, cameras panning over the Lawn caught one of those new ramps, completed and opened last week.
"It hit me then that every time they show that image, from here on out, everyone watching will see that ramp," said Paradis, who now works as a design project coordinator for UVA's Facilities Management Department. (Read more about Paradis in our feature on 2018 graduates.)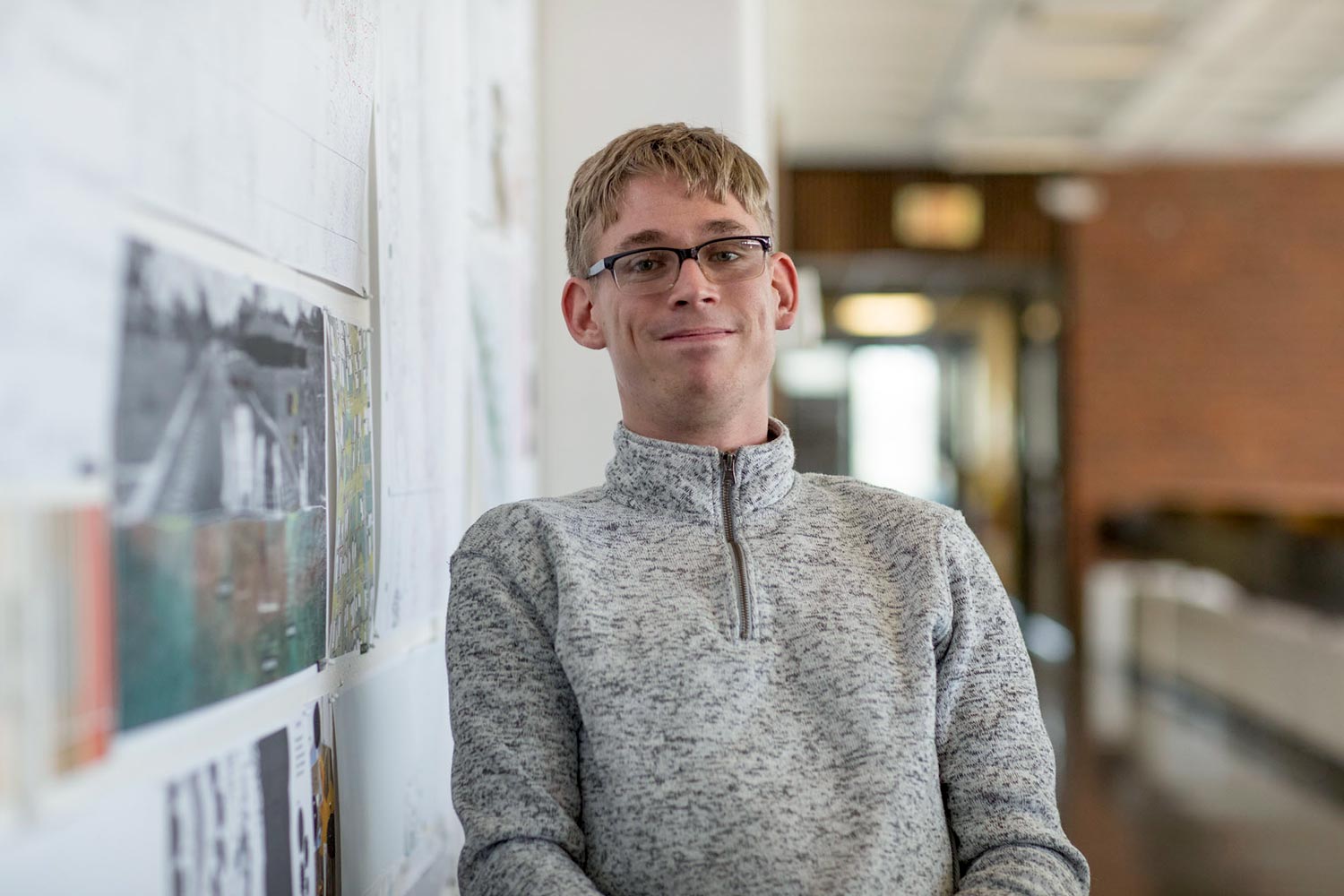 Cory Paradis earned his architecture degree last year, devoting much of his studies to issues surrounding the Americans With Disabilities Act and concerns around accessibility.
"Even though the average person may not know the story behind it, knowing that I played a small part in making it happen is pretty awesome," he said. "The team that made this happen has been added to the history of the University of Virginia."
The two permanent ramps, located on either side of the Lawn adjacent to Pavilions V and IX, allow students, faculty members, staff and visitors with mobility issues significantly greater access to the four terraced levels of the Lawn. Previously, only the uppermost and lowermost terraces of the Lawn were accessible by ramp, with well-worn stone stairs limiting access to the full space in between.
The ramps are set into sloping banks between terraces, and were designed with the same custom brick blend used for wall repairs in the Academical Village buildings, in order to preserve the look and feel of the UNESCO World Heritage Site.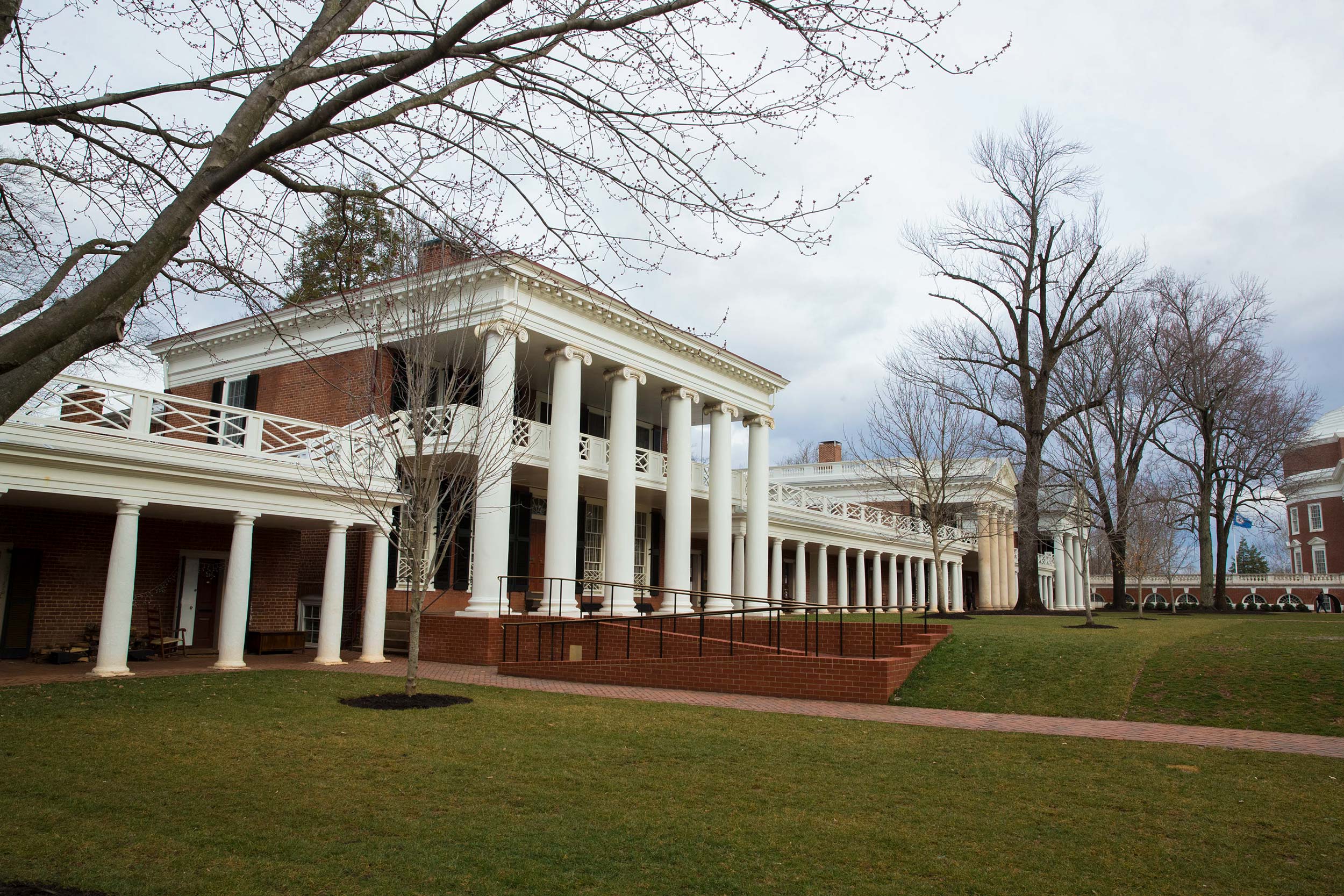 The new ramps feature the same custom brick blend used for repairs in the Academical Village.
"This project is an excellent example of the 'village' of UVA staff working together," said Associate Provost for Academic Support and Classroom Management M. Wynne Stuart, who chairs the Barrier-Free Access Committee.
She cited contributions from Alice Raucher, the architect for the University, and her team; Senior Vice President for Operations Colette Sheehy and her team; and the Facilities Management team that worked diligently through several weather delays to complete the project.
"The Facilities Management team worked very hard throughout the construction process to get everything exactly right, and everyone has been very committed to this project from the moment we started," Stuart said. "Our whole committee is very happy to see this accomplishment in UVA's progress toward inclusion and equity."
Paradis said he was particularly excited to see the addition of permanent ramps on a historic site like the Lawn. He hopes it could set a significant precedent for other historic sites and attractions.
"If this can happen on a UNESCO World Heritage site, I would say the standard excuse of 'We can't make this accessible because it is too historic,' is no longer valid," he said. "This is a huge accomplishment by all involved, a huge step forward for ADA access on Grounds and something I am honored to be a part of."
Media Contact
Article Information
March 4, 2019
/content/permanent-wheelchair-ramps-open-making-lawn-more-accessible-ever