Well before the season got underway, Beau Bradley told friends in his hometown of Manasquan, New Jersey, to expect big things out of this year's University of Virginia men's soccer team.
"I said that the group that we have this year is just really special," Bradley said, "and it's not just from a soccer standpoint.
"From a soccer standpoint, we're one of the most talented teams in the country, but that only gets you so far. We have a group of guys who are willing to get involved in the community, guys who are great students, guys who bring other things to the table, guys who work for others to get the other guys better."
Bradley, a third-year student in UVA's McIntire School of Commerce, is one of those guys.
Just like his better-known teammates, Joe Bell and Robin Afamefuna – who will be leading UVA on the field in Friday night's College Cup semifinal game against Wake Forest University in Cary, North Carolina – Bradley considers himself a team-first player, a player who defines himself by much more than what he accomplishes on the field.
Bradley, whose cousin is U.S. National Team captain Michael Bradley and uncle is former U.S. head coach Bob Bradley, has made the ACC Academic Honor Roll in each of his years.
This season, Bradley has appeared in only two games. His biggest contributions come during practice in helping teammates prepare for games.
"Everyone's fighting for the same cause," said Bradley, just before the Hoos left for Cary.
UVA Today caught up with Bradley to hear more about his overall University experience.
Q. What's your experience in McIntire been like?
A. It's been difficult. It's been a very busy schedule. ICE block (Integrated Core Experience) is going on right now. It's the most in-depth semester and expected to be the hardest. Most of it is group work and I've had a great group. I'm very thankful for that. It's been a really good experience.
Q. Has your group been working on a specific project?
A. Yes, we work with a corporate sponsor – so ours was CarMax. We worked with their executives on different projects – some involving financing, some marketing – and had to come up with a recommendation and detailed plan for them by the end of the semester to potentially implement.
Q. What did you learn?
A. Technical skills in working with finances and quantitative analysis, as well as just working with a team. Being able to take that soccer experience of always being in a locker room and surrounded by a team to the academic side of things was great.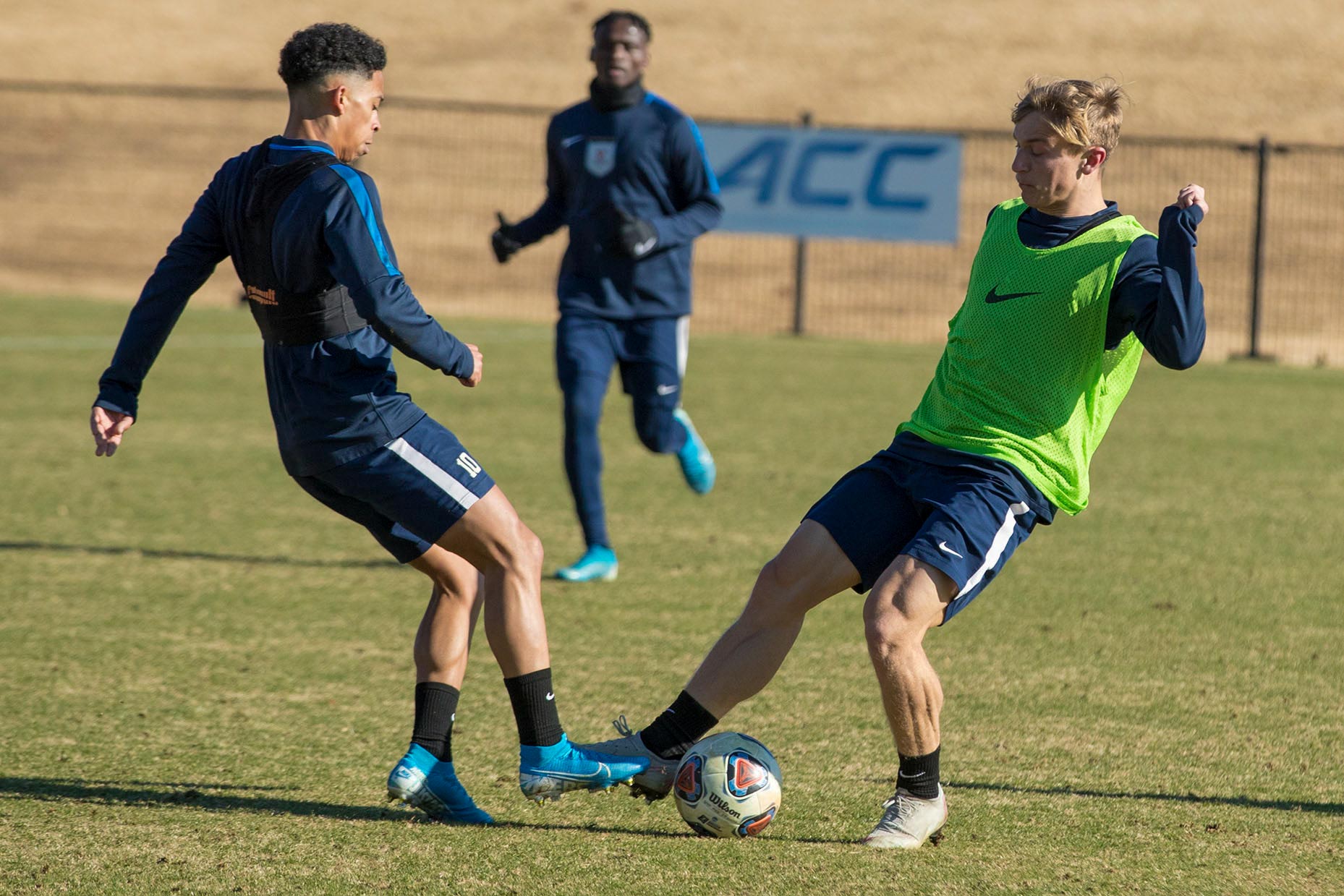 Bradley is in his first year on the Student Athlete Advisory Committee.
Q. Any favorite professors during your time at UVA?
A. Gary Ballinger [an associate professor of commerce] has been awesome. He runs our curriculum, but he also taught organizational behavior and he has been nothing but helpful for me. He helped me get the ball rolling and helped me make sure I was prepared for this semester. It's still going. I have a take-home [exam] due on Saturday, so I'll be taking that on the road.
Q. What's your mindset as a player when you don't get to play in games that much?
A. My role is to be a team player. I try to keep the guys together, keep them involved. On a day like today, mid-December, the guys in green [pinnies] are working to get those guys prepared for a really big moment this weekend.
We've said it in the locker room, that if we are to get that eighth [NCAA championship], we're all a part of that team – whether we're playing a role on the field or on the bench. Whatever we're doing, it's all contributing toward the same cause. Just trying to make sure everyone's pulling in the same direction is what I find myself most responsible for.
Q. What is your role on the Student Athlete Advisory Committee?
A. I work with legislation [affecting student-athletes]. We work a lot with the [Atlantic Coast Conference] and Virginia to make sure that questions can be answered, and if there are concerns for student-athletes, that those are met with feedback from administration. It's been great. It's a really great group of people doing it.
It's really cool because you can see legislation change before your eyes that you were working on. We can make little changes here and there.
"We have a group of guys who are willing to get involved in the community, guys who are great students, guys who bring other things to the table."

- Beau Bradley
Q. How did the soccer clinic that you organized to raise money for the UVA Children's Hospital come about?
A. Since I've gotten here. I've tried to get more involved in the Charlottesville soccer community. Charlottesville is a really special place. I realized that I could use the connections that I had made to do something good. In high school, I had previously done a clinic for pediatric cancer, so I started reaching out to some of the connections I had made.
We ran a one-day clinic where kids could come, play with our team and do a bunch of different drills.
We took a hospital visit before that event and it was very special. We got to meet some of the families who have been affected by this. Being able to put some faces to our cause was really special. It's the least that someone could do.
We ended up raising over $3,000 for the cause. I hope to continue it next year and hopefully after I graduate, someone will take it on and we can continue building that relationship.
Q. What's it been like playing for a coach like George Gelnovatch?
A. It's been great. Coming to a place like this, it's a pro atmosphere – and George makes sure of that. Whether it's the scouts we do on teams and the information we get … everything is very calculated. There's a reason why he's been here so long, and it's because he's great at what he does. He brings in the right people and takes care of them in the right way. There are not many years in Virginia soccer where there has been a down year. And there's a reason for that.
Q. How much of an impact have your cousin and uncle had on you?
A. Michael has been a role model for me growing up … seeing his work ethic and commitment to teammates. He works a ton on the field, but he's also the guy to walk over to a teammate and make sure they're doing alright.
In the summer of my sophomore year, I went to Norway and stayed with my uncle Bob when he was coaching a team there. To be able to work with him really prepared me for what was to come.
Q. What's your overall UVA experience been like?
A. Before I came here, I said, "Whether I play soccer or not, UVA is a school where I'd want to be." And I definitely picked the right school. Soccer has been great. The school has been nothing but great. The professors are great, the facilities, everything.
Article Information
December 12, 2019
/content/qa-beau-bradley-stars-supporting-role-college-cup-bound-cavaliers