Bestselling author John Grisham struck an incredulous tone when asked which of the many University of Virginia men's basketball games he has attended over the years have been most memorable.
"Are you kidding? Those last two in Minneapolis in 2019," said Grisham, alluding to the Hoos' wins in the Final Four over Auburn University and Texas Tech University that earned the program its first-ever NCAA championship.
"We were there and soaked in the moment. I was so happy for [head coach] Tony [Bennet] and his players, but also for a lot of UVA friends, real Wahoos, who had been waiting for a long time."
Grisham grew up playing baseball and basketball in Mississippi. His love for the sports – coupled with the fact his son, Ty, played on the UVA baseball team in the early 2000s – contributed to his becoming a Cavaliers fan.
Even before Bennett arrived, Grisham – who owns a home in Charlottesville – could frequently be seen cheering from the John Paul Jones Arena sidelines.
One of Grisham's favorite Cavaliers over the years has been Mamadi Diakite, the fun-loving forward who hit the shot against Purdue University in the Elite Eight of the 2019 NCAA Tournament that no UVA fan will soon forget: a buzzer-beating jumper off of an assist from Kihei Clark that sent the game into overtime, where UVA would eventually triumph.
Diakite grew up playing soccer in Guinea before turning to basketball after a growth spurt. With a lack of basketball opportunities in Guinea, Diakite used social media to get the attention of coaches in the United States, eventually landing at Blue Ridge School, a boarding school in Saint George, located about 45 minutes from Charlottesville.
From there, Bennett recruited Diakite to UVA, and the rest was history, with Diakite – who last month signed a multiyear contract with the NBA's Milwaukee Bucks– helping lead the Hoos to the title.
It was while going through basketball withdrawal after the 2020 NCAA Tournament had been canceled due to the pandemic, and with Diakite's story in mind, that Grisham – whose bestsellers include "A Time to Kill" and "The Firm" – decided to take his first shot at basketball fiction.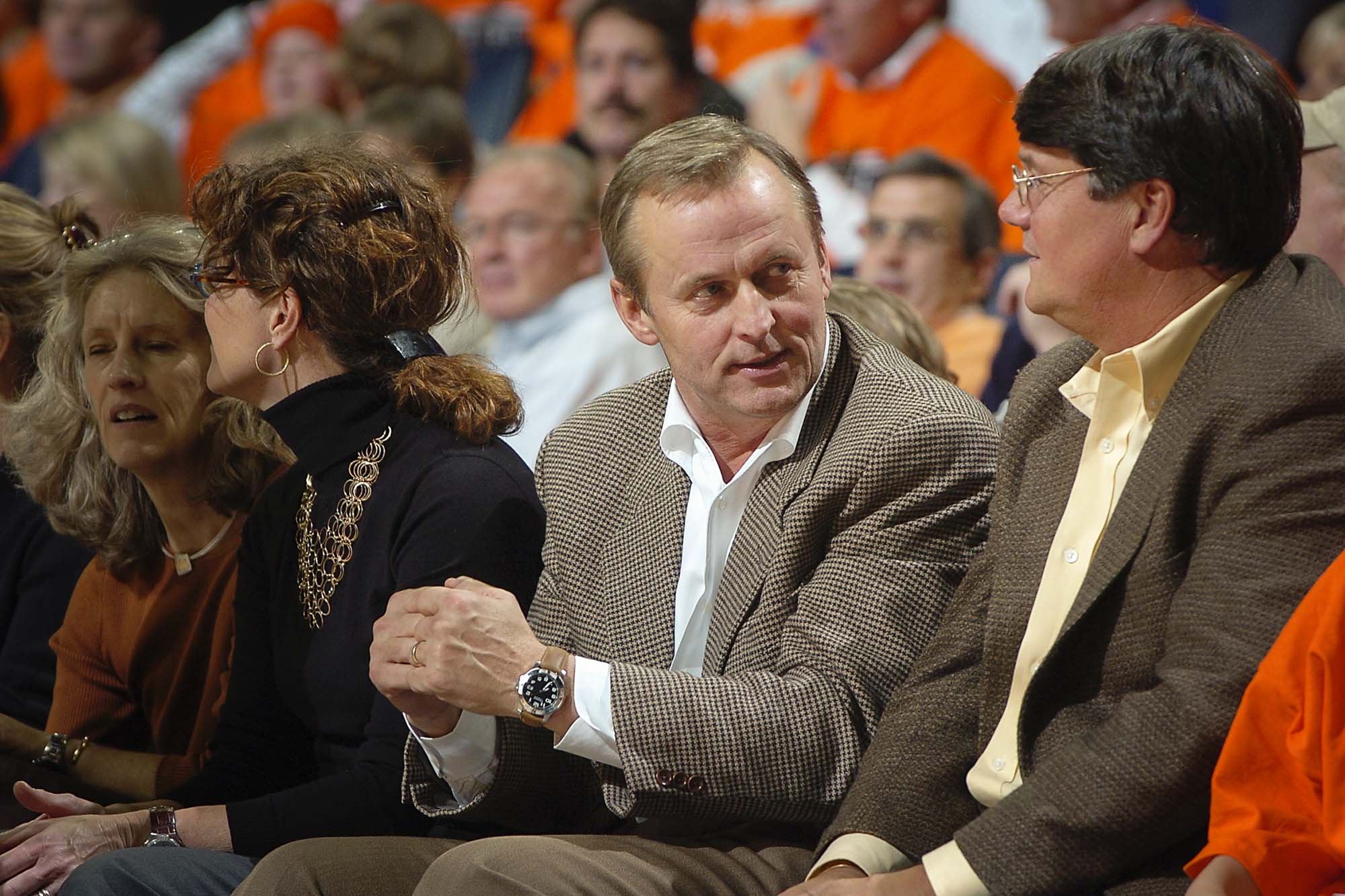 In researching his new book that centers around basketball, John Grisham consulted with UVA head coach Tony Bennett. (Photo courtesy UVA Athletics)
Grisham's new book, "Sooley," centers on Samuel Sooleymon, a player for the North Carolina Central University basketball team, who perseveres through hardships in hopes of earning an NBA contract so that he can rescue family members from civil war in his native Sudan.
To learn more about how the book came together, UVA Today caught up with Grisham.
Q. In terms of your process, how did writing a sports-themed book compare to the legal thrillers you're best known for?
A. This is my fourth sports book and they are much more enjoyable to write. They're shorter to begin with, so less work. And the research is always interesting.
Q. What made basing elements of a character off of Mamadi so intriguing to you?
A. Well, his first two years he played very little, but he kept improving, kept trying, kept learning. Tony brought him along beautifully and he became such a threat defensively. His smile is infectious and you know he's enjoying the game.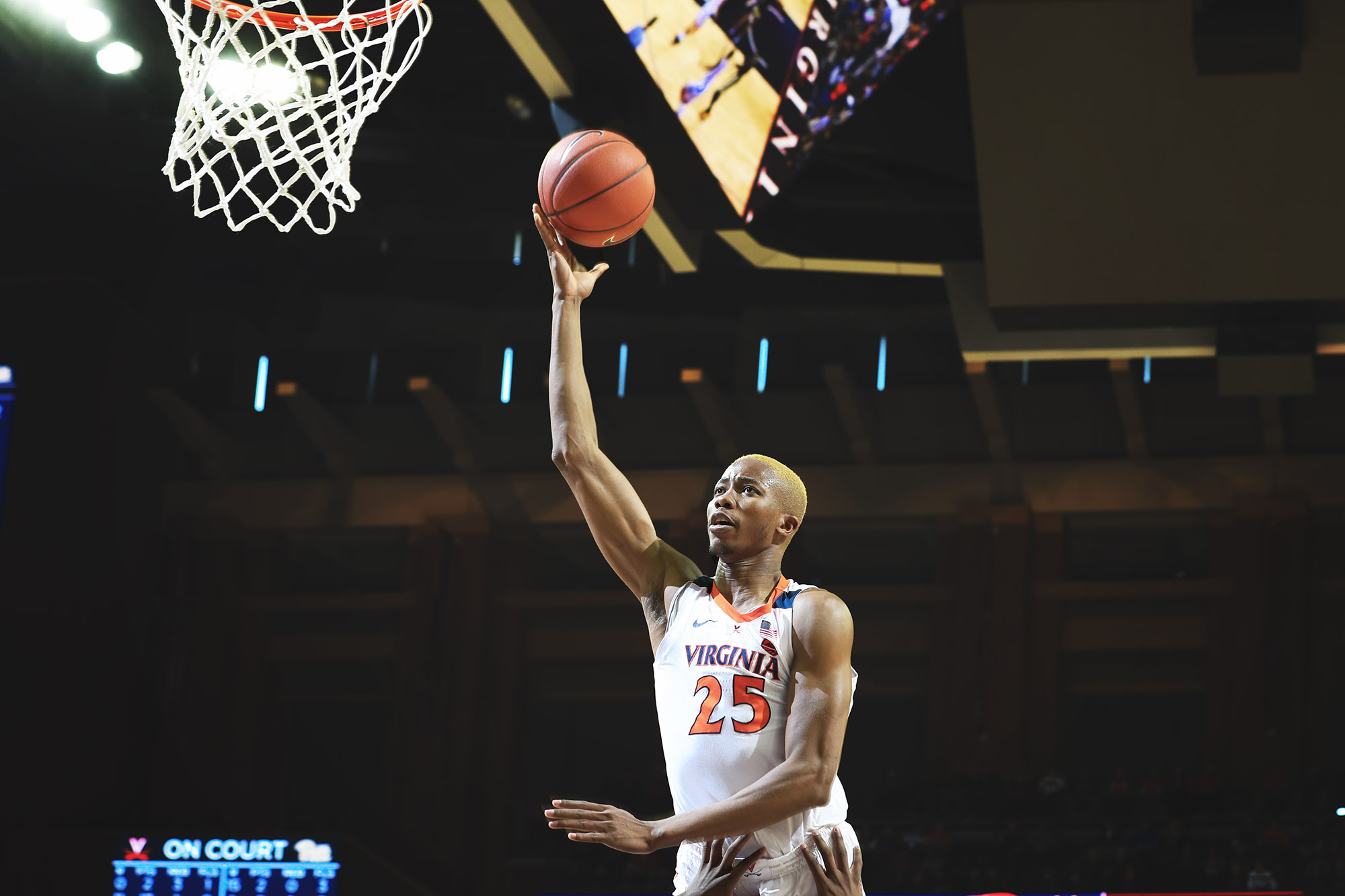 Former UVA basketball player Mamadi Diakite was an inspiration for Grisham's new book. (Photo by Matt Riley, UVA Athletics)
Q. Who were some of the people you talked to as you did your research for the book? Have you had the chance to interview Mamadi, Coach Tony Bennett or any other members of the UVA program?
A. I talked to Tony and LeVelle Moton [head coach at North Carolina Central University]. And some former players who know the game and have been through the recruiting grind. I talked to Bryan Kersey, head of ACC officiating, and he is always helpful.
Q. In a recent New York Times piece, you called Tony Bennett one of your "heroes." What is it about him that resonates so much for you?
A. First, Tony and [wife] Laurel are real people who are grateful to be where they are. They are fun and always looking for a laugh. They are down-to-earth, unpretentious, and put their family first. Tony runs a clean program and brings in players he can develop into his program. His teams are disciplined and his kids play with intensity, and also with class.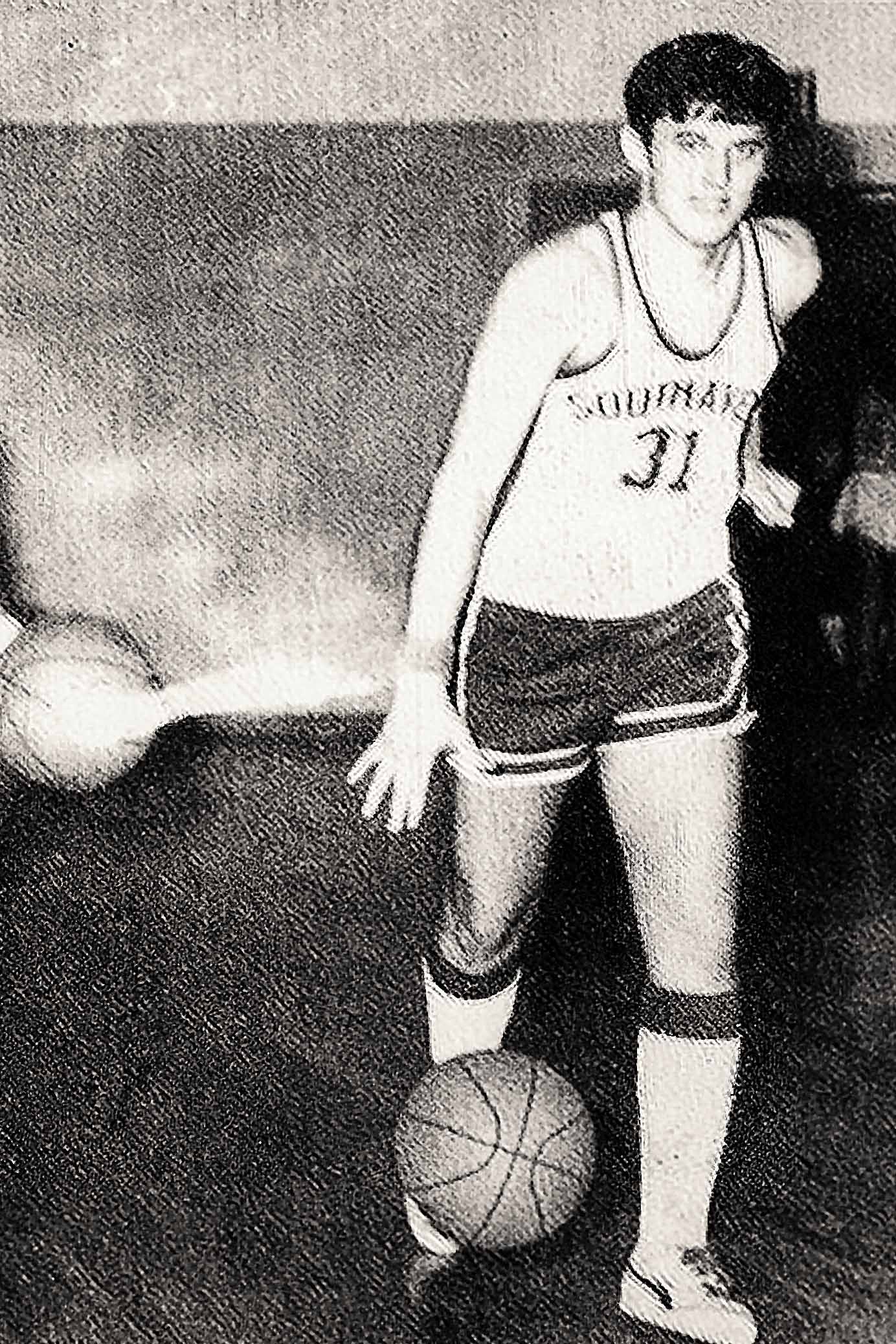 Grisham, pictured here in his high school yearbook, has always been a big basketball fan. (Photo courtesy of John Grisham )
Q. If this book were to ever get turned into a movie – like so many of your books do – who are some actors you could envision playing Samuel?
A. I do not see this one as a movie.  The star grows six inches in less than a year (gotta love fiction) and some of his heroics might be hard to film. There are few great sports movies because the action is usually so unauthentic.
Having said that, if a good producer comes along with an idea that will work, I'm all in. I would like to see all of my books adapted to the screen.
Q. In the Times piece, you made no bones about your feelings for the Duke University basketball program. What gets you so riled up about them?
A. The Times got it wrong. I did not say "I hate Duke." I respect Coach K [Blue Devils head coach Mike Krzyzewski] and his program. However, from time to time he has players I don't care for. I pull for the Hoos and the Tar Heels, and that makes it rather hard to pull for Duke. I can't imagine it, really.
Q. What are you reading right now, or are some good books you've read recently? Any recommendations for our UVA Today audience?
A. My literary project for the year is to read and re-read all of Hemingway's novels and short stories. I knew the Ken Burns documentary was coming in March, and I enjoyed it.
I read a lot of non-fiction about legal issues and such, and just started "Empire of Pain," about the family that was responsible for the Oxycontin nightmare. Along the same lines, I read and enjoyed "Dopesick," a sad-but-true story about the opioid crisis. I may write about it one day.
The last good sports book was Jon Pessah's bio of Yogi Berra, one of my favorite players.
Q. Before the pandemic, you could often be spotted at JPJ for games. What do you like most about attending games there, and are you kind of champing at the bit to get back there?
A. Yes! I can't wait until the next (post-pandemic) basketball season and the games at JPJ, with a packed house of 15,000, all screaming bad things at Duke. I love watching red-hot teams roll in for an easy win and score 10 points in the first 15 minutes. We sit across from the opposing coaches and the disbelief on their faces is often hilarious. We've seen it so many times. The band, the noise, the fans, the students – it's college basketball at its finest.
Article Information
May 17, 2021
/content/qa-inside-story-john-grishams-new-uva-hoops-inspired-book