If you want to know why college – and all that comes with getting into it, and succeeding once there – is different for first-generation students, Sambriddi Pandey can explain the complications very well.
She knows from personal experience. Born in Kathmandu, Nepal, and raised in Northern Virginia, Pandey is a third-year student in the University of Virginia's McIntire School of Commerce, where she is planning to concentrate in finance and take courses in real estate in her final undergraduate semesters.
But she's had to find her own way down some daunting avenues to get to UVA and then to McIntire.
"Restrictions arise when there are gaps in information access and a lack of advocacy," Pandey said. "The most challenging component of the transition from high school to college as a first-generation college student is about how to understand different aspects of college. There is a language to it and everything that the process entails that is foreign to many first-generation students."
Reflecting on her own journey to Grounds, she recalled being aware that, as a Virginian, she could apply to UVA, as it was an in-state option. But she realized that many other "FGLI" (first-generation, low-income) students are completely unfamiliar with both the available choices in schools and how to apply to them.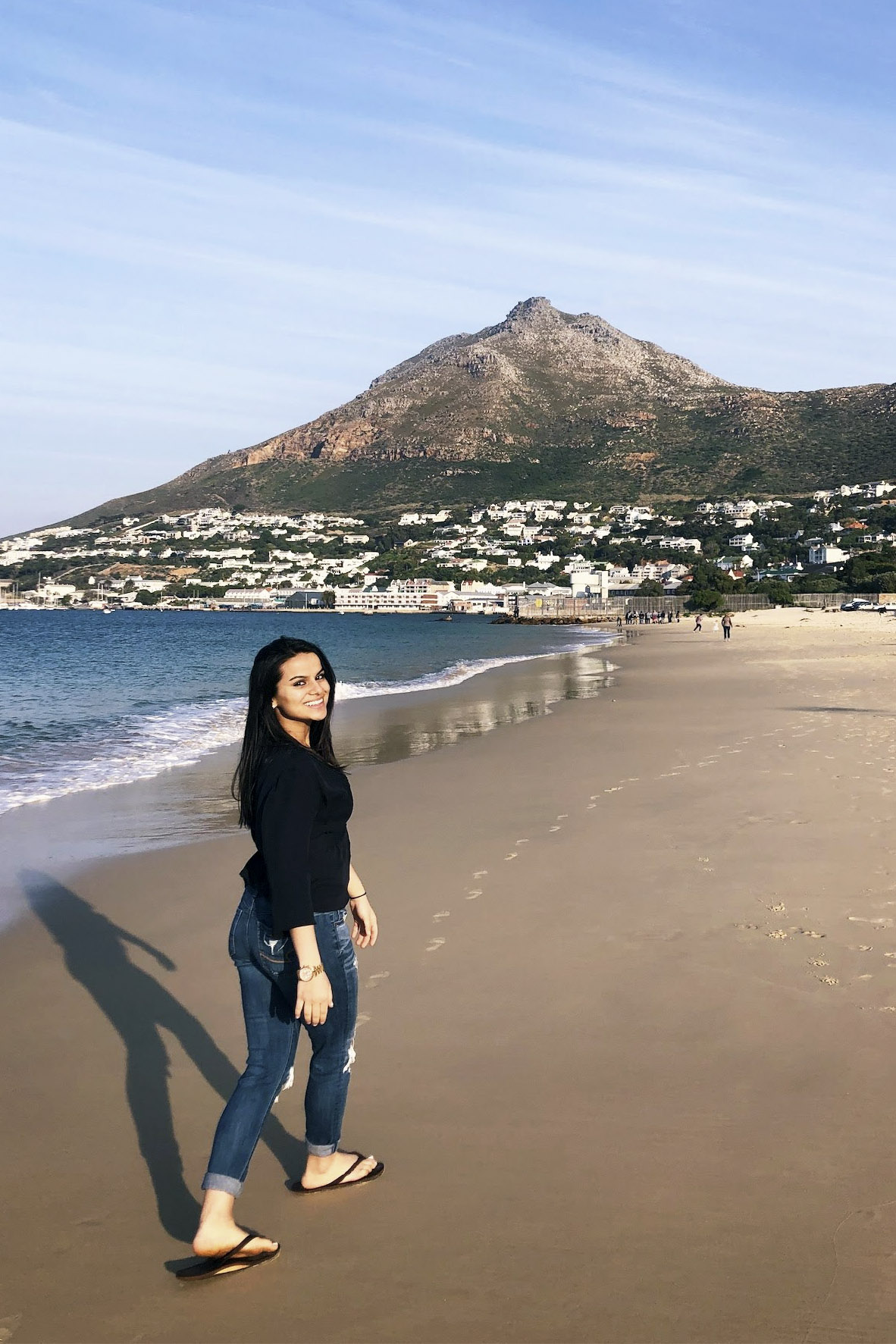 "I want to help first-generation applicants see the University as a place for them," Pandey said. (Contributed photo)
"For many FGLI students, the level of discourse on college and the application process is dependent on the advocacy within their high school and communities," Pandey said.
She noted that this demographic of learners is under a tremendous amount of pressure, since the bureaucracy of higher education is often foreign to their parents; students are usually left to their own internet searches and the advice of equally unprepared classmates to figure things out.
She recalled scanning online forums trying to deduce what admissions officers were looking for in applicants, and feeling that being accepted to UVA would be impossible for her. "I had course rigor and strong grades with an upward trend, extracurriculars, and leadership positions, but I struggled my freshman year of high school and, based on what I read, assumed this would hurt my application."
Pandey was determined to get into her "dream school," and like most of her peers on the hunt for information, she turned to YouTube videos about UVA and read random articles on the University.
Then one day she stumbled upon Dean J's "Notes from Peabody" blog, written by Associate Dean of Admission Jeannine Lalonde. The information shared there changed Pandey's outlook about her potential for getting accepted into UVA and gave her a much-needed sense of confidence.
"Despite what people around me would say about college, I always went back to Dean J's blog, as it empowered me to stay on course," she said, citing her reliance on it as a prime example of why continued outreach and advocacy efforts for FGLI students are imperatives – ones that Pandey is resolved to advance.
In the First Place
Determined to help other first-generation students overcome the difficulties she contended with along the way, Pandey joined Hoos First Look, the University's student-run program for FGLI students who are rising high school juniors. The program creates interest in the University by flying in prospective students with an all-expenses-paid trip – likely their first trip to a college campus – and also provides crucial resources about the application process, financial aid, and most important, the idea that they can achieve academic and personal success.
Having started as the group's treasurer in the spring semester of her first year, Pandey now serves as co-director of event coordination, leading development of this year's mostly virtual programming for the current cohort, creating meaningful programming despite strict coronavirus protocols.
"Hoos First Look is about helping these students see that UVA is attainable for them and that they have just as much potential as other students," she said. "Some students may not have the highest test scores or most leadership positions, but those same students could have a great deal of course rigor and good grades, all while handling many responsibilities at home or working to support their families in addition to school. These aspects of their application, although different, matter. Our whole goal is to help these kids see the value in their applications and push them to apply to UVA – kind of replicating what many other non-first-gen students get from their parents."
Pandey said that when she arrived on Grounds, she didn't know many others with a first-gen background and was generally unaware of any available University resources. After meeting more students from similar backgrounds late in her first year, she learned about organizations that became a supportive community where she felt validated and knew she wasn't alone in her struggles to make sense of life at UVA.
Since that time, she noted that there have been many new initiatives. (Another first-generation student, Nia Augustine, lists some of those here.)
"We've become so much better at reaching out to first-generation students through student organizations such as [First Generation/Low Income Partnership at UVA] and first-gen student-written newsletters from the Office of the Dean of Students," Pandey said.
"FGLI applicants' stories and experiences have equipped them with a level of emotional intelligence and strength that we value at UVA and will help them succeed as students here, and we need them to apply!" she said. "UVA benefits from these students just as much as these students can benefit from receiving a UVA education, so our role as an organization in working with Admissions is also instrumental in this overarching goal of increasing accessibility and understanding of these students' backgrounds to help Admissions better improve outreach."
Collaboration Through Commerce
Regarding her own UVA education, Pandey cited McIntire's Integrated Core Experience – a rigorous curriculum for all third-year Commerce students – as the most rewarding thus far, acknowledging the challenging elements while crediting them for their positive impact. She said that collaboration with her ICE group via Zoom meetings has been instrumental to her positive experience, as she's learning from her peers as well as her coursework. Faculty have been supportive, and Pandey noted how their commitment to online learning and providing helpful feedback has made interacting virtually a smooth process.
She also said that her adviser, Assistant Dean for Student Services Sally Armentrout, has provided important support throughout her transition into the Commerce School.
"Our biweekly conversations have supported me throughout the Integrated Core Experience, but also with many other matters pertaining to school," she said. "I am so appreciative of Sally and McIntire as a whole and truly feel that everyone at the school is very invested in the success of its students."
Outside of McIntire and her involvement in Hoos First Look, Pandey has also been serving as a vice president with the student-managed Virginia Venture Fund, volunteering at Madison House and interning with Cav Angels, an affinity investment group focused on private, early-stage UVA alumni- and student-based startups.
"Cav Angels has been a great lens for me into the world of investing," she said, explaining how she connected with the group through a project that originated with the Virginia Venture Fund. "The whole experience has helped me better understand the different facets of an angel group and how potential deals are vetted and investments are made. It has allowed me to see how companies are viewed by investors, from the types of questions asked to techniques used to evaluate a company, which has been really valuable, as I've been able to understand both sides of the investment process. The hands-on experience of doing diligence and the guidance I've received from Rich Diemer (a McIntire alum) and other Cav Angels members have also helped me better understand my academic and professional goals."
An Investment in Community
Pandey said that the connections between her coursework and extracurricular activities are many, and that her involvement has enhanced the skills she's learning at McIntire. At the Virginia Venture Fund, she was surprised to discover all of the career possibilities available in entrepreneurship and investing. As an example of applying her skills to address social issues, she became vice president of The Impact Fund, launched in response to racial justice rallies and protests this summer after George Floyd was killed by Minneapolis police.
"The Impact Fund was established with hopes of bridging the gap between minority founders and investment capital. Its mission is to advance entrepreneurship in traditionally marginalized communities and increase representation in business ownership," Pandey said.
She's also been participating in Madison House's Creating Assets, Savings & Hope, or CASH, program as a volunteer income tax assistant since her first year, which she said she enjoys for the opportunity to be directly involved with the greater Charlottesville community.
"CASH helps me recognize the magnitude and privilege of being a student, while recognizing the importance of remembering my background. No matter what professional role I have when I'm older, I will continue to represent underrepresented groups and advocate for them," she said.
As a first-generation student, Pandey said that her time as an undergraduate not only means a great deal to her, but to her family and to many others in her community who have similar backgrounds. Ultimately, she said she is driven by a desire to make the UVA first-gen journey an easier one for future students – a priority that has become increasingly significant throughout the University.
"President Jim Ryan discussed how he hopes to make UVA a top destination for first-generation students, and I believe organizations like Hoos First Look and other first-gen organizations on Grounds that advocate for better outreach and support are instrumental in helping the administration reach that goal," she said. "Education should not be dependent on the ZIP code where these students go to high school or the community where they grow up, and I want to help first-generation applicants see the University as a place for them.
"My UVA experience is truly so much greater than myself."
Article Information
November 30, 2020
/content/sambriddi-pandey-determined-blaze-more-trails-fellow-first-gen-students