Many terrific, game-changing discoveries and inventions have emanated over the years from the University of Virginia's creative faculty, so it's hard to name them all. From brain research to particle physics, from new ways to understand the cosmos to developing innovative treatments for disease and medical devices, UVA has done it all – and is doing more.
Here are a dozen notable examples from the last half-century.
Discovering Brain-Immune System Link
A stunning, textbook-changing, 2015 discovery by UVA neuroscientist Jonathan Kipnis, director of UVA's Center for Brain Immunology and Glia, found that the brain is directly connected to the immune system by vessels previously thought not to exist.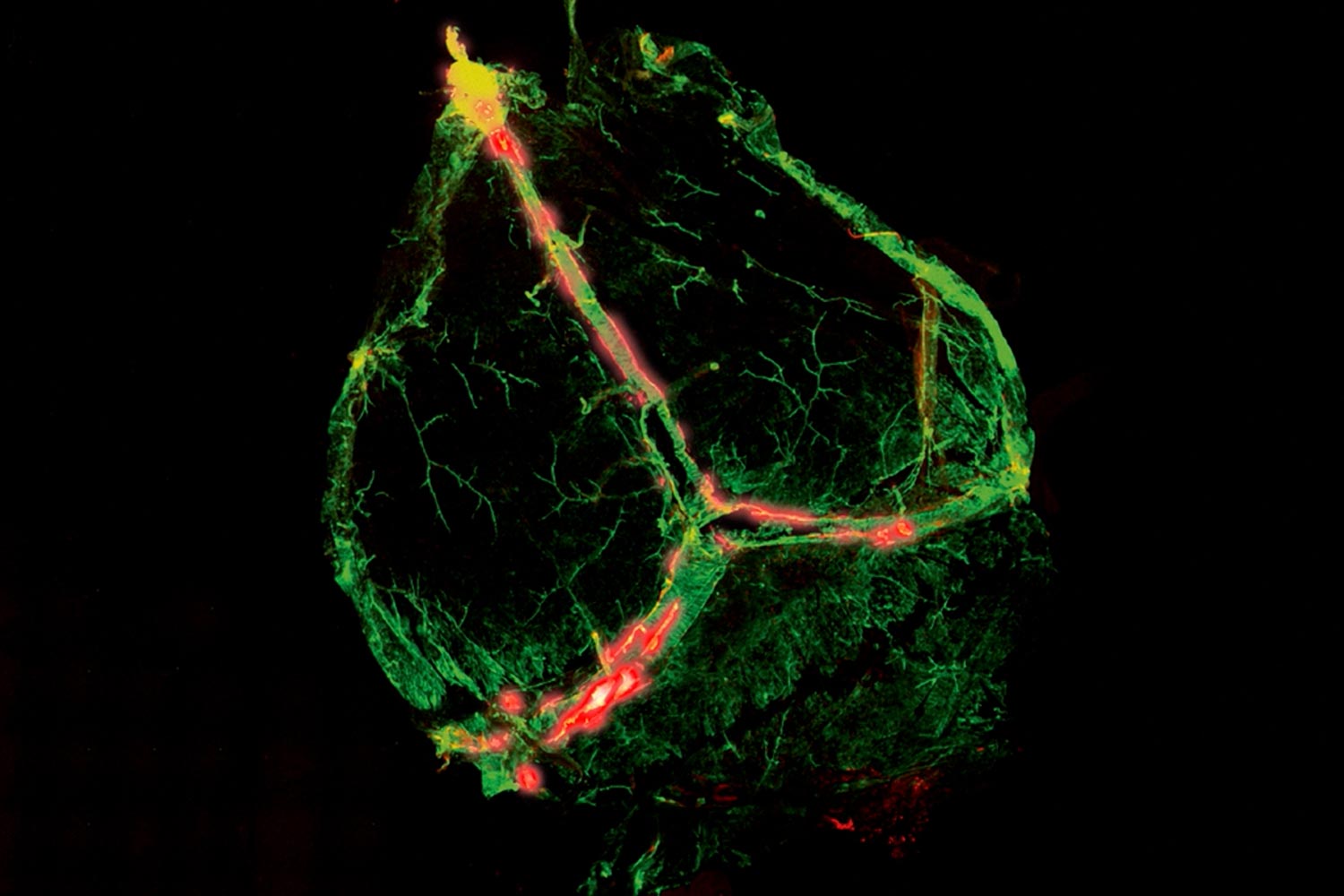 The brain and immune system are directly connected by vessels previously thought not to exist, UVA research has shown.
The significance of the discovery lies in its ramifications for the study and treatment of neurological diseases ranging from autism to Alzheimer's disease to multiple sclerosis. The discovery was cited as a major scientific breakthrough in lists such as Scientific American's "Top 10 Science Stories of 2015," Science Magazine's "Breakthrough of the Year" and the National Institutes of Health's director Francis Collins' year-end review. Business Insider highlighted this as the biggest discovery ever made in Virginia.
Discovery of Bacteria as Ulcer Cause
Studies performed in the 1980s at Royal Perth Hospital and at UVA by Dr. Barry Marshall – a UVA School of Medicine research fellow, gastroenterologist and professor of medicine from 1986 to '96 who returned to his native Australia – led to the identification of the bacterium Helicobacter pylori as a major cause of peptic ulcer disease, gastric carcinomas and mucosa-associated lymphoid tissue lymphomas.
Dr. Marshall won the 2005 Nobel Prize in Medicine for this breakthrough research, which led to new treatments.
Discovering the Higgs Particle
UVA physicist Brad Cox played an important role in the 2012 discovery of the Higgs boson at the $3.2 billion Large Hadron Collider in Europe. Considered one of the most significant scientific discoveries in decades, the finding confirmed the existence of the Higgs, the particle that gives mass to all other particles and, therefore, is the glue that holds together everything in the universe, from atoms to people.
In recognition of Cox's contributions – which included service on several international scientific review committees and leadership at UVA in the design and construction of instruments in use on the Large Hadron Collider – Virginia Gov. Terry McAuliffe and the Science Museum of Virginia named him a Virginia Outstanding Scientist for 2014.
Focused Ultrasound
Dr. Jeff Elias, a professor of neurological surgery and neurology, is known in some circles as the "Father of Focused Ultrasound" for the treatment of essential tremor, the most common movement disorder. Elias led an international clinical trial that tested the approach, which uses focused sound waves to disrupt circuits in the brain that cause uncontrollable shaking. It's brain surgery without a scalpel, as there's no need to cut into the skull. The procedure has been approved for the treatment of essential tremor by the U.S. Food and Drug Administration.
Elias also is investigating its potential for managing the tremors associated with Parkinson's disease. The UVA Licensing & Ventures Group this year named Elias the Edlich-Henderson Innovator of the Year for his pioneering work.
In addition, focused ultrasound is being developed and tested for a variety of medical conditions, from neurological to urological diseases.
A HeRO to Detect Infections in Premature Infants
An innovative monitor invented at the UVA Health System, the HeRO, is used in hospitals across the country as an early warning system to detect deadly infection in tiny, prematurely born infants and for others at serious health risk.
In its early stages, sepsis, a severe bacterial infection, has few distinguishing symptoms, and it can escape diagnosis until too late. The illness accounts for half of the deaths among infants who require intensive care for more than a week.
UVA cardiologist Dr. J. Randall Moorman found that heart rate changes in babies appear 12 or more hours before the infants show clinical signs of illness. Moorman and his colleagues developed mathematical algorithms that analyzed the stream of data generated by the babies' heart rate monitors, leading to the patented Heart Rate Observation System, or HeRO monitor. Using information already present at the bedside monitor, the algorithms determine the likelihood that an infant is developing illness, allowing for early intervention.
A Home Fertility Test
About 7 million couples in a year have fertility issues that make having a baby difficult. About half of the time, male infertility is the problem. The late John Herr, a professor of cell biology, urology and biomedical engineering who served as director of UVA's Center for Research in Contraceptive and Reproductive Health, focused his research on reproductive biology and made several breakthroughs toward developing a reversible contraceptive option for men and contraceptive vaccines for women.
His discovery of a sperm protein called SP-10 led to perhaps his best-known and most commonly used patented product, SpermCheck Fertility, a home sperm-count test for men available at drug stores across the country. The test allows users to know within 10 minutes the possible source of a couple's fertility problems.
Herr also is listed as inventor on 64 issued patents and scores of pending patent applications throughout the world, and his legacy includes promising research shedding light on the fundamental nature of a variety of cancers and possible new routes to treatments.
Bioimaging Breakthroughs
Cassandra Fraser, a professor of chemistry with appointments in biomedical engineering and the School of Architecture, specializes in developing materials that detect oxygen by changing luminescence color. These materials, for which Fraser holds three patents, are effective for imaging tumors, wounds and the brain, as well as for research in immunology, microbiology and tissue engineering.
A cost-effective, portable laptop camera imaging system she developed with collaborators, used in conjunction with the light-emitting nanosensors, allows researchers to make real-time movies of tissue oxygen levels over time, providing new insight into biological processes. The tool also may aid physicians in monitoring healing and treatment responses. 
A major drug company recently licensed the technology, and medical device companies are interested as well. With UVA collaborators in plastic surgery and biomedical engineering, the imaging agents will soon be tested in clinical trials for chronic wound monitoring.
Fraser also holds a patent for luminescent boron dyes that show promise for mechanosensors, self-erasing renewable inks and possible intelligence and forensic applications.  
Children's Literacy
Marcia Invernizzi, Edmund H. Henderson Professor Emerita of Education, has devoted much of her career to improving the literacy of children. She developed Phonological Awareness Literacy Screening, or PALS, assessments and teaching tools that are used in all 50 states and several countries to identify and provide customized learning experiences for young children at risk of becoming poor readers. In 2013, UVA Innovation named Invernizzi the Edlich-Henderson Innovator of the year for her work.
Developed in 1997 with funding from the Virginia Department of Education, PALS provides a comprehensive assessment of young children's knowledge of literacy fundamentals that indicate future reading successes, helping teachers capitalize on a window of opportunity to effectively improve the students' reading skills for a better future. Hundreds of thousands of kindergarten through third-grade students each year are screened using PALS assessments through Virginia's voluntary Early Intervention Reading Initiative, with pre-kindergarten students served through the Virginia Preschool Initiative.
Invernizzi also is a founder of Book Buddies, a nationally recognized one-on-one reading intervention.
Groundbreaking Pharmacological Research
Two individuals who were members of UVA's Department of Pharmacology throughout the 1970s, Ferid Murad and Alfred Gilman, conducted seminal studies at UVA that led to separate Nobel Prizes in Physiology or Medicine. Both Murad and Gilman were recruited as new assistant professors by Joseph Larner, who chaired the Department of Pharmacology at the time.
Murad won the 1998 prize with two other researchers. Upon arriving at UVA in the early 1970s, he asked how a very old drug, nitroglycerin, activated an enzyme that causes the relaxation of blood vessels (and thus relief from angina, which is a symptom of heart disease). He demonstrated that nitroglycerin liberates the gas nitrous oxide, which in turn activates enzymes responsible for synthesizing a smooth muscle relaxant called cGMP. Murad and his colleagues were honored because they established that nitrous oxide could serve as a bona fide signaling molecule. Several medicines that affect nitrous oxide signaling were subsequently developed.
Gilman won the prize with one other researcher in 1994. New to UVA in 1970, Gilman asked, and ultimately answered, a fundamental question: How does the hormone adrenalin (a primary "messenger") stimulate the increase of cAMP (a second messenger) inside cells? Secondary messengers are triggers for such essential cell activities as division and differentiation. Gilman's investigations revealed a set of proteins, now known as GTP-binding proteins, that transferred the signal from the adrenalin receptor on the cell surface to the enzyme that makes cAMP. These G proteins are known now to function in a variety of signaling cascades, including those activated by many commonly used medicines as well as some drugs of abuse. Our senses of sight, taste and smell are entirely dependent on G protein-mediated signaling.
Using Visible Light for Wireless Communications
Electrical engineering professor Maite Brandt-Pearce has studied optical communications at UVA for 25 years. She is working to develop an innovative alternative to Wi-Fi for wireless communications – Li-Fi, or light fidelity – which uses infrared and visible light (such as from a light bulb) for high-speed data transmission, rather than using radio waves.
Wi-Fi is becoming increasingly cluttered, resulting in a "spectrum crunch." Li-Fi may soon become a revolutionary substitute, or a replacement, with plenty of personal and commercial applications.
Using light as an access point, only people in a particular room, or under the light, could use it, creating, through that physical limitation, a layer of privacy and security increasingly threatened in overloaded Wi-Fi environments. Li-Fi also would be very fast and more users in a given space could use it.
After four years of research and development in her UVA lab, Brandt-Pearce and her former Ph.D. student, Mohammad Noshad, co-founded in 2013 a company, VLNComm, and are refining the technology for a range of uses and products. The company is the only one in the U.S. offering Li-Fi-enabled products.
Clean Water for the Developing World
A water purification tablet called MadiDrop+, developed at UVA and used by tens of thousands of people in 40 countries, is the brainchild of James Smith, a professor of civil and environmental engineering.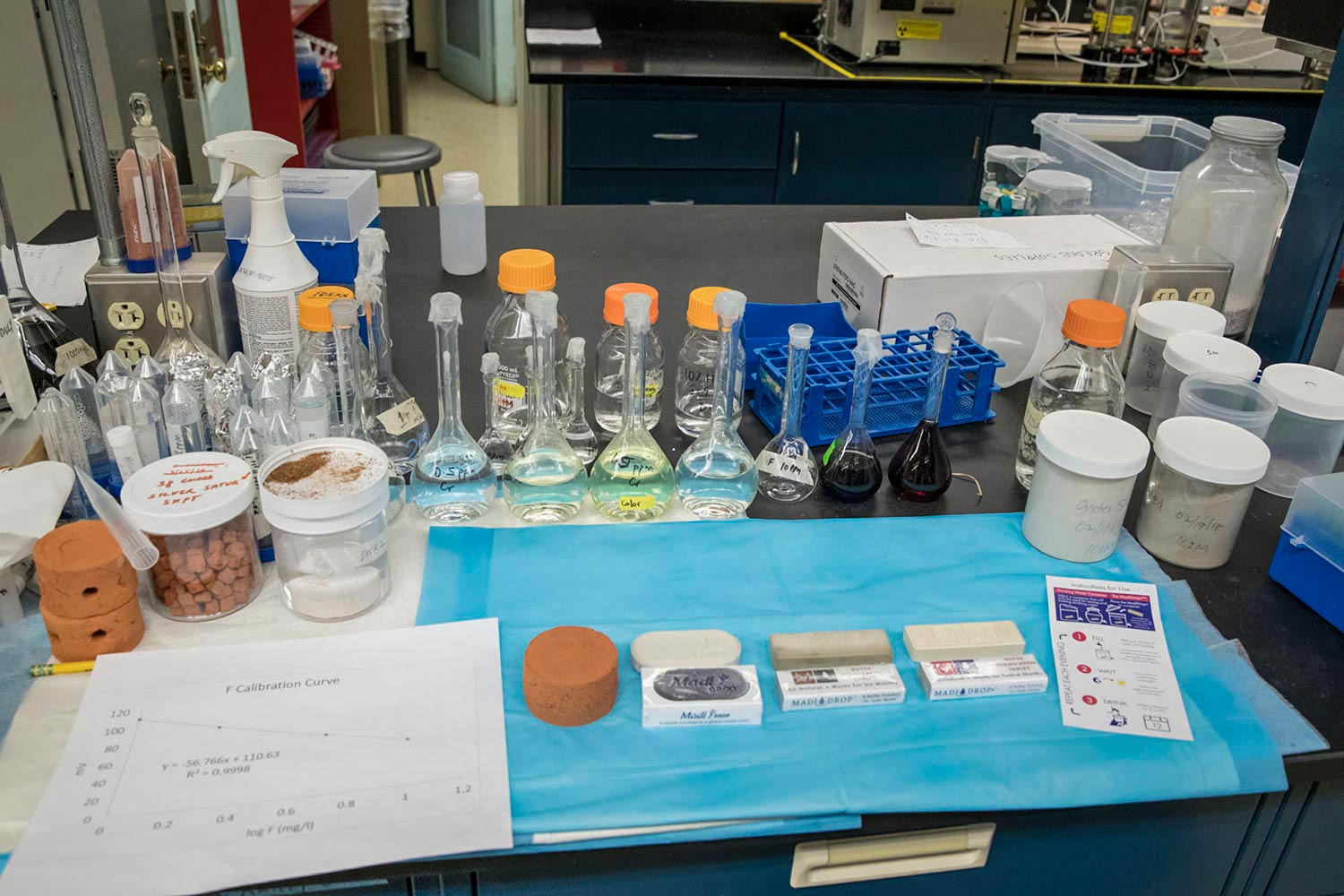 A continuously reusable ceramic tablet developed at UVA disinfects water and is in use by tens of thousands of people in the developing world.
The continuously reusable ceramic tablet – small enough to fit in the palm of your hand – disinfects water by slowly releasing safe pathogen-killing silver ions. MadiDrop+ is designed for easy use; the tablet is simply set in a bucket of contaminated or potentially contaminated water, and within eight hours that water is safe to drink. A single tablet, which is priced for use by people with few financial resources, will treat up to 20 liters per day, enough safe drinking water for a large family. The durable tablet remains effective for daily use for one year.
MadiDrop is produced primarily for charitable organizations that aid people in developing nations and disaster zones.
A Heart Rhythm Solution
The Robert M. Berne Cardiovascular Research Center at UVA is one of the world's premier centers for cardiovascular research. Its namesake, Berne, the late UVA physician and researcher, patented in 1987 a drug called Adenocard, which is used worldwide to treat heart arrhythmia.
Berne and laboratory fellow Luiz Bellardinelli discovered that the naturally occurring molecule adenosine plays a role in controlling blood flow to the heart and regulating heart rhythms. This led to the creation of Adenocard, which restores normal heart rhythm when someone suffers from sudden and potentially fatal arrhythmia.
Under Berne's leadership, the major portions of the royalties from the patent were returned to UVA, and used to establish and endow the center that bears his name. The early work that led to Adenocard has spurred generations of new researchers and further advances in cardiovascular medicine at the center.
A New Understanding of Star Formation
A process called accretion plays a key role in star formation and contributes to the growth of supermassive black holes in the centers of galaxies. But how does it work?
UVA astronomer John Hawley, Hamilton and VITA Professor, and his colleague, former UVA astronomer Steve Balbus, solved a fundamental problem in astrophysics and transformed the field of accretion disk theory.
They determined that a mechanism called magnetorotational instability accounts for the process of accretion. The finding is so important it is now part of the standard theory of how black hole systems develop. Hawley also is known for work that transformed the use of computer simulations for astrophysics research.
For their work, Hawley and Balbus shared the 2013 Shaw Prize in Astronomy, Asia's equivalent to the Nobel Prize. They split a $1 million award and received gold medals for "furthering societal progress, enhancing quality of life, and enriching humanity's spiritual civilization."
Surveying the Milky Way
Instruments designed and built by UVA astronomers for the Apache Point Observatory Galactic Evolution Experiment, known as APOGEE, and installed at major observatories in New Mexico and Chile, are allowing astronomers worldwide to peer through dense cosmic dust scattered through the Milky Way and view stars at the farthest reaches of the galaxy.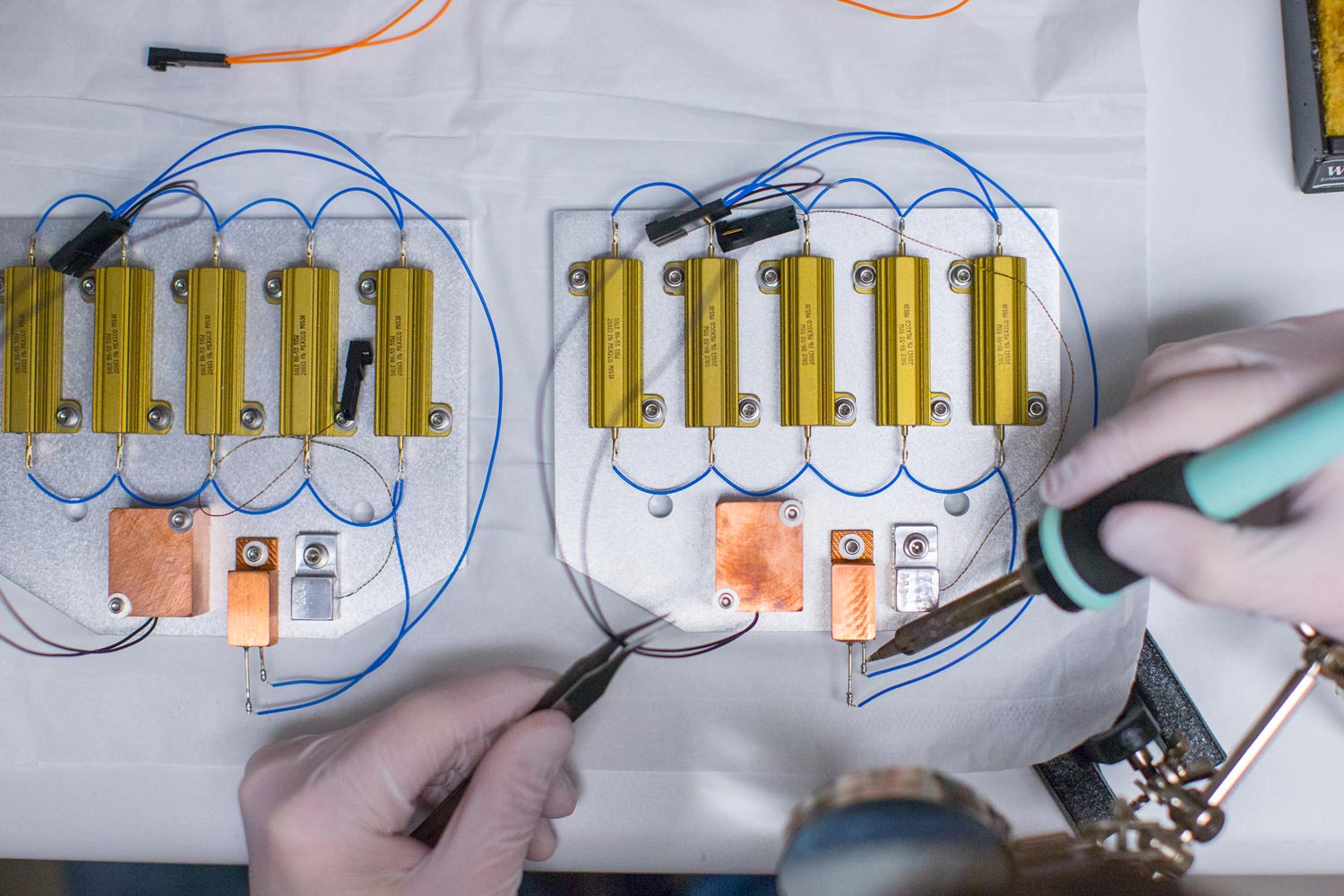 Instruments designed and built by UVA astronomers are allowing researchers worldwide to view stars at the farthest reaches of the galaxy.
UVA astronomers Steve Majewski and Mike Skrutskie and instrument scientist John Wilson built the infrared-sensitive spectrographs, allowing examination of the chemical composition and motions of hundreds of thousands of stars that otherwise would not be visible optically. Using data from their APOGEE instruments, astronomers are gaining new insights to how the Milky Way formed, how it is evolving, how similar other galaxies formed, and helping to identify potential planets in other solar systems.
Mass Spectrometry
Mass spectrometry is a powerful analytical technique that has led to advances in all fields of science, especially immunology, cell signaling, drug development, epigenetics and immunotherapy of cancer. Donald Hunt, University Professor of Chemistry and Pathology, is a pioneer in the field and is recognized for developing mass spectrometry instrumentation and methods for amino acid sequence analysis of the several hundred thousand proteins in the human body.
While mass spectrometry had its roots in physical chemistry, Hunt demonstrated early in his now half-century career that these tools could also be applied to living matter, and ultimately for biomedical uses, such as diagnosis and treatment of diseases, including cancers.
The winner of numerous awards for his groundbreaking research, Hunt is a co-inventor on more than two dozen patents and patent applications, has published more than 3,500 articles, and ranks among the top most highly cited chemists in the world.
Super Steel
Imagine a steel that is twice as strong as conventional steel and is exceptionally corrosion-resistant. And try to imagine it as amorphous – meaning, unlike most materials, it has a randomized arrangement of atoms and variable characteristics. That is what physics professor Joseph Poon and materials science professor Gary Shiflet invented.
The UVA Patent Foundation has since granted a global top-10 company the exclusive rights to develop and commercialize the amorphous steel, which can be used for making
electronic casings, corrosion-resistant structural coatings, surgical instruments and recreational equipment.
Article Information
September 28, 2018
/content/see-sample-amazing-uva-discoveries-past-50-years