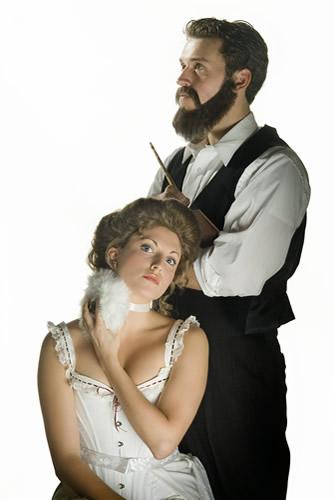 July 12, 2006 -- Heritage Repertory Theatre is putting an exclamation point on a stellar 31st season with Stephen Sondheim and James Lapine's Pulitzer-Prize-winning "Sunday in the Park with George" and Phil Olson's uproarious, karaoke-inspired comedy "Don't Hug Me."
Sunday in the Park with George is a masterful musical meditation on the relationship between the artist and the art.  Based on the life of the great pointillist Georges Seurat, the musical is centered around one of Seurat's most acclaimed masterpiece, "A Sunday Afternoon on the Island of Grande Jatte.  Sondheim and Lapine literally give life to the painting by creating storylines for each character that revolve around George, who works fastidiously to control every last detail of his subjects even as the real people in his own life slip beyond his grasp.
Sunday in the Park with George allows Heritage Repertory Theatre Producing Artistic Director Robert Chapel to put truly classic bookends on the season.  "This summer, I feel extremely privileged to work on two musicals I deeply admire, " Chapel said.  "Both South Pacific and Sunday in the Park with George involve rather serious stories and carry important messages."
While Chapel admires all the giants of the musical theatre scene, he said he reserves his greatest respect for Sondheim. "Over the past 40 years, his body of work has consistently pushed the envelope and challenged audiences to go outside their comfort zone to get to truths that resonate with us all." "Sunday in the Park with George" is a great example, as he examines what it truly means to be an artist and to move forward with one's passion even when the critics seem to loom at every turn.
Sunday in the Park with George will run on July 21-22 and July 24-29.
"Don't Hug Me" is a new musical by Phil Olson that is fast making a name for itself around the country thanks to its razor sharp wit and oddball charm.  Think Fargo Meets American Idol.  When a traveling salesman stops by Gunner and Clara Johnson's bar promising a karaoke machine that will change lives, he is met with a reception that rivals the Minnesota winter air.  One by one, however, the machine lures the characters to take microphone-in-hand and croon the tunes of fictional Nordic songwriting sensation Sven Jorgensen (whose catalog covers influences ranging from Lawrence Welk to Donny and Marie and beyond.
The musical opened in Los Angeles in November of 2003 and was slated for a 6-week-run.  By the time the curtain finally came down on the production it was 6-months later, making it the city's longest-running-musical up to that time.  It won 4 Artistic Director Achievement Awards there, including Best Original Musical and Best Author Play.  A 9-month Minneapolis run followed before the show began to make its way around the country.
Playwright Olson thinks the show's success lies in its universal themes.  "It 's a story about relationships. One of the couples has been married for a long time and needs to make changes in their relationship to keep it together. " The other couple is unmarried and has to face their own set of challenges.  And like all love stories, the answer is found through the magic of karaoke.
But make no mistake &more than anything else, "Don' tHug Me" is about spending an evening filled with pure laughter.  Between the sharp barbs flying back and forth across the stage, Chapel said, "and the ridiculous lyrics of the great Sven Jorgensen flying out of the speakers, my only real concern for our audience members is that they will be laughing so hard, they might miss the next joke."
"Don't Hug Me," directed by HRT audience favorite Eugene Carr, will run from July 18-22 and July 24-29.
To order tickets, visit the box office at Culbreth Theatre or call 434-924-3376.