By almost any measure, the craft distilling movement is booming.
Riding a convergence of factors including distillery-friendly state laws, consumer demand for local, artisanal products and an ongoing cocktail renaissance, the once virtually nonexistent industry continues to show double-digit annual growth rates, with the number of active craft distillers rising 26 percent in 2017, according to data from the American Craft Spirits Association.
Although still a comparative drop in the barrel in the broader spirits market, with total volume representing around 3 percent of total spirits sales, the multibillion-dollar craft industry shows no signs of slowing.
Two University of Virginia Darden School of Business alumni – distilling on opposite coasts and making radically different products – are in many ways emblematic of the movement, each trading successful financial careers to pursue a passion to craft a handmade product on a human scale. Both products, a single malt whiskey from Baltimore and a California-based unaged brandy, nod to the past while carving out entirely new directions.
Learn more about how Old Line Spirits and Frísco Brandy were born – and where they are headed next.
Old Line Spirits
2012 Darden graduate Mark McLaughlin was roughly two years into his post-Darden career as an investment banker at Stifel Nicolaus when he quit to pursue his dream of manufacturing his own craft spirits.
Although he largely enjoyed the work and found investment banking a critical postgraduate financial education for someone who had spent most of his adult life as a Navy aviator, a full-time job was not conducive to developing a business plan on the side.
"I had to cut bait and quit my job and take the risk," said McLaughlin, who had first sketched out his rudimentary plans to launch a distillery in Professor Saras Sarasvathy's "Starting New Ventures" class. "It was time to sink or swim."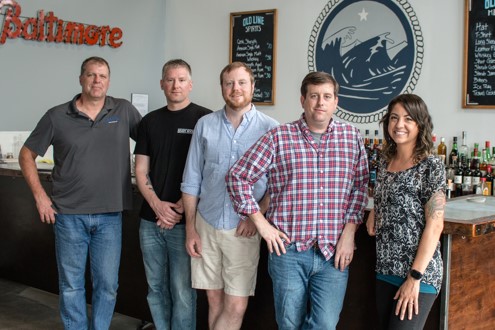 Darden grad Mark McLaughlin, center, with the Old Line Spirits team, who operate in Baltimore's Highlandtown neighborhood. (Contributed photo)

At a conference hosted by the American Distilling Institute in Seattle, McLaughlin had the good fortune to sit next to the owner of Golden Distillery, Bob Stilnovich, a boutique spirits maker in remote Samish Island, Washington, who casually mentioned he and his partner were planning to exit the business.
"They were Vietnam veterans, and I'm an Iraq guy, and we just hit it off," McLaughlin said. "I didn't think much of it at the time, but we stayed in touch."
As the two continued to talk and McLaughlin realized that one could literally pick up and move the for-sale distillery, he and his partners – fellow veteran Arch Watkins, along with Class of 2012 Darden classmates Rob O'Sullivan and Ben Pfinsgraff – began kicking the tires on the business in earnest, culminating with McLaughlin raising the needed capital and moving to Samish Island for two months to learn how to make whiskey, before packing up the still, recipes and formula and moving it across the country to Baltimore.
"One of the really interesting things that Golden Distillery was doing that we've adopted is they were pioneers in a new category of whiskey: American single malt whiskey," said McLaughlin.
The product involves the same grain as single malt scotch – malted barley – but ages the spirit in new oak barrels in the style of bourbon. It's an American-style aging process on an old-world grain concept.
If the recipe was a winner, the process of opening a distillery in Baltimore included its share of setbacks. But Old Line's 25,000-square-foot production facility – which also includes a cocktail bar and event space – in Baltimore's Highlandtown neighborhood is now ramping up to full production.
Making a delicious whiskey is not in and of itself enough to keep the business healthy and growing, however, and McLaughlin said introducing a new product in a nascent category is an enduring challenge.
The flagship single malt is not quite bourbon and not quite scotch, and at $50, priced above what many customers are prepared to pick up on a whim – although still the lower end for single malt products.
That means the most effective marketing strategy is still often a personal one. McLaughlin, his partner and sales employees regularly pour samples at stores, restaurants and bars.
"With the craft spirits market booming, there have been enough companies out there that have put a $50 bottle on the shelf that may not be that good, and I think people get burned once on that and they don't get burned twice," McLaughlin said. "We need to get people out there to taste our product because that trial lets people know there's quality in the bottle and they are much more comfortable reaching for it."
When possible, Old Line seeks placement in liquor stores and bars alongside bourbons instead of scotch, as bourbon shoppers tend to be a bit more adventurous in their purchasing, McLaughlin said.
And how does it taste?
"Obviously, I'm incredibly biased, but it's a phenomenal product," McLaughlin said. "What I love about it is it is very familiar to all whiskey drinkers, because it has some element that almost everyone is familiar with, it has a lot of characteristics of a Highland single malt, but it also has a lot of characteristics of bourbon because it ages in that fresh oak, so it's got lots of caramel and vanillas."
You don't need to take his word. Old Line recently took home Best in Class for American Whiskey at the 2017 Seattle International Spirits Awards.

American whiskey Old Line Spirits, pictured above, and Frisco Brandy, made in California, are both led by Darden alumni. (Contributed photo)
With a significant portion of future whiskey revenue resting in barrels, Old Line also offers an aged Caribbean rum, which is a critical cash-flow generator.
Though getting to this point has cost twice as much and taken twice as long as McLaughlin originally anticipated, he's thrilled to be in the position in which Old Line currently finds itself. A recent equity investment by Constellation Brands, owner of household names like Corona and Robert Mondavi, will aid the company's marketing and distribution efforts.
One additional sign of maturity? Startups looking to get into the spirits industry have sought McLaughlin and his partner's advice on the business. It's a service others – including industry veteran, Darden graduate and Altamar Brands founder and CEO W.L. Lyons Brown III – offered McLaughlin when he was still formulating his model, and one that Old Line tries to pay forward.
"We think it's good for the industry in general, and we would never be where we are if it wasn't for the generosity of others," McLaughlin said. "So it feels like the only right thing to do to help others get started as well."
Frísco Brandy
Charlie O'Connell, a 2008 Darden graduate, was first bitten by the pisco bug while studying abroad in South America, becoming enamored of the light, clear, grape-based spirit.
Unable to find it in the U.S., he made a brief attempt to get into the importing business, until byzantine rules around alcohol dissuaded him from pushing further. Instead, O'Connell went to Darden, graduating at the height of the Great Recession. He eventually landed a job with the restructuring and leveraged finance firm Houlihan Lokey, then moved to Singapore to work for a shipping container company. O'Connell was director of mergers and acquisitions for a multibillion-dollar company by the time he was 30, but the pisco business continued to weigh on his mind.
Moving to the San Francisco Bay Area while winding down his shipping container career, O'Connell hooked up with a cousin who was learning to make wine at the University of California-Davis, and convinced the cousin to help get his pisco project off the ground.
"We would go to his parents' garage in Petaluma and just attempt to make brandy," O'Connell said of his product's earliest days. "We had a crazy contraption lined up all around the garage."
Eventually, the recipe became palatable, and then good, and with the ethos of companies like Uber and Airbnb in the air, O'Connell realized he might have the makings of a spirit and a company without the need to actually invest in much physical infrastructure.
"Instead of setting up our own distilleries, we started researching others to partner with, and eventually we found some candidates who let us use their machines, using our recipe," O'Connell said. "So we started this asset-light distilling model. We came up with a pretty good recipe, but we're not experts and that is not the value-add I bring to this process. So we get to work with these guys, who are just incredible."
The product – a clear, unaged brandy made from sustainably farmed muscat grapes from California's Central Valley – is made at the Charbay distillery by a 12th-generation distiller, O'Connell said.
Seeking to market an American pisco, but barred from using the word outside of its home countries, O'Connell tapped into pride for his adopted hometown to name the new spirit: Frísco. Shocked that no one owned the rights to the name, O'Connell said he now holds the trademark for Frísco – accent over the 'I.'
"Like most stories in the Bay, my intellectual property might be worth more than anything else at the end of the day," O'Connell said.
The young company made something of a splash out of the gate, with a gold medal and Best in Class award at the Los Angeles Spirits Competition and a spot on Wine Enthusiast's "Top 100 Spirits of 2017" list. The publication gave the spirit a 92 rating and said it "might fool your favorite pisco-lover."
The accolades only mean so much in the marketplace, however, so O'Connell and his small team are also doing labor-intensive, in-person marketing as they seek to introduce a new spirit to a wider audience.
"It's a startup, so it's a grind, but it is fun to have an actual product," O'Connell said. "Having people appreciate that and enjoy it is very satisfying."
The Frísco team tries to shed any of brandy's historic connotations by positioning the drink as a cocktail ingredient. At $35 retail, the product is highbrow, but not stuffy; aimed at a demographic that O'Connell says "saves up for plane tickets, not watches."
"Brandy doesn't have to be enjoyed in the library," O'Connell said. "We want to be approachable."
While neither brandy nor pisco enjoy the popularity of other spirits categories, O'Connell said he believes consumer education is a years-long process and notes the radical transformation in outlook for categories once barely known or relegated to the back of the liquor cabinet.
"Thirty years ago, vodka was something people in Russia drank, bourbon was for granddads and tequila meant Jose Cuervo. No one knew what mezcal was five years ago," O'Connell said. "I feel very strongly that there is a window for us."
O'Connell said he took some entrepreneurial courses at Darden, but credits the general management education for understanding the nuts and bolts of running a business, where sales mean nothing if his accounts receivable isn't also high-functioning, for instance.
"In a lot of ways, the general management training has been even more important than some of the entrepreneurial lessons," O'Connell said. "If you look at so many of the companies that fail, I think it's because people just don't appreciate how hard it is starting and running a business, and all the plates you have to keep spinning."
Media Contact
Article Information
September 14, 2018
/content/thats-spirit-darden-alumni-make-mark-surging-craft-distillery-scene