Even a new round of attacks could not defeat a group of determined Hoos. For the second consecutive year, a team of University of Virginia computer science and mechanical engineering students won the championship at the National Collegiate Cyber Defense Competition, held April 25 in Orlando, Florida.
UVA's Cyber Defense Team prevailed over finalist teams from nine other universities in the prestigious competition sponsored by Raytheon, a company specializing in defense, civil government and cybersecurity. UVA won its initial title in 2018 in the team's first year of entering the competition.
In a series of activities simulating real-world cybersecurity scenarios, the UVA team retained the coveted Alamo Cup by successfully shielded a fictional agriculture firm from hackers.
"We had to protect a fictional agriculture company's business infrastructure against industry professionals who were attacking the systems and trying to take them down," team captain Mariah Kenny said. "We had to keep our services running while under active attack, as well as complete technical and business tasks that mimicked a business environment."
Competing for the team in Orlando alongside Kenny were Calvin Krist, Daniel Chen, Roman Bohuk, Jack McDowell and Jake Smith, all computer science undergraduates; computer science Ph.D. student Jack Verrier; and Conner Steenrod, a mechanical engineering major. Will Mayes, Caroline Linkous and Sam Spelsberg, also computer science majors, were alternates for the national competition. Yonghwi Kwon, John Knight Career Enhancement Assistant Professor of Computer Science, advised this year's team.
"This year's competition was very intense," Kwon said. "Eight out of 10 teams were veterans, meaning that they were experienced and well aware of the rules. Among those teams, UVA's stands out in both technical skills, protecting business services, as well as communication skills in responding to other stakeholders.
"In particular, teams need to write reports for business tasks during the competition. Writing a quality report while defending the network under pressure is challenging. Our team did a great job writing succinct reports, which I believe is one of the most critical skills students need to have for their future careers."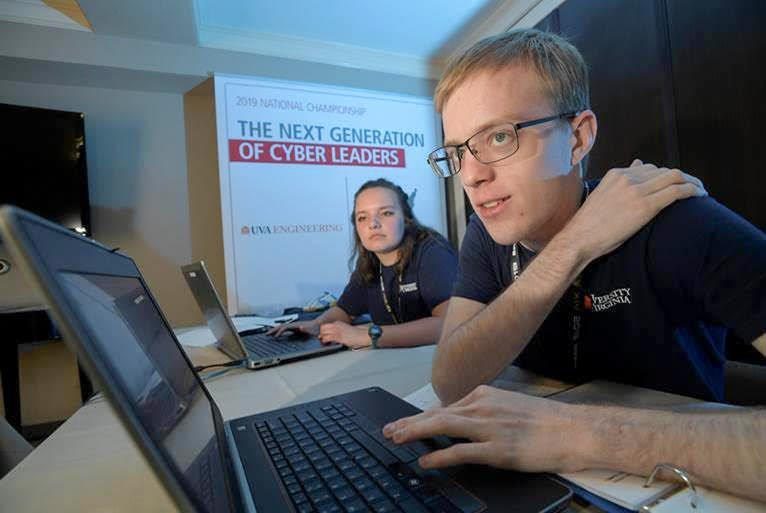 Students Mariah Kenny and Conner Steenrod work diligently at this year's National Collegiate Cyber Defense Competition. (Contributed photo)
"We are so proud of these student leaders," UVA Engineering Dean Craig H. Benson said. "They are going to be some of the most sought-after cybersecurity professionals in the country when they leave UVA, and we are very glad they will be among those protecting society from future cyber threats."
Exploration of cybersecurity careers is an important reason the National Collegiate Cyber Defense Competition was created, allowing students to engage in practical applications of cyberdefense skills during multiple stages of competition. The competition scenarios are designed to simulate real-world problems that students may expect to encounter when they enter the workplace.
"NCCDC's systematic, professional approach to this competition, and the use of real-world business scenarios, helps attract the talent that will fill the 3.5 million cyber job vacancies we will see by 2021, according to research published by Cybersecurity Ventures," John DeSimone, vice president of cybersecurity and special missions at Raytheon Intelligence, Information and Services, said in a news release.
More than 235 colleges and universities competed regionally for the chance to be among the 10 finalists to qualify for the three-day national championship.
Kwon said UVA students give great credit to a "Penetration Testing" course taught by Ahmed Ibrahim, an assistant professor in UVA Engineering's computer science department and faculty adviser for the 2018 championship team. The course requires students to understand how a computer program is exploited. In order to do that, they need to know the details of how the program is written and understand its interactions with existing software. This broadens students' knowledge of how security issues work in the real world.
"This knowledge was reflected in many of the written security analysis reports in the competition," Kwon said. "It showed the UVA team members understood the attacks in detail."
Kevin Skadron, Harry Douglas Forsyth Professor and chair of UVA's computer science department, said the students deserve praise for their diligence in and outside of classes.
"I think this demonstrates UVA students' outstanding technical depth and their ability to work well in high-pressure situations," Skadron said. "It also shows how well-rounded our students are in terms of their ability not only to meet the technical challenges, but communicate effectively in a rapidly changing situation. I know the team put in a huge amount of work to prepare for this, and their preparation paid off."
The UVA team practiced multiple times each week leading up to the competition, creating small-scale competitions to test their skills.
"Our teamwork and communication gives us a competitive edge. We are definitely a more technical team than we were last year," Kenny said. "But even with our increased technical ability, we still worked together as a team really well and were constantly communicating."
Kwon said he is impressed with how supportive and cooperative UVA's students are with each other, even in very difficult situations.
"It's absolutely incredible to win for the second year in a row," Kenny said. "Last year was the first time we ever competed in this competition, and to win nationals for the first two years of ever competing is amazing and shows that our team has something special."
Article Information
April 30, 2019
/content/two-two-uva-students-defend-national-cybersecurity-championship