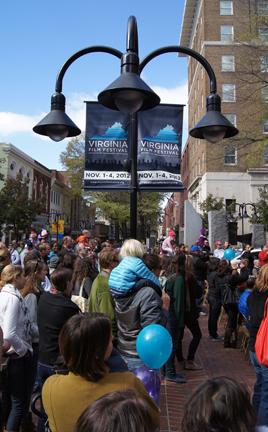 The 2013 Virginia Film Festival, presented by the University of Virginia's College of Arts & Sciences, has announced a revamped format for its annual Family Day festivities.
Managed by the festival's community outreach and education program, the Family Day events will shift this year to the Betsy and John Casteen Arts Grounds at U.Va. They previously took place on Charlottesville's Downtown Mall.
This year's revitalized festival, set for Nov. 9, will work with constituents across the U.Va. arts community to offer a comprehensive and immersive series of film-focused arts experiences, including a variety of interactive movie-themed workshops.
Participants will include representatives from the Department of Drama, the Charlottesville and University Symphony Orchestra, the School of Architecture, The Fralin Museum of Art at the University of Virginia and the Kluge-Ruhe Aboriginal Art Collection.
"We are really looking forward to expanding our Family Day offerings this year," said Jody Kielbasa, U.Va.'s vice provost for the arts and director of the Virginia Film Festival.
"We will be engaging the entire community in a dynamic series of presentations that leverage the extraordinary talent and creativity of the University of Virginia's arts professionals while offering a window not only into the world of film, but also into the kinds of quality arts experiences that are offered here throughout the year."
Once again this year, the festival's Young Filmmakers Academy will showcase the work of budding young artists as a highlight of the Family Day festivities.
The academy introduces students to the challenge of filmmaking. Students work in teams to write, produce and edit brief films around a common structure. This year's assignment focuses on props, the furnishings, hand-held objects, decorations and other moveable items used in films. The theme, "A Proper Film," will challenge young filmmakers to put on a director's cap and think about props of all kinds and sizes as the inspiration for their films.
On Family Day, the festival will honor the young filmmakers with a red carpet experience and a screening of their work. The academy screenings feature short films by elementary and middle school students from around Charlottesville and Albemarle County, supported by teachers and the festival's outreach and education team.
Classroom teachers interested in participating should contact Jane Freeman at 434-823-4221 or janefreeman@virginia.edu by Sept. 5. Available spaces will be awarded on a first-come, first-served basis.
All 2013 Virginia Film Festival Family Day activities are free and open to the public.
"We are very thankful to our partners at the Bama Works Fund of Dave Matthews Band in the Charlottesville Area Community Foundation and at the Charlottesville City and Albemarle County schools for their strong and important support of our Family Day programs," Kielbasa said.
The festival will make its full program and schedule announcement on Oct. 8. For information, visit www.virginiafilmfestival.org.