Every Tuesday at Mount Zion First African Baptist Church in Charlottesville, a line of cars and people forms, and doctors, nurses and staff, clad in protective equipment, swab each patient, testing them for the novel coronavirus.
The church is one of four community testing sites that the University of Virginia sets up each week, part of its effort to offer free COVID-19 testing to the Charlottesville community in partnership with the Virginia Department of Health. UVA volunteers, including doctors, nurses and staff, also set up shop at the Church of the Incarnation, and at two additional sites that rotate each week based on community need and where public health officials are seeing virus outbreaks.
The community testing program began this summer, and more than 3,000 tests have been performed so far. On average, each site administers about 75 to 115 tests per outing, usually over about a two-hour period.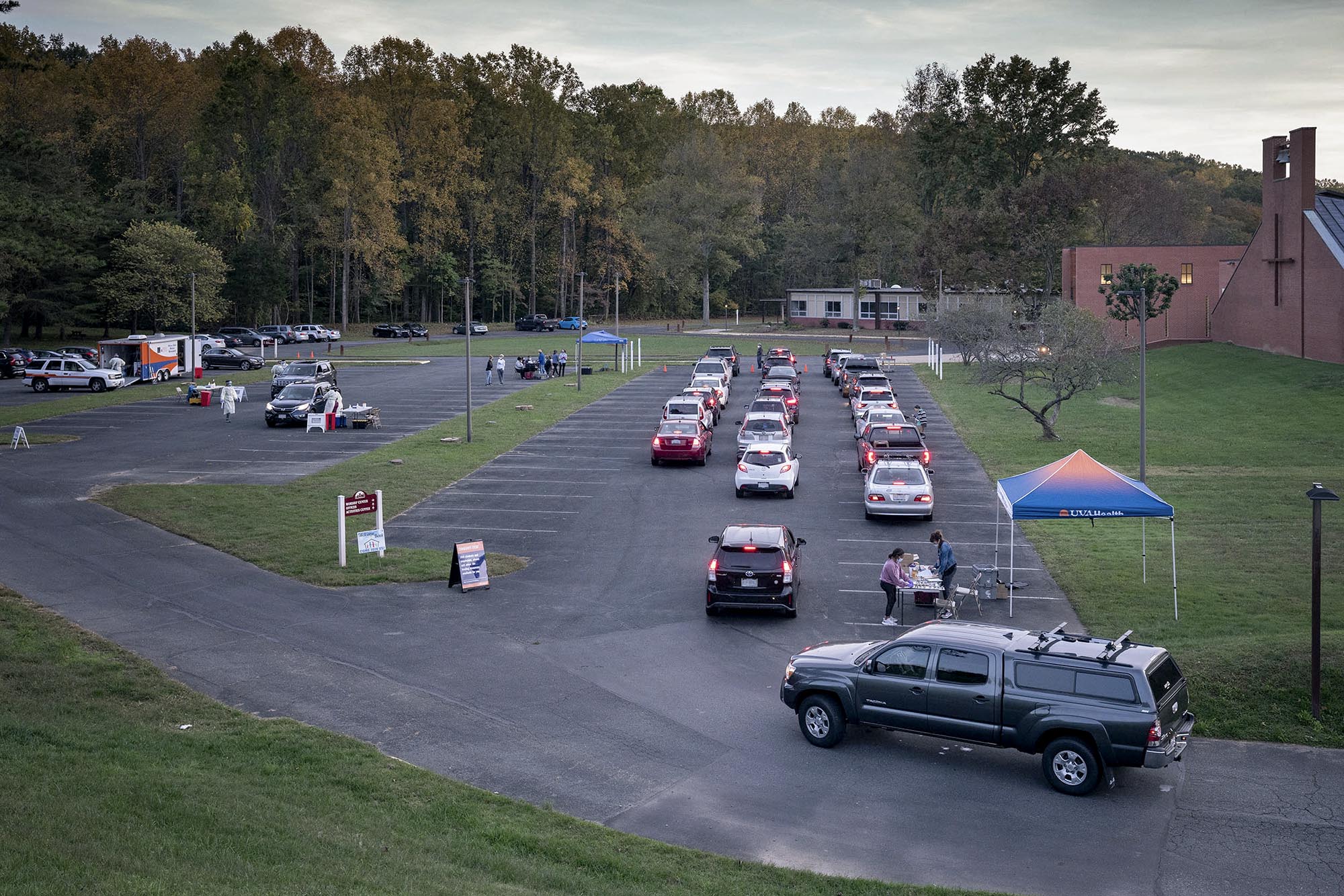 The testing centers are busy each week, with about 75 to 115 tests conducted per outing and more than 3,000 conducted so far. (Photo by Sanjay Suchak, University Communications)
"We have learned that many people feel more comfortable getting tested in their own environment, at a church or a neighborhood they are familiar with, over coming to UVA to get tested," said Dr. Mohan Nadkarni, chief of UVA's Division of General Medicine, Geriatrics, Palliative Care and Hospital Medicine and the medical lead for the community testing program. "We have had a great turnout so far, and it's been great to be able to respond to those needs."
The UVA-sponsored community testing events are strictly for community members; they are one component of the University's overall testing program, an effort built from the ground up seven months ago that includes pre-arrival testing for students;, testing for symptomatic students, faculty and staff; prevalence testing among students; a rapid-response saliva testing program; and a wastewater analysis program.
The doctors, nurses and staff at each community testing site use a PCR antigen test, and results are usually available in 48 to 72 hours.
Patients who test positive are quickly connected to the Virginia Department of Health for contact tracing, and to the UVA Equity Institute and other community agencies that can provide information about support services, including assistance with food and health care or resources to help with the cost of medications. Goods and supplies, such as personal protective equipment, cleaning supplies and food boxes, are also available.
"It's very important for people to know that these support services are available, and that help is available if you test positive and need support," Nadkarni said.
UVA and the Department of Health will soon add another site, at Charlottesville High School, that can accommodate more than 200 tests a day, adding even more capacity. Community members can also see a full list of testing sites, including the UVA sites, on the Virginia Department of Health website.
Article Information
October 20, 2020
/content/uva-community-testing-provides-thousands-free-covid-19-tests-charlottesville