Find the latest information on the University's response to the coronavirus here.
Rhoback, the line of stylish activewear owned and operated by University of Virginia Darden School of Business alumni Matt and Kristina Loftus, has temporarily shifted much of its production from performance polo shirts, pullovers and performance T-shirts to face masks intended to stop the transmission of the novel coronavirus.
Matt Loftus said the company began designing the masks in mid-March, as the crisis spread across the United States and reports of face mask shortages began to multiply. Since then, the Centers for Disease Control formally encouraged U.S. residents to use cloth masks to slow the spread of the virus.
At the beginning of April, Rhoback began taking preorders for their "Victory Masks" – a nod to World War II-era "victory gardens" – which they are selling at cost in a five-pack for $30. Rhoback plans to donate the first 500 masks they produce to health care workers on the front lines.
The organic cotton and polyester masks are reusable and unadorned, except for a small American flag in one corner. Just three days after posting the link for the preorder on the Rhoback site, the company had sold more than 15,000 masks at cost for May delivery.
"It's our generation's turn to step up, wear a mask and slow the spread of COVID-19," said Loftus, who started the company with his then-fiancee while enrolled at Darden. "We believe we had an obligation to do this, as we have a supply chain that is equipped to make masks with a one-month lead time."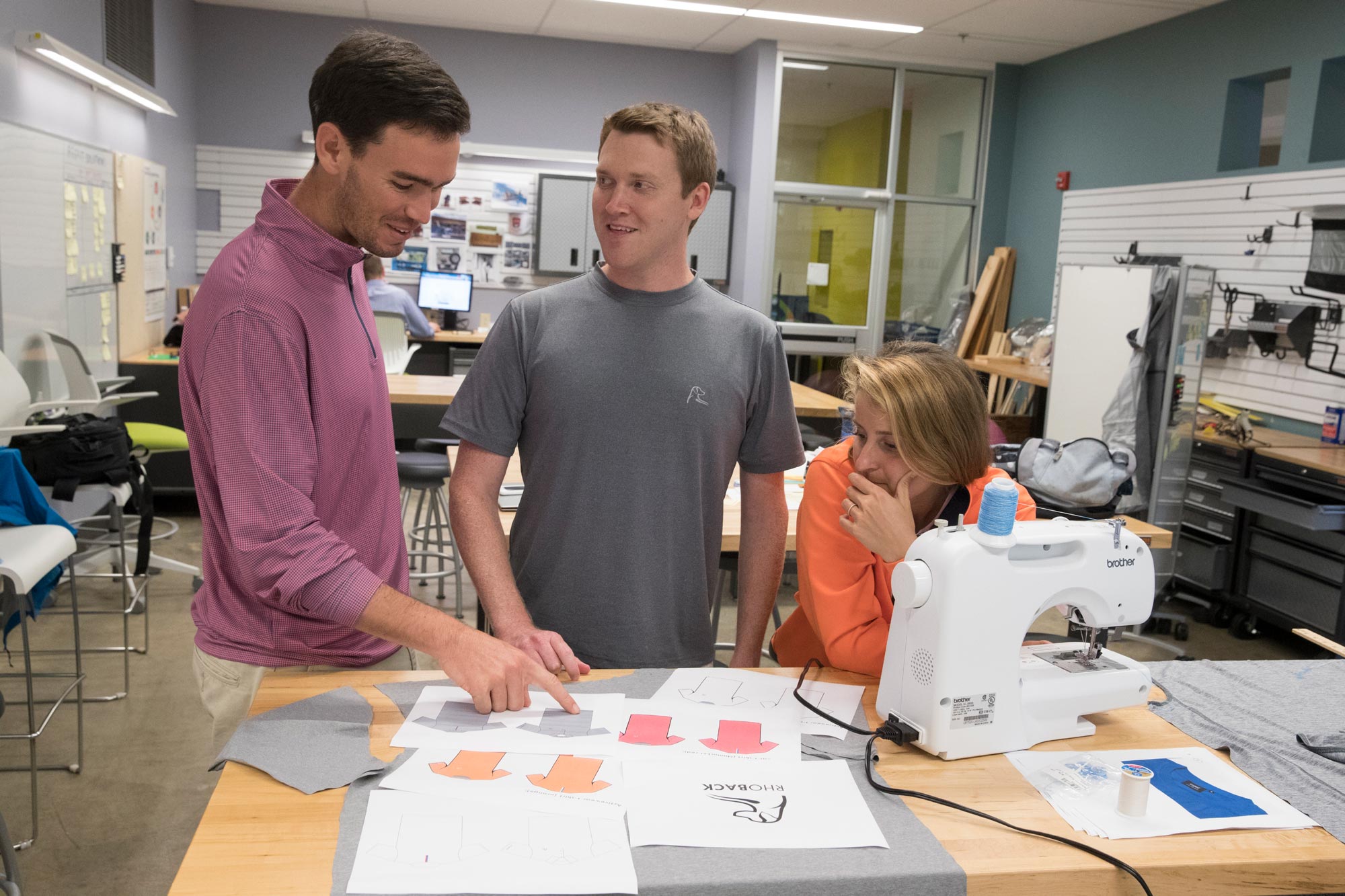 Matt Loftus, left, business partner Kevin Hubbard, and Kristina Loftus, shown here in UVA's iLab in 2017, started Rhoback while enrolled at Darden. (Photo by Dan Addison, University Communications)
As word of the effort spread, Loftus said the company began fielding inquiries from former Darden colleagues asking if they could assist in the fulfillment of orders.
Rhoback is currently taking a pause in orders to take stock of their efforts and ensure the company can fulfill all of its orders.
Prior to the pandemic, Loftus said Rhoback was on a tear, growing 300% each year for the past two years and on pace for a 200% increase in 2020. In March, as sales began to slow and the gravity of the pandemic came into focus, Loftus said the company decided to temporarily shift its focus to doing what a startup apparel company could do to help fight the pandemic.
In addition to developing masks at cost, the company created the Carts4Hearts campaign, and is trying to encourage other e-commerce brands to offer a sale on their websites on Thursday, April 16 to benefit those affected by the coronavirus pandemic. Rhoback plans to donate 20% of its sales that day to The Charlottesville Restaurant Community Fund.
The company has also asked customers to nominate friends and family members who are working on health care front lines or struggling through the pandemic, and recently sent out 150 shirts as part of its now-completed "Pick-Me-Up Polo" campaign.
Everyone at Rhoback is working from home, Loftus said, aside from the fulfillment team led by fellow Darden alumna Alyce Outlaw – a group that now includes the Loftuses and their co-founder, Kevin Hubbard. The fulfillment team is working staggered shifts to ensure no more than one or two people are in the fulfillment warehouse at any given time, Loftus said.
"Nearly every day since early March has been a live Darden case study," Loftus said. "We believe we have set our brand up for success while also helping many people across the country, and we owe a lot of this to our Darden preparation."
Article Information
April 10, 2020
/content/uva-darden-grads-activewear-apparel-company-shifts-focus-mask-production