Responding to a need for engineers trained to help solve the complex, global problems of the 21st century, the University of Virginia School of Engineering has launched a new department: Engineering Systems and Environment.
The new department unites students, faculty and staff from UVA's civil, environmental and systems engineering disciplines – formerly split into two separate departments – for a collaborative and whole-system approach to modern challenges ranging from smart cities to environmental resilience to health care. The department is the new home for the existing graduate and undergraduate degree programs in civil and systems engineering.
The State Council of Higher Education for Virginia approved the new department earlier this month, the first for UVA Engineering in more than 40 years.
"UVA Engineering is focused on making the world better by creating and disseminating knowledge and by preparing engineers who will keep making discoveries far into the future," Dean Craig H. Benson said. "This department represents an innovative way of thinking about how we can do all of those things at a very high level. The increased collaboration among our civil, environmental and systems faculty will inspire new ideas and lead to exciting experiences for our students. I am proud that our faculty recognized and seized this opportunity."
The vision for the Engineering Systems and Environment Department evolved from a dialogue among faculty in 2016-17 about how the Engineering School's structure could be refined to support researchers' increased focus on what they termed society's "wicked problems" – too complex to be addressed within one discipline.
UVA's strong culture of collaboration among researchers from different disciplines, departments and schools already fosters multidisciplinary teams. However, faculty determined that the new department would further eliminate boundaries, better project UVA Engineering's focus on tackling the large-scale challenges today's civil, environmental and systems engineers face, and attract top faculty and students.
"We are fulfilling our faculty's vision to advance education, research and service focused on the interdisciplinary integration of technology to address the needs of communities, individuals and the environment," said professor Brian Smith, the first chair of Engineering Systems and Environment. Smith previously chaired the Department of Civil and Environmental Engineering. Civil engineering was established in 1836 as UVA's first engineering program.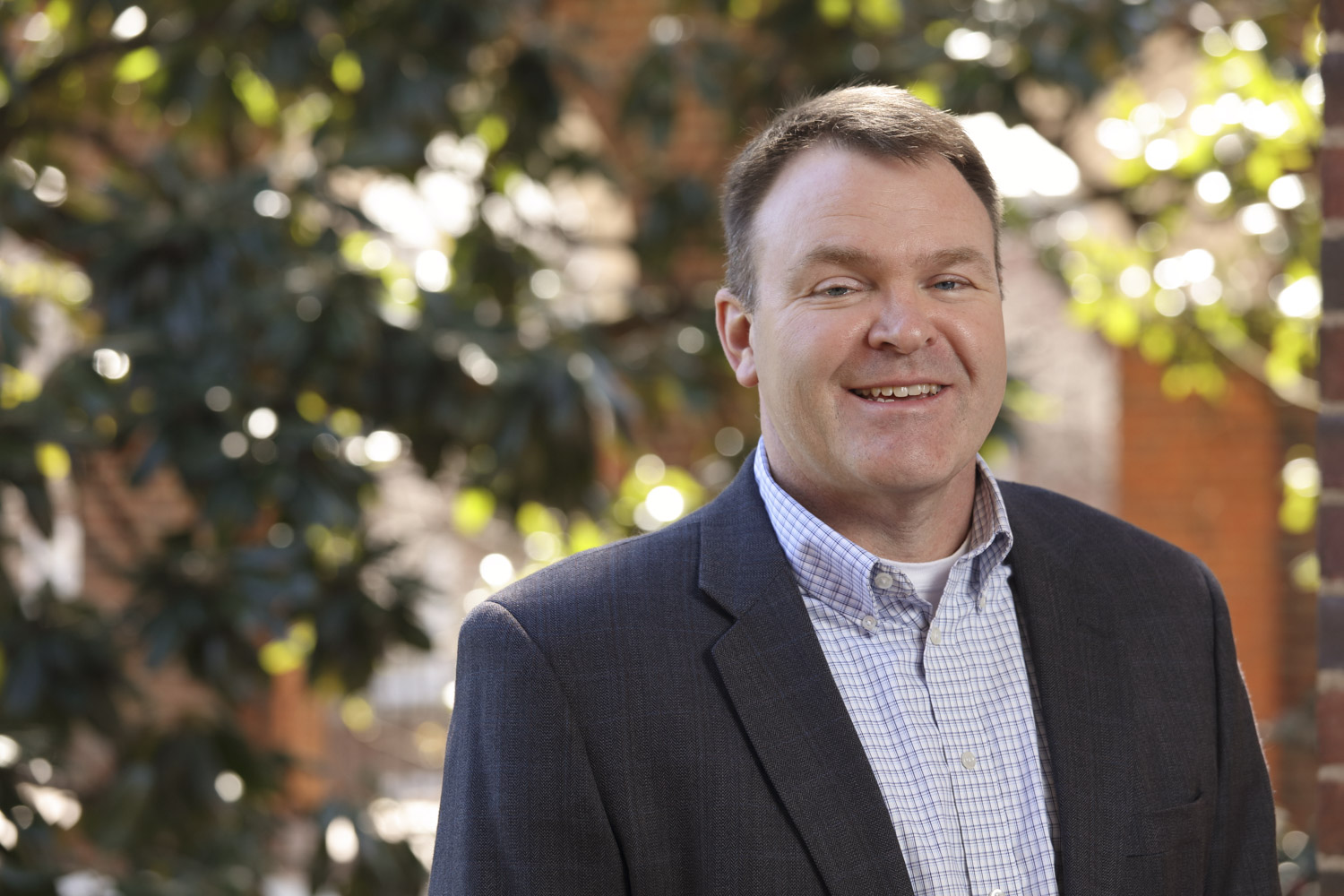 Brian Smith is the first chair of the new Department of Engineering Systems and Environment, the first new department in the Engineering School in more than four decades. (Engineering School photo)
"The creation of the Department of Engineering Systems and Environment was driven by our commitment to provide students with a world-class education," Smith said. "We will provide students with expanded course offerings, exciting new experiential learning opportunities and a stronger link to the engineering industry in Virginia and beyond." 
The department's vision reinforces increased efforts from faculty to attract outstanding students, many of whom are looking for career paths that will allow them to make a difference in areas of significant societal challenge, such as environmental resilience. In September, associate professor Lisa Colosi Peterson earned the department's second grant from the U.S. Department of Education for Graduate Assistance in Areas of National Need, which provides fellowships for diverse cohorts of graduate students. Through the grant, the department has a total of $1.2 million to support graduate students through August 2022.
That program already has brought in 14 new graduate students, all from populations traditionally underrepresented in engineering – women and Hispanic and African-American students, and more will be recruited over the next several months to apply for the program.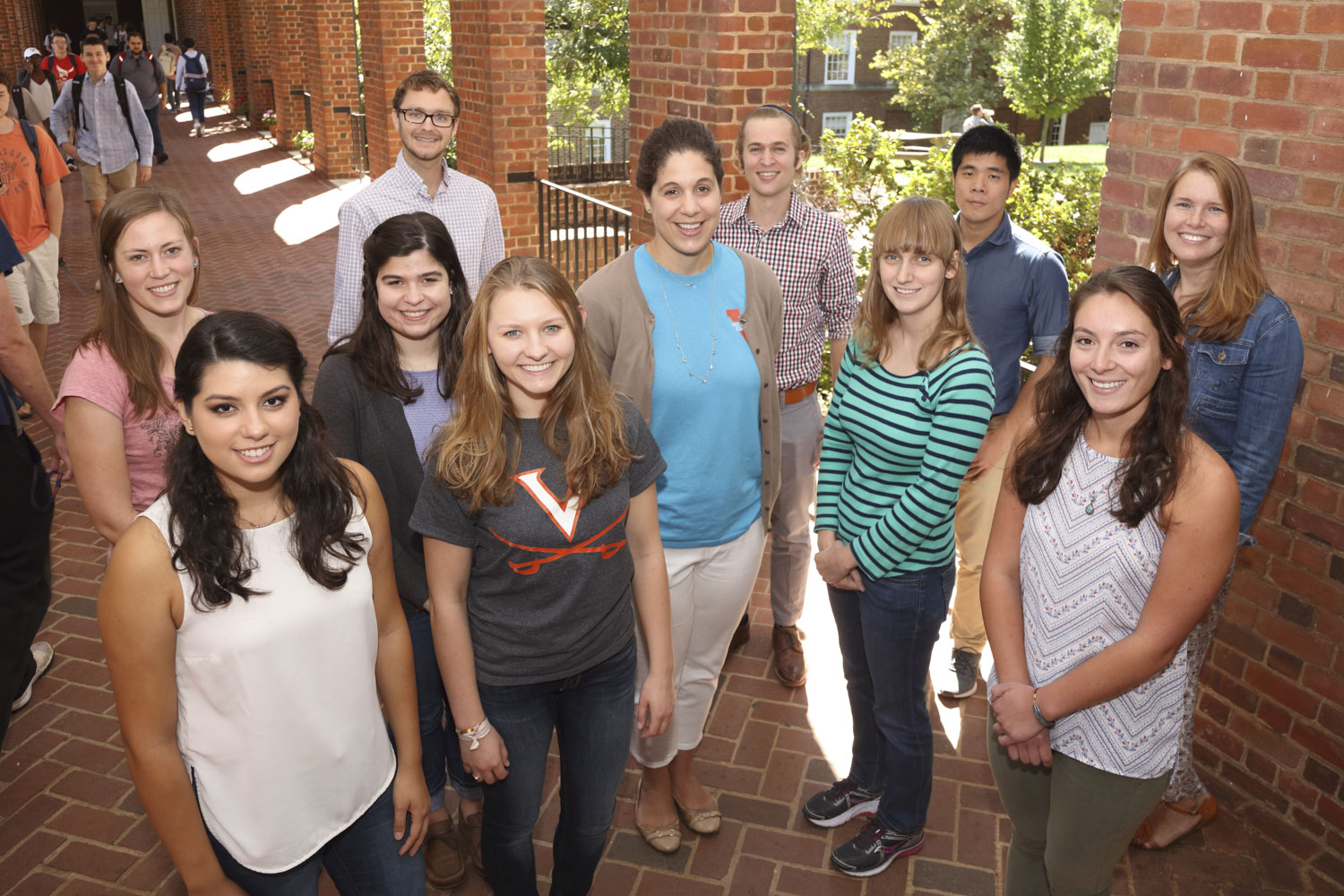 Associate professor Lisa Colosi Peterson stands with some of the 14 new graduate students brought in through the Graduate Assistance in Areas of National Need program. (Photo by Tom Cogill)
"Our focus will be reimagining and rebuilding the nation's water infrastructure to be smarter, greener and more resilient," Colosi Peterson said. "These students will be in a position, over a very long term, to help elevate our profession's contributions to a better world."
The new department occupies the spaces in Olsson and Thornton halls that housed the former systems and civil engineering departments. Its main office is in Olsson Hall. Thirty faculty have primary appointments in Engineering Systems and Environment, and another six faculty have joint appointments there.
The department builds on existing systems, civil and environmental engineering faculty collaboration in UVA Engineering's Link Lab for cyber-physical systems, which opened in early 2018. Researchers are engaged in multiple projects in the areas of smart and connected health, smart cities and autonomous systems.
The department's research vision also aligns with UVA's role in the Center for Visual and Decision Informatics, a National Science Foundation Industry-University Cooperative Research Center aimed at researching and developing next-generation technologies in data science, big data and analytics to help government and industry decision-makers improve the way their organizations' information is interpreted. Professor Peter Beling, who served as interim chair of the Systems and Information Engineering Department and helped lead the transition to the new department, co-directs the center.
Beling, Smith and other Engineering Systems and Environment faculty also are affiliated with UVA's Data Science Institute and Environmental Resilience Institute. The department leads the six-university Mid-Atlantic Transportation Sustainability University Transportation Center, aimed at accelerating transportation systems' adoption of sustainable practices, and UVA's Center for Transportation Studies, which provides national education, research and service programs in transportation engineering.
"We have a compelling research strategy focused on our strengths in such areas as large-scale systems and decision support, integrated infrastructure, human-automation collaboration and environmental data science," Smith said.
Article Information
October 24, 2018
/content/uva-engineering-launches-department-engineering-systems-and-environment