The Caribbean islands might sound like the ideal beautiful, balmy vacation spot, but for scholars who study the region, it is so much more – a place of important history and flourishing arts that has much to show its neighbors and past conquerors, a region that has often been misunderstood because of its struggles.
"The Caribbean is a place of profound linguistic and cultural contact, and the birthplace of anti-racist and anti-capitalist revolutions," Spanish professor Anne Garland Mahler said. "In essence, there is very little in this world that does NOT somehow connect back to the Caribbean."
At the University of Virginia, faculty in the Carter G. Woodson Institute for African American and African Studies and other departments are responsible for two new recent graduate programs, one that focuses on Caribbean culture and a separate one on Africana studies, which includes Caribbean history.
"To the general public, it might seem like a buried history, but the Caribbean is so much more than tourism," said Marlene Daut, professor of African American and African Studies and an expert on Haiti who helped create the new program on Caribbean literatures, arts and cultures.
When Christopher Columbus arrived in the New World, he hit these islands first. Over the years and the subsequent trips that  Columbus and other Europeans made, the indigenous populations were almost entirely exterminated on many islands, due to a deadly combination of resistance through warfare with the conquistadors and smallpox, which the Europeans brought with them to the Americas.  
Daut said each island or nation has a separate history, although the region is often taken as a whole because of the issues they share, such as the legacy of slavery and the modern threat posed by climate change.
The programs address the need for expanded scholarship about the African diaspora and increasing student interest. They aim to encourage faculty and graduate students from different departments to form multi-disciplinary communities around shared research interests and methods through courses, workshops and mentoring.
Each year, the Graduate School of Arts & Sciences determines research areas for which departments offer competitive "Interdisciplinary Doctoral Fellowships," to create a broader intellectual community. Selected cohorts of graduate students are admitted to a specific department's Ph.D. program and then work with faculty across the humanities and social sciences related through cross-disciplinary topics. "Caribbean literatures, arts and cultures" is one of five different research clusters currently being offered.
"I felt that having a fellowship that promotes diversity within the University spoke volumes about UVA's attempts to become a more inclusive and diverse educational institution. As a Caribbean immigrant, and as a first-generation college student, I appreciate the University's efforts to create spaces and provide resources for students like me, especially within the humanities." "

- Yafrainy Familia
graduate student
The Woodson Institute also introduced a graduate certificate program in Africana studies last spring that is accessible to current graduate students in humanities and social sciences departments who want to expand their study and professional credentials. They must apply for acceptance into the certificate program after their first graduate year and get an endorsement from the director of graduate studies in their department. UVA offers certificates like this in several other interdisciplinary areas as well.
Kevin Gaines, the Julian Bond Professor of Civil Rights and Social Justice, who holds a joint appointment in the Corcoran Department of History as well as African American and African Studies, is teaching the core introductory graduate course for the certificate program. He gives some background to the graduate programs, citing Carter G. Woodson, a Virginia native and early 20th-century educator for whom the institute is named. Woodson promoted the first Black history week (now month) to recognize the contributions of African Americans.
"Just as the Black historian Carter G. Woodson devoted his life's work to writing the neglected history of African Americans and people of African descent against the grain of a racist society," Gaines wrote in email, "so have scholars in Africana studies focused on the history, politics, literature, art, intellectual and social thought of peoples of African descent traditionally neglected by white-controlled universities.
"Over the last half-century or so, there has been much change in terms of what kinds of knowledge and scholarship are valued and taught in universities," he said, even though many historically white institutions have been slow to change.
Gaines' course surveys key texts and major themes that have shaped the development of African American, African and Caribbean studies.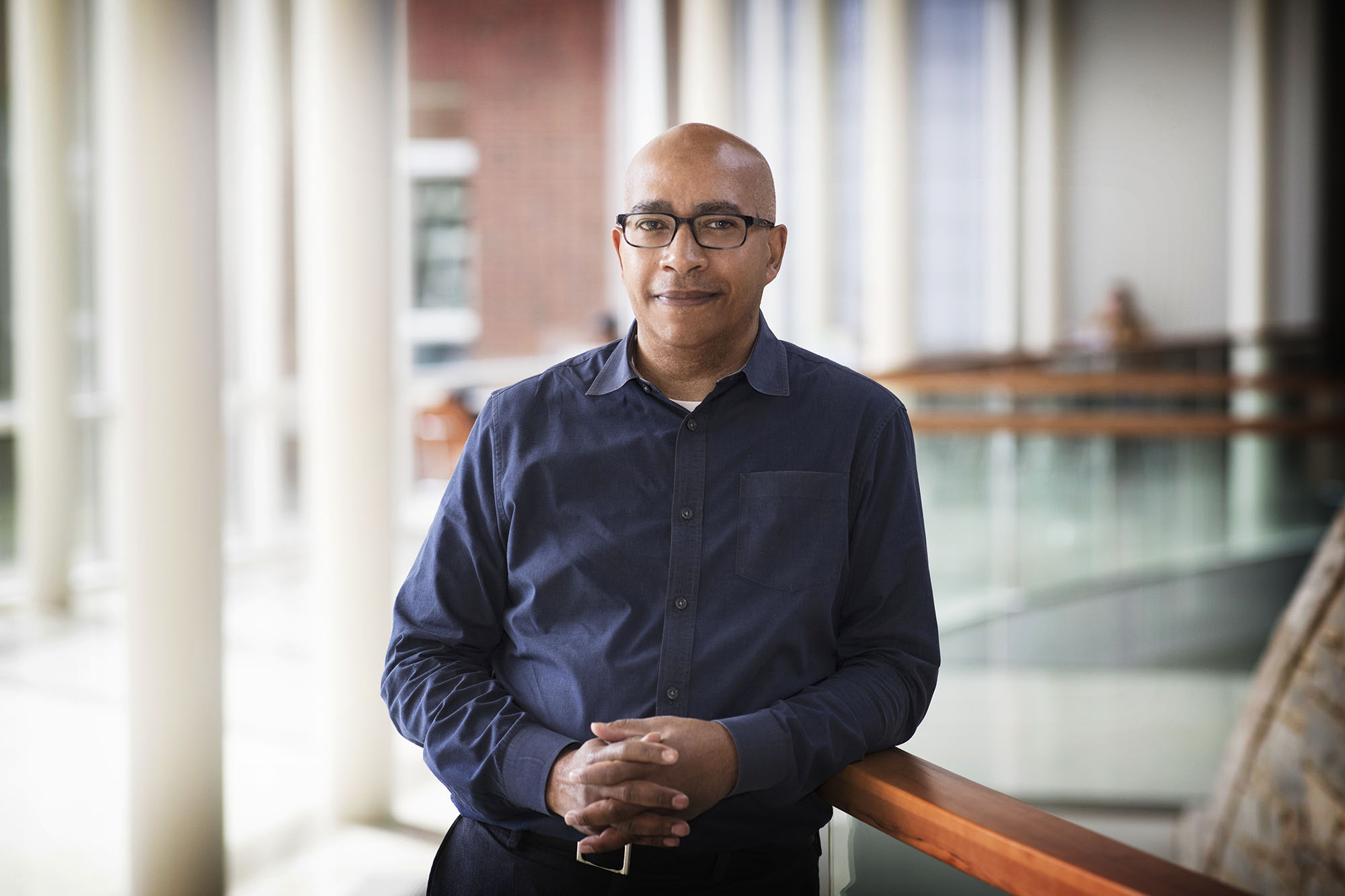 Kevin Gaines said Africana studies' focus on the history, literature, and lives and perspectives of Black peoples, as a global phenomenon, has transformed humanities and social science disciplines. (Photo by Dan Addison, University Communications)
After World War II, Gaines said "humanities and social science scholars of all backgrounds, led by Black scholars working at historically Black institutions, began to focus on the history and literature of Black peoples – not just African Americans, but also Africans and African-descended peoples all over the world. Black scholars and sympathetic whites wrote histories of global slavery and colonialism, highlighting the history-making agency of Black and African peoples, resisting the monolith of scholarship by apologists for slavery, colonialism and imperialism.  
"Africana studies flourished in the years after the U.S. civil rights movement. The focus on the history, literature, and lives and perspectives of Black peoples, as a global phenomenon, transformed humanities and social science disciplines," he said.
According to the program description, areas of study might include critical race studies, gender and sexuality, the history of slavery and abolition, immigration, carceral studies, environmental studies, literary and cultural studies, social justice, intellectual history, economic history, media studies, and international politics.
Ryan Russell, in his third year of the politics department's graduate program, said, "The certificate program helps me merge my interests between politics and Black diasporic history more broadly.
"I want to get the graduate certificate because the program helps to add a necessary interdisciplinary lens to my work, helping to bring more African and African American history and thought to my project."
The interdisciplinary lens is also very much needed in studying the Caribbean region, professors said. There are very few graduate programs that offer this focus and they are more likely to be found at institutions in big cities with large numbers of people with Caribbean heritage like New York and Miami, Daut said.
She and the other professors who proposed the research cluster of "Caribbean literatures, arts and cultures" for the interdisciplinary doctoral fellowship program experienced that lack as individual graduate students when they had to cobble together their own paths in studying the region. UVA is already creating a scholarly community that graduate students can join, the Greater Caribbean Studies Network.
The Caribbean islands include 13 sovereign nations and 12 dependent territories. In addition to the five official languages of English, Spanish, French, Dutch and Haitian Kreyòl, there are 59 other spoken indigenous languages. Caribbean peoples have spread even further, taking their languages and cultures with them. Made up of indigenous Americans, Europeans, Africans and Asians, the cultural region stretches from the Caribbean Sea to the Gulf of Mexico, down the Atlantic coasts of Central and South America, to the diasporic communities of cities like Montréal, Miami, New York, Paris and London.
When Daut teaches about Haiti and the Caribbean region, she said she goes way back before 1492, back thousands of years to talk about different groups of people and how they lived and moved around the islands, as a way to expand students' understanding of the region's richness.
"It's so wonderful to see the University's significant investment and support and so much interest from the students," Daut said. Even in its first year, the program's interdisciplinary doctoral fellowships have attracted a diverse group of doctoral students to UVA, she said, including students from the Dominican Republic and Puerto Rico.
Yafrainy Familia, a first-year doctoral student in Spanish, was born in the Dominican Republic and raised in Puerto Rico. She's attending UVA remotely because of the pandemic; she wrote from Lima, Peru, where she lives with her husband. "I felt that having a fellowship that promotes diversity within the University spoke volumes about UVA's attempts to become a more inclusive and diverse educational institution," she said. "As a Caribbean immigrant, and as a first-generation college student, I appreciate the University's efforts to create spaces and provide resources for students like me, especially within the humanities."
Familia said her advisers in the Department of Spanish, Italian and Portuguese and her mentors through the Caribbean studies fellowship have made a lot of effort "to facilitate her participation in this academic year despite the challenging circumstances." Her research will focus on contemporary Caribbean and Latin American cultural studies, particularly the artistic and literary production of diasporic Caribbean women, she said.
Associate Professor of Spanish Charlotte Rogers, who holds the Lisa Smith Discovery Chair, is one of Familia's mentors, and the high-caliber faculty here is one of the reasons Familia chose UVA; being able to work with scholars and professionals like Rogers played a vital role in her decision-making process, she wrote. Other students echoed that reason.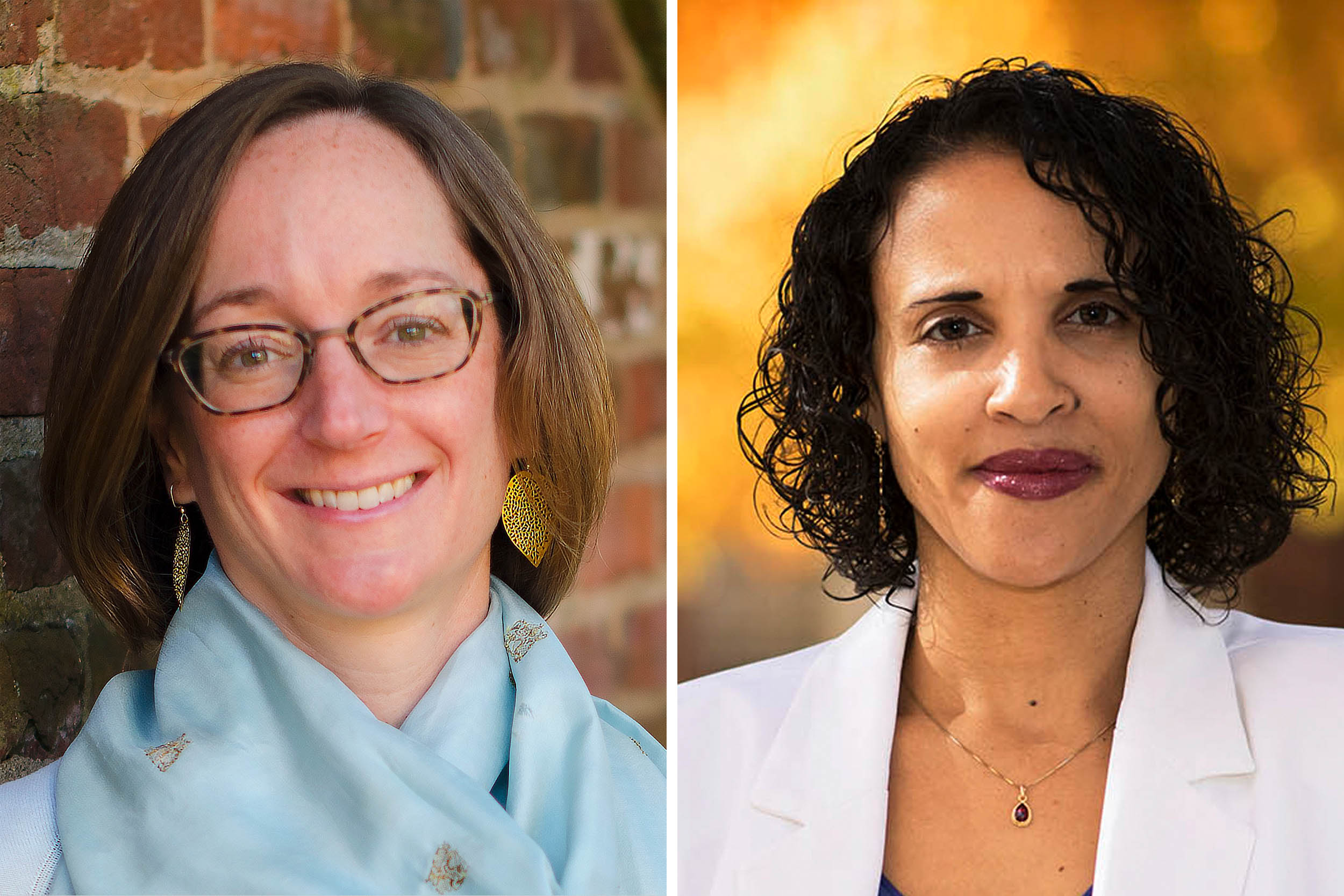 Spanish professor Charlotte Rogers, left, and Africana studies professor Marlene Daut are mentors in a new graduate program focusing on the Caribbean. (Rogers' photo by Richard Serton. Daut's photo by Dan Addison, University Communications)
In addition to Daut and Rogers, the other faculty mentors for this program are Njelle Hamilton, associate professor of English and Africana studies, and Anne Garland Mahler, associate professor of Spanish.
Seanna Viechweg, a first-year doctoral student in the English department who hails from the Bronx, said, "Not only did I believe I could grow as a Caribbeanist through the influence of the faculty mentors, who are coming from various departments, but I was also confident that my research as a Caribbeanist would be valued and enhanced under UVA's Greater Caribbean Studies Network."
Among the courses Viechweg is taking this semester is "Memory & History in the Caribbean" with Laurent Dubois, who recently joined the UVA faculty as the co-director for academic affairs in the Democracy Initiative. She also took courses last semester with Rogers, who looks at how Caribbean peoples use art and community-building to overcome the challenges of climate change, especially hurricane disasters, which are on the rise.
The Caribbean is also at the forefront of finding solutions to environmental problems, she said. "Caribbean scientists are repairing damaged coral reefs with dental floss. Puerto Ricans are moving away from imported energy and food since the U.S. government failed to support the island in the wake of Hurricane Maria in 2017. We mainlanders can learn from these endeavors," Rogers wrote in email.
In 2019, Rogers hosted an event called "Coasts in Crisis: Art and Conversation After Recent Hurricanes" that brought Caribbean artists to UVA. They performed and discussed music, poetry, photography and painting about the 2017 hurricanes, she said. "Right now, I am working with UVA graduate students Rebecca Elise Foote and Winnie Pérez Martínez, another Puerto Rican student who also received the interdisciplinary doctoral fellowship, to create an online multi-sensory exhibit featuring that work to give Caribbean cultural innovations a global platform."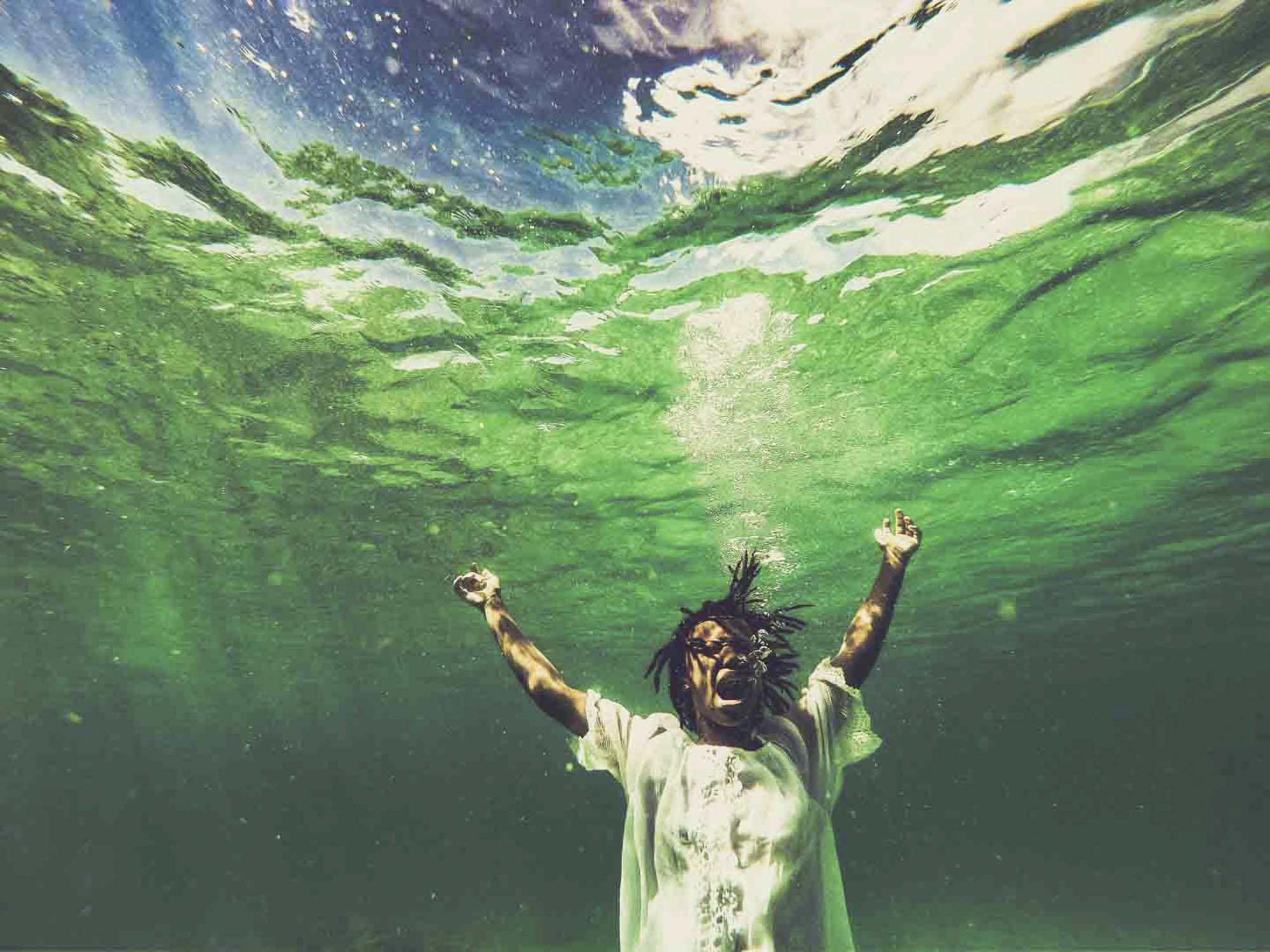 Photographer David Berg calls this "Deafening Silence." He is a Caribbean native living on St. Croix who shoots underwater with a GoPro. Like Sally Binard and others, he participated in a UVA conference two years ago.
From its past, as the region containing the first Black republic and the first nation to abolish slavery in the Western Hemisphere (Haiti), to the present, studying the Caribbean is more important than ever.
"All of the major issues sweeping the globe now appeared in the archipelago first," Rogers said. "The Caribbean is at the forefront of positive and negative aspects of migration, globalization, digital engagement, tourism and vibrant cultural expression."
With the graduate program in Caribbean studies, Mahler said, "The interdisciplinary and transnational training we are providing is unique to the University of Virginia."
Article Information
February 15, 2021
/content/uva-expands-graduate-programs-africana-and-caribbean-studies