Elon Musk, the billionaire inventor and founder of SpaceX and Tesla, envisions a future in which Amtrak is replaced by an "Amtube," where passenger capsules traveling through a low-pressure cylinder zip from San Francisco to Los Angeles – normally a six-hour drive – in just 30 minutes. The concept is called Hyperloop.
Mike Park is already on board. Park, a third-year mechanical engineering major at the University of Virginia, and a team of UVA engineering and architecture students are working with a team from the State University of New York at Stony Brook to develop a design for the Hyperloop capsule, or pod.
"It's exciting being in on the ground floor of a project that could be a game-changer in mass transportation," Park said.
The UVA-Stony Brook collaboration is among 124 student engineering teams from 27 U.S. states and 30 countries selected to participate in this weekend's SpaceX Hyperloop Pod Design Weekend at Texas A&M University. Musk's sponsorship has turned the competition into a high-profile event; U.S. Secretary of Transportation Anthony Foxx will be the keynote speaker, and the winners will test their designs at a track Musk is building at his SpaceX headquarters in Hawthorne, California.
The Fifth Mode of Transportation
"It's exciting being in on the ground floor of a project that could be a game-changer in mass transportation." -- Mike Park, student leader of the UVA-Stonybrook Hyperloop team
Musk first laid out the basic parameters for "a fifth mode of transportation" in a 2013 think piece titled "Hyperloop Alpha." He suggested pumping air out of the Hyperloop, minimizing drag and thus the energy needed to propel capsules forward and lift them off the rail running along the tube's floor. The pods themselves would be pressurized to minimize the G forces on passengers, and the whole system would be powered by solar panels placed on top of the tube.
Park heard about the competition soon after it was announced last summer. The vice president of the UVA School of Engineering and Applied Science's Mechatronics and Robotics Society, he was in a good position to recruit other students. With the support of Gavin Garner, associate professor of mechanical and aerospace engineering, Park held an interest meeting at the beginning of the fall semester and formed a team that includes students with expertise in computer science, electrical engineering, aerospace engineering, mechanical engineering and architecture.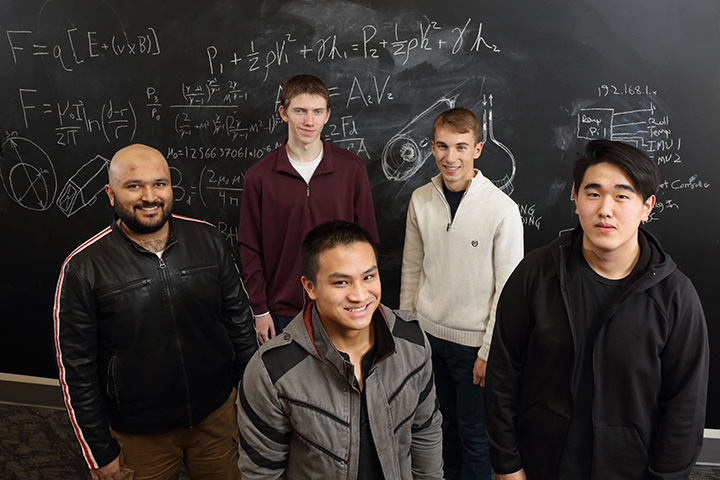 The team's original focus was on the propulsion and braking subsystem, a decision that would enable them to explore more innovative approaches than if they tackled the design of the entire capsule. They considered cost and ease of manufacture when developing their design.
"For inspiration, we looked to electromagnetic systems like maglev trains and rail guns as well as techniques like eddy current braking," which is a concept for frictionless braking at high speeds, Park said. "We didn't want to use traditional wheels because of the wear and tear at very high speeds."
Collaboration Across Miles and Disciplines
Later in the semester, Park and his colleagues combined forces with Deepak Sathyanaryan, a graduate student at the UVA Center for Applied Biomechanics, and Sathyanaryan's teammates at the State University of New York at Stony Brook. The Stony Brook team had focused on capsule aerodynamics and structure. The propulsion and braking expertise that Park and his colleagues brought to the table would enable the combined group to develop a comprehensive capsule design.
Team members took advantage of online tools and video conferencing to streamline their collaboration across campuses. This was especially important in keeping momentum high during winter break.
In Texas, the team will make a 20-minute presentation to a group of technical experts and investors on the overall pod design. The judges will evaluate them on criteria that include core subsystem design as well as the inventiveness of their approach. The team is also entering the subsystem competition.
"Being involved in a project like this one is giving me hands-on experience applying classroom theory in the real world, where things are not cut and dried," Park said. "I think it is helping me become a better engineer."
Article Information
January 28, 2016
/content/uva-students-designing-next-frontier-transportation