"Feeling as though you are contributing to such a powerful movement while indoors [in quarantine] is an incredible opportunity that Professor LeFlouria gave each one of us," University of Virginia student Jalecia Wright wrote about her experience in Talitha LeFlouria's course, "Black Women and Mass Incarceration."
How can courses with elements of community engagement continue when students are supposed to avoid others due to the coronavirus? It's not easy, but some things are possible. Here, two faculty members share some strategies that worked in their classes.
In addition to LeFlouria, a professor of African American and African studies, and her course, assistant professor Kate Stephenson regularly teaches "Writing About Housing Equity" among other topics in the English department's Writing and Rhetoric Program. That program oversees the roster of courses to fill first-year writing requirements, as well as the Writing Center. It Also offers many advanced writing courses in topics ranging from digital rhetoric to travel writing.
Last year, the Jefferson Trust funded the Engaged Writing Project, supporting the addition of a community engagement component in first-year writing courses like Stephenson's. But when the pandemic hit during the spring semester, many of the students had to stop volunteering in person at the Haven, a local nonprofit that provides services for homeless people.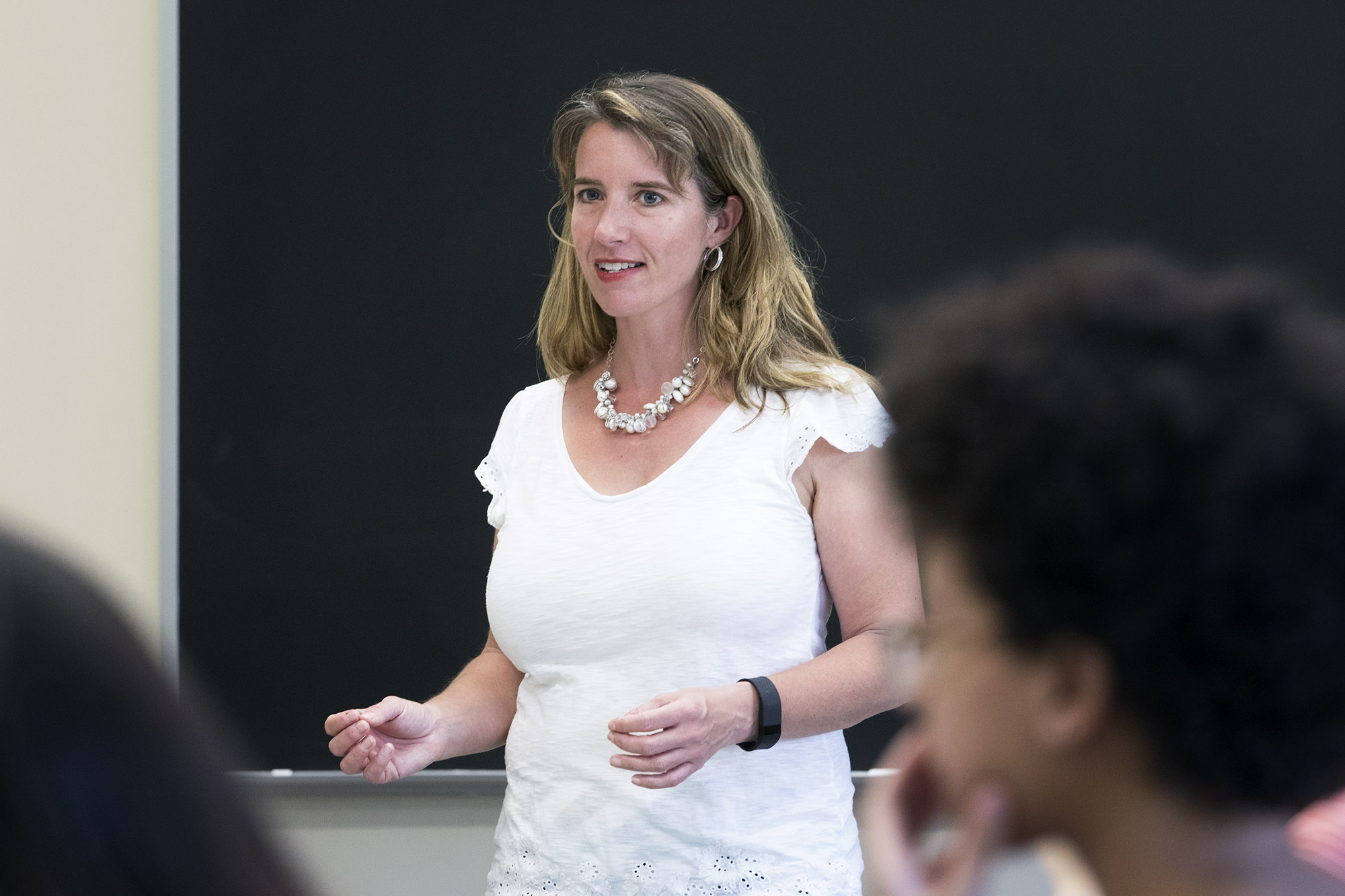 Kate Stephenson is pictured here in a 2017 seminar as she began combining community service and public writing. (Photo by Dan Addison, University Communications)
Stephenson and the Haven's day shelter coordinator Rob White had revived the Haven Writers' Circle in August 2019. "The writers, most of them guests of the Haven … asked if we could create a publication. We intended to do that in spring 2020, but the pandemic delayed the project until fall," Stephenson said. The fall class focused on producing an online literary publication featuring the writing and visual arts of Haven staff, volunteers and guests.
In recent years, UVA has expanded programs and pathways for incorporating community service into student experience. Some opportunities have grown out of Madison House, the independent student volunteer center – supporting Stephenson's and other writing courses, for example. The provost's office and Center for Teaching Excellence are also highly involved.
Associate professor Andrew Kaufman, founder of the "Books Behind Bars" course that connects UVA students with residents at a youth correctional facility, serves as assistant director of the center's Community-Engaged Learning Initiatives. He recorded video interviews with a range of professors about how they were changing community engagement in their classes. These and more resources are posted on the Center for Teaching Excellence's website on "Community-Engaged Teaching in a Time of Trauma."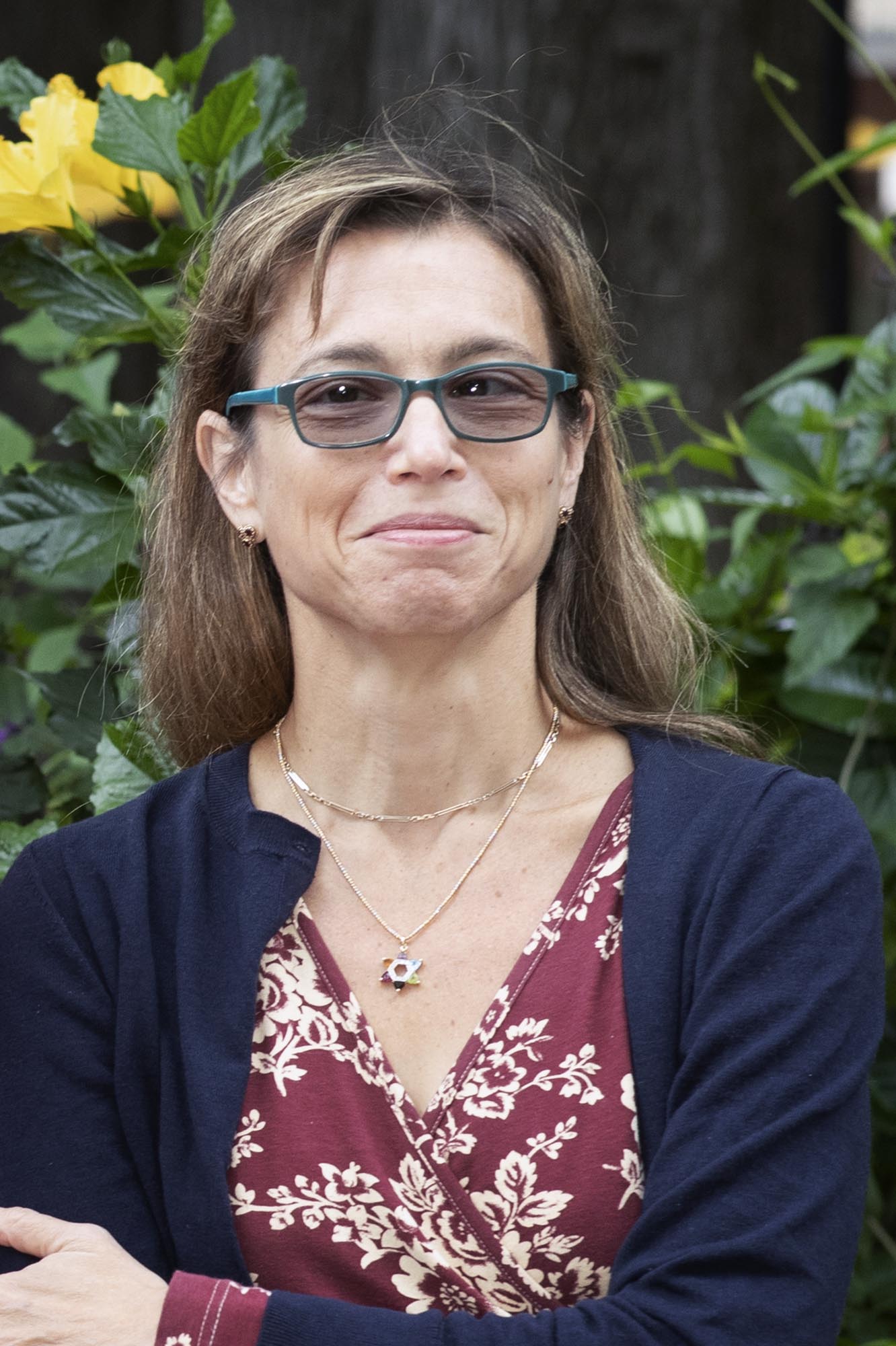 Bonnie Gordon, an associate professor of music, serves as a faculty director of UVA's Equity Center and runs the Civic and Community Engagement program in the College of Arts & Sciences. (Photo by Dan Addison, University Communications)
Bonnie Gordon, an associate professor of music, pursues her dedication to community engagement as a faculty director of UVA's Equity Center. She runs the center's Civic and Community Engagement program in the College of Arts & Sciences, with support from Ellen Blackmon, curricular coordinator for community engagement in UVA's Office of the Vice Provost for Academic Outreach, and Rose Cole, director of community engagement at Madison House. The select group of courses the Equity Center offers are two-semester blocks, in order to have more impact for the community partners and students.
With the pandemic still prevalent, making changes has been necessary, including a shift in perspective, Gordon said over the phone.
"My role is to facilitate ethical partnerships and best practices of community engagement in ways that work with the overall curriculum," Gordon said. "We want to remain respectful and make sure students can be helpful."
Teachers must be mindful because even though they want students to be involved, they don't want to add any burdens to community partners, Gordon said.
For the provost's office, Blackmon is also building a network for bringing together faculty, students and community members, using Engaged UVA as a site that aggregates information and resources happening around Grounds.
Students Work on National Issue for Black Women: Mass Incarceration
When LeFlouria, the Lisa Smith Discovery Associate Professor in the Carter G. Woodson Institute for African American and African Studies, wanted to revise her fall 2020 course, "Black Women and Mass Incarceration," to include a service-learning component, she had to figure out how to make that work under COVID restrictions that prevented in-person contact.
She also sought to align it with "the University's mission to support diversity, equity and inclusion, and also to bring in marginalized voices not usually welcome in academic settings," she said.
LeFlouria developed internships last fall that paired students with leading local and national re-entry organizations that support incarcerated and formerly incarcerated women, all six of them run by Black women who had spent time in prison. The organizations included Lending Hands, founded by Cherry Henley, in Charlottesville; the Kemba Smith Foundation in Richmond; and A New Way of Life Re-entry Project in California.
"The students were able to do research, to co-facilitate and participate in programs or in developing programs that assist hundreds of women and young people," LeFlouria said.
In weekly classes and readings, they discussed the history of Black women and mass incarceration and its connections to the legacy of slavery. They began their internships after five weeks of virtual classroom instruction, and their work culminated in a virtual event the students organized in December, featuring all the leaders with whom they worked. The online conference drew more than 100 viewers at UVA and across the country.
"The [event] participants gave invaluable insights into our nation's problem and offered solutions to repair the destructive impact of the system, especially on Black women," LeFlouria added. UVA students aided their efforts through online internships.
Readers might remember the case of Kemba Smith (now Pradia) – a naïve Hampton University student in the 1990s who got tangled up with an abusive, drug-dealing boyfriend, got arrested as an accomplice, and despite being a first-time, non-violent offender, was sentenced to 24 years in prison. Her case made her a poster child (the title of her recent memoir) for over-incarceration and injustice in punitive drug policies and sentencing.
Granted clemency in December 2000 after her story gained national attention, Pradia earned a bachelor's degree, becoming an advocate for other Black women suffering similar fates, and founded the Kemba Smith Foundation, focusing on education and prevention.
"Five UVA students assisted [the foundation] in developing an eight-week youth leadership and prevention program, doing research to inform curriculum and training, and [formulating] strategies to prevent young people from entering into the carceral system," LeFlouria said.
Housing also is a huge problem for formerly incarcerated women and often leads to recidivism, LeFlouria said, as the incarceration and legal systems fail to help reintegrate them back into society. Other problems lurk just around the corner: if a formerly incarcerated woman doesn't have a home address, she can't get a job; if she misses an appointment with a probation officer, that can result in being locked up again; if she has children, they might've been placed in foster care and she might not know how to get them back, or if it's even possible.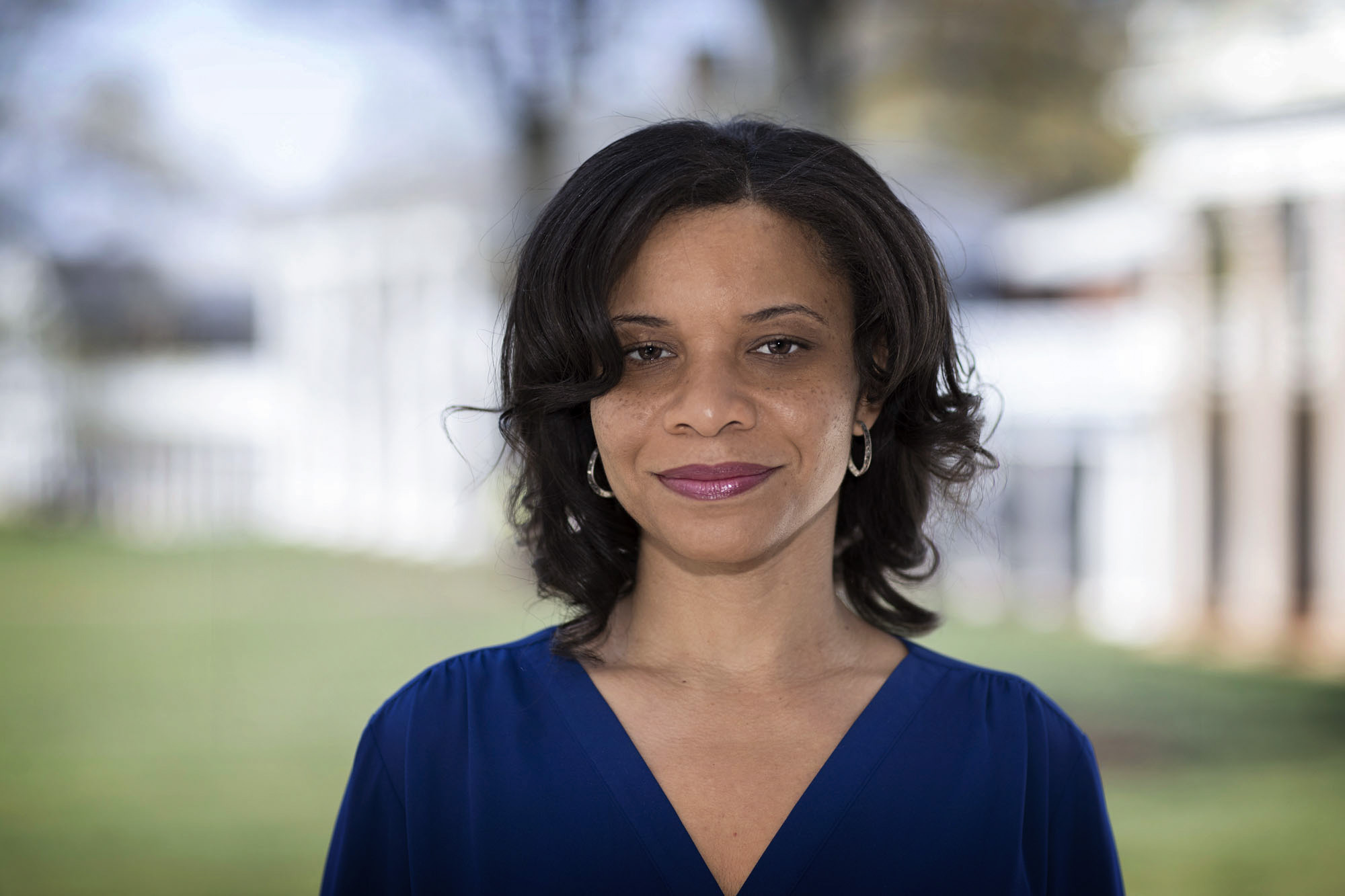 LeFlouria developed internships that paired students with leading local and national re-entry organizations that support incarcerated and formerly incarcerated women. (Photo by Dan Addison, University Communications)
A New Way of Life Re-entry Project, founded by Susan Burton, based in California and now offering 10 different housing facilities for formerly incarcerated women, also helps with family reunification efforts.
From afar, two UVA students helped the organization: Jalecia Wright and Jasmine Mao researched the socioeconomic and structural barriers facing formerly incarcerated women and worked on the organization's national campaign by developing spreadsheets, drafting article summaries and compiling months' worth of data, Wright wrote in an email.
"Our research mainly focused on the issues within the Adoption and Safe Families Act of 1997, which incentivizes the deconstruction of Black families by legalizing the permanent placement of Black children in the foster care system into alternative households, despite the best interest of the child," Wright, a third-year student residing in Chesapeake, said. "We researched the deeply entrenched racist tendencies present in the foster care system and practical, yet powerful, steps toward completely readdressing and correcting the bill's intent and disparate impact.
"Not only were we able to work with grassroots organizations that truly care about equality and assisting system-impacted individuals in every practical way," Wright said, "we were able to familiarize ourselves with prominent issues within minority communities and share that with the UVA community through our two-part webinar with all the organizations' leaders."
On leave this semester, LeFlouria said she intends to keep this service-learning component, including community-engaged, research-based projects, in the course when she teaches it again. 
Expanding the Haven Writers' Circle
Kate Stephenson has taught first-year writing courses about housing inequity and food insecurity, all based on community service, with students volunteering at the Haven, as well as other non-profits, including Loaves and Fishes, the PB&J Fund and the PVCC Community Garden, and writing about their experiences.
"It has been challenging since the pandemic happened," Stephenson admitted. It took months to resume the Haven Writers' Circle, which meant moving it online. It was revived through weekly Zoom meetings and an online discussion board, where people contribute to weekly writing prompts.
When students couldn't work with the Haven guests directly, they found a project that they could widen to offer something to the staff and UVA volunteers as well. Over the semester, they worked on producing an online literary journal, "Voices," focusing on the theme of "home."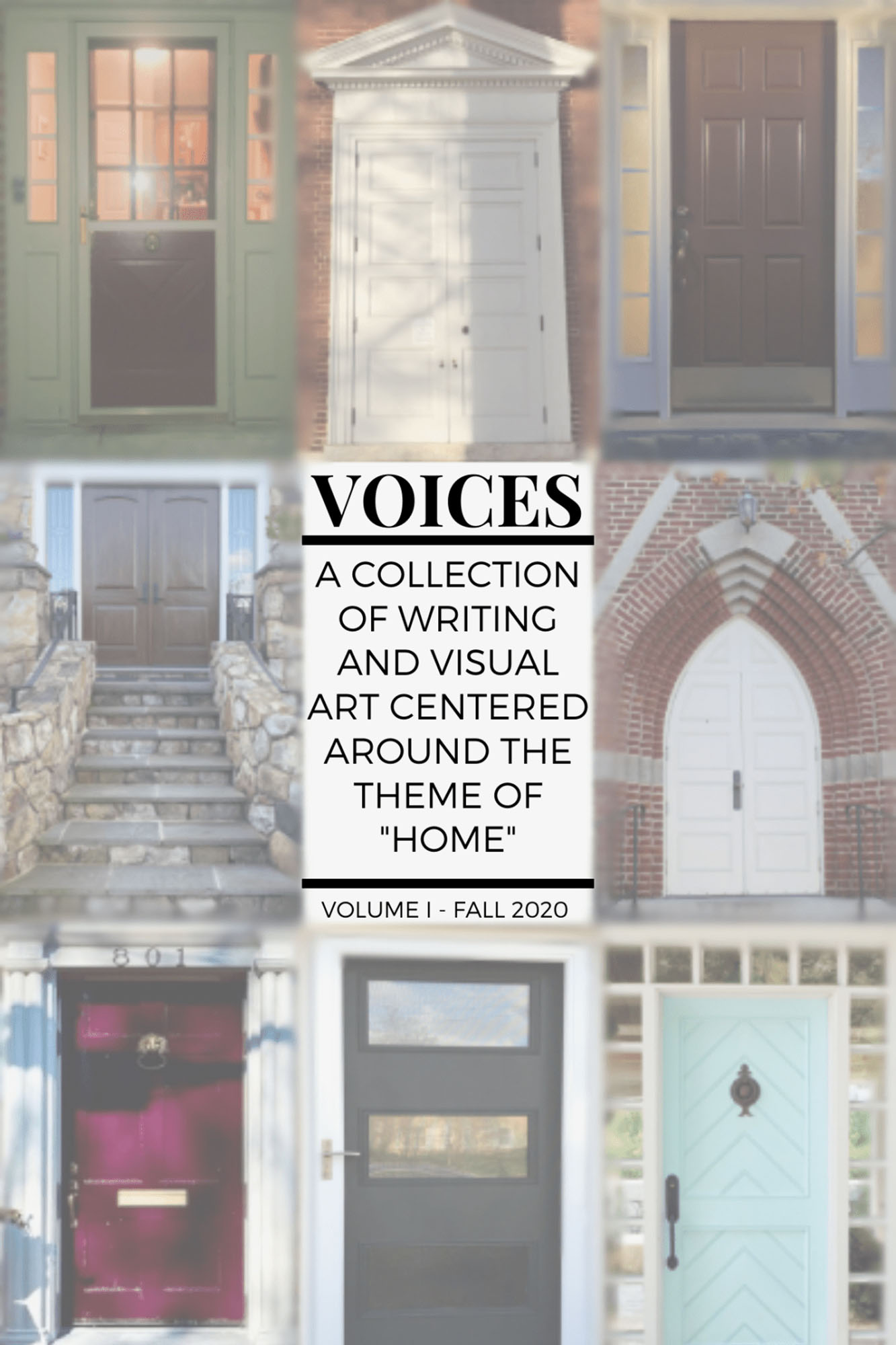 UVA students designed the cover of this digital journal, Voices: A Collection of Writing and Visual Art Centered Around the Theme of "Home."
Emily Mortimer, a second-year student and resident adviser from Richmond, applied for a UVA Equity Taskforce Grant under UVA's Office for Sustainability called the Equity and Environment Fund, and was awarded roughly $2,000 for the project, including money for printing, events, a website and a stipend for herself as an intern and managing editor. 
"I wanted to take Kate's course," Mortimer wrote in email, "because I have a complicated relationship with food … and I thought that getting the chance to volunteer in a place where I'd be helping to make food for other folks would change my perspective.
"I also wanted to learn more about the intersectional inequalities that contribute to housing and food insecurity, particularly in Charlottesville," said Mortimer, who just applied to major in the Frank Batten School of Leadership and Public Policy.
"I can definitely say that my experience in Kate's class first year and my subsequent relationship with the Haven contributed to that decision," she said.
Stephenson said the digital publication was a more meaningful project for some students than writing a paper that only the instructor would see, because "you're not just turning something in, but collaborating with other people to create public writing that encourages people to think differently about housing and homelessness."
This semester, after three weeks of academic and community training, students will continue to work on Voices. They'll work in teams, partner with people in the Writer's Circle and produce the journal's next issue.
"It's OK to slow down during the pandemic," Gordon said, invoking the medical dictum of "do no harm." She pointed out that although we are finding that pandemic responses often have to be nimble, academic courses don't really work that way.
Tips for Community Engagement During COVID
From Bonnie Gordon, Andrew Kaufman and Kate Stephenson
Encourage caution.
Go over the pros and cons of the specific community engagement.
Learn about the community partner's history.
Work with community partners on mutually agreed-upon goals.
Design projects and co-produce them with community partners.
Reduce the number of choices you give your students, especially during a crisis.
Be more flexible and increase office hours with students if needed.
Attend to your students' personal growth, not just their academic learning, helping them develop resilience, empathy and imagination in this traumatic time.
Be intentional about human connections – for example, because Stephenson couldn't hold an in-person Community Writing Symposium to celebrate the students' work at the end of the semester, she wrote them letters.
Article Information
February 23, 2021
/content/what-do-when-covid-poses-challenges-community-engagement