If you've been past the corner of Emmet Street and Ivy Road in recent weeks, you may have noticed some new activity.
That's because the University of Virginia is beginning a phase of work designed to transform the area into a new gateway to the University and form deeper connections with the community.
Known as the Ivy Corridor, the four-block long piece of University property stretches from the Ivy-Emmet intersection westward to Copeley Road.
Ultimately, the 14.5-acre parcel will be home to a new, state-of-the-art hotel and conference center, the School of Data Science, the Karsh Institute of Democracy and future academic and arts facilities.
The present work along Ivy Road is called the "public realm phase," Architect for the University Alice Raucher said.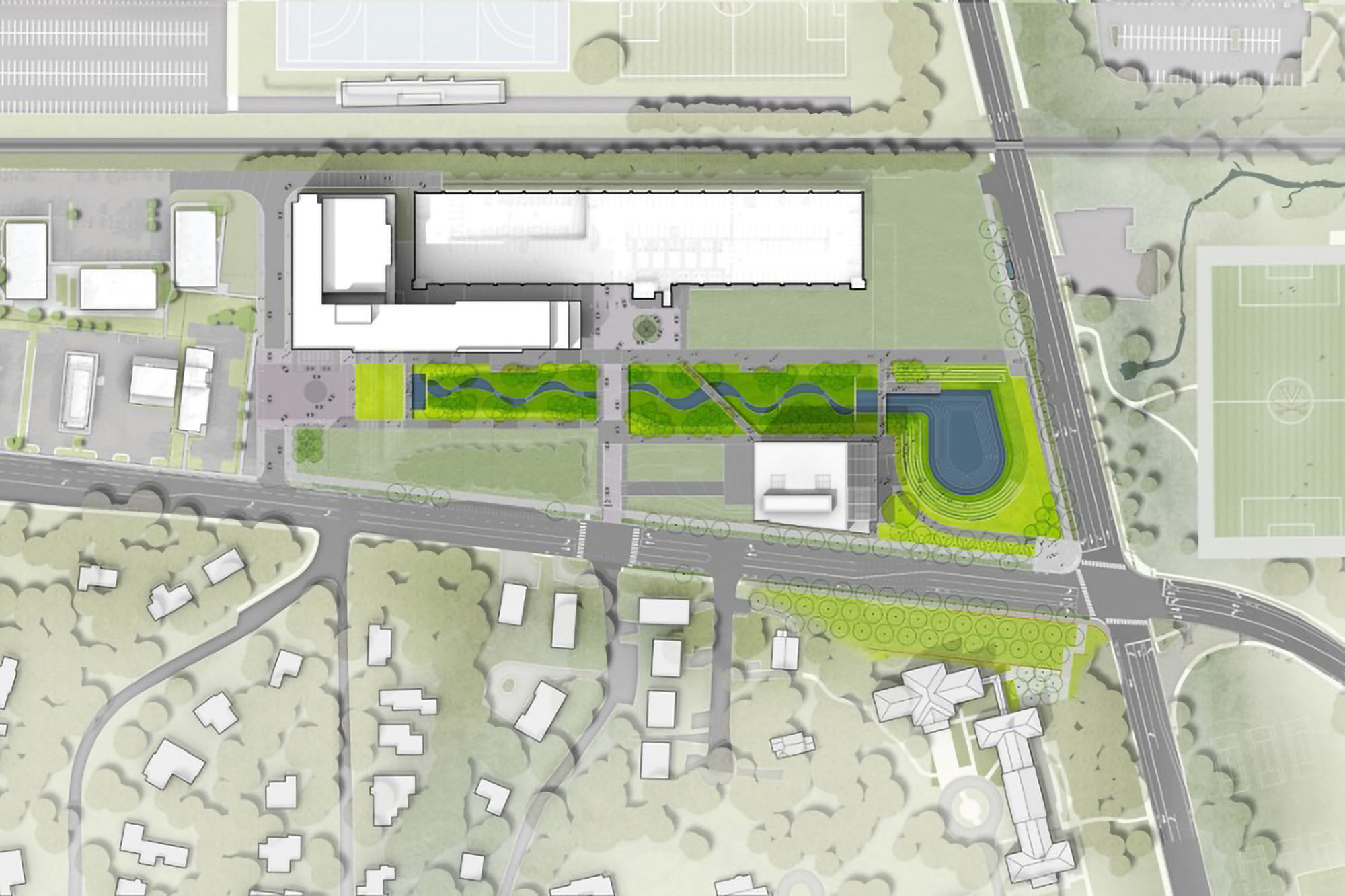 "The public realm phase includes the widening of sidewalks and the planting of the tree lawns along Ivy Road, and we are terracing that really steep incline on the south side of Ivy Road as it goes up to the International Residential College," she said. "There will also be dedicated bike lanes in both directions on Ivy Road and new bus stops."
Raucher said all the work is being done in accordance with Charlottesville's city standards. "All of this is about making improvements for pedestrians, bicyclists and the use of public transportation," she said. The public realm phase will take about 12 months.
UVA is also beginning construction of the first home of the School of Data Science this fall, work that is expected to take 24 months.
In the winter of 2022, construction will begin on the hotel and conference center, a process that also is expected to take two years.
"The director of the Charlottesville Albemarle Convention & Visitors Bureau participates on our steering committee for the hotel and conference center," Raucher said. "We understand that this hotel and conference center is not just for the University, but also for the larger region."
The hotel and convention center will house a visitors' center where people can not only learn about the University, but "understand what is happening in the city and the county, too," Raucher said.
In mid-to-late 2022, the city will begin an 18-month-long project on its property to improve the intersection of Emmet Street and Ivy Road. Crews will widen Emmet, add new bike lanes, and create a tunnel under the railroad bridge across Emmet Street. "It will be a new tunnel through the embankment to allow for a 10-foot-wide, multi-modal path for pedestrians and bicyclists to continue safely along Emmet Street," Raucher said.
Raucher will present the concept site design guidelines for the just-announced Karsh Institute of Democracy to the Board of Visitors in September. The building is expected to open by 2026.
Next fall, workers will begin to build a picturesque pond outside the site of the new School of Data Science building that will "attenuate the flows from storms," said Lee Mallonee, a senior landscape architect with Biohabitats, a restorative ecology team contracted by UVA. Mallonee is a 1975 graduate of UVA's landscape architecture program
This summer, Sarai Carter, who is studying for her master's degree in landscape architecture in the School of Architecture, is interning for Biohabitats on its work at UVA.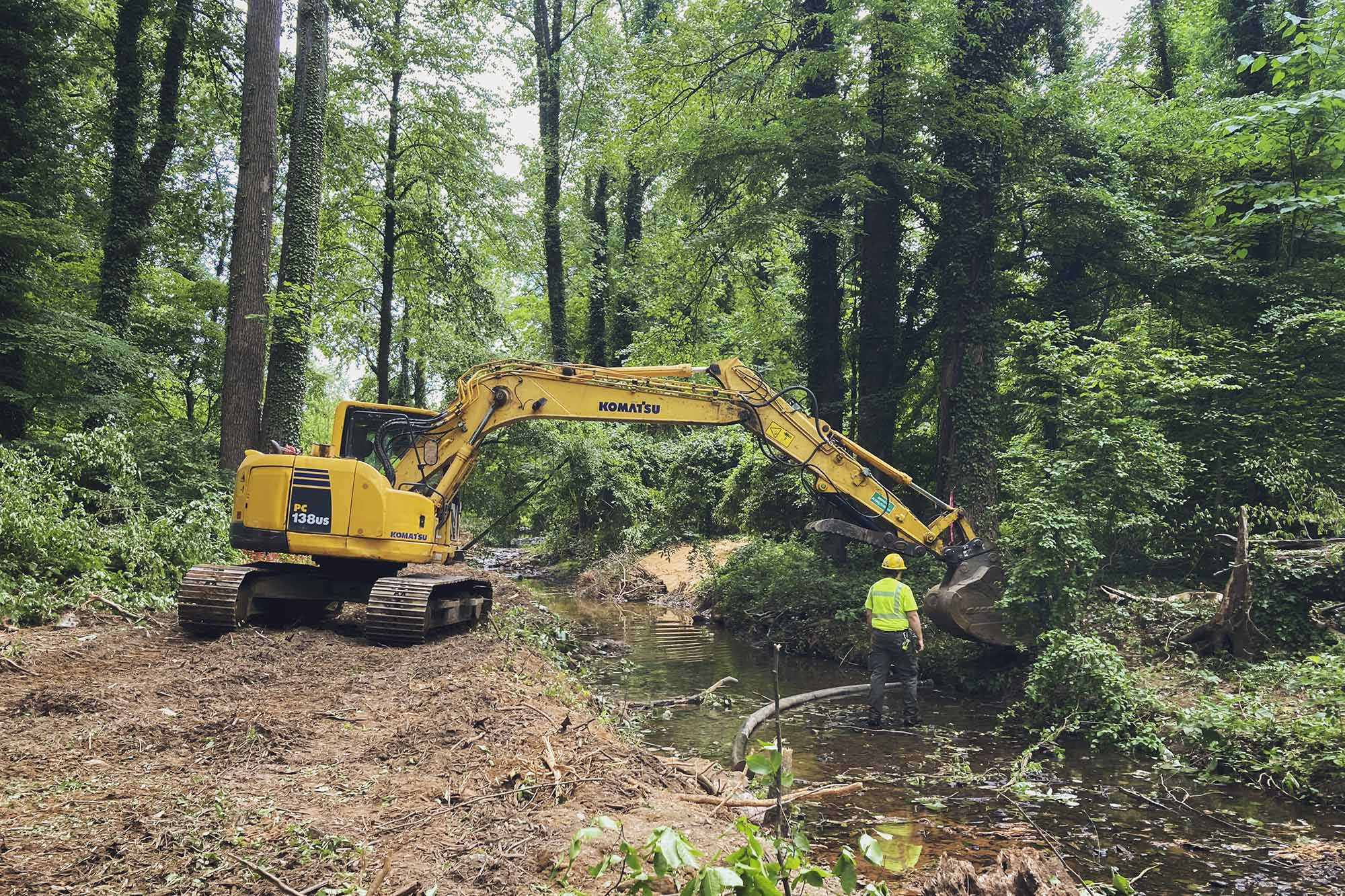 "I got to go visit active construction sites in Charlottesville," Carter said. "One, at [the intersection of] Emmet Street and Copeley Road, is actually part of Meadow Creek, which comes comes down from Observatory Hill and sort of flows through Grounds. My undergraduate degree is in restoration ecology and I focused on stream restoration, so it was really neat to see a design project actually coming to fruition and seeing the construction happening."
It's this kind of collaboration with students that Raucher says is so deeply satisfying and central to UVA's mission to be both great and good. "All of that stream restoration work is critical because our stormwater infrastructure is all connected," she said. "We include students in steering committees on all our projects. To have an architecture school that trains planners and architects and landscape architect and historians, and have them participate in the work we're doing, is fantastic.
"We are stewards for them, for future generations of students," she said. "To have them participate in these real-life projects is invaluable both for them and for us, to gain the students' perspective on things."
Article Information
July 22, 2021
/content/whats-happening-corner-emmet-street-and-ivy-road