"All the world's a stage," wrote the world's most famous playwright.
When I was chosen as one of the 2019 recipients of the University Award for Projects in the Arts, I took Shakespeare's words to heart.
Leaving the comfort of the University of Virginia, where I am currently pursuing my B.A. in drama, I ventured across the pond to spend the fall of my third year studying classical acting at the London Academy of Music & Dramatic Art, or LAMDA.
Studying classical acting in London includes in-depth study of Shakespeare and his contemporaries through acting, voice and movement classes, but also includes a few more unique lessons, such as learning how to English country dance and tell the difference between types of 17th-century swords.
Outside the classroom, I found myself exploring the artistic hub that is Europe. As a student and as an artist, I was utterly transformed.
Here are six things I did while abroad.
I read 85,693 Shakespearean words.
While in London, I read tens of thousands of words worth of plays written by William Shakespeare, and attended 12 productions of his plays. I memorized lines for four roles in his beloved canon, and performed in two of his plays.
I wandered into a bookstore founded by an alumna of UVA.
During one of my first days in London, I happened upon the Second Shelf, a rare book business showcasing works by women writers. Peering at the storefront tucked inside an alley, I found myself drawn to the bright red façade. Little did I know, the store's founder and owner was A.N. Devers, an alumna of UVA's English literature and archeology programs. The Second Shelf showed me how global UVA's presence can be, and how wide the network of Virginian creatives truly is. (Read more about Devers in our 2018 story.)
I learned how to be a clown.
Part of my training at LAMDA was a clowning course, complete with red-nose training and making a fool of myself. The highlight of my time in clowning class was a creative improv all about my favorite Virginian delicacy, pimento cheese. I'm still waiting for a chance to share that slice of the South with my British professors and classmates.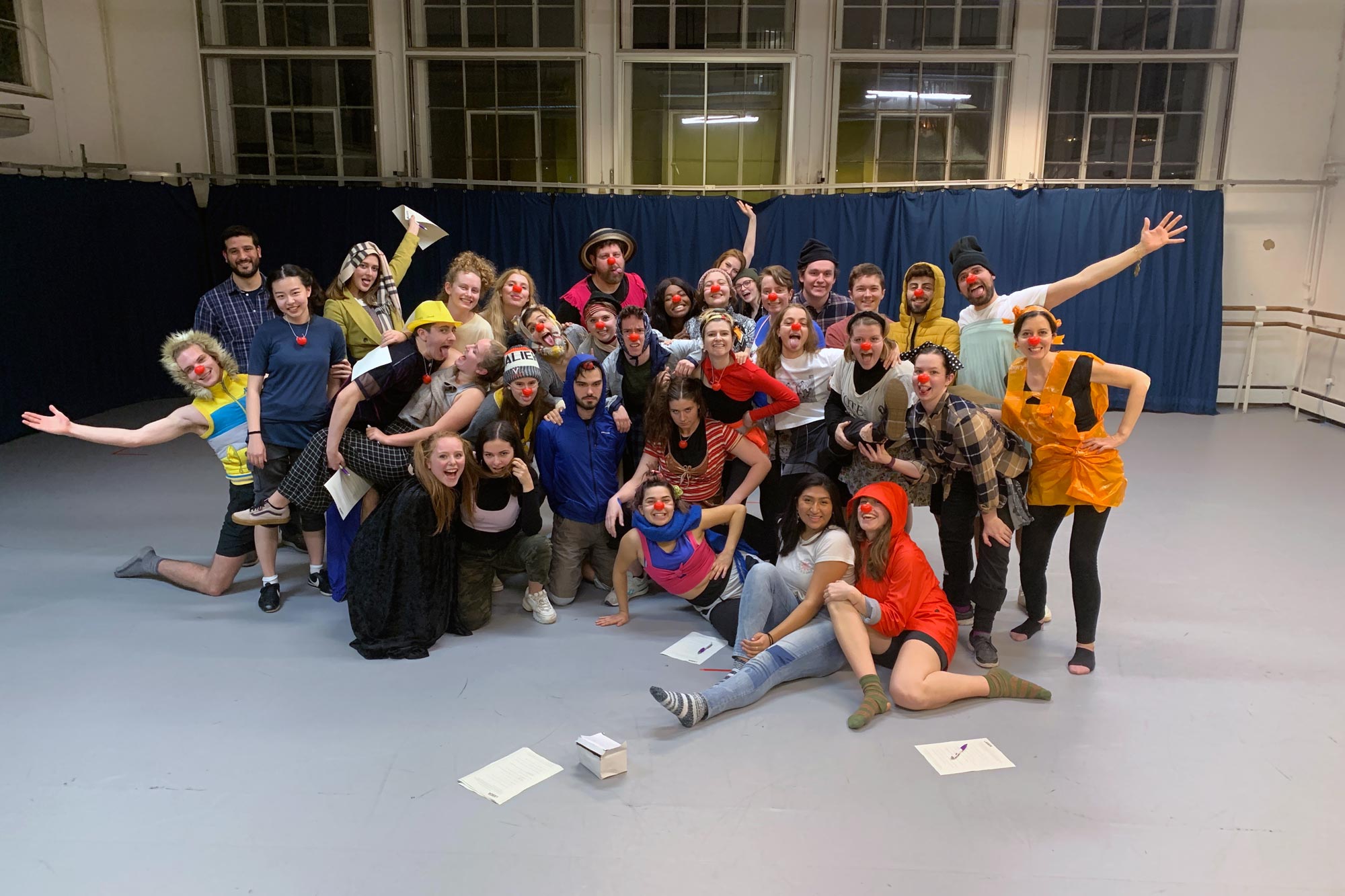 Moledor and her LAMDA coursemates from all over the world culminated their semester in London with a group clowning class. (Contributed photo)
I sat next to a stranger … who happened to also be a current UVA student.
While seated at the National Theatre's production of "Three Sisters" by Inua Ellams, I turned to my left and introduced myself to the young woman seated next to me. Imagine my surprise when I discovered that out of all the 890 seats in the sold-out theatre, I was sitting next to a fellow Hoo!
I entered a poetry contest.
While at LAMDA, I entered a poem I wrote about my journey from UVA to London into a university-wide poetry contest.
I lost.
I witnessed more art in three months than I ever thought possible.
During my 107 days in London, I saw 51 plays, visited nine museums, and witnessed art in eight different countries. I visited William Shakespeare's birthplace and Harold Pinter's grave. I wrote five poems, performed in three plays and found myself artistically transformed from the inside out.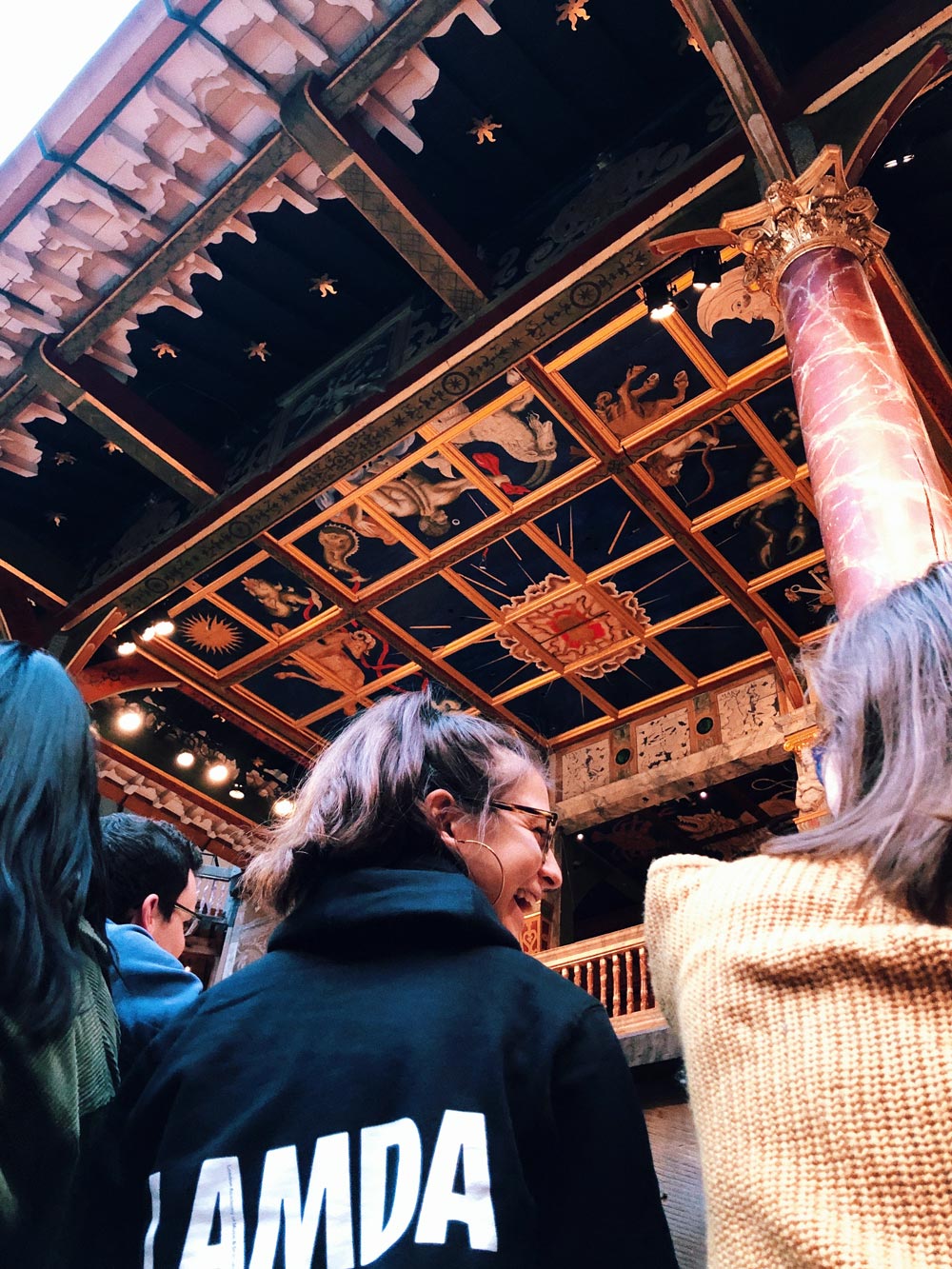 Moledor saw 51 plays while in London, including many at the Globe Theatre, shown here. (Contributed photo)
The University Award for Projects in the Arts and Miller Arts Scholars Arts Award I received to study in London gave me a toolset to bring back to UVA that will change the way I create art on Grounds for the rest of my time in Charlottesville.
When I look back at my time at LAMDA, the greatest lesson I learned was how to play. Living in London reintroduced the fun of theater performance to my life, and proved to me how lucky I am to be an actor at the University of Virginia.
Payton Moledor is a UVA Today intern and student writer.
Media Contact
Article Information
February 5, 2020
/content/6-things-i-did-while-abroad-university-arts-award