But the Hoos found one of their foundational players right here in Virginia. Born and raised in Richmond, Sarah Doss is the only Virginian in the UVA squash program.
That's a fact that will make Sarah Doss forever proud.
This year, the fourth-year economics student helped lead the women's squad to its best season ever. The Hoos posted huge wins over Dartmouth University and Cornell University to finish ranked ninth in the country.
Funnily enough, Doss started out as a tennis player. However, when she was in the fifth grade, she decided – with the support of local coach Patrick Chifunda – to make the switch to squash.
"I liked how squash was more fast-paced and you could be a little more aggressive, where you could hit the ball hard without it flying out of the court – because that had been a major problem for me in tennis," Doss said with a chuckle. "I just thought it was a better-suited sport for me – and I enjoyed it more than tennis, and it was also something new because not that many people played in Richmond."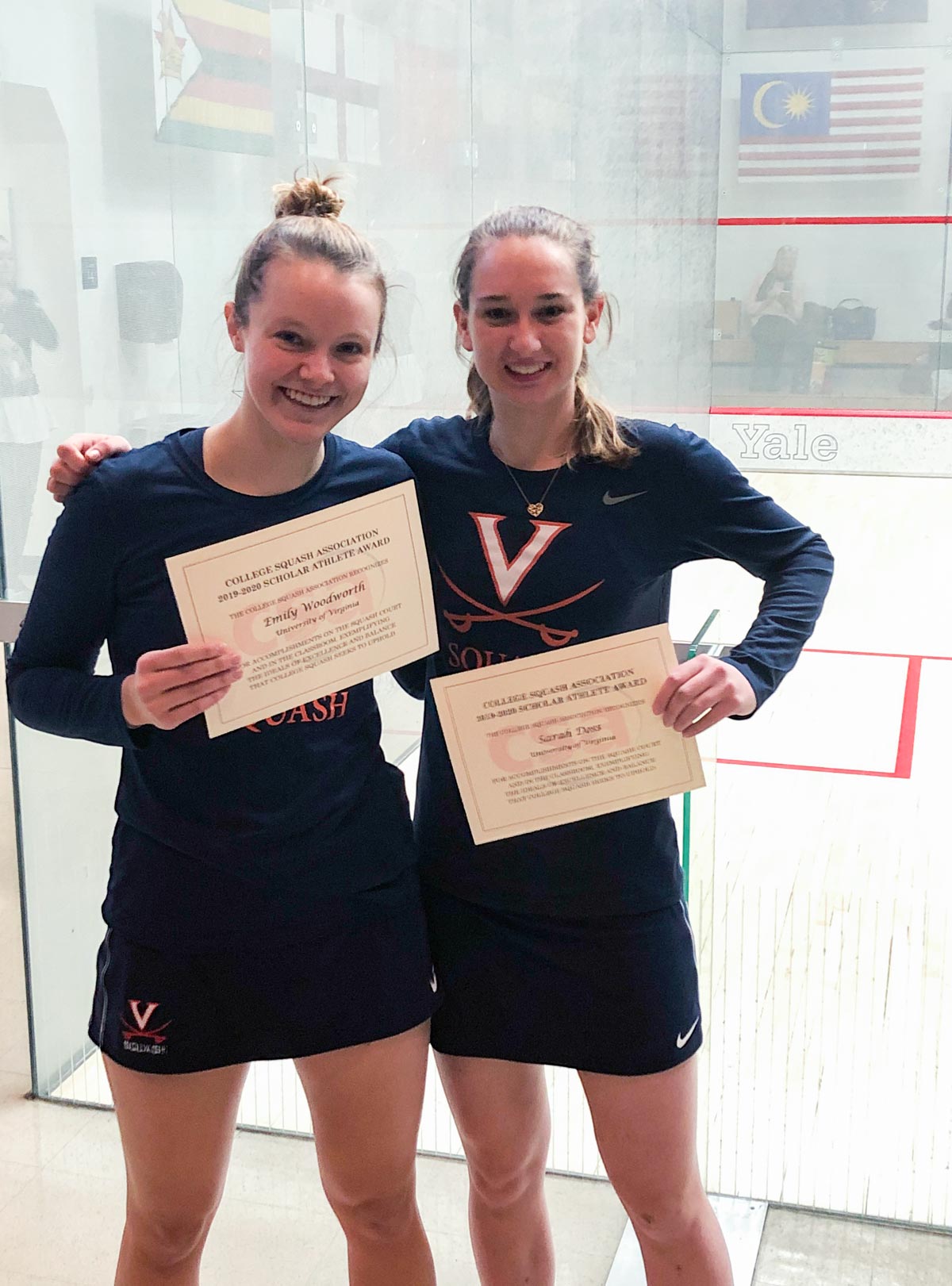 Doss, right, and teammate Emily Woodworth were named College Squash Association Scholar-Athletes (Contributed photo)
Doss attended Episcopal High School in Alexandria, where she could face strong competition.
As a high school freshman, she began playing against members of UVA's club team, whom she had gotten to know through the close-knit squash community. It was then that she decided that her goal was to play for UVA.
"Being a Virginian," she said, "I thought it would be a really cool and unique opportunity."
Especially since Doss knew UVA had an excellent economics program. She had long desired to go into finance and someday make it a career.
From the get-go, Doss – who entered UVA as part of a six-member recruiting class – showed amazing grit, according to UVA head squash coach Mark Allen.
In a match against a player from Williams College, she chased down numerous balls that looked like sure winners. Allen recalled a parent of another player turning to him and saying, "We've got to recruit more players from Virginia!"