"I just started wanting to give back to something," Stanger said. "I wanted to make a difference in this world outside of golf, and to use the platform that God has given me to give back – as opposed to just taking from people who have given so much throughout my life."
Stanger, now 26, is certainly making a difference to people in Colombia right now. For every birdie Stanger makes on the tour, the 2017 alumnus donates $10. At the same time, others have joined in to pledge money for every birdie (a score of one stroke under par on a golf hole) that he makes as well.
Since 2020, he has raised more than $80,000 through a ministry he created called "Birdies for Hope" – enough to build four churches in Colombia, one of which also features a "Hope Center" that hosts a wide range of community and educational activities.
"It's been amazing to see other people come alongside me and donate," Stanger said, "to help bring hope around the world."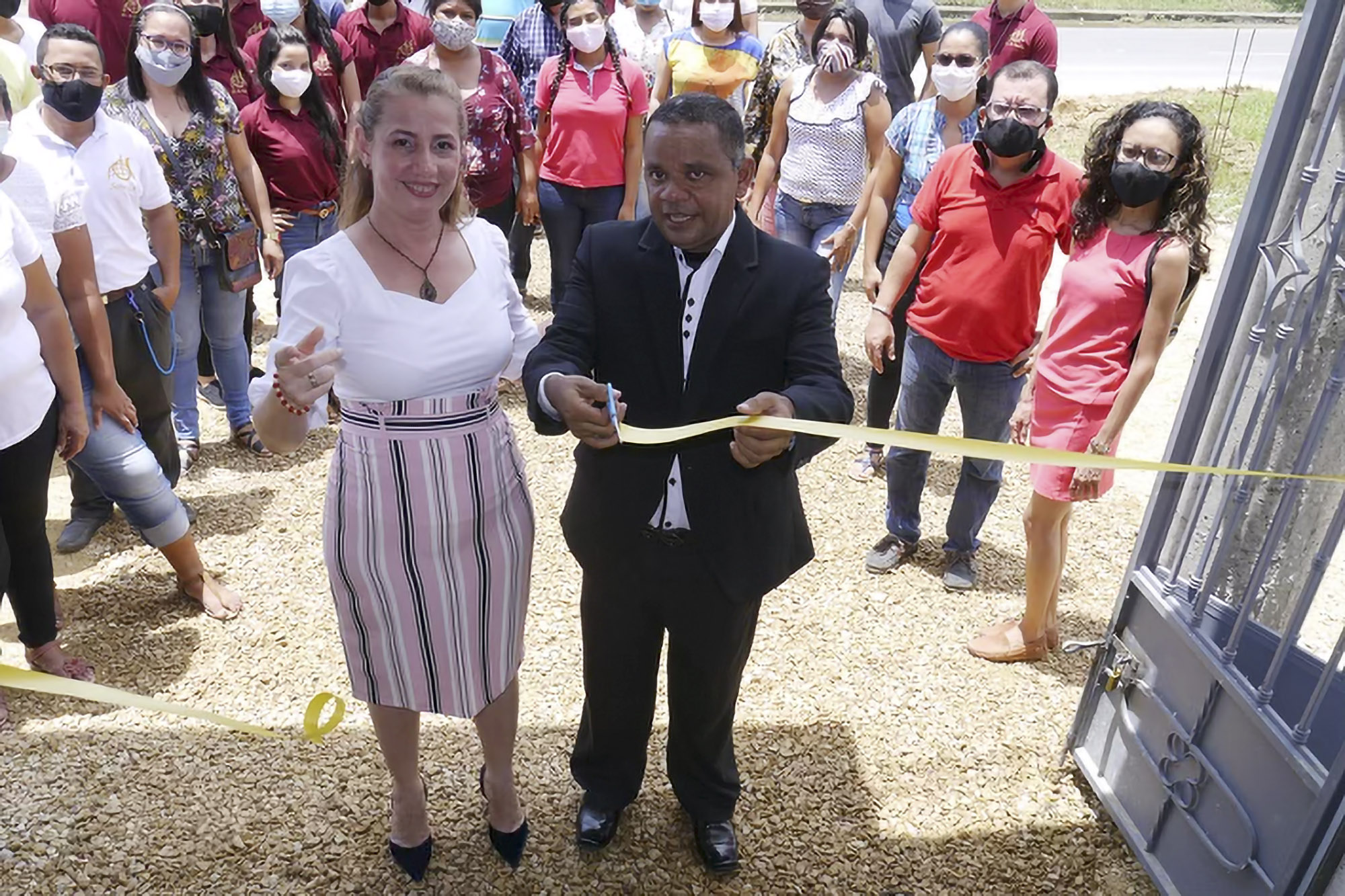 One of the churches in Colombia that Stanger has raised money to build also includes a "Hope Center," which hosts a wide range of community and educational activities. (Contributed photo)
One of four children, Stanger first experienced the joy of helping others as a 7-year-old, when his parents traveled to a small province in China to adopt his younger sister, Theresa Maylei. During the trip, the Chinese community had a grand opening for a church that Stanger's parents had partnered with the International Cooperating Ministry to build.
"The day after we picked her up, we went to church on a Sunday and saw this place packed full with hundreds of people," Stanger recalled. "Just seeing the impact that this ministry was having on a community that really didn't have solid buildings – you have this one pillar that's standing out among them, this place where people could meet, this place where people could feel an earthquake isn't going to topple it, a place that could guarantee that people could stay dry whenever it starts pouring.
"It just made such an impact on me."
It led to Stanger being involved in numerous service projects in Tampa throughout his childhood.
"My family has always believed in the idea that it's better to give than to receive," said Stanger, who was home-schooled by his mother through high school, "and that ultimate joy comes through serving others, as opposed to focusing on yourself."
Stanger had very specific parameters when it came time to select a college. In the end, he chose UVA over several other prestigious schools, including Harvard University.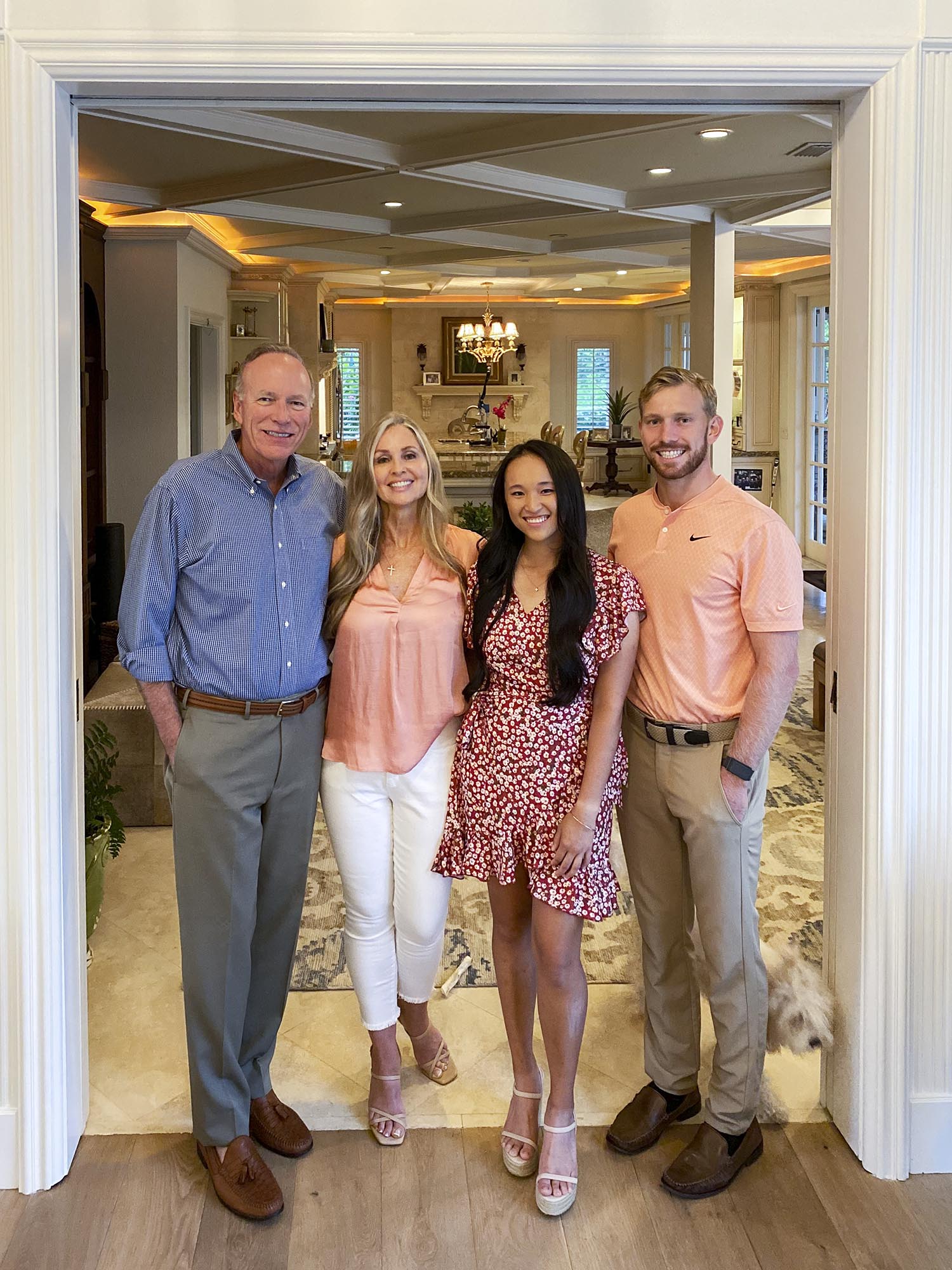 Stanger's sister, second from right, now plays golf at Wheaton College in Chicago. (Contributed photo)
"UVA was the best of both worlds," Stanger said. "It has the academics that you need. It's a school where you can get access to any scholar and can have access to so much information and some of the brightest minds on the planet. But then you also have the athletic side. That combination of excellence, both in academics and athletics, is what drew me.
"Some of the other schools that I looked at had one or the other, but they did not have both."
Stanger said he has many fond memories from his time on Grounds.
The microeconomics course he took from legendary economics professor Ken Elzinga has had a lasting impact, he said. "What I found so amazing about that class was not necessarily that he taught such unique topics, or that he was passionate – because I had a lot of amazing and passionate professors," Stanger said. "It was his accessibility.
"Just knowing his status – that he would have office hours where we could come and visit and talk with him … that was something I utilized a couple times, and it was amazing to be able to ask personalized questions to one of the brightest minds in the country."
On the golf course, Stanger had a host of highlights. None were bigger than when, as a fourth-year student, he sunk a 12-foot putt in a playoff to win the ACC individual championship in South Carolina.
"Having the whole team and my coach, Bowen Sargent, there with me – that's a memory that almost doesn't feel real because I had dreamed about it happening my first three years, and very rarely do you see a dream that specific actually come true," Stanger said. "That was incredible."
Sargent considers Stanger and former fellow UVA star Derek Bard two of the best student-athletes he's ever coached. "Both of them are almost perfect kids," said Sargent in a 2016 interview. "They do what they're supposed to do, they're great role models, they're good kids outside of golf."
Both parlayed their collegiate success into professional careers, though life on the tour has taken some getting used to, according to Stanger.
"Professional golf can be unbelievably rewarding, but also can be unbelievably brutal, because your success and failure is based off a score – and that score is incredibly objective as opposed to subjective," Stanger said. "What I mean by that is so often it comes down to one or two shots over the course of four days."