The massive trailer that gets towed by a truck can usually be found somewhere along Interstate 95 during the third weekend of August – and it will take your breath away.
On the side of it are the names of every one of the 2,977 people who died in the terrorist attacks on Sept. 11, 2001.
One of the names on the trailer is that of Patrick Sean Murphy, a University of Virginia alumnus who lost his life when one of the hijacked airplanes was flown into his office on the 97th floor of the north tower at the World Trade Center.
It was with Murphy on her mind, in her heart – and on her shirt – that fourth-year UVA student Lexy Sjurseth organized and managed an annual 700-mile motorcycle ride last month that passed through Somerset County, Pennsylvania; Arlington, Virginia; and New York City – the three sites of the plane attacks.
It's a ride that Sjurseth's family created 20 years ago, raising nearly a half-million dollars in college scholarships for children of first responders.
During this year's ride, Sjurseth wore a purple polo shirt with "Riding in Memory of Patrick Sean Murphy" embroidered on the sleeve.
"He was somebody who walked where I walked," Sjurseth said. "I just wanted to be able to ride in memory of him, a fellow Wahoo, and just keep his memory alive.
"He was a great family man and someone who loved UVA and who just loved life."
Sjurseth (pronounced sure-SETH), raised in South Hill, was just a year old on the day of the attacks, which was coincidentally her father's birthday. That morning, her mother, April, was scheduled to be at her civilian job on base at the commissary at Fort Myer (now Joint Base Meyer-Henderson Hall), located between the Pentagon and Arlington National Cemetery. However, after the planes in New York crashed, she got stuck in traffic and never made it.
Just after the attacks, Sjurseth's aunt and uncle, Lisa and Ted, despite having no connection to anybody at the World Trade Center – or even anybody in New York – felt compelled to go to ground zero and help first responders however they could.
At the suggestion of Sjurseth's father, Eric – who knew his brother loved to ride motorcycles – Lisa and Ted subsequently planned a three-day motorcycle ride to New York to raise money for the children of first responders.
On Veterans Day weekend, about a month after the attacks, Sjurseth's parents and aunt and uncle led a 300-motorcycle sojourn from the White House to New York. The endeavor spawned the formation of a nonprofit organization called America's 911 Foundation, which has awarded 15 college scholarships to children of first responders every year since 2003.
"I was a little baby when the attacks occurred and didn't understand what happened – but I grew up in a family that did," said Lexy Sjurseth, who has served as an associate board member for the organization since 2015. "I grew up in a family that just saw something crazy and wanted to help.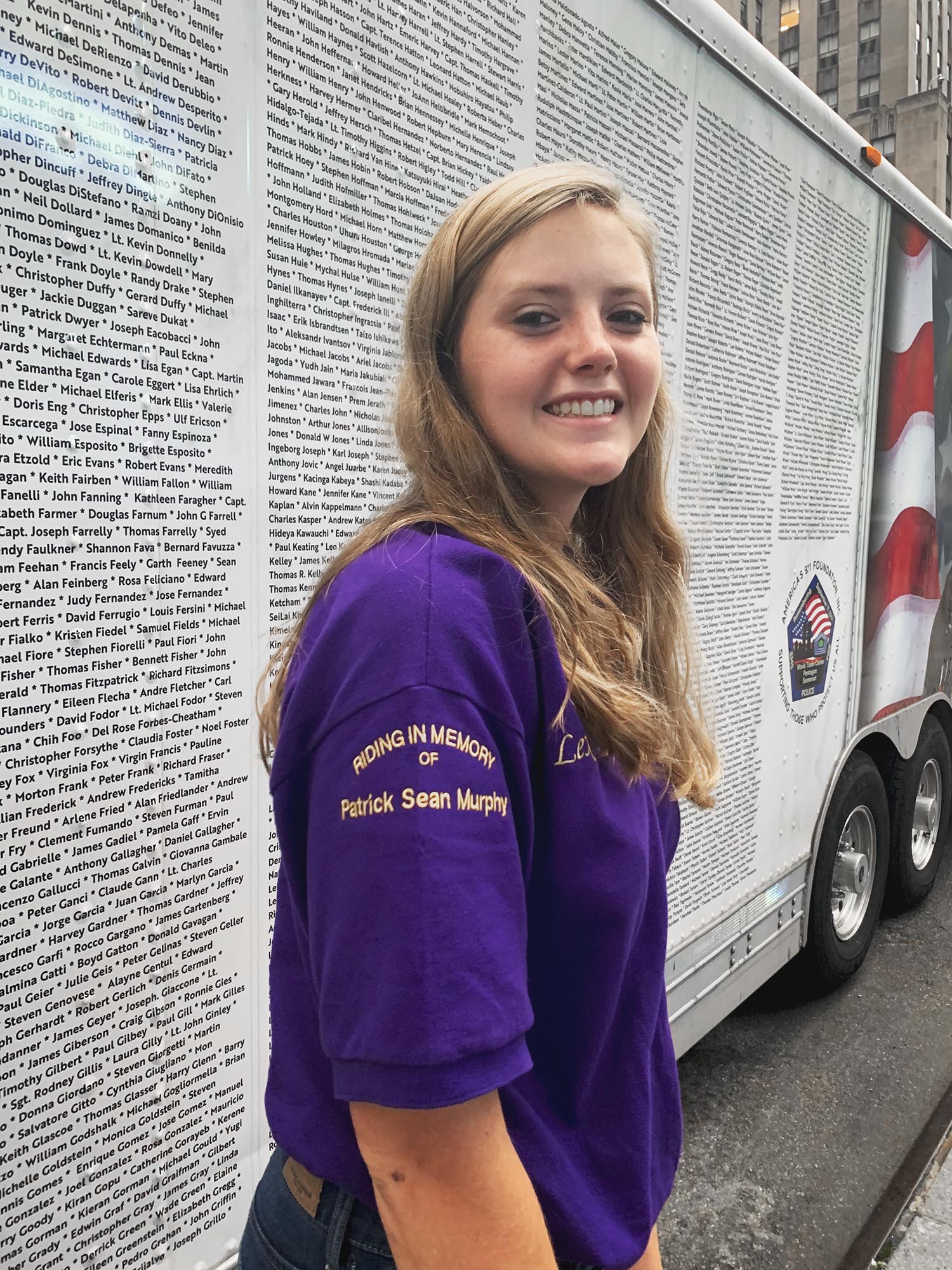 In this year's event, Sjurseth wore a shirt that honored Patrick Sean Murphy, an alumnus who died on 9/11. (Contributed photo)
"Being a part of this has given me an understanding that most girls my age don't have. I have seen things that have forever changed my heart, and I have met people who have become family to me."
The rides are something to behold (even if you happen to be stuck in traffic on I-95 during rush hour). Sjurseth said she has been part of rides that were so long that the front of the pack was in New Jersey, the middle of the pack was in Delaware and back was in Maryland.
At the front of the traveling party is a police escort comprised of 60 to 120 officers from all across the U.S. and sometimes Canada.
In the middle are usually between 1,000 and 3,000 motorcycle riders. (This year, due to the pandemic and Hurricane Ida, there were just 700.)
In the back, where Sjurseth typically rides, are the support vehicles, such as ambulances, fire trucks, tow trucks and trailers that are needed in the event of emergencies and breakdowns.
The foundation trailer, which has all of the Sept. 11 victims' names on it, travels ahead to prepare the next stop. It is big enough to hold trucks and motorcycles, which the foundation raffles off in its fundraisers.
Lexy Sjurseth, who has been going on the rides since she was 7 years old, said the whole thing feels like a giant family reunion.
"You can get together and retell stories and remember how things were and what we lost," she said, "but then you can look around and be uplifted by what's still around, what we still have."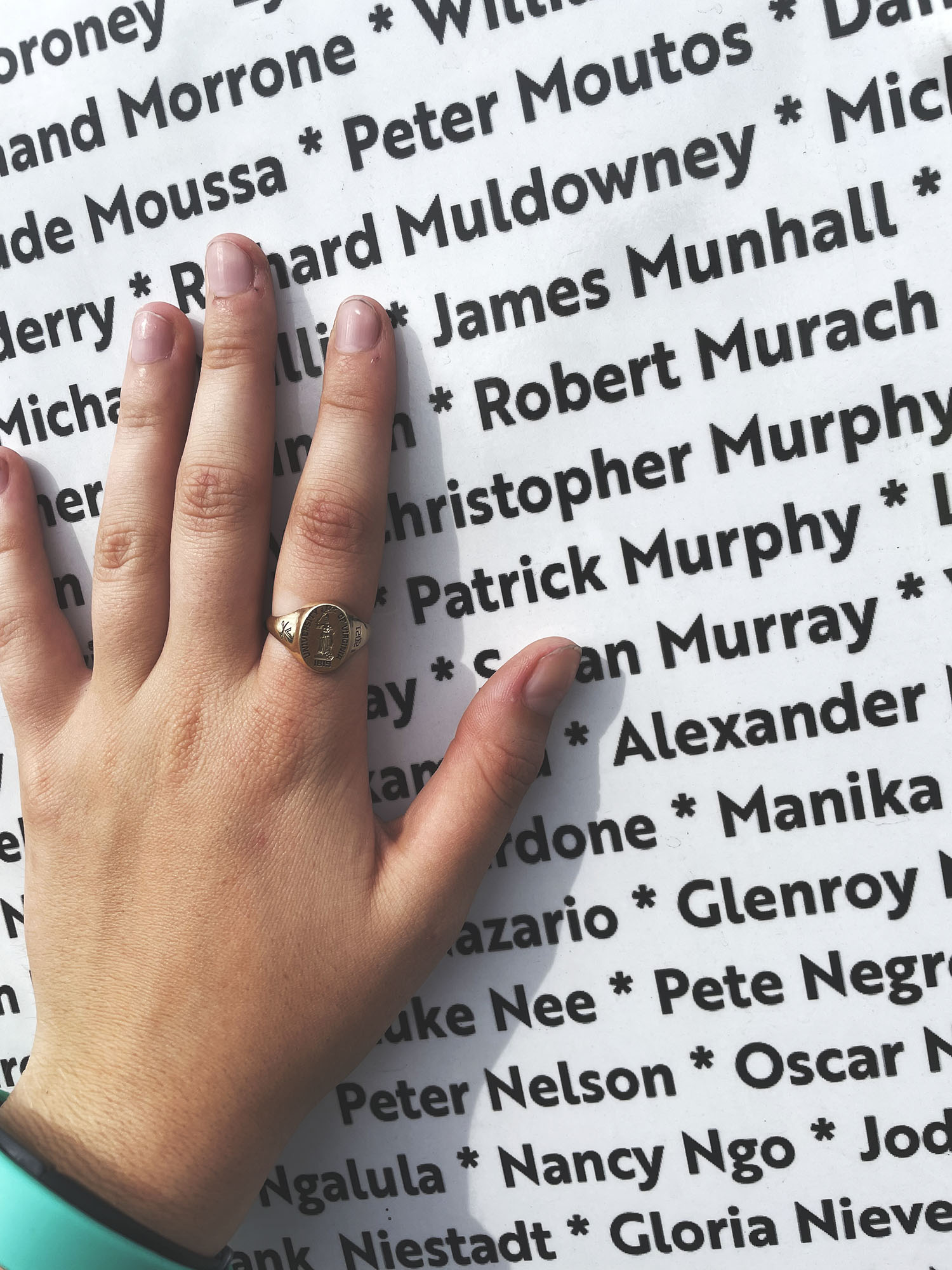 On the side of the America's 911 Foundation trailer are the names of every one of the 2,977 people who died in the terrorist attacks. (Contributed photo)
Over the years, Sjurseth has become close with many of the participants, including first responders and family members of victims.
On one occasion, the brother of one of the Flight 93 victims invited her to the giant boulder marking the spot in the Somerset County field where the plane went down.
Sjurseth said rides through Leesburg, where the foundation is headquartered, and Hightstown, New Jersey, the hometown of Flight 93 hero Todd Beamer, are especially emotional.
"Everybody lines the streets with American flags and says, 'thank you,' and people are crying and have signs like, 'My son was in the towers,'" Sjurseth said.
Sjurseth's experiences have inspired her to pursue a career in intelligence. Majoring in foreign affairs and global security and justice, she said she'd like to be a part of preventing future attacks like 9/11.
This year, Sjurseth was selected as a recipient of the UVA Alumni Association's Patrick Sean Murphy 9/11 Memorial Scholarship.
Created by Murphy's former UVA fraternity brothers, the scholarship recipient is selected by a committee of alumni and includes Vera Murphy-Trayner, Murphy's widow. It is awarded to a rising third- or fourth-year student who embodies the values and ideals that Murphy demonstrated during his time at the University. (The Alumni Association also has a scholarship in memory of Glenn Kirwin, another alumnus who died on 9/11.)
Murphy-Trayner, who will be reading names aloud at Saturday's ground zero ceremony, said she was beyond touched by Sjurseth's decision to do this year's ride in her late husband's memory.
"You have no idea what this tribute means to me and our family," Murphy-Trayner wrote Sjurseth in an email. "You honor us with your dedication.
"… Knowing there are so many who remember and honor the fallen, brings hope for the future of our wonderful nation. We will always remember and teach future generations exactly what we stand for as a nation united in peace.
"I will remember you and your efforts to honor Patrick as I stand at the [ground zero] podium. You honor his legacy and we are so proud that you are the Patrick Sean Murphy Scholar at his beloved university."
Article Information
September 8, 2021
/content/student-family-pay-homage-alumnus-who-died-911-annual-motorcycle-ride