Editor's note: This story has been updated to reflect medal results as the 2020 Olympic Games unfold.
S
ome will be in the pool, swimming for a gold medal just months after capturing a national title.
Others will be on the basketball court or on the soccer pitch, hoping to add to an already impressive collection of medals.
Still more will be on the open water, rowing for gold in long, narrow boats.
No matter where they are, or what country for which they are competing, these athletes have one thing in common: they have all called the University of Virginia home.
When the 2020 Summer Olympics kick off July 23 in Tokyo – after a yearlong pandemic delay – UVA will be well-represented, with student-athletes past and present, as well as several coaches, joining in the competition.
Get to know them now so that you can cheer them on.
Swimming
Even before the Olympics, this has been a banner year for UVA's swimming and diving team, as the women's team captured its first NCAA title and the men's team placed ninth at the NCAA championships, the second-best finish in program history.
In Tokyo, five UVA swimmers – all female – will compete in various events. May graduate Paige Madden, who also won three individual races and a relay title at the NCAA Championships, will compete in two events: the 400-meter freestyle and the 4x200 freestyle relay.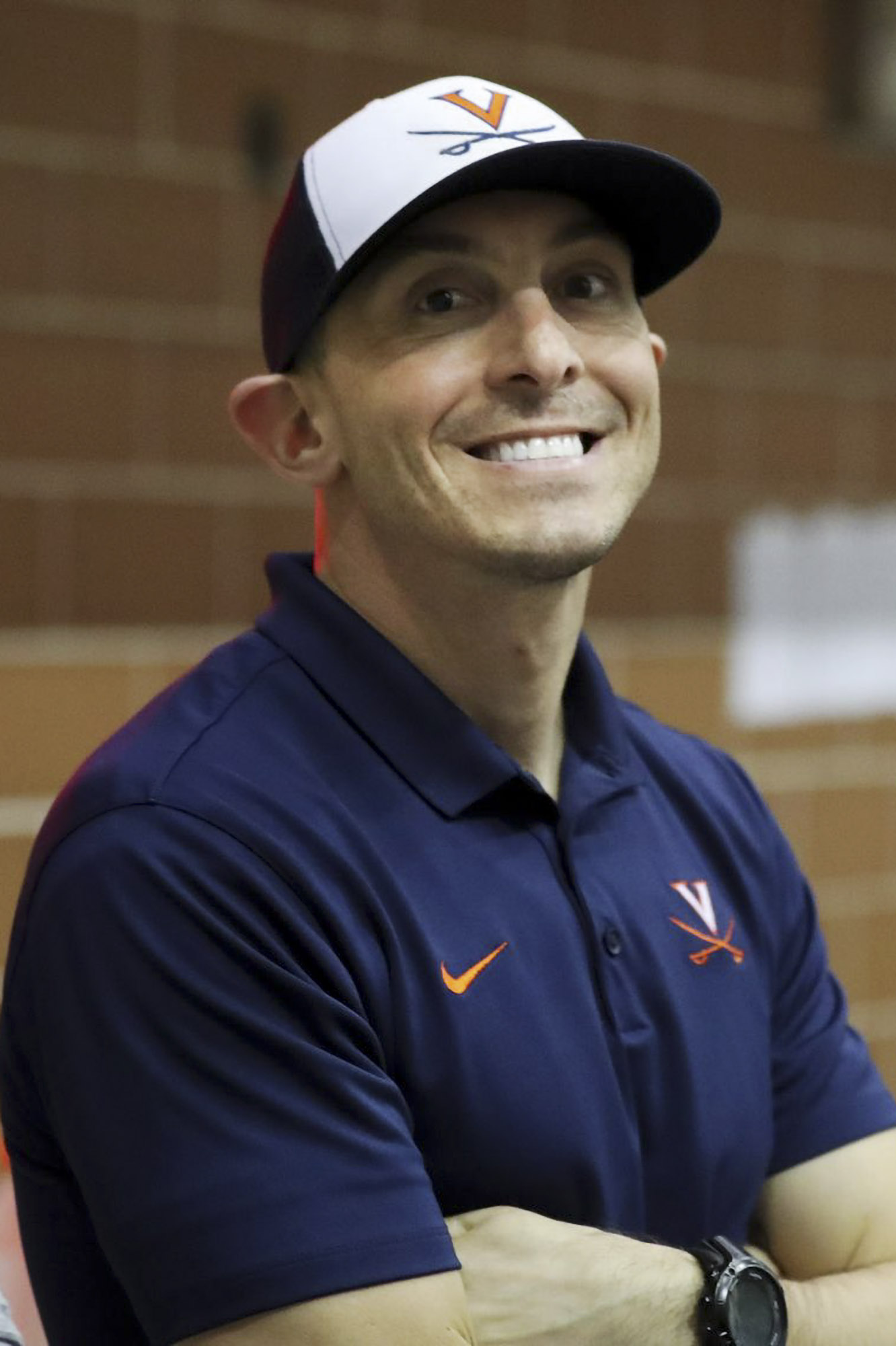 Swimming and diving head coach Todd DeSorbo will serve as an assistant coach on the U.S. Olympic team, joining five UVA women's swimmers. (Photo by Matt Riley, UVA Athletics)
Two of Madden's UVA teammates, second-year student Alex Walsh and third-year student Kate Douglass, will swim in the 200 individual medley, and Emma Weyant, who will come to Grounds this fall after signing with UVA in 2020 but deferring enrollment, will swim in the 400 IM. Another Olympian, University of Michigan star Catie DeLoof, trains at UVA's Aquatic and Fitness Center and will compete on the 4x100 freestyle relay team. All five women are competing for Team USA.
As an exciting bonus, their coach, UVA head swimming and diving coach Todd DeSorbo, was selected as an assistant coach for the American team and will be in Tokyo with his UVA swimmers.
"Being on the U.S. Olympic Team coaching staff has always been an insane dream of mine, but it's all because of the athletes," DeSorbo said after the Olympic Trials in June. "I just get out of their way. A lot of people are like, 'Hey, you put four people, five people on the Olympic team!' I'm like, 'I didn't put anybody on the Olympic team. They put me on the Olympic team!' I'm on staff because of what they did. I'm fortunate I got to work with those athletes."
Medal results: Weyant won a silver medal in the 400-meter individual medley; Walsh and Douglass captured silver and bronze, respectively, in a close 200-meter individual medley race; Madden was part of the relay team that won a silver medal in the 4x200-meter freestyle relay, and DeLoof earned a bronze medal for her participation in heats of the 4x100-meter freestyle relay. 
Rowing
Seven UVA alumni will be out on the water at the Sea Forest Waterway, a regatta venue built for the 2020 Olympics.
Meghan O'Leary, a 2016 Olympian, 2017 world championship silver medalist and five-time national team member, will compete for the United States. O'Leary, who earned her bachelor's degree in 2007 and a Master of Education degree in 2008, was a Hillard Family Jefferson Scholar and a two-sport athlete at UVA, playing volleyball and softball. She did not pick up rowing until 2010. Clearly, it worked out.
Joining O'Leary on the American team is Kristine O'Brien, a 2013 graduate who rowed at UVA and helped lead the Cavaliers to the varsity eight and team title at the 2012 NCAA Championships.
Canada will be represented by three UVA rowers: 2011 graduate Christine Roper, 2013 graduate Susanne Grainger (also a member of the 2012 championship team) and 2018 graduate Morgan Rosts, who will travel to Tokyo as an alternate for the Canadian team. Two other Cavaliers, Hannah Osborne and Inge Janssen, will compete for New Zealand and the Netherlands, respectively. This will be Janssen's third trip to the Olympics; she won silver in the 2016 Summer Olympics in Rio and won the same event, the women's quadruple sculls, at the 2017 World Championships.
Medal results: Roper and Grainger helped Canada win a gold medal in the women's eight event, holding off a late charge by the New Zealand team. O'Brien and Team USA finished fourth in the event. Grainger and Roper are the second and third UVA rowers to win gold medals. 
Osborne won a silver medal for New Zealand in the women's double sculls rowing event.  O'Leary and the U.S. team finished 10th in the quad sculls event; Janssen and the Netherlands team finished 6th.
Women's Basketball
Basketball Hall-of-Famer Dawn Staley is the head coach of the USA Basketball Women's National team.
Staley is among the best basketball players in UVA history, and her coaching career has been no less stellar. She played at UVA from 1989 to 1992, leading the team to three Final Four appearances, and earning national Player of the Year honors in 1991 and 1992. She went on to play professionally before beginning a coaching career, and is currently the head women's basketball coach at the University of South Carolina, where she has led the team to three Final Four appearances and a national title.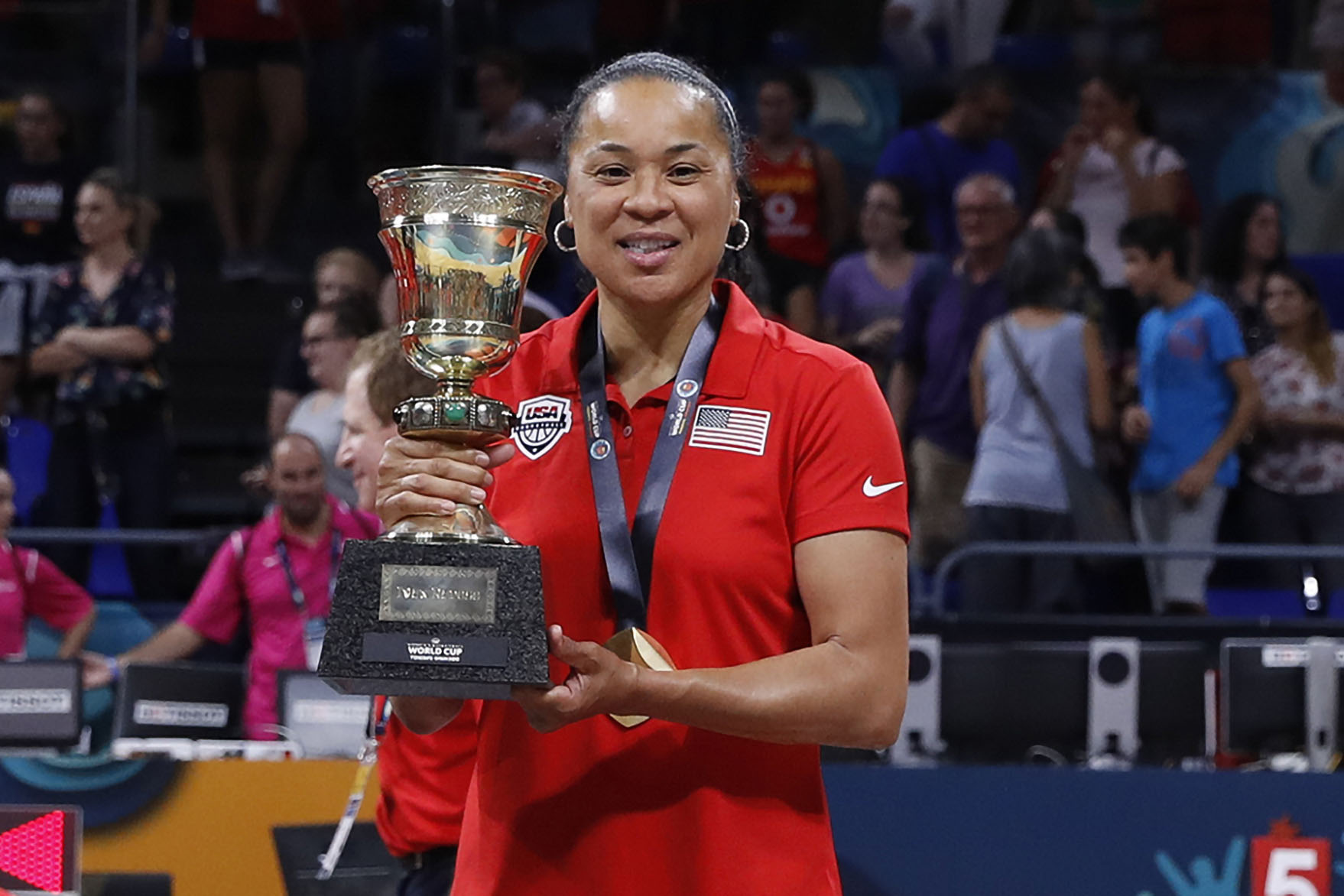 Former UVA basketball star Dawn Staley is the head coach of the USA Women's Basketball National Team. (USA Basketball photo)
Staley is no stranger to the Olympics; she has won three gold medals as an athlete and served as an assistant coach for two medal-winning teams in 2008 and 2016.
Since assuming the head coaching position in 2017, Staley has led the USA Basketball Women's National team to a 6-0 record and gold medal at the 2018 FIBA Women's Basketball World Cup, qualifying the team for the 2020 Olympic Games. Staley was named USA Basketball National Coach of the Year that year, as the team also went 6-0 in its exhibition schedule.
The Americans will be looking for similar success in Tokyo – and Staley can potentially add another gold medal to her impressive collection of honors.
Also, Aisha Mohammed Balarabe is headed to Tokyo as a member of the Nigerian National Team to compete in her second Olympic games. She also represented Nigeria in its only other Olympic appearance in 2004. Mohammed Balarabe played at UVA for two seasons (2008-09), leading the ACC in rebounding her senior season.
Men's Basketball
Men's basketball alumnus Mike Tobey will be on the Slovenian national team. A 7-foot center, Tobey plays professionally for the Valencia Basket club, which competes in the EuroLeague and in Liga ACB, the top professional division in Spain. Tobey appeared in 138 games over his four years at UVA, a program record at the time.
Fellow center and current Cavalier Francisco Caffaro will also be in Tokyo, playing with the Argentinian national team. Caffaro, who grew up in Santa Fe, Argentina, played in 17 games for the Hoos in the 2020-21 season. He has previously represented Argentina in five separate tournaments at the national team level, starting when he was 15.
Women's Soccer
Two UVA alumnae will feature on the U.S. National Team – soccer stars Becky Sauerbrunn and Emily Sonnett. Sauerbrunn, a defender who played at UVA from 2003 to 2007, is a captain on the U.S. team and previously won gold at the 2012 London Summer Olympics. She has also been with the national team for two FIFA Women's World Cup wins, in 2015 and 2019.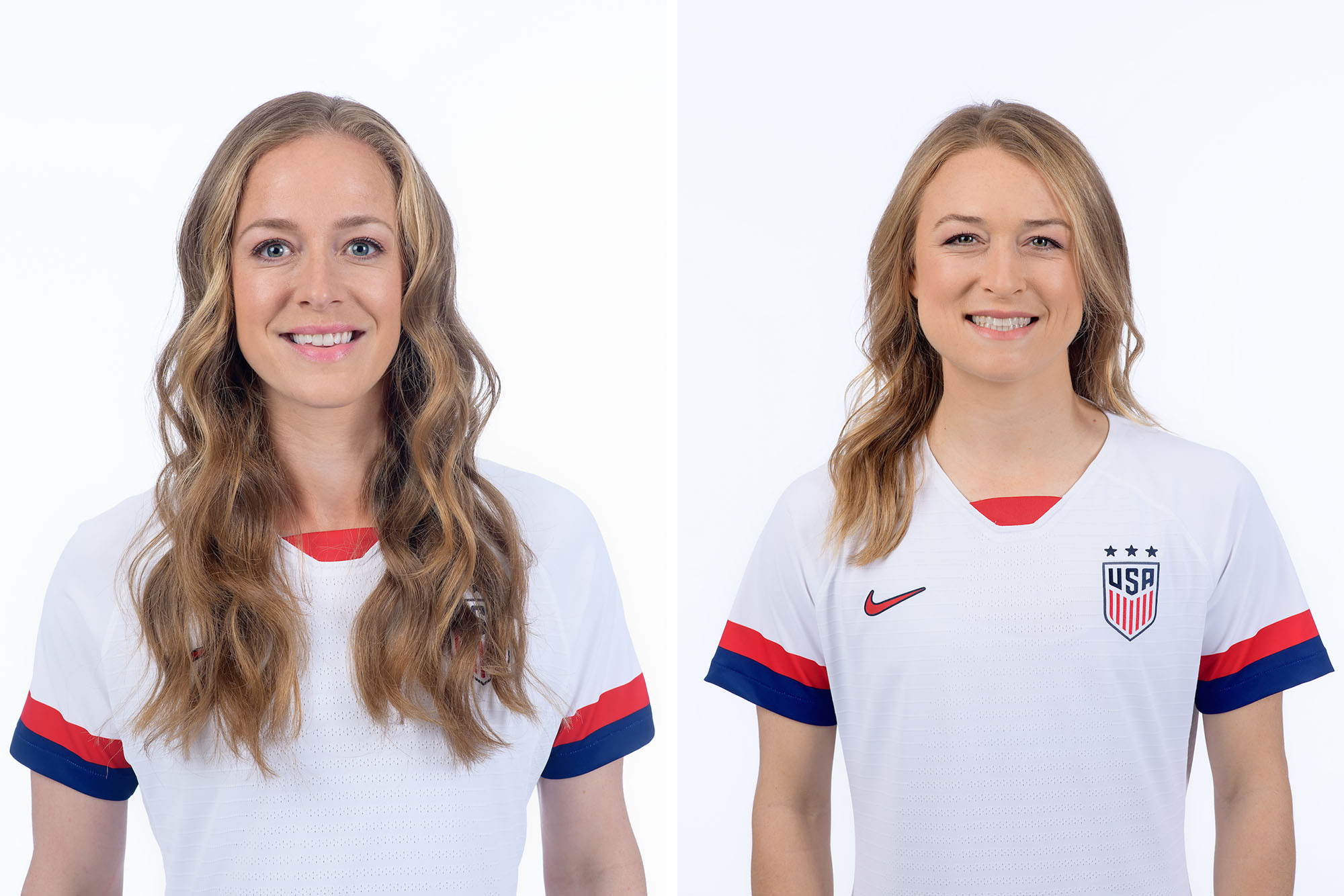 Becky Sauerbrunn, left, and Emily Sonnett are both defenders on the U.S. women's soccer team. (USA Soccer photos)
Sonnett, a 2016 UVA graduate, joins Sauerbrunn on defense. She was the No. 1 overall draft pick after she finished her collegiate career, and made her national team debut in 2015. She was part of the 2016 Olympic team as an alternate and appeared in the 2019 World Cup.
Both women also play professionally in the National Women's Soccer League.
Men's Soccer
Joe Bell, who played at UVA from 2017 to 2019, will be in Tokyo as a midfielder for the New Zealand national team. Bell, who is from Wanaka, New Zealand, was co-captain of the 2019 UVA squad, which won the ACC men's soccer tournament and entered the NCAA Tournament as the No. 1 seed, ultimately falling to Georgetown University in the final game.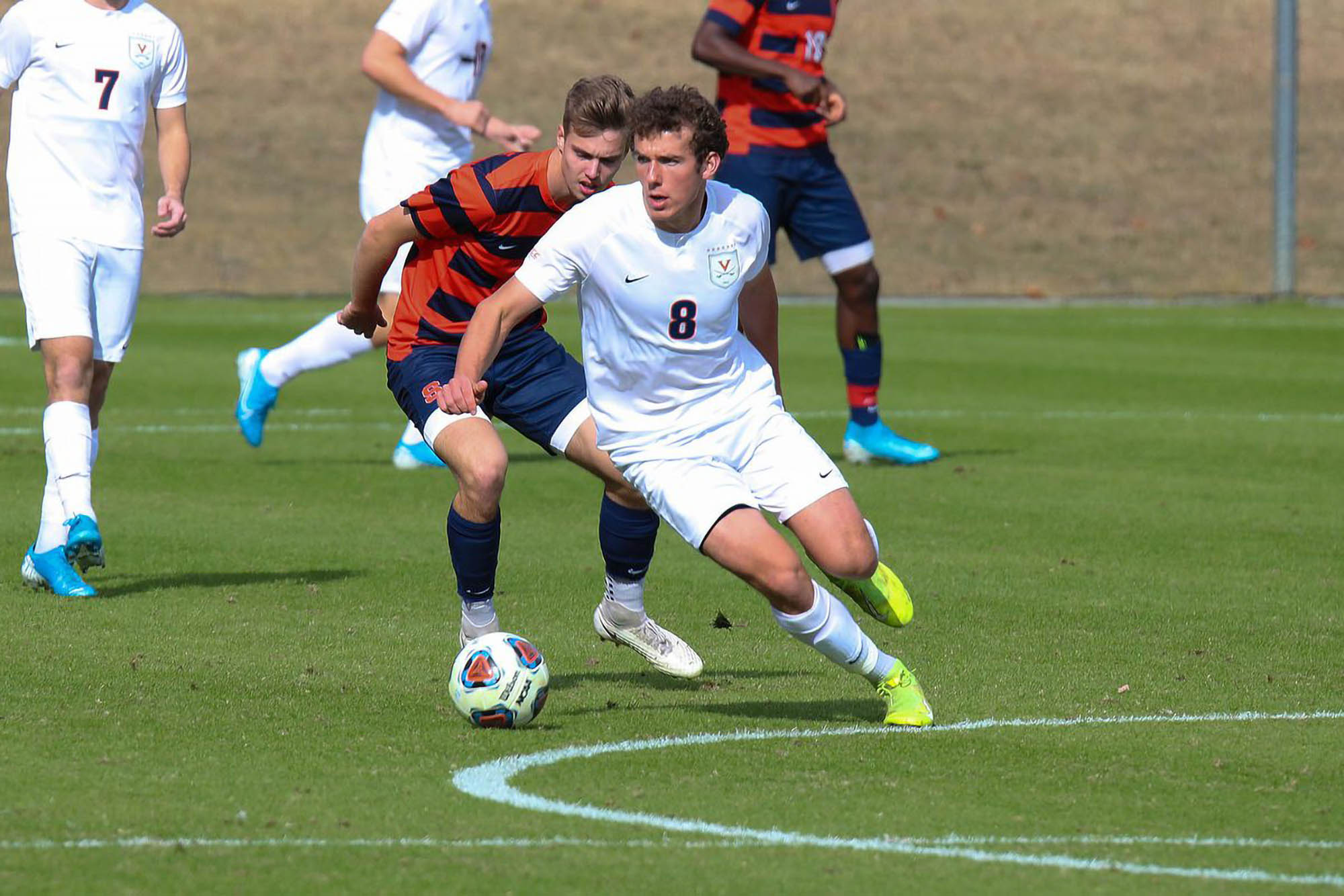 Former UVA soccer star Joe Bell will compete with the New Zealand national team. (Photo by Matt Riley, UVA Athletics)
Bell was named ACC Scholar-Athlete of the Year in 2019, as well as the TopDrawerSoccer.com National Player of the Year, the United Soccer Coaches Scholar Player of the Year and was a consensus first-team All-American. He signed a professional contract at the end of that season with Viking FK, a club in Norway, and has played professionally since.
Track & Field
2017 graduate Filip Mihaljević will compete in the shot put for Croatia, an event he also entered in Rio in 2016. Mihaljević was UVA's 2017 WINA Award winner, given to the top male athlete across all sports. He is a three-time NCAA champion, winning two championships for shot put and one for discus, 10-time All-American, 10-time ACC champion and the 2017 ACC Outdoor Field Performer of the Year.
2021 NCAA champion Michaela Meyer is also an alternate in the 800 meter race for USA Track & Field, the same race she won at the NCAA championships in June.
More to Come?
A few student-athletes are still in the process of qualifying for Olympic teams from other countries, so more Hoos could join the party in Tokyo as the event draws closer.
Media Contact
Article Information
July 2, 2021
/content/meet-team-uva-these-hoos-are-headed-olympics