Disparities in community health and individual health outcomes along racial and gender lines have a well-documented history in the United States. The coronavirus pandemic, however, has shown the differences in sharp relief.
According to Johns Hopkins University, available data shows that Black Americans account for 34% of the total deaths from COVID-19 in the United States, despite accounting for 13% of the population. Numbers are also disproportionately elevated for Asian Americans and Latinos across much of the country. Across the globe, meanwhile, men die from COVID-19 at a rate nearly twice that of women.
Speaking at a Leadership Unscripted event hosted by the University of Virginia's Darden School of Business focused on health equity during the pandemic, Dr. Vivian Pinn said "social determinants" – factors such as wealth, profession and access to health care – have been among the key drivers of who gets sick and why, noting that many service sector employees who, by virtue of their jobs, are unable to practice social distancing have been hard hit by the virus, for instance.
"The pandemic has brought about what was already there," she said. "The systems have set us up to be impacted differently."
Pinn suggested the pandemic had changed how much of the U.S. thinks about health care and cast a light on the need for more equitable access to health care for all.
A pioneer in the field of medicine, Pinn was the inaugural full-time director of the Office of Research on Women's Health at the National Institutes of Health and associate director of NIH for women's health research from 1994 until her retirement in 2011. A 1967 graduate of the UVA School of Medicine – where she was the only person of color and the only woman in her class – UVA subsequently honored Pinn by naming a research and education building, Pinn Hall, and one of its four advisory medical student colleges, Pinn College, in her honor.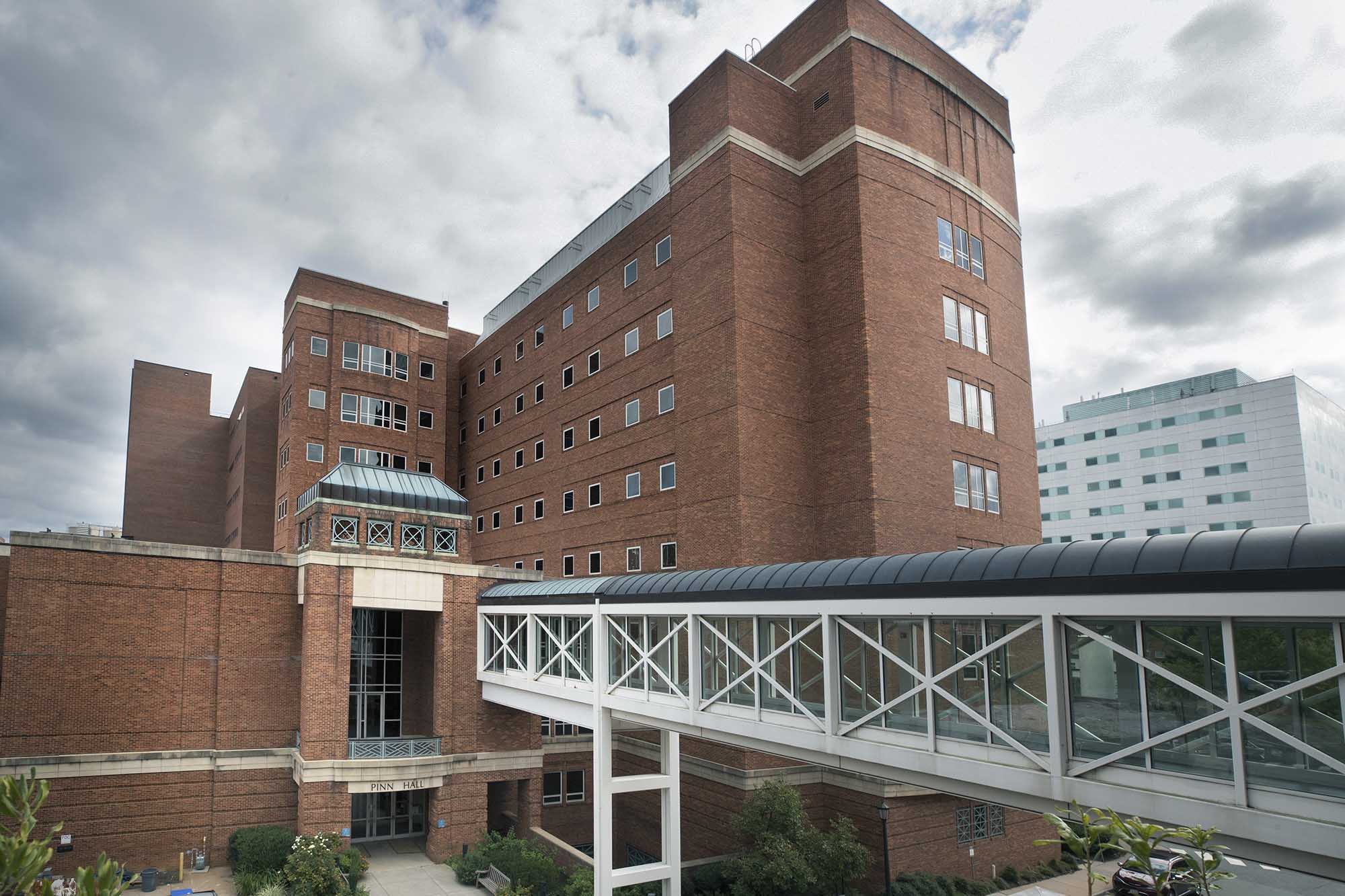 UVA dedicated Pinn Hall in Dr. Vivian Pinn's honor in 2017; it is now a research and education building within the School of Medicine. (Photo by Dan Addison, UVA Today)
Darden professor Lalin Anik, whose research in the marketing area often considers the role of social connection on human behavior, conducted the Leadership Unscripted interview with Pinn.
Anik suggested one early outcome of the pandemic has been a greater awareness of global connectivity, as recent months have made clear why we must care about the health of citizens not just in our own country, but all over the world, even if other parts of the globe can sometimes feel removed from our day-to-day lives. The pandemic offered many "a reason to care about health inequities" and a drive to "do something about it," Anik said.
Asked why the numbers of infected patients in the United States are so much higher than other parts of the world, Pinn suggested that those with scientific and medical expertise were not always leading the response.
"We know that in past times of epidemics, we've seen leadership not from politicians, but from those in health care," Pinn said. "We've not seen that this time."
The response would likely have been different had key decisions related to the response been made by those with experience and knowledge in dealing with infectious diseases, Pinn said.
Pinn also mused on reports that many of the countries that appear to be best handling the crisis are led by women. While cautioning that she was not trying to offer broad generalizations, she said the different approaches may suggest women are "more apt to reach out for assistance or advice," and are often more likely than men to accept that they are not in total control of a situation. Men may be more inclined to project an "in-charge image," and less prone to seek input from others, Pinn said.
"I think a powerful leader, a strong leader, knows how to involve those around him or her," Pinn said. "A leader has to make the ultimate decision, but an informed decision is what is important. A good leader is one that can do that."
Pinn said she distilled key characteristics of effective leaders into the "four Es:" "empathy," "equity," "ethics" and "excellence."
Anik suggested the attributes were key not only to leaders, but to anyone aspiring to be "a good human."
Watch the full discussion below.
Article Information
July 10, 2020
/content/womens-health-research-pioneer-dr-vivian-pinn-distills-lessons-pandemic