University of Virginia students had plenty of opportunities to prove their creativity this year, and they took full advantage.
All over Grounds – on stages, in practice rooms, in museums, rap labs and classrooms – UVA students and faculty members produced extraordinary work and shared it with the world.
Here are just a few of the highlights.
Georgia O'Keeffe Returned to Grounds
Not in person, but certainly in spirit. Graduate students and faculty members spent untold hours studying the famous artist's time at UVA to create an exhibition at UVA's Fralin Museum of Art, "Unexpected O'Keeffe: The Virginia Watercolors and Later Paintings."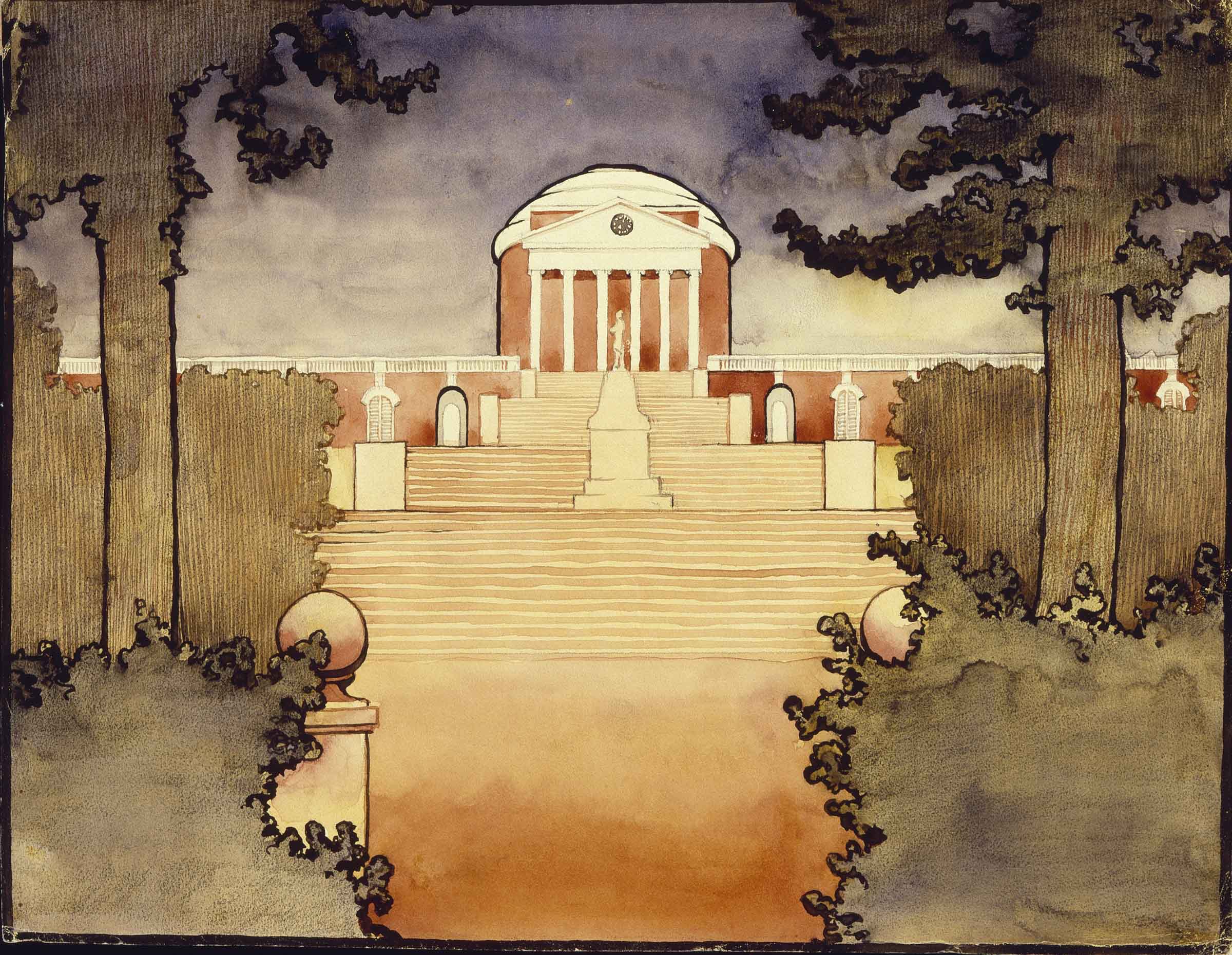 Georgia O'Keeffe (American 1887-1986). Untitled (Rotunda -University of Virginia), Scrapbook of UVA, 1912-1914. Watercolor on paper. Georgia O'Keeffe Museum. Gift of The Georgia O'Keeffe Foundation (2006.05.608). © 2018 Georgia O'Keeffe Museum.
The exhibition, which closes Jan. 27, highlights O'Keeffe's watercolors of places on Grounds and in Charlottesville and shows how the four summers she spent studying at UVA set the stage for her now-famous career.
Read: The Untold Story of Georgia O'Keeffe's Time at UVA
Julian Sanchez – and the Rest of the Heritage Theatre Festival Cast – Took a Bow
We followed along as 2018 graduate Julian Sanchez – now a graduate student in the same program that produced actors like Meryl Streep – took the stage at UVA one last time, playing aspiring Broadway actor Paul San Marco in "A Chorus Line" during this summer's Heritage Theatre Festival.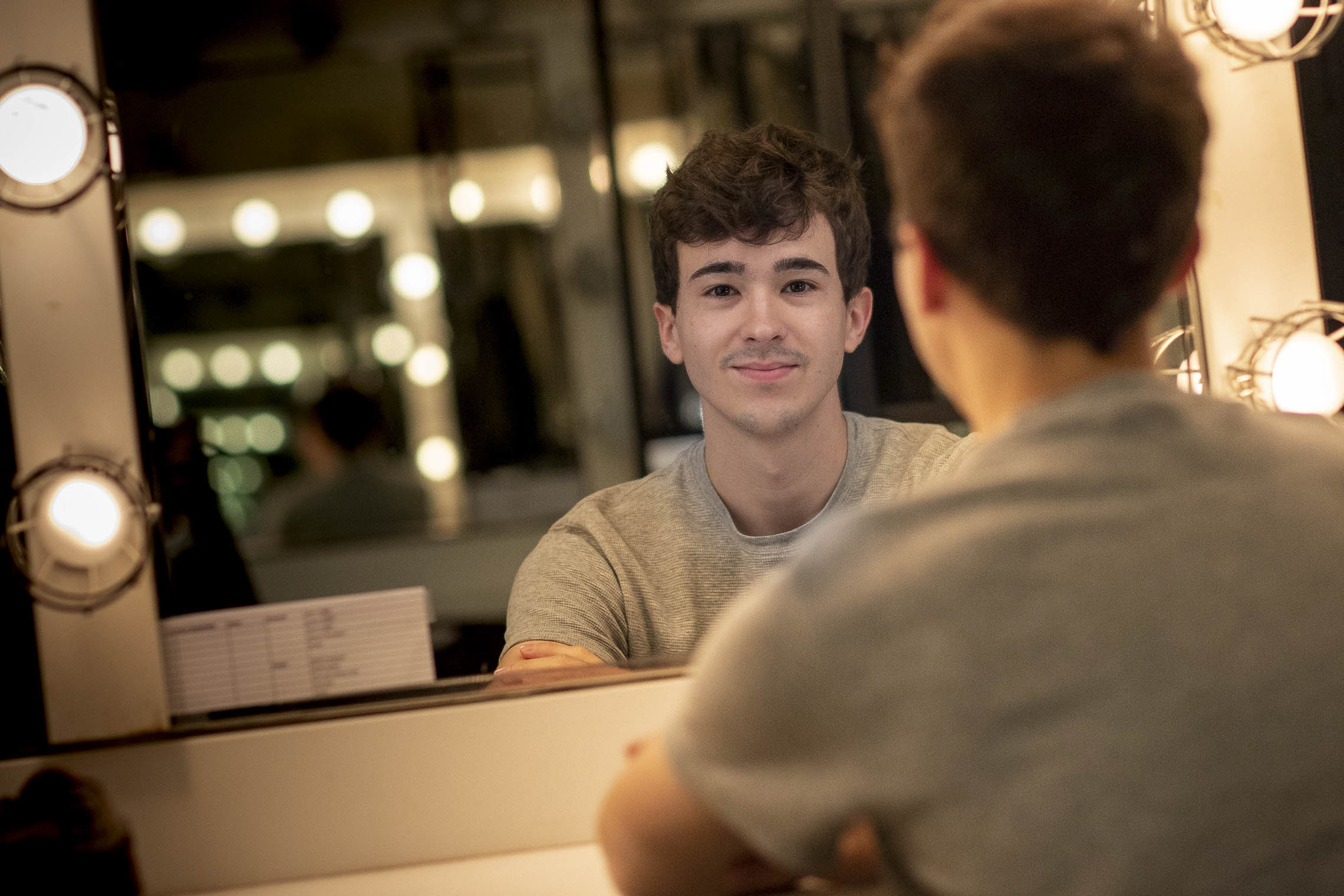 Julian Sanchez graduated in May with a degree in English, bound for Yale University's prestigious MFA program. (Photo by Sanjay Suchak, University Communications)
The festival, coming up on its 45th year, brings professional actors and directors to Charlottesville to work alongside UVA students and faculty members for a series of plays and musicals each summer.
Read: Follow Along as 2018 Grad Julian Sanchez Takes the UVA Stage One Last Time
UVA and Charlottesville Joined Together for an Extraordinary Show
More than 150 musicians, dancers and vocalists from UVA, Charlottesville and beyond came together in October to perform Leonard Bernstein's "Mass," originally created by the famed American composer at the request of former first lady Jacqueline Kennedy Onassis.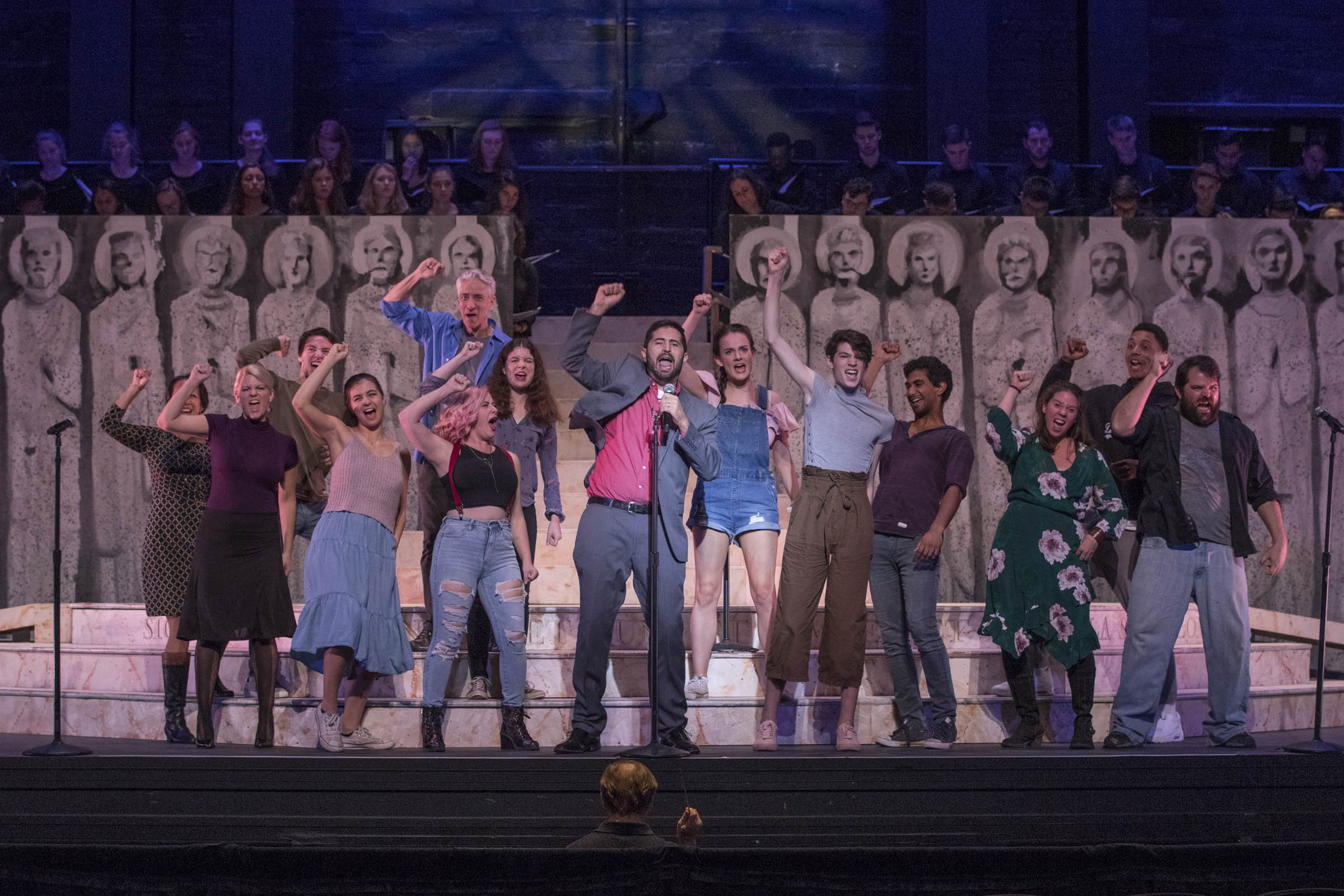 Performed at the Paramount Theater, "Mass" juxtaposed high Catholic ritual with a blues- and jazz-focused street chorus. (Photo by Dan Addison, University Communications)
The piece captured what Bernstein saw as a crisis of faith in the 20th century, particularly after John F. Kennedy's assassination. It calls for a huge variety of performers, making this year's performance one of the largest UVA's McIntire Department of Music has ever produced.
Read: Behind the Scenes: UVA, Charlottesville Singers Unite for Stunning Performance
A UVA Student Brought the Joy of Art to Charlottesville's Homeless
First-year student and Charlottesville native Emma Hitchcock co-founded "Art for the Heart" with her friend Zadie Lacey to provide art workshops for the homeless, a group she worried was too often ignored and denied even basic human connection.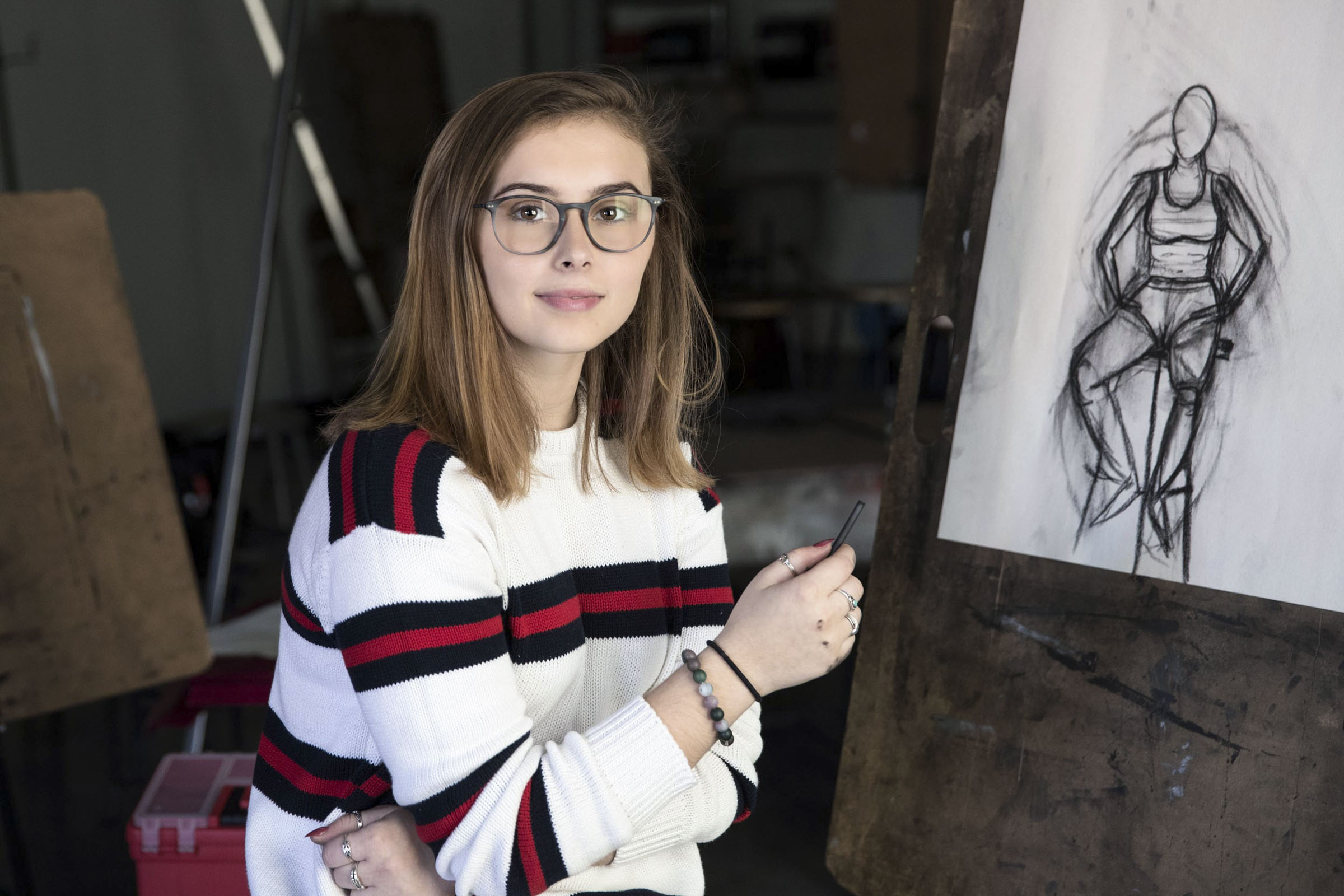 First-year student Emma Hitchcock used UVA's iLab to turn her idea into a viable nonprofit. (Photo by Dan Addison, University Communications)
Hitchcock and Lacey, who refined their idea in UVA's iLab, have conducted several winter and summer art workshops at The Haven, a day shelter for the homeless in downtown Charlottesville. The workshops have included painting, drawing and jewelry-making, which has proven a popular option.
Read: Student's 'Art for the Heart' Venture Provides Welcome Respite for the Homeless
Student Novelist Shea Megale Inspired Classmates and Faculty Alike
Shea Megale might not have full use of her arms and legs, but her imagination runs wild. The second-year student, who was born with Spinal Muscular Atrophy II, wrote her first novel at 15 and has since written 13 more. Her first professionally published novel, "This is Not a Love Scene," will be published in May by St. Martin's Press.
Another book, also coming out next year, is heartbreakingly personal: a memoir of her brother Matt and his fatal struggle with addiction.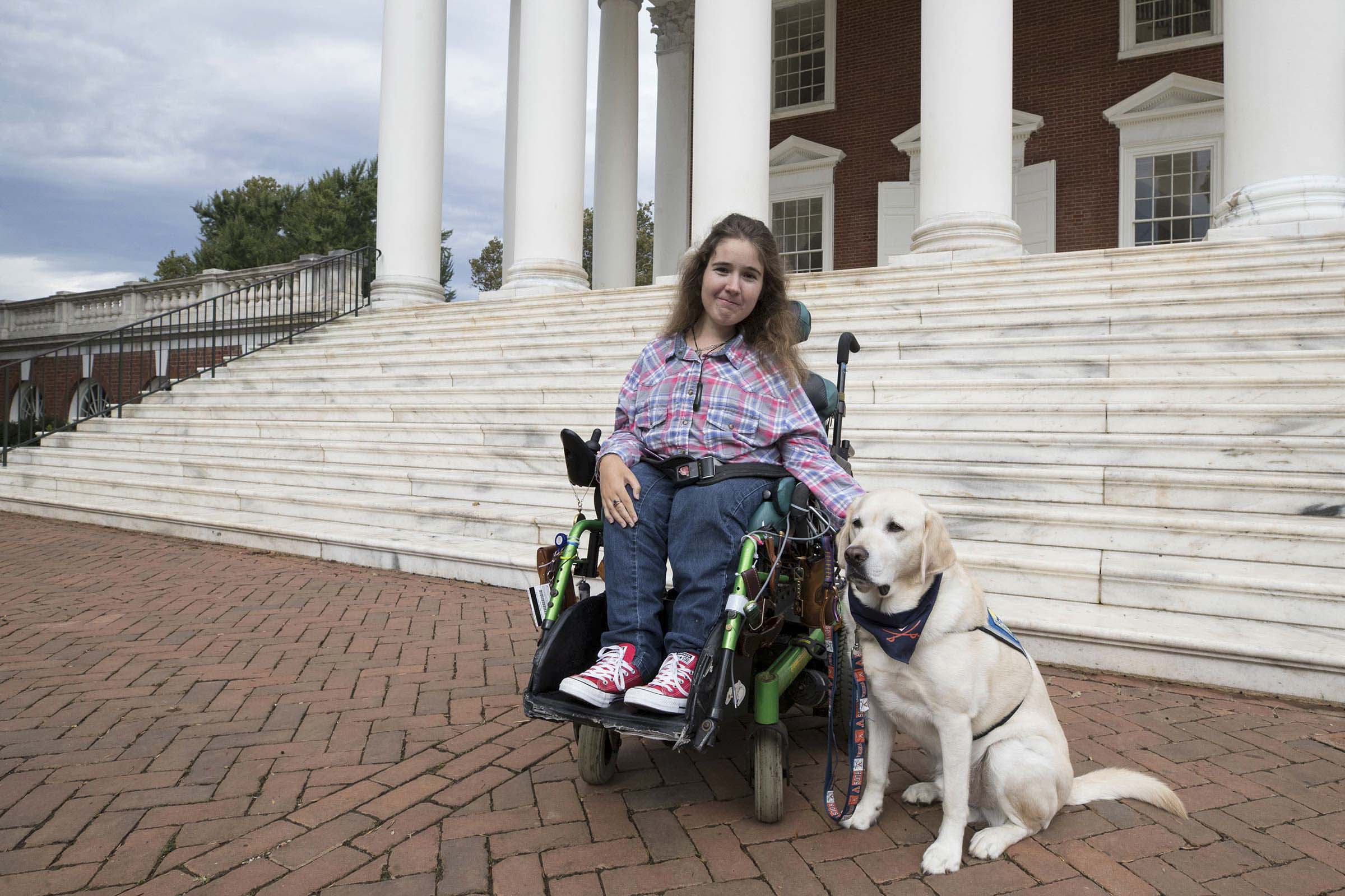 Megale and her service dog Pierre have both enjoyed the move to UVA. (Photo by Dan Addison, University Communications)
Even as these two books near publication, and as she continues to cope with her own grief, Megale is building a new life on Grounds, which she navigates with her service dog, Pierre.
Read: Novelist Shea Megale Adds a UVA Chapter to Her Own Extraordinary Story  
Students Created Their Own Version of the American Flag
Art and architecture professor Sanda Iliescu still keeps the small American flag that her mother, a Romanian dissident, waved when welcoming President Nixon to Romania in 1969. Just a few years later, the family fled to the U.S. to pursue the freedom they dreamed of.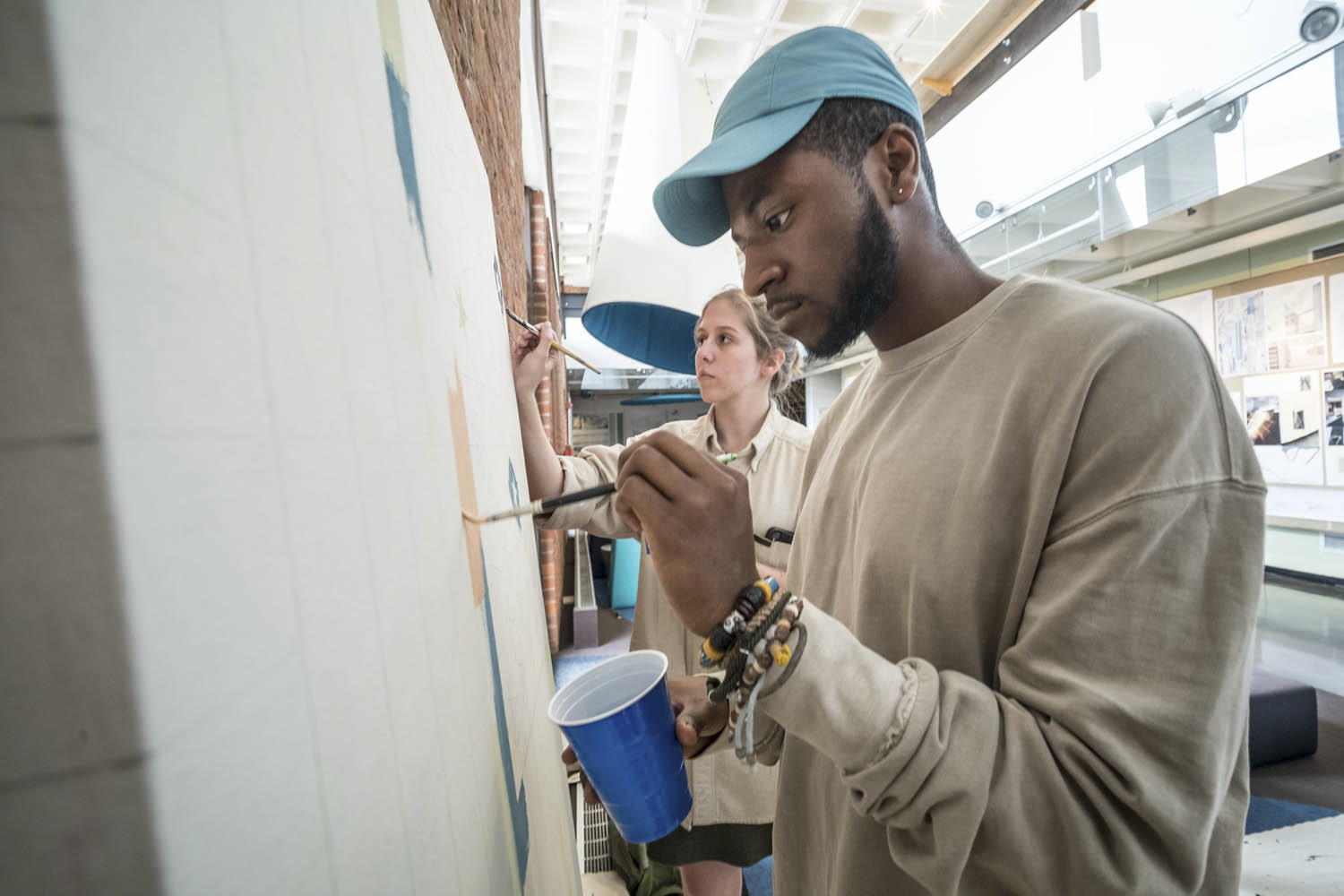 Students, faculty members and community members worked on the flag painting over the course of 10 days in Campbell Hall. (Photo by Sanjay Suchak, University Communications)
In May, Iliescu had students work together to create their own version of the flag, pouring into it everything the country means to them and their families. Scores of students and community members painted a small piece of the larger whole, creating a tapestry-like flag rich with color, texture and meaning.
Read: Public Art Project Explores What the American Flag Means
The 'Rap Lab' Produced Powerful Original Music
A group of 14 students in music professor A.D. Carson's "Composing Mixtapes" course produced a 15-song mixtape for their final exam in the spring. They wrote, performed, recorded and produced the entire album, and coordinated a premiere at Boylan Heights.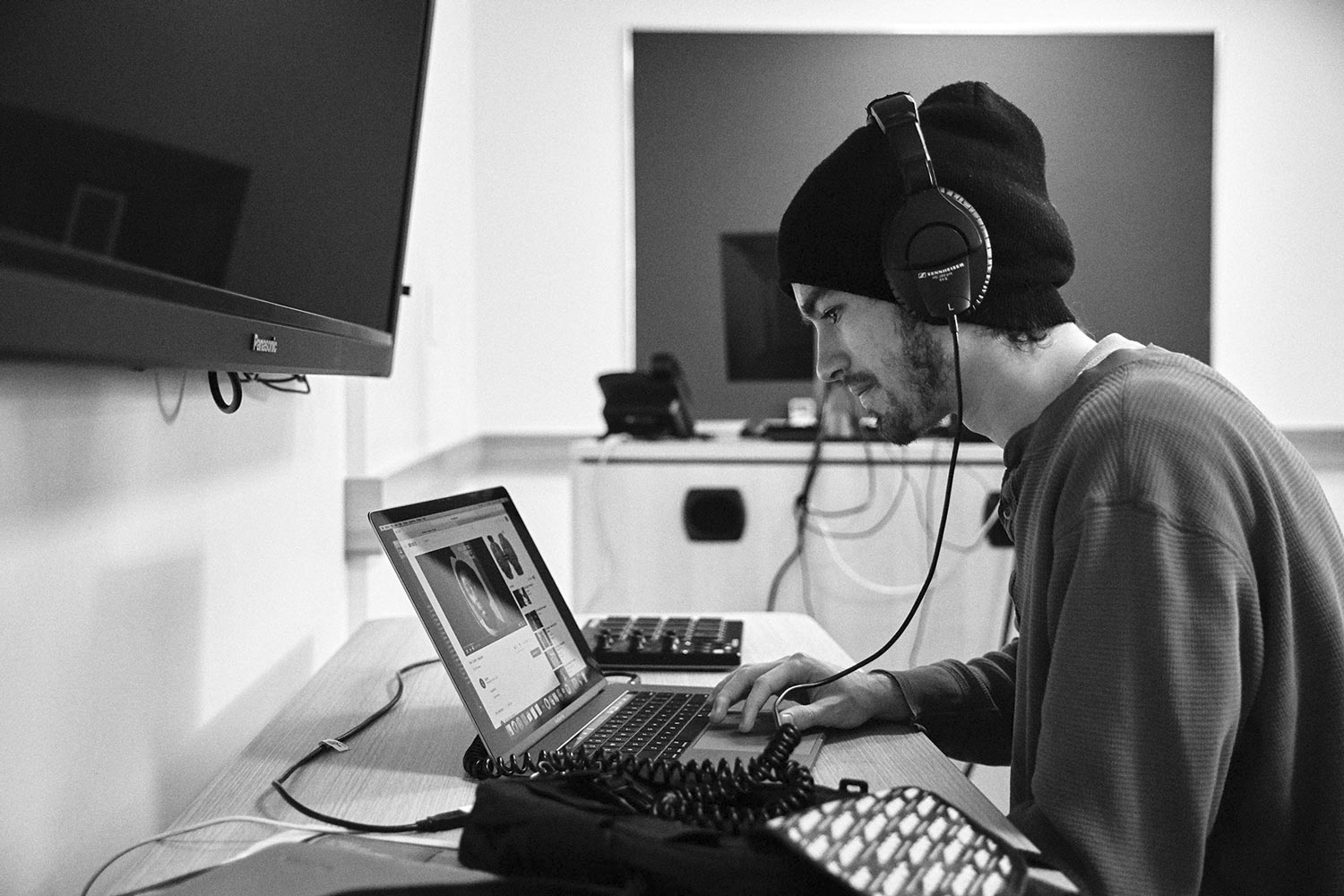 Fourth-year student Cal Ries and his classmates listened to and sampled a huge variety of music as they prepared their own tracks. (Photo by Miguel "MiG" Martinez)
Students said they enjoyed collaborating with their classmates on lyrics and performances, building confidence on stage and off, and learning the ins and outs of music production.
Read: Students Debut a Mixtape Straight from UVA's 'Rap Lab' in Unusual Final Exam
'Makers' Were Busy All Over Grounds
All across Grounds, students and faculty members used 3-D printers, robotic arms, laser cutters and many other tools to turn their ideas into reality. They call themselves the "Makers of UVA," and they can be found in a growing network of "Maker Grounds" spaces across the University.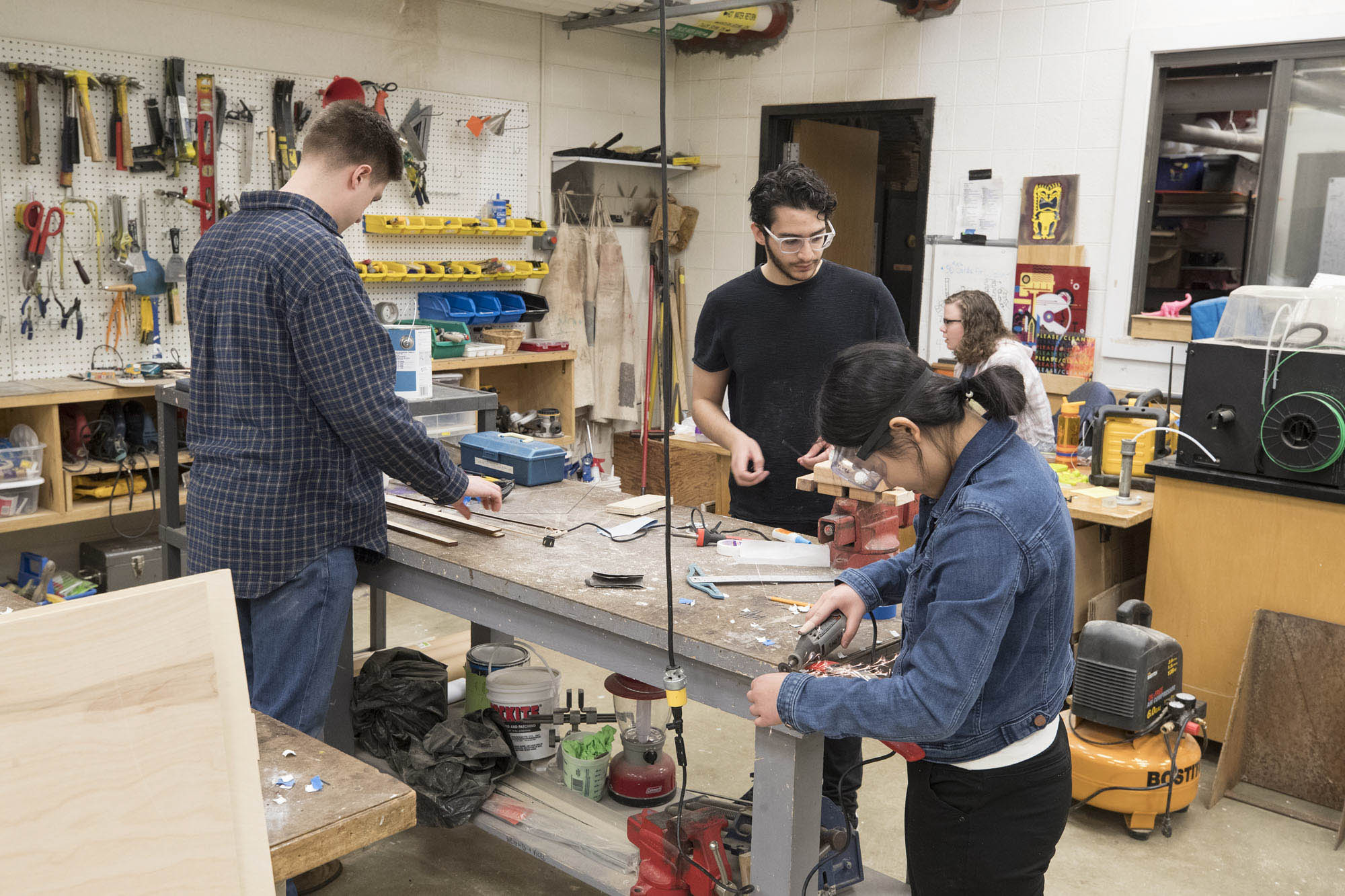 The Fabrication Lab, or "FabLab," is located on the first floor of Campbell Hall, home to UVA's School of Architecture. (Photo by Dan Addison, University Communications)
These labs have produced 3-D printed images of patients' skulls – enabling UVA doctors to precisely plan surgeries, replicas of William Faulkner's pipes, robots, racecars, tiny, detailed models of the Rotunda, and much, much more.
Read: Meet the Makers
The 'Delorme Dome' Returned Home
In the spring, 15 students in Benjamin Hays' "History of American Building Technology" course built a replica of the original wooden dome that perished when the Thomas Jefferson-designed Rotunda caught fire in 1895.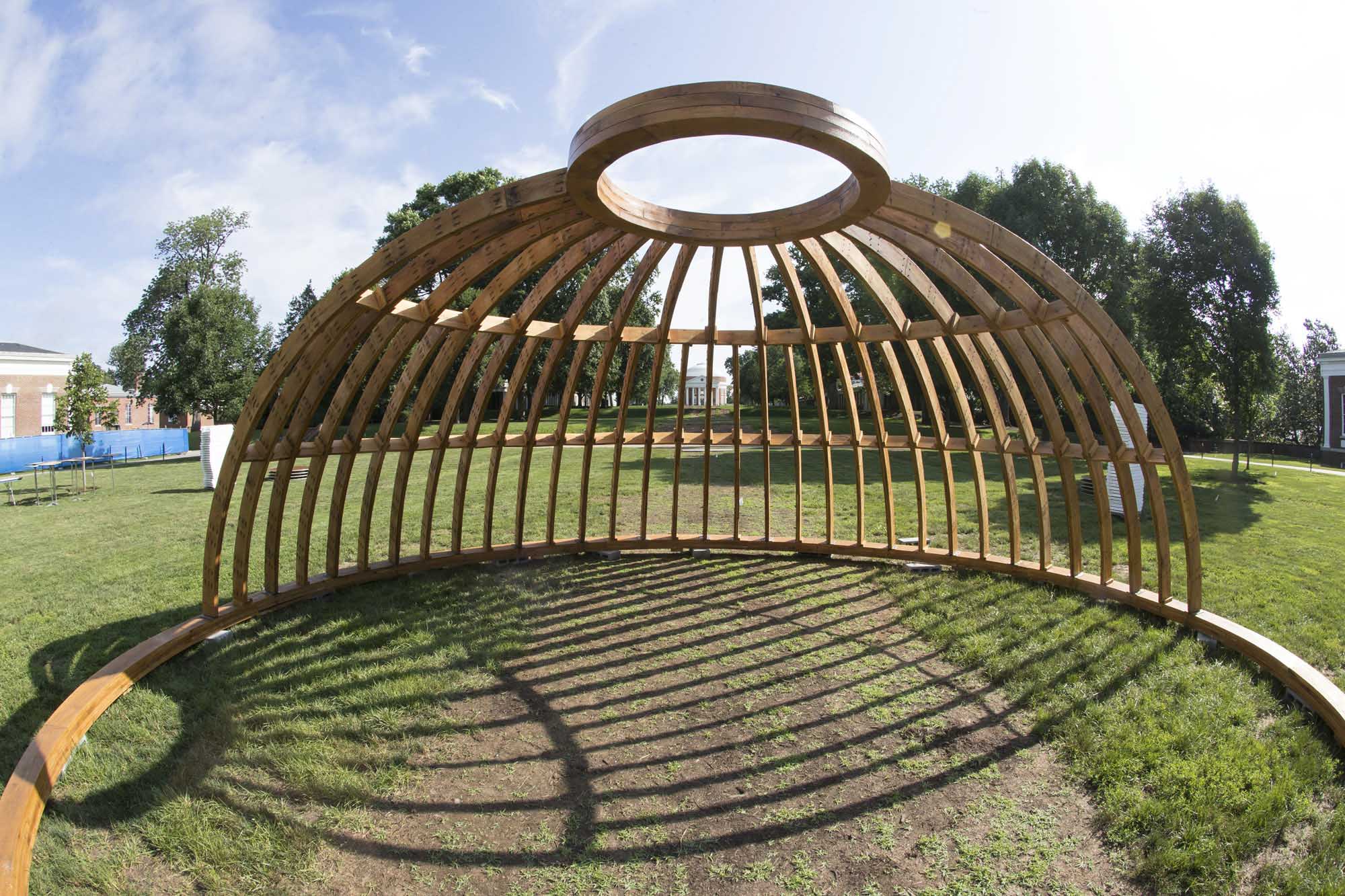 The model shows a glimpse of what the original wooden dome would have looked like. (Photo by Dan Addison, University Communications)
Jefferson's designs were inspired by the work of 16th-century French architect Philibert Delorme, who pioneered the technique of using wooden ribs to create beautiful, sturdy domes.
Read: The Wooden 'Delorme Dome' Comes Home to Jefferson's Academical Village
The Ever-Popular Virginia Film Festival Closed Out the Year
The Virginia Film Festival brightened the first weekend of November with a star-studded slate of special guests, Oscar-worthy films, discussions and master classes. This year's guest list included civil rights activist Martin Luther King III, the eldest son and namesake of Rev. Martin Luther King Jr.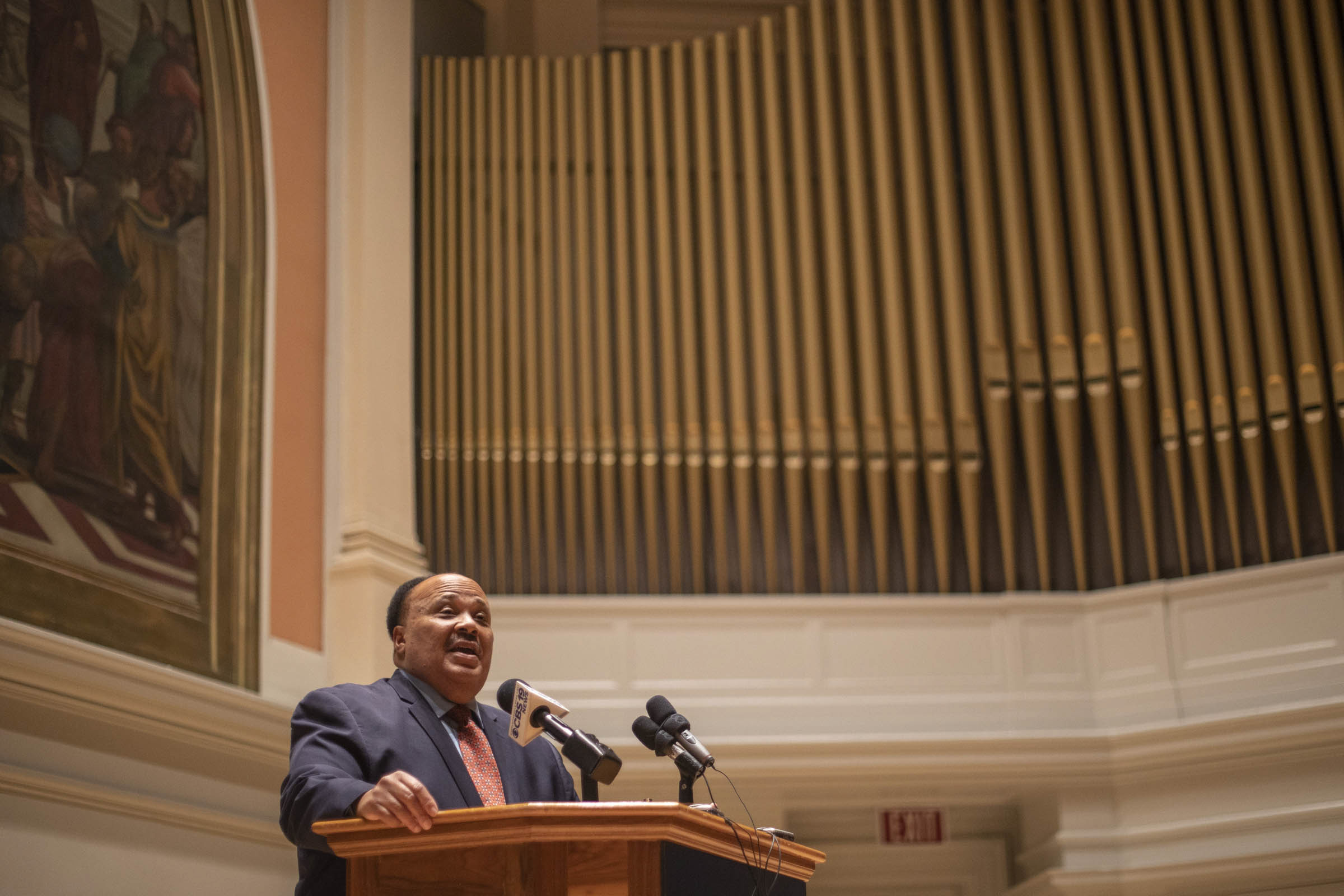 Martin Luther King III spoke in Old Cabell Hall – the same site of his father's historic speech at UVA. (Photo by Sanjay Suchak, University Communications)
King visited for the premiere of "Charlottesville," a new documentary produced in part by UVA's Center for Politics that focuses on the violent Unite the Right rallies in August 2017. Before the screening, he retraced his father's footsteps in Old Cabell Hall, where the elder King spoke to more than 900 students and faculty in 1963.
Media Contact
Article Information
December 19, 2018
/content/10-highlights-year-full-art-grounds