Architecture: Kenneth Frampton, Ware Professor of Architecture at Columbia University's Graduate School of Architecture, Planning and Preservation, where he has taught since 1972. Frampton is considered one of the world's foremost experts in modern architecture.
Citizen Leadership: Sherrie Rollins Westin, president of Sesame Workshop, the nonprofit educational organization behind "Sesame Street." Westin leads efforts to serve vulnerable children through mass media and targeted initiatives in the United States and around the world.
Law: Supreme Court Justice Stephen Breyer, a graduate of Stanford University, Oxford University and Harvard Law School. In 1994, he was appointed a Supreme Court justice by President Bill Clinton. He will retire from the court at the end of the 2021-22 term.
UVA President Jim Ryan and Leslie Greene Bowman, president and CEO of the Thomas Jefferson Foundation at Monticello, presented the medals Wednesday during a luncheon in the Rotunda's Dome Room.
"Many of the ideals that Jefferson espoused remain at the heart of the American experiment and at the heart of the University of Virginia, including citizen leadership, self-governance and public service," Ryan said as guests dipped into their desserts. "That's why today, on what would have been his 279th birthday, we come together to consider Jefferson's legacy and to recognize the women and men who are building on it."
All three medalists gave public talks about their work. Breyer spoke Tuesday at the School of Law. Westin, a 1980 UVA graduate, spoke Wednesday morning at Monticello, and Frampton delivered his address Wednesday afternoon at the School of Architecture.
Sherrie Rollins Westin: Jefferson Would Have Have Been Happy on 'Sesame Street'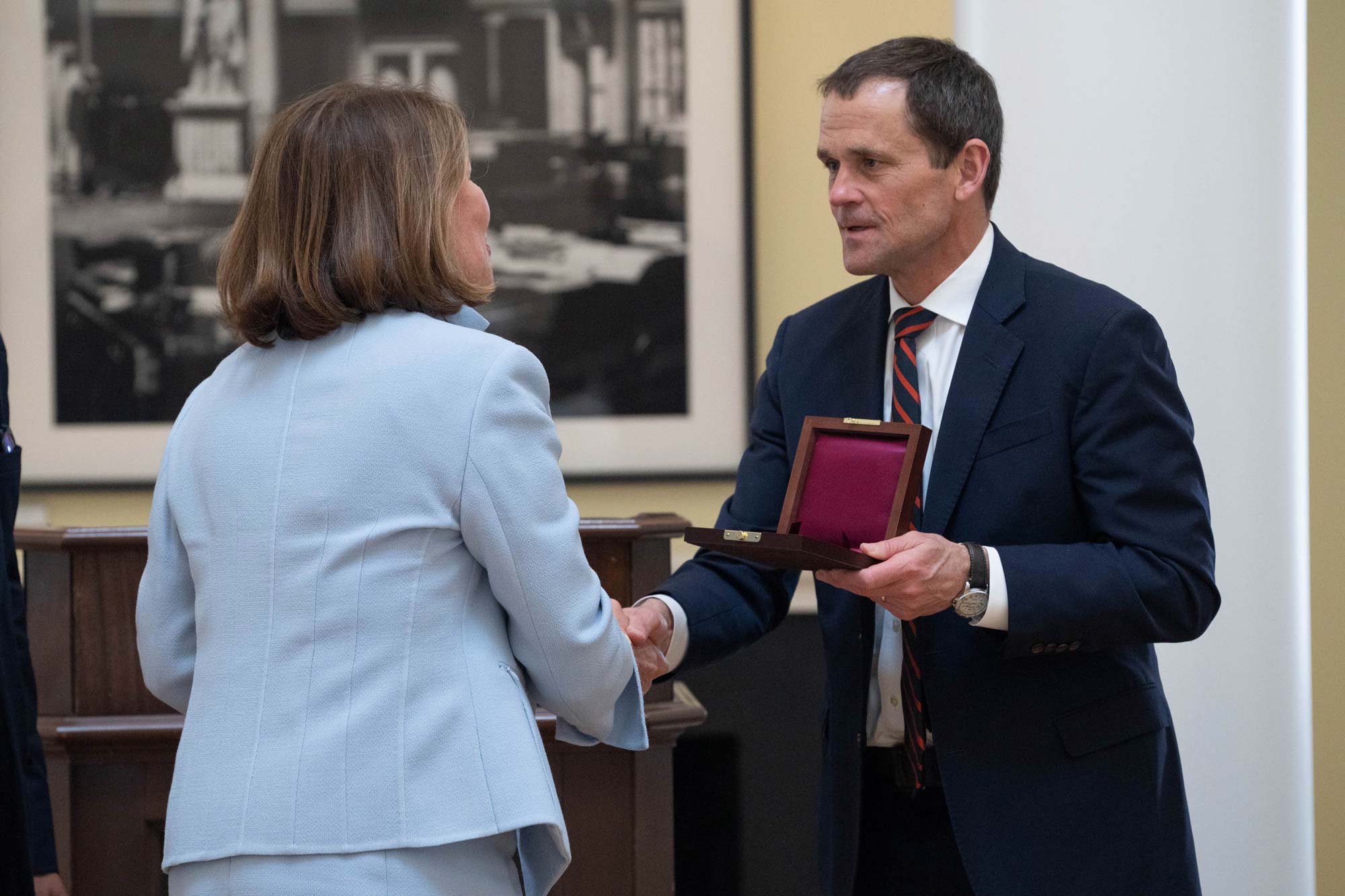 Westin said she was humbled to receive the Thomas Jefferson Foundation Medal in Citizen Leadership from UVA's Frank Batten School of Leadership and Public Policy.
"I cannot think of a more meaningful honor to receive," Westin said. "It has been given to so many heroes of mine – people like the incomparable John Lewis, Marian Wright Edelman and my dear friend Pete Peterson, whose remarkable commitment and lasting contributions build on Jefferson's own ideals and endeavors."
In reflecting on how a children's television show such as "Sesame Street" ties in with Jefferson's legacy, Westin said the connection is education.
"Mr. Jefferson devoted his life to the life of the mind, to learning, to reading," Westin said. "I would like to think that he would have been very happy on 'Sesame Street.'"